In Gaza, the Drones Never Sleep
Atef Abu Saif's wartime diaries offer a chilling voice of witness from Israel's 50-day bombardment of Palestine during Operation Protective Edge.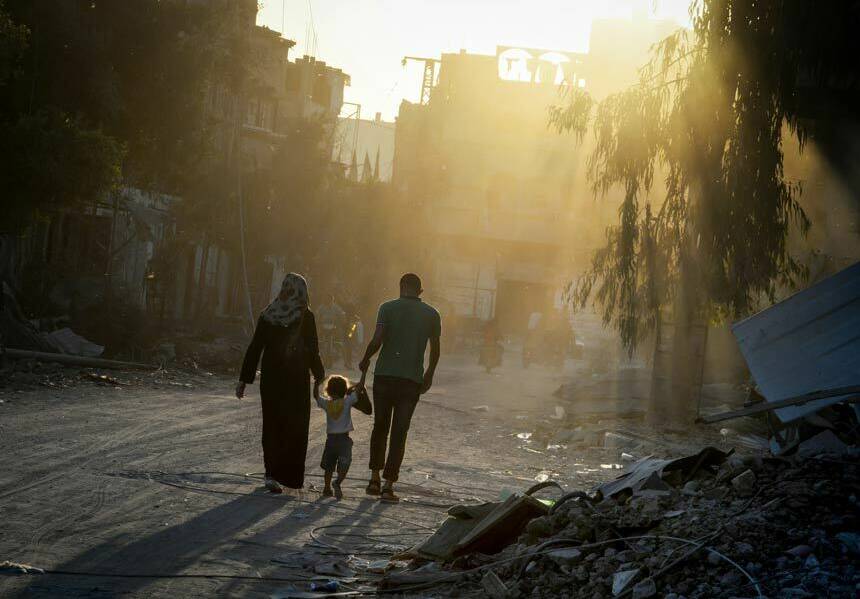 Israel's ​"Oper­a­tion Pro­tec­tive Edge" rained death and destruc­tion on the besieged pop­u­la­tion of the Gaza Strip for 50 days between July 7 and August 26, 2014. More than 1,400 civil­ians, includ­ing more than 500 chil­dren and 250 women, were killed. The maimed and wound­ed topped 11,000, and over 18,000 hous­ing units were total­ly destroyed or severe­ly damaged.
"He might decide to terminate the life of someone walking along the pavement, or he might uproot a tree in an orchard that hasn't yet borne fruit."
Read­ing such a list of sta­tis­tics of casu­al­ties dur­ing war can out­rage and hor­ri­fy if one iden­ti­fies with those who are killed — or sim­ply iden­ti­fies them as ful­ly human. Fem­i­nist philoso­pher Judith But­ler, in her book Frames of War: When Is Life Griev­able?, writes about war as a time when lives are divid­ed into those con­sid­ered ful­ly human— and thus griev­able — and those that are not. She argues that nam­ing and sin­gu­lar­iz­ing the peo­ple who are killed in war, and expe­ri­enc­ing grief on their behalf, can move us to action: ​"Open griev­ing is bound up with out­rage, and out­rage in the face of injus­tice or indeed of unbear­able loss has enor­mous polit­i­cal poten­tial." When there is a ter­ror­ist attack in Brus­sels or Paris, the New York Times will devote space to pro­files of the indi­vid­u­als who were killed. When there is a sim­i­lar attack in Beirut or Ankara, we are rarely offered this kind of spe­cif­ic eulogy.
Until rel­a­tive­ly recent­ly, main­stream U.S. media nar­ra­tives have rel­e­gat­ed Pales­tin­ian lives to the cat­e­go­ry of the ungriev­able. Their deaths, while per­haps unfor­tu­nate, have been explained as the con­se­quence of an intractable con­flict in which Pales­tini­ans are rarely, if ever, con­sid­ered to be ​"inno­cent" vic­tims, except per­haps for Pales­tin­ian chil­dren. But even here, when the New York Times count­ed civil­ian casu­al­ties from Oper­a­tion Pro­tec­tive Edge, Pales­tin­ian boys between the ages of 15 and 17 were not tal­lied as minors, but instead were includ­ed with­in the cat­e­go­ry of what the Times' Jerusalem Bureau Chief Jodi Rudoren called ​"a mix of male civil­ians and combatants."
The anti­dote to this kind of dehu­man­iza­tion is a voice of wit­ness. Social media now pro­vides real-time updates from war zones, bely­ing offi­cial gov­ern­ment pro­pa­gan­da. Voic­es from Gaza emerged dur­ing the 2014 war through Twit­ter feeds and Face­book posts. One teenage girl, Farah Bak­er, became a media sen­sa­tion because of her poignant Twit­ter updates dur­ing the bomb­ings. And increas­ing­ly Pales­tin­ian voic­es are being heard on the edi­to­r­i­al pages of main­stream news out­lets. Atef Abu Saif, a Pales­tin­ian nov­el­ist and polit­i­cal sci­en­tist from Gaza, kept a dai­ly wartime jour­nal, selec­tions of which appeared in the New York Times, The Guardian, Slate and else­where as the war raged.
The new­ly pub­lished col­lec­tion of those jour­nal entries, The Drone Eats With Me: A Gaza Diary, is an elo­quent, inti­mate, and sear­ing account of fam­i­ly life dur­ing wartime.
Through Abu Saif's jour­nal, the read­er comes to know his wife, Han­na, his four young sons, Talal, Mostafa, Naeem and Yass­er, and his daugh­ter, Jaf­fa, who was only 19 months old that sum­mer and to whom the book is ded­i­cat­ed. Rel­a­tives, neigh­bors and friends are intro­duced, but char­ac­ters of almost equal impor­tance are the face­less drones that hov­er above our narrator's head and the name­less drone oper­a­tors who sit at a safe dis­tance decid­ing whom to tar­get for death.
"Our fates are all in the hands of a drone oper­a­tor in a mil­i­tary base some­where just over the Israeli bor­der," he writes. ​"The oper­a­tor looks at Gaza the way an unruly boy looks at the screen of a video game. He press­es a but­ton and destroys an entire street. He might decide to ter­mi­nate the life of some­one walk­ing along the pave­ment, or he might uproot a tree in an orchard that hasn't yet borne fruit."
In addi­tion to the metaphor of the video game, anoth­er image used repeat­ed­ly in the book — and ref­er­enced in its title — is that of the drone as a din­ner guest. Sev­er­al weeks of Oper­a­tion Pro­tec­tive Edge occurred dur­ing the Mus­lim hol­i­day of Ramadan. As Abu Saif imag­ined it, when his fam­i­ly sat down togeth­er for their pre-dawn meal, the whirring, buzzing drone was there as well. He writes, ​"The food is ready. I wake the chil­dren and bring them in. We all sit around five dish­es: white cheese, hum­mus, orange jam, yel­low cheese and olives. Dark­ness eats with us. Fear and anx­i­ety eat with us. The unknown eats with us. The F16 eats with us. The drone, and its oper­a­tor, some­where out in Israel, eats with us."
Not only does the drone eat with them, the drone is also a preda­tor look­ing to fill its bel­ly. The drone is hun­gry, and the war itself is a rav­en­ous hunter feast­ing on the peo­ple of Gaza. Abu Saif refus­es to allow the mount­ing casu­al­ties to be just num­bers — in his nar­ra­tive he tries to give par­tic­u­lar­i­ty to the lives devoured. He resents the notion that he him­self might be reduced to a name men­tioned in a media roundup of those killed that day: ​"I do not want to be a num­ber, a piece of news, a name on the tongue of a beau­ti­ful TV pre­sen­ter wait­ing impa­tient­ly to fin­ish read­ing bor­ing news from Gaza."
Abu Saif shares the lessons he has learned, hav­ing lived through the wars on Gaza, about how to stay alive, know­ing that these rules he invents for him­self may or may not pro­tect him and his fam­i­ly. His descrip­tions of the toll of the war are often vivid and ter­ri­fy­ing. ​"To see death, to touch it with still-liv­ing flesh, to smell its sali­va, to feel it in your hands, around you, on every cor­ner of the street," he writes. ​"To wit­ness its bru­tal­i­ty, its vul­gar­i­ty, its mer­ci­less­ness. To watch as bod­ies are scat­tered about in piles in front of you like dis­card­ed exam papers out­side a school at the end of term, like old let­ters torn up by a jilt­ed lover, like the paper­work of a bank­rupt busi­ness­man pil­ing up at the back of his shop. One leg here, one arm there, an eye, a sev­ered head, fin­gers, hair, intestines … noth­ing belongs to any­thing in particular."
In addi­tion to invit­ing the read­er into his home, into the cof­fee shops, schools, streets and mar­kets of Gaza, where peo­ple who can­not flee what has been apt­ly referred to as a vast, open-air prison attempt to evade the seem­ing­ly insa­tiable Israeli war machine, his nar­ra­tive implic­it­ly calls on us to act. He asks: ​"Who will con­vince this gen­er­a­tion of Israelis that what they've done this sum­mer is a crime? Who will con­vince the pilot that this is a mis­sion not for his peo­ple, but a mis­sion against them? Who will teach him that life can­not be built on the ruins of oth­er lives? Who will con­vince the drone oper­a­tor that the peo­ple of Gaza are not char­ac­ters in a video game?"
When the appa­ra­tus of war reduces his neigh­bors, his fam­i­ly and him­self to face­less, ungriev­able sta­tis­tics, Abu Saif doesn't mere­ly try to give voice to the vic­tims; just as impor­tant­ly, he attempts to bestow a name and an indi­vid­ual sub­jec­tiv­i­ty upon the face­less killer who guides the machin­ery of death. He pre­serves the — at least poten­tial— human­i­ty of the drone oper­a­tor whose vir­tu­al pres­ence at the fam­i­ly table rep­re­sents, for Abu Saif, both the threat of immi­nent destruc­tion and the hope for even­tu­al justice.
Nan­cy Kri­co­ri­an
, whose most recent nov­el is
All The Light There Was
, has been on the nation­al staff of CODE­PINK Women for Peace since
2003
.