In New Report, 2,086 Domestic Workers Speak Out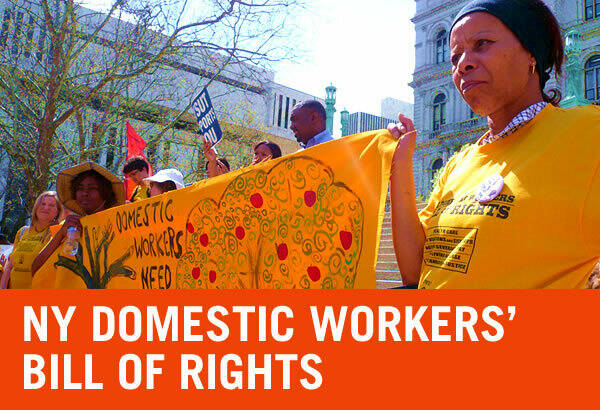 The study, which domes­tic work­ers helped to design, sur­veyed 2,086 nan­nies, care­givers and house­clean­ers around the Unit­ed States who hail from 71 dif­fer­ent coun­tries. They were inter­viewed in nine lan­guages about pay rates, con­tracts, work­ing con­di­tions, ben­e­fits and work­place abus­es. Titled ​"Home Eco­nom­ics: The Invis­i­ble and Unreg­u­lat­ed World of Domes­tic Work," the report was pre­sent­ed at the Ford Foun­da­tion Build­ing in New York City. Its aim is to bring domes­tic work ​"out of the clos­et," to shine a light on the often-bru­tal con­di­tions faced by this work­force con­sist­ing pri­mar­i­ly of immi­grant women and women of color.
Accord­ing to the report, 23 per­cent of domes­tic work­ers are paid below the state min­i­mum wage, and 70 per­cent make less than $13 an hour. Of work­ers who live in the homes where they work, 67 per­cent make less than the state min­i­mum wage: Their medi­an wage is $6.15 an hour (and don't even ask about over­time). The report notes that domes­tic work­ers are exempt­ed from the pro­tec­tions put in place by the Nation­al Labor Rela­tions Act. When the Act was passed in the 1930s, most black work­ers in the South did either agri­cul­tur­al or domes­tic work, and not coin­ci­den­tal­ly, these two types of work­ers were exclud­ed from the right to form unions.
With­out such pro­tec­tions, these sec­tors remain gross­ly exploita­tive, stand­ing out even in a cul­ture that has lit­tle respect for work­ers over­all — as Ana Aven­daño, the AFL-CIO's Direc­tor of Immi­gra­tion and Com­mu­ni­ty Action point­ed out. Fur­ther­more, many immi­grant domes­tic work­ers are undoc­u­ment­ed, which leaves them even more vul­ner­a­ble to abuse: Employ­ers can squelch com­plaints with the threat of a phone call to Immi­gra­tion and Cus­toms Enforcement.
At the report's unveil­ing, two pan­els of experts, which I attend­ed, dis­cussed its grim find­ings and offered pos­si­ble solu­tions. Jared Bern­stein of the Cen­ter on Bud­get and Pol­i­cy Pri­or­i­ties (and for­mer­ly of the Oba­ma admin­is­tra­tion) not­ed that domes­tic work dif­fers from oth­er kinds of low-wage work in at least one use­ful way: It can­not be out­sourced. ​"Domes­tic work is a crit­i­cal input into the way we work today in Amer­i­ca. A lot of what we do here would fall apart with­out domes­tic work­ers," he said. ​"Which means domes­tic work­ers should have more lever­age than they do."
Nik Theodore of the Uni­ver­si­ty of Illi­nois at Chica­go argued that there is noth­ing inher­ent in domes­tic work that jus­ti­fies low wages — it's the lack of pro­tec­tions for work­ers that allows employ­ers the upper hand.
​"It's a five-let­ter word called POW­ER," agreed Bern­stein. ​"The pow­er struc­ture that deter­mines what peo­ple are paid is deeply screwed up."
Work­ing in some­one's home, iso­lat­ed from oth­ers, leaves domes­tic work­ers unique­ly vul­ner­a­ble. The sur­vey not­ed that 42 per­cent of work­ers fear not just los­ing their job, but actu­al­ly fear employ­er vio­lence if they speak up about their work­ing con­di­tions — even as many of them suf­fer joint pain, skin irri­ta­tion, injury or ill­ness on the job, and only 4 per­cent of them get employ­er-pro­vid­ed health insurance.
Iso­la­tion has also made it hard to orga­nize them. Bar­bara Young, a nation­al orga­niz­er with NDWA and 17-year vet­er­an of domes­tic work, told the audi­ence that she was recruit­ed by a DWU orga­niz­er in the play­ground as she watched her charge. For work­ers in the sub­urbs, it's far more dif­fi­cult to con­nect to groups fight­ing for domes­tic work­ers' rights. And their lack of free time makes it hard­er for domes­tic work­ers to spend time on polit­i­cal action — as Kristin Rowe-Finkbein­er of Mom­sRis­ing not­ed, many of them aren't even giv­en sick days. ​"If you can't barf, you can't go to the state capitol."
The emo­tion­al inti­ma­cy as well as phys­i­cal close­ness of domes­tic work, the report and pan­elists not­ed, winds up being a site of exploita­tion as well. Employ­ers often refer to nan­nies, house­clean­ers or care­givers as ​"part of the fam­i­ly," but, as Caitlin Flana­gan, Atlantic jour­nal­ist and famous employ­er of nan­nies, not­ed, ​"There's not a lot of fam­i­ly mem­bers you can fire." Domes­tic work­ers can be enticed to stay in pun­ish­ing work­places because they devel­op gen­uine bonds with those they care for. But employ­ers rarely con­sid­er this con­nec­tion when fir­ing workers.
Of course not all employ­ers of domes­tic work­ers are abu­sive; Ai-jen Poo, head of NDWA, men­tioned Hand in Hand, an alliance of domes­tic employ­ers who want to make it eas­i­er for employ­ers to do right by their employ­ees. Many employ­ers have trou­ble con­sid­er­ing their home a work­place and so don't do things such as pay into Social Secu­ri­ty for the domes­tic work­ers they employ.
Bern­stein called for stricter reg­u­la­tions and stricter pun­ish­ments for employ­ers who break the rules: ​"They're gonna get away with what they can get away with," he said.
But Aven­daño argued that, to real­ly change the lives and con­di­tions of domes­tic work­ers, ​"you need to have work­ers who are empow­ered, edu­cat­ed, and orga­nized to hold employ­ers account­able." In oth­er words, reg­u­la­tions aren't enough if work­ers are too afraid to blow the whis­tle on their bosses.
The sec­ond pan­el, fea­tur­ing Poo, Rowe-Finkbein­er, David Rolf of SEIU Local 775 and Orlan­do Bag­well of Just­Films, focused on how to cre­ate a 21st cen­tu­ry labor move­ment. Poo explained a new tool, an online match­ing ser­vice to help work­ers and employ­ers who want to treat them right find one anoth­er, a sort of Inter­net-age hir­ing hall that she laugh­ing­ly com­pared to a dat­ing service.
The undis­put­ed point, how­ev­er, was that domes­tic work­ers are work­ers; that even though they labor out­side of the pub­lic eye and away from the reach of the NLRB, inside the glam­orous homes of the wealthy or even just those of the har­ried mid­dle class, their work deserves fair wages and con­di­tions. It was­n't, after all, some inher­ent qual­i­ty of indus­tri­al work that made fac­to­ry jobs into good jobs — it was orga­niz­ing. As Rolf argued, ​"We don't need to make domes­tic work more like ​'real work.' It is real work."
Young agreed. ​"We're exchang­ing labor for mon­ey. Sim­ply put."
Sarah Jaffe
is a for­mer staff writer at
In These Times
and author of
Nec­es­sary Trou­ble: Amer­i­cans in Revolt
, which Robin D.G. Kel­ley called ​
"
The most com­pelling social and polit­i­cal por­trait of our age." You can fol­low her on Twit­ter
@sarahljaffe
.