In the Dark About Light
Our streetlight problem.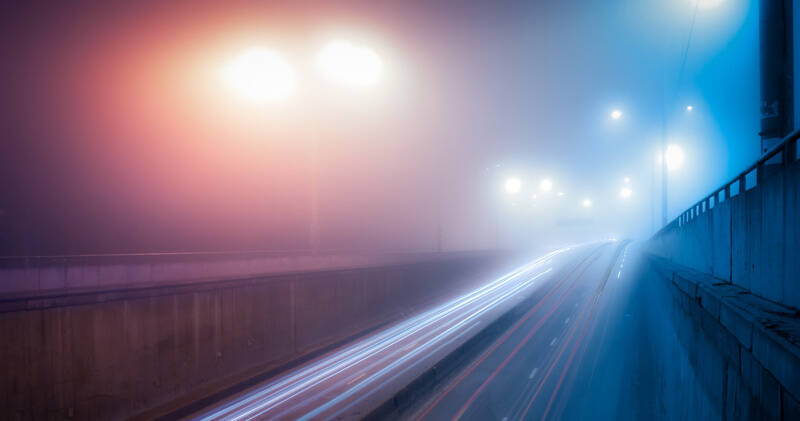 Out­door light­ing cre­ates a warm wel­come," pro­claims a full-page ad in a recent issue of Real Estate Jour­nal. The ad urges home­own­ers to splash dec­o­ra­tive and dra­mat­ic out­door light­ing all around their yards to ​"wel­come your guests and your­self home while adding ele­gance, val­ue and safe­ty." This is typ­i­cal of the way out­door light­ing is often viewed (and pre­sent­ed by the light­ing indus­try and the archi­tec­tur­al pro­fes­sion). Yet, though it may strike a chord deep in our cave­man genes, ingrained over mil­len­nia as prim­i­tive humans hun­kered be- hind fires they hoped would repel wild ani­mals, illu­mi­nat­ing the night from dusk until dawn car­ries a host of neg­a­tive con­se­quences for human health and the envi­ron­ment, near­ly all of which are avoidable.
When blue light seeps into people's homes at night it can alter circadian rhythms and suppress melatonin production. A low melatonin level has been linked to breast and prostate cancer.
There are some 44 mil­lion munic­i­pal street­lights in the Unit­ed States. Most of these are of the old­er ​"cobra head" vari­ety, with drop lens­es that extend down below the fix­ture and project much of their light out­put hor­i­zon­tal­ly — into the eyes of dri­vers and pedes­tri­ans — and even upward into the sky, where it does no good at all. The Inter­na­tion­al Dark- Sky Asso­ci­a­tion, a non­prof­it group that advo­cates for more ratio­nal and pro­gres­sive use of out­door light­ing, esti­mates that 30 per­cent of the light from street­lights with drop lens­es — and by exten­sion the ener­gy gen­er­at­ed to pro­duce it— is wast­ed. When one con­sid­ers that there are more pri­vate out­door light­ing sources — ​"secu­ri­ty" lights, adver­tis­ing bill- boards, and pure­ly orna­men­tal flood­lights direct­ed at signs, trees and the sides of build­ings — than there are street­lights, the true scope of this waste becomes clear.
In addi­tion to wast­ing elec­tric­i­ty, ill-designed out­door light­ing harms human health and our envi­ron­ment in myr­i­ad ways.
The impor­tant issue in light­ing design that's most often over­looked is that of ​"col­or tem­per­a­ture." Expressed in degrees Kelvin, col­or tem­per­a­ture is an inverse mea­sure­ment of the ​"warmth" of light, with high­er Kelvin light sources such as the flu­o­res­cent tubes com­mon­ly used in office build­ings pro­duc­ing ​"cool­er" or bluer light, while low­er Kelvin sources like stan­dard incan­des­cent blubs radi­ate ​"warmer" or red­der light. In prac­tice, low­er Kelvin light is per­ceived as inti­mate and calming.
In out­door light­ing, a cool tint has sig­nif­i­cant draw­backs. Accord­ing to a 2011 study pub­lished in the Jour­nal of Envi­ron­men­tal Man­age­ment, when blue light seeps into people's homes at night through win­dows or slats in blinds, it can alter cir­ca­di­an rhythms and sup­press mela­tonin pro­duc­tion, lead­ing to dif­fi­cul­ty sleep­ing. A low mela­tonin lev­el has also been linked to breast and prostate can­cer. What's more, blue light con­tains ultra­vi­o­let light, which can­not be seen, but can dam­age reti­nas and con­tribute to mac­u­lar degen­er­a­tion. Abra­ham Haim, direc­tor of the Cen­ter for Inter­dis­ci­pli­nary Chrono­bi­o­log­i­cal Research at the Uni­ver­si­ty of Haifa and coau­thor of the study, urges that ​"short wave­lengths should be elim­i­nat­ed from the noc­tur­nal spectrum."
Accord­ing to an Amer­i­can Med­ical Asso­ci­a­tion report, oth­er health prob­lems that may be exac­er­bat­ed by the light ​"include obe­si­ty, dia­betes, depres­sion and mood dis­or­ders, and repro­duc­tive prob­lems." In 2012, the Amer­i­can Med­ical Asso­ci­a­tion formal­ly rec­om­mend­ed that more research be con­duct­ed ​"on the risks and ben­e­fits of voca­tion­al and envi­ron­men­tal expo­sure to light-at-night, the risk of can­cer and the exac­er­ba­tion of chron­ic diseases."
But munic­i­pal gov­ern­ments enthu­si­as­tic about ener­gy-sav­ing light­ing have gen­er­al­ly ignored the impli­ca­tions of col­or tem­per­a­ture. Now that mer­cury- vapor lights are being phased out be- cause of their poor ener­gy effi­cien­cy and high mer­cury con­tent, the most prob­lem­at­ic out­door light source in com­mon use are blue-white met­al-halide lamps, the kind of lights that illu­mi­nate sta­di­ums and ball fields. Essen­tial­ly the next gen­er­a­tion of the mer­cury-vapor tech­nol­o­gy, met­al-halide bulbs are not only blue-tinged but emit a sub­stan­tial por­tion of their light in short wave- lengths such as ultraviolet.
There are sev­er­al alter­na­tives to blue met­al-halide light. A com­mon­ly used bulb in street­lights today is the more ener­gy effi­cient high-pres­sure sodi­um (HPS) type, which pro­duces the yel- low light famil­iar to most Amer­i­cans. Low-pres­sure sodi­um (LPS) bulbs are even more ener­gy effi­cient and pro- duce essen­tial­ly no blue or UV light, mak­ing them a bet­ter choice than HPS bulbs in terms of health and env­i­ron- men­tal effects.
Recent­ly, how­ev­er, it is light-emit­ting diode (LED) tech­nol­o­gy, which is high­ly ener­gy effi­cient, that has cap­tured the imag­i­na­tions of light­ing engi­neers across the nation. ​"White" LED bulbs are avail­able in a wide range of col­or tem­per­a­tures, and LED light­ing on the ​"warmer" side of the spec­trum is more benign in its effects on human health and the envi­ron­ment. How­ev­er, urban plan­ners often do not take these dif­fer­ences into account.
For that rea­son, cit­i­zens should pay atten­tion when their munic­i­pal gov­ern­ments pro­pose large-scale replace­ment of old­er HPS lamps with LED bulbs, since the effects of these deci­sions will be with us for many years to come. LED lamps have an extreme­ly long life. The
next eco­nom­i­cal oppor­tu­ni­ty to re- place them may not come for a decade or more, when the first gen­er­a­tion of LED lamps final­ly cease to function.
Light­ing the way
The goal should be bet­ter light, and less light. Street­lights with full cut-off fix­tures (flat lens­es that are not vis­i­ble from the side or above) project light down­ward at the street below, and not upward or hor­i­zon­tal­ly, mak­ing them prefer­able to the more com­mon­ly used pro­trud­ing drop lens­es. Most street- lights could also be far less bright and still be ade­quate for safe­ty, while con­sum­ing less elec­tric­i­ty and reduc­ing the asso­ci­at­ed car­bon diox­ide emissions.
Inter­sec­tions do usu­al­ly need to be lit (ide­al­ly with ​"yel­low­er" lights), but on a straight­away, bright lights most­ly serve to increase dri­vers' con­fi­dence and speed — not nec­es­sar­i­ly a good thing. Com­pound­ing the prob­lem, blue-white light such as that emit­ted by met­al- halide or cool white LED bulbs caus­es more glare than the yel­low­er light pro­duced by sodi­um vapor lamps. The human eye instinc­tive­ly reacts to the sud­den onslaught of blue and UV light by con­tract­ing the pupil to pro­tect the reti­na. Then, when dri­vers, walk­ers or bik­ers pass back out from under the street­light, they are tem­porar­i­ly blind­ed as their eyes strug­gle to read­just to more nor­mal night­time con­di­tions. This effect leads to an increased risk of acci­dents in the areas dri­vers pass through imme­di­ate­ly after leav­ing the cone of illu­mi­na­tion of a blue-white street­light. Out­door light­ing is incor­rect­ly per­ceived to improve safe­ty in oth­er ways as well. Coun­ter­in­tu­itive­ly, dark streets and hous­es are often more safe than bright­ly lit areas. Thieves and oth­er crim­i­nals need light in order to ​"work" — and a poten­tial intrud­er using a flash­light in a dark area can be quite con­spic­u­ous — while pedes­tri­ans blind­ed by the glare from over­ly bright or poor­ly shield­ed fix­tures have dif­fi­cul­ty spot­ting threats. In fact, the famous 1998 – 99 Chica­go Alley Light­ing Project found that ​"improved" light­ing was asso­ci­at­ed with an over­all 40 per­cent increase in crime and a whop­ping 77 per­cent rise in thefts and bur­glar­ies. This sur­pris­ing result makes sense when one con­sid­ers that a bright­ly lit alley-way will attract more walk­ers to what may be a dan­ger­ous place. Many cities and towns around the world have dra­mat­i­cal­ly reduced out­door light­ing and expe­ri­enced an unex­pect­ed decline in crime and accidents.
Endan­gered wildlife
Giv­en that most street­lights oper­ate on pho­to­sen­sors and so are on from dusk until dawn, per­haps an aver­age of 12 hours each day, it seems obvi­ous that there must be some impact on wild ani­mal species that evolved over mil­lions of years in con­di­tions of night­time dark­ness. And this is indeed the case. Like peo­ple, ani­mals ben­e­fit from reg­u­lar peri­ods of dark­ness and suf­fer in their absence. This is espe­cial­ly true for noc­tur­nal ani­mals, for which feed­ing, mat­ing and oth­er vital behav­iors are strong­ly (and neg­a­tive­ly) influ­enced by arti­fi­cial night­time illumination.
Most of us are famil­iar with the attrac­tion of noc­tur­nal insects, par­tic­u­lar­ly moths, to out­door lights, but it is not wide­ly under­stood just how neg­a­tive­ly insect pop­u­la­tions are affect­ed by arti­fi­cial light­ing. All the time and ener­gy that insects expend cir­cling end­less­ly about a lit bulb, which they may mis­take for the moon, nec­es­sar­i­ly de- tracts from their abil­i­ty to suc­cess­ful­ly find food or mates, while mak­ing them easy prey for preda­tors such as spiders.
A 2003 Ger­man study sug­gest­ed that each street­light in that nation was respon­si­ble for the deaths of, on aver­age, 150 insects each night. Assum­ing a sim­i­lar fig­ure applies for each of the 35 mil­lion street­lights in the Unit­ed States, we might con­clude that a stag­ger­ing 5.25 bil­lion insects die at street­lights on a typ­i­cal Amer­i­can sum­mer night. Even if one does not par­tic­u­lar­ly care for in- sects per se, these crea­tures are a vital link in the food chain, pro­vid­ing sus­te­nance for thou­sands of species of birds, bats, rep­tiles and amphib­ians, and pol­li­nat­ing count­less mil­lions of flow­er­ing trees and plants each year.
Their detri­men­tal effect on insect pop­u­la­tions is one rea­son to elim­i­nate unnec­es­sary or orna­men­tal out­door lights and use less bright, bet­ter shield­ed bulbs where pos­si­ble, but it is also a rea­son to switch from blue-white bulbs to yel­low­er LEDs or sodi­um-vapor lamps. Insects (and most oth­er wild ani­mals) are most sen­si­tive to light at the bluer end of the spec­trum, includ­ing UV light, which is vis­i­ble to insects. As a result, insects are more drawn to, and thus fatal­ly ensnared by, blue-white lamps. A 2000 Ger­man study pub­lished in Natur und Land­schaft found that the yel­low­ish sodi­um-vapor lamps attract 50 per­cent few­er noc­tur­nal insects — and 75 per­cent few­er but­ter­flies and moths — than the blue-white mer­cury- vapor lamps. It is there­fore rea­son­able to con­clude that replac­ing a sin­gle mer­cury-vapor or met­al-halide street­light bulb with a high or low-pres­sure sodi­um bulb could save the lives of 10,000 or more insects each year.
In addi­tion to their harm­ful effects on insects, bright and abun­dant out­door lights fright­en sala­man­ders and frogs, dis­cour­ag­ing them from emerg­ing from their day­time hid­ing places (in leaf lit­ter, etc.) to feed or mate, and con­se­quent­ly reduc­ing their pop­u­la­tions as well. But the most detri­men­tal effect of all is on bird migra­tions. Birds, accus­tomed to nav­i­gat­ing by the moon, become dis­ori­ent­ed by lights that are direct­ed upward — either inten­tion­al­ly, as with orna­men­tal flood­lights aimed up into tree canopies, or unin­ten­tion­al­ly, by poor­ly shield­ed out­door fix­tures or build­ings with large, illu­mi­nat­ed win­dows. In North Amer­i­ca alone, esti­mates for the num­ber of birds killed each year in col­li­sions with light­ed struc­tures range as high as 100 mil­lion. This is a pow­er­ful rea­son to prop­er­ly shield out­door lights so they do not shine into the sky. The same argu­ment can be made for turn­ing off indoor lights when nobody is around, as well as tak­ing the sim­ple step of draw­ing the blinds or cur­tains at night. Your lo- cal wildlife, and like­ly your neigh­bors as well, will thank you.
Beyond all these earth­bound con­cerns lie the celes­tial. Night light blocks our view of the star­ry sky, a con­nec­tion to the cos­mos that has inspired poets and dream­ers for mil­len­nia. Two of our most gift­ed bards have found solace in the night sky, as should we.
Hel­lo dark­ness, my old friend,
I've come to talk with you again.
—Simon & Gar­funkel, ​"The Sounds of Silence"
Eliz­a­beth Sanders

is a pro­fes­sor of gov­ern­ment at Cor­nell Uni­ver­si­ty and the author of

Roots of Reform: Farm­ers, Work­ers, and the Amer­i­can State,

1877

 – 

1917

(Uni­ver­si­ty of Chica­go Press,

1999

).

Seth Bensel

owns a small busi­ness in Itha­ca, N.Y., and is a life­long environmentalist.