When the Market Went Dark
Thirty years after the crash of '87 and we're still at the mercy of a volatile economic system.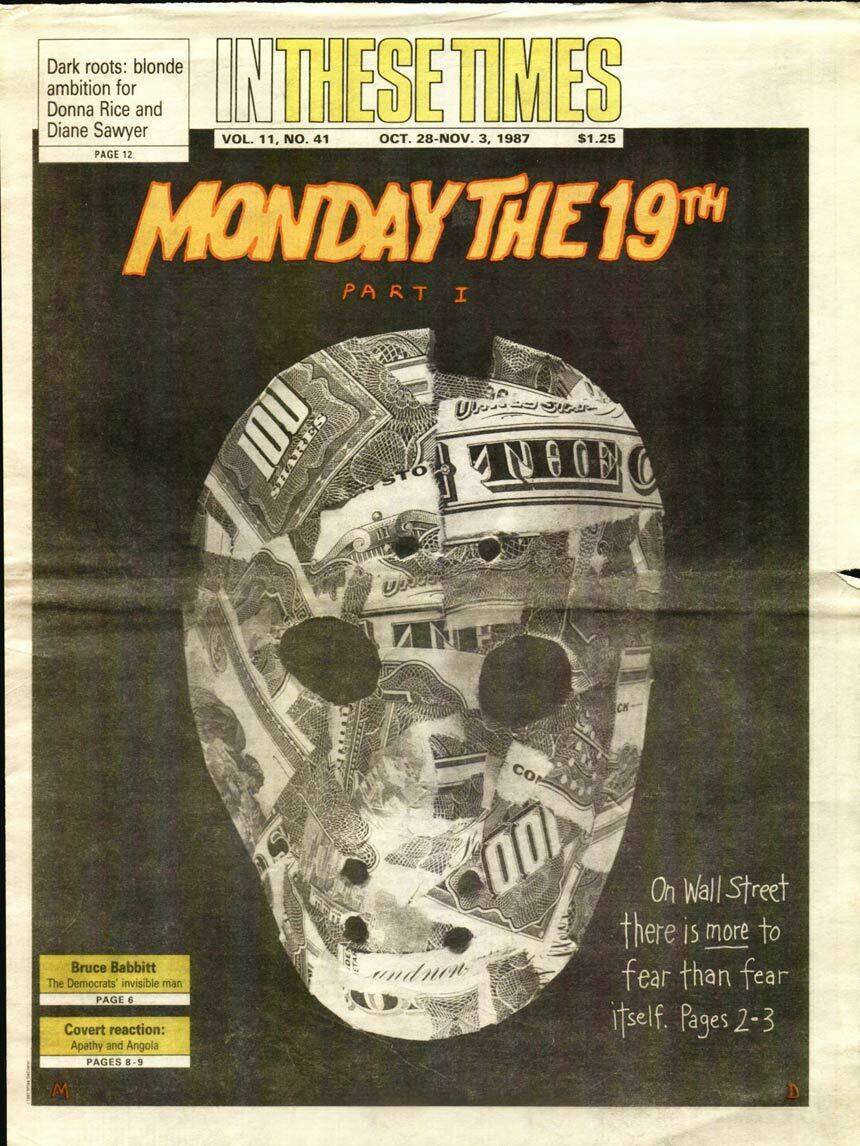 The crash of ​'87 is a reminder that for all its vaunt­ed ratio­nal­i­ty, cap­i­tal­ism is an eco­nom­ic sys­tem dri­ven by greed and fear." With these words, long-time In These Times con­trib­u­tor David Moberg began the cov­er sto­ry from the Oct. 28 – Nov. 3, 1987, issue.
Thir­ty years ago, ​"Black Mon­day" sent mar­kets into a tail­spin across the globe. The ​'87 crash was the largest sin­gle-day mar­ket crash in his­to­ry, result­ing in the loss of hun­dreds of bil­lions of dol­lars on the stock mar­ket and shrunk­en pen­sion funds.
The crash of 2008, and the result­ing Great Reces­sion, offered fur­ther evi­dence that the cap­i­tal­ist sys­tem is not just risky, but prone to crises. Today, the shaky foun­da­tions of our finance-cen­tered eco­nom­ic sys­tem remain large­ly unchanged.
Moberg end­ed his piece call­ing for a new direc­tion in craft­ing U.S. eco­nom­ic policy:
Polit­i­cal­ly, the oppor­tu­ni­ty is ripe to respond with a more coop­er­a­tive world eco­nom­ic order and domes­ti­cal­ly with a more demo­c­ra­t­ic, inno­v­a­tive econ­o­my that stress­es edu­ca­tion, research, tech­no — log­i­cal sophis­ti­ca­tion, social account­abil­i­ty of cap­i­tal, job secu­ri­ty, work­place democ­ra­cy and equality.
Unfor­tu­nate­ly, this pos­i­tive pre­scrip­tion didn't take off, and George H.W. Bush won the next year's pres­i­den­tial elec­tion. Thir­ty years on, we still need real alter­na­tives to a sys­tem of greed and fear.