At one of the pub­lic brain­storm­ing ses­sions for the New York Organ­ic Action Plan, an organ­ic farmer made an impas­sioned plea for ​"inde­pen­dent sci­ence" and told us that, with 8.5 bil­lion mouths to feed by 2050, we will need genet­ic engi­neer­ing to pre­vent starvation.
I would like to exam­ine these words care­ful­ly to deci­pher what they mean, how they are being used, and sug­gest how the move­ment for local­ly grown organ­ic food in this coun­try should respond.
What is the mean­ing of ​"inde­pen­dent sci­ence"? As co-chair of the Pol­i­cy Com­mit­tee for the North­east Organ­ic Farm­ing Asso­ci­a­tion of New York (NOFA-NY), I have been an active par­tic­i­pant in the coali­tion that is cam­paign­ing to pass GMO label­ing leg­is­la­tion in New York. In this capac­i­ty, I have spo­ken at pub­lic meet­ings, to the press and on radio inter­views. The ques­tion that I hear from pro­po­nents of biotech­nol­o­gy is: ​"Why do you organ­ic farm­ers oppose sci­ence, like the cli­mate deniers?"
The first time I heard this, I was star­tled and felt defen­sive. Had I ever opposed sci­ence? I searched back through things I had writ­ten and reviewed all the pol­i­cy res­o­lu­tions the mem­bers of NOFA-NY had passed over the years. I found a few places where I crit­i­cized reduc­tion­ist sci­ence and defend­ed ​"indige­nous knowl­edge" (things like com­post­ing and crop rota­tions, meth­ods that peo­ple prac­tice and pass on to their chil­dren that have not been proven by research at a uni­ver­si­ty), but nowhere could I find any state­ment oppos­ing sci­ence. Just recent­ly, I reviewed with approval this state­ment from an organ­ic farm­ing group:
We sup­port the Inter­na­tion­al Fed­er­a­tion of Organ­ic Agri­cul­tur­al Movement's (IFOAM) def­i­n­i­tion that organ­ic agri­cul­ture is a pro­duc­tion sys­tem that sus­tains the health of soils, ecosys­tems and peo­ple. It relies on eco­log­i­cal process­es, bio­di­ver­si­ty and cycles adapt­ed to local con­di­tions, rather than the use of inputs with adverse effects. Organ­ic agri­cul­ture com­bines tra­di­tion, inno­va­tion and sci­ence to ben­e­fit the shared envi­ron­ment and pro­mote fair rela­tion­ships and a good qual­i­ty of life for all involved.
My farm has coop­er­at­ed in any num­ber of research projects with Cor­nell Uni­ver­si­ty sci­en­tists. We have test­ed cov­er crops, held a field day with the Cor­nell soil health group to allow them to demon­strate the ways a farm can test for bio­log­i­cal activ­i­ty, use a pen­etrom­e­ter and a rain sim­u­la­tor that shows how much aggre­gate sta­bil­i­ty the soils have. We spent sev­en years work­ing with Mol­ly Jahns and her team on breed­ing a vari­ety of sweet pep­per. The pep­per ripens ear­li­er, is open-pol­li­nat­ed and cucum­ber mosa­ic virus resis­tant (and now it bears the name of our farm—Peace­work!). I served for four years on the Sus­tain­able Agri­cul­ture Research and Edu­ca­tion pro­gram's tech­ni­cal com­mit­tee and three years on the admin­is­tra­tive coun­cil. Unlike­ly activ­i­ties for some­one who is against science.
So, what does this ques­tion about inde­pen­dent sci­ence real­ly mean? I have come to under­stand that by ​"sci­ence" the biotech folks mean genet­ic engi­neer­ing. They are delib­er­ate­ly con­flat­ing these two terms. And that seems to be how the farmer at our meet­ing was using the words too.
Sci­ence vs. Commercialization
Since I do not oppose sci­ence, do I oppose genet­ic engi­neer­ing? Yes and no. I share with geneti­cists their fas­ci­na­tion with the func­tion­ing of the tini­est of par­ti­cles that make up liv­ing mat­ter. One of my favorite books is A Feel­ing for the Organ­ism by Eve­lyn Fox Keller — a biog­ra­phy of Bar­bara McClin­tock (1902−1992), a cyto­ge­neti­cist who spe­cial­ized in corn. McClin­tock was one of the first to map the corn genome. She demon­strat­ed that genes turn phys­i­cal char­ac­ter­is­tics on and off and dis­cov­ered genet­ic trans­po­si­tion or ​"jump­ing genes." She shook a notion that sci­ence held as a truth, that the genome is a sta­tion­ary enti­ty with the genes in an order that is unchang­ing, by show­ing that it is sub­ject to alter­ation and rearrange­ment. For many years, the main­stream of sci­ence regard­ed her with dis­ap­proval only even­tu­al­ly to catch up with her and then heap hon­ors on her great dis­cov­er­ies. Sci­ence lurch­es for­ward — and a great leap is yet to be made for a full com­pre­hen­sion of the rela­tion­ship between genes and the environment.
The more geneti­cists look into it, the more com­plex the rela­tion­ship of genes to phys­i­cal traits turns out to be. Jonathan Lath­am puts it this way:
A defined, dis­crete or sim­ple path­way from gene to trait prob­a­bly nev­er exists. Most gene func­tion is medi­at­ed murk­i­ly through high­ly com­plex bio­chem­i­cal and oth­er net­works that depend on many con­di­tion­al fac­tors, such as the pres­ence of oth­er genes and their vari­ants, on the envi­ron­ment, on the age of the organ­ism, on chance, and so forth. Geneti­cists and mol­e­c­u­lar biol­o­gists, how­ev­er, since the time of Gre­gor Mendel, have striv­en to find or cre­ate arti­fi­cial exper­i­men­tal sys­tems in which envi­ron­men­tal or any oth­er sources of vari­a­tion are min­imised so as not to dis­tract from the more ​"impor­tant" busi­ness of genet­ic discovery.

But by dis­card­ing organ­isms or traits that do not fol­low their expec­ta­tions, geneti­cists and mol­e­c­u­lar biol­o­gists have built them­selves a cir­cu­lar argu­ment in favour of a naïve deter­min­is­tic account of gene func­tion. Their par­a­digm habit­u­al­ly down­plays the enor­mous com­plex­i­ties by which infor­ma­tion pass­es (in both direc­tions) between organ­isms and their genomes. It has cre­at­ed an immense and most­ly unex­am­ined bias in the default pub­lic under­stand­ing of genes and DNA.
McClintock's sto­ry reveals how hard it is for the sci­en­tif­ic main­stream to accept new con­cepts. This becomes espe­cial­ly dif­fi­cult when large com­mer­cial enti­ties like chemical/​seed cor­po­ra­tions build their empires on an inter­pre­ta­tion of a sci­en­tif­ic phe­nom­e­non. And even more dif­fi­cult when our uni­ver­si­ties are starved for pub­lic research funds and become depen­dent on cor­po­rate support.
I am not against genet­ic engi­neer­ing in prin­ci­ple, nor is the organ­ic move­ment inter­na­tion­al­ly. What we are against is the rush to com­mer­cial­ize crops that have not been ade­quate­ly test­ed for safe­ty. There is so much we do not know about them. When you move one gene, many oth­er genes shift and geneti­cists do not yet know enough to pre­dict the results. That is why stan­dards for organ­ic cer­ti­fi­ca­tion in the Unit­ed States and all around the world do not allow the use of genet­i­cal­ly engi­neered (GE) seed and oth­er mate­ri­als, like GE ren­net that can be used to make cheese. In reg­u­lat­ing any nov­el tech­nol­o­gy, we should fol­low the pre­cau­tion­ary prin­ci­ple: Test care­ful­ly and at length before com­mer­cial­iz­ing. This has not been done with GE crops. Every cul­ti­var is dif­fer­ent and each one should be test­ed indi­vid­u­al­ly.
Mean­while, cor­po­ra­tions like Mon­san­to, Dow, Syn­gen­ta, etc. have been com­mer­cial­iz­ing a very few mon­ey-mak­ing GE cul­ti­vars that farm­ers are grow­ing on mil­lions of acres doused with tox­ic chemicals.
The sci­en­tif­ic evi­dence shows that the wide­spread adop­tion of genet­i­cal­ly engi­neered crops in the Unit­ed States has led to: 1) an increase in pes­ti­cides used in agri­cul­ture, accord­ing to the U.S. Depart­ment of Agriculture's (USDA) Pes­ti­cide Data Pro­gram; 2) devel­op­ment of her­bi­cide resis­tance in over 20 weed species; 3) insec­ti­cide resis­tance in tar­get pests, includ­ing corn root­worms; 4) increased residues of pes­ti­cides in foods, includ­ing Roundup, which con­tains glysophate a prob­a­ble human car­cino­gen; 5) loss of bio­log­i­cal diver­si­ty, includ­ing decline in Monarch but­ter­fly pop­u­la­tions, and 6) mas­sive increas­es in seed costs for farmers.
The Eniron­men­tal Pro­tec­tion Agency (EPA) pro­vides annu­al aver­age use esti­mates from 2004 to 2013. Accord­ing to Carey Gillam in her arti­cle ​"What Is Going On With Glyphosate? EPA's Odd Han­dling of Con­tro­ver­sial Chem­i­cal":
Sev­en­ty crops are on the EPA list, rang­ing alpha­bet­i­cal­ly from alfal­fa and almonds to water­mel­ons and wheat. Glyphosate used on soy­bean fields, on an annu­al basis, is pegged at 101.2 mil­lion pounds; with corn-relat­ed use at 63.5 mil­lion pounds. Both those crops are genet­i­cal­ly engi­neered so they can be sprayed direct­ly with glyphosate as farm­ers treat fields for weeds. Cot­ton and canola, also genet­i­cal­ly engi­neered to be glyphosate tol­er­ant, also have high use num­bers. But notable glyphosate use is also seen with oranges (3.2 mil­lion lbs.); sorghum (3 mil­lion lbs.); almonds (2.1 mil­lion lbs.); grapes, (1.5 mil­lion lbs.); grape­fruit and apples (400,000 lbs. each); and a vari­ety of fruits, veg­eta­bles and nuts.
Since 1974, farm­ers have poured 1.8 bil­lion kilo­grams of Roundup on fields. While inde­pen­dent stud­ies of the safe­ty of GE foods are scarce (because the own­ers of the util­i­ty patents of GE plants refuse to allow tru­ly inde­pen­dent research), there are many stud­ies of Roundup and its main ingre­di­ent glyphosate that show it attacks the ben­e­fi­cial organ­isms in the human diges­tive sys­tem, caus­ing seri­ous health prob­lems—includ­ing increased birth defects, neu­ro­log­i­cal devel­op­men­tal prob­lems in chil­dren, kid­ney fail­ure, res­pi­ra­to­ry prob­lems and aller­gies. Stud­ies also show that Roundup is a pow­er­ful soil bio­cide, result­ing in the increase of micro­bial plant pathogens and mycotoxins.
The use of GE crops is part of the whole pack­age of indus­tri­al­ized farm­ing, an inte­grat­ed sys­tem that enables cor­po­rate con­trol of our food system.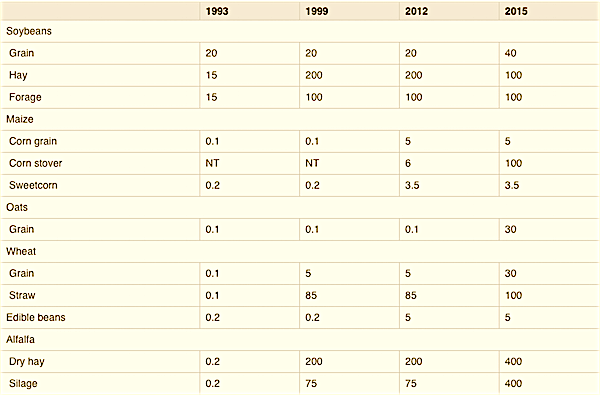 EPA changes in glyphosate tol­er­ance lev­els (ppm) in select­ed crops since 1993. (Source: Envi­ron­men­tal Sci­ences Europe)
Fast-track­ing cor­po­rate control
There has been a speed-up in farm­ing — a grain farmer used to be able to sup­port a fam­i­ly with 160 acres. Now it takes 1600. The Roundup-GE pack­age is con­sis­tent with the speed-up. And U.S. gov­ern­ment reg­u­la­tion has failed to pro­tect the pub­lic from the tox­ic her­bi­cides farm­ers spray on GE crops.
One sell­ing point of Roundup is that it breaks down quick­ly. That is why you can pur­chase it off the shelf in gar­den and hard­ware stores. That is accu­rate — it does break down quick­ly. But what Mon­san­to does not men­tion is that Roundup breaks down into AMPA, which lasts much longer and may be more tox­ic than glyphosate.
In 2015, the World Health Orga­ni­za­tion declared glyphosate a prob­a­ble car­cino­gen and many stud­ies since 1985 have shown it to be an endocrine dis­rup­tor. But that did not stop the EPA in 2013 from increas­ing the amount of glyphosate that is con­sid­ered safe as a residue in soy­beans, corn and oth­er crops.
It is extreme­ly unsci­en­tif­ic and poor pub­lic pol­i­cy for the U.S. Patent and Trade­mark Office to grant bil­lions of dol­lars of util­i­ty patent rights for GE tech­nol­o­gy based on a demon­stra­tion of mate­r­i­al dif­fer­ence, and for the Food and Drug Admin­is­tra­tion (FDA) to be simul­ta­ne­ous­ly deny­ing con­sumers basic infor­ma­tion about the use of that tech­nol­o­gy in their food, based on that agency's find­ing of a lack of mate­r­i­al difference.
Inter­nal FDA doc­u­ments obtained by the Alliance for Bio-Integri­ty dur­ing a 1998 law­suit against the agency reveal that the FDA's Biotech­nol­o­gy Coor­di­na­tor, James Maryan­s­ki, knew full well the poten­tial risks but chose to over­ride them. A 1991 memo to Maryan­s­ki, titled ​"Points to Con­sid­er for Safe­ty Eval­u­a­tion of Genet­i­cal­ly Mod­i­fied Foods. Sup­ple­men­tal Infor­ma­tion," detailed the poten­tial prob­lems with new genet­i­cal­ly engi­neered crops, includ­ing ​"increased lev­els of known nat­u­ral­ly occur­ring tox­i­cants, appear­ance of new, not pre­vi­ous­ly iden­ti­fied tox­i­cants, increased capa­bil­i­ty of con­cen­trat­ing tox­ic sub­stances from the envi­ron­ment (e.g. pes­ti­cides or heavy met­als) and unde­sir­able alter­ations in the lev­els of nutrients."
Despite this, the FDA claimed and con­tin­ues to assert that genet­i­cal­ly engi­neered foods are per­fect­ly safe and has clas­si­fied them as ​"gen­er­al­ly regard­ed as safe" (or GRAS) under cur­rent FDA guidelines.
The util­i­ty patents that Mon­san­to and oth­er cor­po­ra­tions hold on seed give them con­trol over every use of that seed — includ­ing research to test it for safe­ty. Farm­ers are not allowed to save and share the seed. Uni­ver­si­ty sci­en­tists must have per­mis­sion from the patent hold­er and pay roy­al­ties to do research on patent­ed seed. That is a sig­nif­i­cant bar­ri­er to inde­pen­dent sci­ence. By con­trast, the Open Source Seed Ini­tia­tive (OSSI) allows seed pur­chasers free use of the seed and asks for a pledge ​"not to restrict oth­ers' use of these seeds or their deriv­a­tives by patents or oth­er means, and to include this Pledge with any trans­fer of these seeds or their derivatives."
Unfor­tu­nate­ly, we do not live in a sweet world where researchers are free to work for the peo­ple and the earth and where deci­sions on what research gets fund­ed are made pure­ly on the basis of which projects ben­e­fit the largest num­ber of poor and hun­gry peo­ple in for­mer impe­r­i­al colonies.
Pro­pa­gan­da, eco­nom­ics and the need for cooperation
Just as the biotech pro­po­nents con­flate ​"sci­ence" and GMOs, I and the organ­ic move­ment con­flate our strug­gle for fam­i­ly-scale, local, organ­ic or agroe­co­log­i­cal agri­cul­ture and against cor­po­rate con­trol with the fight against GMOs. Buy­ing Roundup Ready seed is not a free choice for farm­ers. Using that seed ensnares the farmer in Monsanto's clutches.
There are eco­nom­ic issues here as well. Major Good­man of North Car­oli­na State Uni­ver­si­ty, a respect­ed corn geneti­cist and mem­ber of the Nation­al Acad­e­my of Sci­ences, stat­ed in tes­ti­mo­ny before the Nation­al Research Coun­cil that con­ven­tion­al breed­ing typ­i­cal­ly costs about $1 mil­lion per trait, while genet­ic engi­neer­ing costs $136 mil­lion per GE trait, with most of the cost due to research and devel­op­ment, not to reg­u­la­to­ry expenses.
If we could assem­ble a coun­cil of farm­ers and sci­en­tists to eval­u­ate the most cost-effec­tive ways to invest pub­lic resources to elim­i­nate world hunger, it is doubt­ful that they would choose genet­ic engi­neer­ing. The ​"2008 Unit­ed Nations Inter­na­tion­al Assess­ment of Agri­cul­tur­al Knowl­edge, Sci­ence and Tech­nol­o­gy for Devel­op­ment (IAASTD)," a com­pre­hen­sive report on the future of farm­ing authored by 400 sci­en­tists and backed by 58 gov­ern­ments, stat­ed that yields of GM crops were ​"high­ly vari­able" and, in some cas­es, ​"yields declined." The IAASTD con­clud­ed that since 70 per­cent of the world's pop­u­la­tion is fed by small farms (many run by women), the best course would be to increase invest­ments in agroecology.
That means doing the kind of work that the organ­ic farm­ers of the North­east (under the aus­pices of NOFA and MOF­GA) have been doing for over four decades — help­ing fam­i­ly-scale farm­ers, home­stead­ers and gar­den­ers learn more about how to pro­duce the health­i­est, most nutri­ent dense food using local resources and pro­vid­ing ways for them to share this learn­ing with one anoth­er. Farmer to farmer — campesino to campesino. Sci­en­tists who respect the ​"indige­nous" knowl­edge of farm­ers can help the way Mol­ly Jahns' team did in the Peace­work pep­per breed­ing project.
If some of the mil­lions spent on genet­ic engi­neer­ing were direct­ed to farmer-sci­en­tist orga­ni­za­tions like Masi­pag in the Philip­pines and the Nation­al Organ­ic Agri­cul­ture Move­ment of Ugan­da (NOGA­MU), there would be much more progress towards local self-reliance.
I total­ly agree with the the organ­ic farmer who declared at one of our meet­ings that agri­cul­ture needs applied research and tech­nol­o­gy, and that our Land-Grant uni­ver­si­ties should invest in applied research pro­grams to find the solu­tions to the com­plex prob­lems fac­ing farm­ers today. The divi­sion of farm­ers into two camps — organ­ic and con­ven­tion­al — is destruc­tive and pre­vents us from learn­ing from one anoth­er. It would help all farm­ers if the USDA research appa­ra­tus had fund­ing to sup­port organ­ic research pro­grams at high­er lev­els than the cur­rent 2 per­cent of all USDA research dollars.
So, at this time, I do not think the organ­ic move­ment should drop our oppo­si­tion to allow­ing cer­ti­fied organ­ic farms to use GE crops. We should con­tin­ue to cam­paign for label­ing GMOs. We should call upon Cor­nell to dis­band its pro­pa­gan­da arm for GMOs — the Alliance for Sci­ence—or repur­pose it under the guid­ance of a board that rep­re­sents the inter­ests of the peo­ple of New York state. We should not oppose con­tin­u­ing research in genet­ic engi­neer­ing, but we should demand that equal resources go into agroecology.
Inde­pen­dent Sci­ence is a great con­cept. Let's work togeth­er with con­ven­tion­al farm­ers for applied research that keeps our farms in busi­ness and allows us to grow the health­i­est food for all the peo­ple while regen­er­at­ing our soils and arrest­ing cli­mate change. Last­ly, I urge defend­ers of GMOs to read Altered Genes, Twist­ed Truth: How the Ven­ture to Genet­i­cal­ly Engi­neer Our Food Has Sub­vert­ed Sci­ence, Cor­rupt­ed Gov­ern­ment, and Sys­tem­at­i­cal­ly Deceived the Pub­lic by Steven M. Druker.
(A ver­sion of this sto­ry appeared on inde​pen​dentscience​news​.org and is repost­ed here with per­mis­sion. See ISN for addi­tion­al data and cita­tions used above.)