Many econ­o­mists expect Pres­i­dent Don­ald Trump's tar­iffs on import­ed steel and alu­minum to increase what Amer­i­can com­pa­nies and con­sumers pay for those met­als and the goods made from them. Dozens of com­pa­nies have already said they will have to fire work­ers or even go out of busi­ness. And, as the retal­ia­to­ry tar­iffs Cana­da, Japan, Mex­i­co and oth­er coun­tries have announced under­score, the Unit­ed States is head­ing for a trade war with the nation's clos­est allies.
But hav­ing spent the last eight years research­ing how to make the steel and alu­minum indus­tries more effi­cient, I believe it's pos­si­ble for the Unit­ed States to slash imports of these met­als not by impos­ing duties but by boost­ing the reuse and recy­cling of old met­al products.
Mak­ing far more of the nation's dis­card­ed steel and alu­minum scrap as good as new would have many advan­tages aside from its diplo­mat­ic div­i­dends, such as cut­ting pol­lu­tion and ener­gy consumption.
The Unit­ed States makes most of its steel and alu­minum by recy­cling scrap met­al from man­u­fac­tur­ers and from dis­card­ed prod­ucts such as demol­ished build­ings, old cars and thrown away cans.
The Unit­ed States made 82 mil­lion met­ric tons of steel in 2017, enough to form a con­tin­u­ous steel beam that could cir­cle the globe eight times. Some 68 per­cent of that steel was made from scrap metal.

The 4.4 mil­lion met­ric tons of alu­minum the Unit­ed States made in 2017 could be turned into a stack of soda cans tall enough to reach Mars. Some 83 per­cent of that alu­minum was from recy­cled metal.
While this may sound like an impres­sive amount of recy­cling, I believe much more of America's scrap met­al could be recy­cled domes­ti­cal­ly. Researchers esti­mate that only around 65 per­cent of old U.S. steel prod­ucts and between 40 and 65 per­cent of dis­card­ed Amer­i­can alu­minum prod­ucts are col­lect­ed for recy­cling. The rest of that met­al ends up in landfills.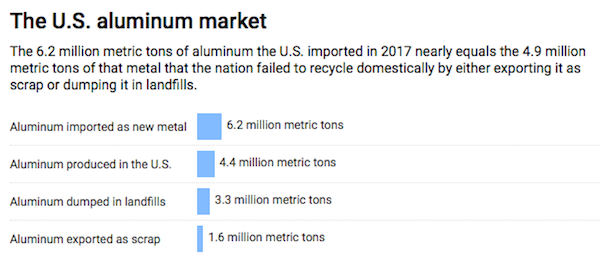 The Unit­ed States also exports much of the scrap met­al that it does col­lect to coun­tries like Turkey, where it gets recycled.
Chi­na has until now been a lead­ing importer of Amer­i­can scrap met­al. But it recent­ly began to try to ward off scrap met­al imports to retal­i­ate against Trump's tar­iffs with stiff duties of its own.
Trade deficits and surpluses
The Unit­ed States export­ed 15 mil­lion met­ric tons of steel scrap and import­ed around 4 mil­lion met­ric tons of it in 2017, run­ning an 11 mil­lion met­ric ton trade surplus.
In the same year, the Unit­ed States export­ed 1.6 mil­lion met­ric tons of alu­minum scrap, and import­ed 700,000 met­ric tons, run­ning a 900,000 met­ric ton trade surplus.
Even though the Unit­ed States exports and throws away tons of cheap scrap met­al, Amer­i­ca imports expen­sive new met­als. It export­ed 11 mil­lion met­ric tons of new steel and import­ed 36 mil­lion met­ric tons of it in 2017 — run­ning a 25 mil­lion met­ric ton trade deficit.
In the same year, the Unit­ed States export­ed 1.3 mil­lion met­ric tons of new alu­minum, and import­ed 6.2 met­ric tons—a near­ly 5 mil­lion met­ric ton trade deficit.
The Trump admin­is­tra­tion has deemed this valu­able import­ed met­al to be exces­sive and a threat to Amer­i­can jobs and nation­al secu­ri­ty. Those con­cerns are what led to its deci­sion to slap tar­iffs on import­ed steel and aluminum.
Regard­less of whether those asser­tions are rea­son­able, I believe that these imports, near­ly two-thirds of the alu­minum and about one-third of the steel the Unit­ed States con­sumed in 2017, could be near­ly entire­ly dis­placed if Amer­i­ca were to step up its reuse of scrap metal.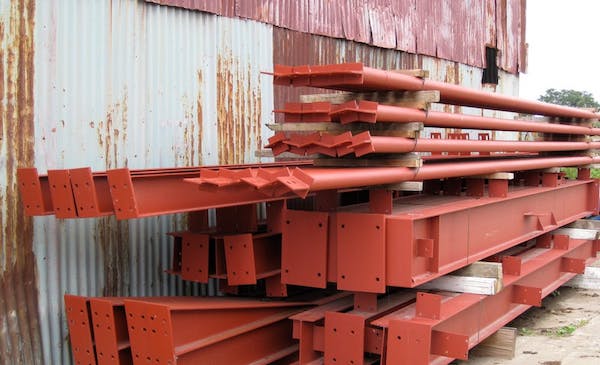 Struc­tur­al steel slat­ed for reuse. (Image: Daniel Coop­er / The Conversation)
More sus­tain­able
As an already indus­tri­al­ized coun­try, the Unit­ed States needs lit­tle new met­al to meet domes­tic demand.
This is because so many Amer­i­cans already have all the cars, stoves, wash­ing machines, offices and infra­struc­ture a soci­ety could need at a time when the U.S. pop­u­la­tion isn't grow­ing much. The aver­age per capi­ta own­er­ship of met­al in the Unit­ed States has remained flat for near­ly half a cen­tu­ry at around 13 tons.
Pro­vid­ing replace­ments for old cars and demol­ished build­ings by reusing and recy­cling steel and alu­minum is much more envi­ron­men­tal­ly friend­ly than mak­ing met­al from ore. Min­ing iron ore and baux­ite, the nat­u­ral­ly occur­ring min­er­al con­tain­ing alu­minum, destroys habi­tats and endan­gers plant and ani­mal life.
Con­vert­ing these min­er­als into steel and alu­minum releas­es tox­ic byprod­ucts as well as 10 per­cent of all man-made green­house gas emis­sions, accord­ing to the Inter­na­tion­al Ener­gy Agency.
Mak­ing steel from ore requires mak­ing iron first using coke, a high-car­bon fuel made by bak­ing coal at over 1,000 degrees Cel­sius. Coke removes oxy­gen from the iron oxide in the ore, pro­duc­ing iron but inevitably cre­at­ing car­bon diox­ide, a green­house gas then released to the atmosphere.
Between the baux­ite min­ing, refin­ing, smelt­ing and cast­ing process­es, the alu­minum indus­try is among the world's most ener­gy-inten­sive. Despite some promis­ing tech­no­log­i­cal break­throughs, the sim­plest way to make this flex­i­ble, durable and strong met­al with less pow­er and few­er emis­sions is by recy­cling the met­al.
Recy­cling also has a much-small­er car­bon foot­print. The green­house gas emis­sions for recy­cling steel are around one-quar­ter of what they are for mak­ing new steel, and recy­cling alu­minum cuts emis­sions by more than 80 per­cent.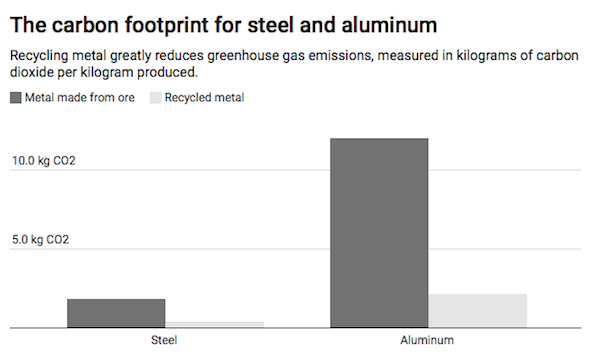 Recy­cling challenges
Recy­cling steel and alu­minum entails melt­ing the met­als in large elec­tric arc or gas-fired fur­naces and cast­ing new metal.
Hav­ing a mix of met­als in the fur­nace can low­er the recy­cled metal's qual­i­ty. Steel that con­tains just 0.1 per­cent cop­per con­t­a­m­i­na­tion can be liable to crack dur­ing manufacturing.
So recy­clers will try to sep­a­rate dis­card­ed old prod­ucts into piles of dif­fer­ent met­als before adding any to their fur­naces. For exam­ple, they shred old cars into small pieces with large mechan­i­cal shears before fer­ret­ing out the steel they want to recy­cle with mag­nets.
This is hard to do well, espe­cial­ly when it comes to, say, remov­ing the cop­per wiring found in car elec­tron­ics from shred­ded steel scrap or tak­ing the steel riv­ets out of alu­minum car pan­els. Because there is lit­tle demand for con­t­a­m­i­nat­ed met­al, U.S. scrap deal­ers often sell it to buy­ers in devel­op­ing coun­tries where low-paid work­ers sort through the dis­card­ed met­al by hand.
I believe that increased fed­er­al sup­port for met­al recy­cling, such as fund­ing research that would facil­i­tate bet­ter scrap met­al refin­ing and low-inter­est loans or tax breaks for recy­clers invest­ing in the lat­est sort­ing and refin­ing tech­nol­o­gy, would cost Amer­i­cans far less than the poten­tial con­se­quences of the new tar­iffs. It would also slash new steel and alu­minum imports while reduc­ing pollution.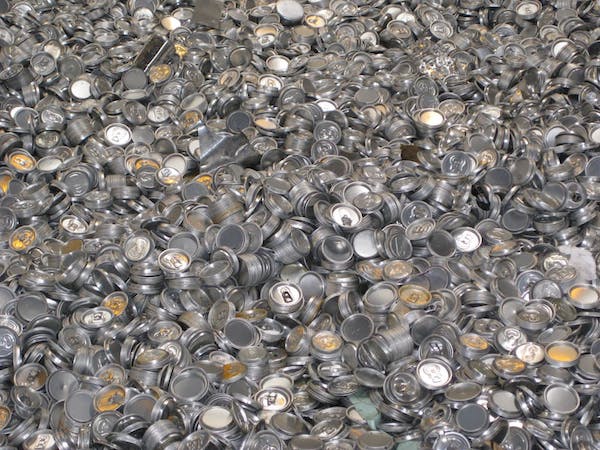 Alu­minum cans des­tined for recy­cling. (Image: Daniel Coop­er / The Conversation)
("How recy­cling more steel and alu­minum could slash imports with­out a trade war" was first pub­lished on The Con­ver­sa­tion and is repost­ed on Rur­al Amer­i­ca In These Times under a Cre­ative Com­mons license. Daniel Coop­er does not work for, con­sult, own shares in or receive fund­ing from any com­pa­ny or orga­ni­za­tion that would ben­e­fit from this arti­cle, and has dis­closed no rel­e­vant affil­i­a­tions beyond their aca­d­e­m­ic appointment.)