Inmate Firefighters Are on the Frontlines of Fighting the West Coast's Wildfires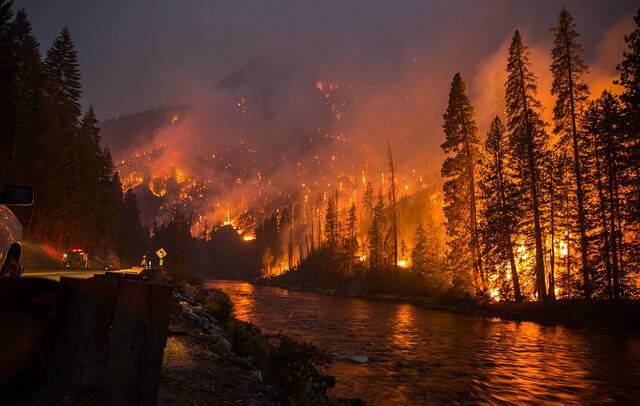 As a record-breaking wildfire season scorches the West, Inmate firefighters are among those on the frontlines of blazes from California to Washington.
An escape attempt this week drew attention to the little-known use of young people from juvenile detention facilities in firefighting crews in Washington state. As The Guardian reports, the 16 year old had been working on the Chelan Complex fire, when he escaped. He later tried to commit suicide when he was spotted by police, but survived.
David Ball, a criminal justice lawyer and corrections expert at California's Santa Clara University, said he was surprised to learn of fire camps for inmates under the age of 18.

"The word about scared-straight boot camps for juveniles is that they don't do any good," said Ball. ​"For most juvenile programs, there are lots of other things for these kids to do, like get their GED and go to counseling. This is really something that I have not heard of."

The Washington state government said it was reassessing the juvenile work camps, in light of the events. Two deployed crews had been recalled to their main facilities. Continue reading…
Meanwhile, despite earlier predictions that California's widespread use of inmate firefighting crews might be reduced owing to a decline in the prison population has proved unfounded according to Capitol Public Radio.
California has relied on state prison inmates for decades to help fight wildfires. But the state's prison population is shrinking – thanks to federal court orders, Gov. Jerry Brown's realignment program and voter-approved Proposition 47. And Cal Fire has worried that one of its major labor forces could crumble as a result.

Bill Sessa with the California Department of Corrections and Rehabilitation says the state may need to rely more on county jail inmates in a few years, ​"but all of the predictions up to now of having a reduced prison inmate population to work the fires have kind of fallen through – because even though we have fewer inmates than we used to have, we still have enough." Continue reading…
Last year, California's Attorney General Kamala Harris drew criticism after it transpired staff from her office had argued against offering good-time credits to eligible prisoners because it would reduce the inmate labor pool, particularly firefighting crews.
Be one of the first
Help kick off the new era of In These Times! Without a media that brings people together and creates a written record of the struggles of workers, their voices will be fragmented and forgotten.
The mission of In These Times is to be that written record, and to guide and grow those movements.
We have a lot of work ahead of us, and that work starts today. Early support is the most valuable support, and that's why we're asking you to pitch in now. If you are excited for this new era of In These Times, please make a donation today.
George Lavender
is an award-winning radio and print journalist based in Los Angeles. Follow him on Twitter @GeorgeLavender.