Inside the Democratic Socialists of America's Big Decision To Endorse Bernie Sanders
10,000 members voted "yes" in an endorsement poll, outnumbering "nos" 3 to 1, but the debate continues.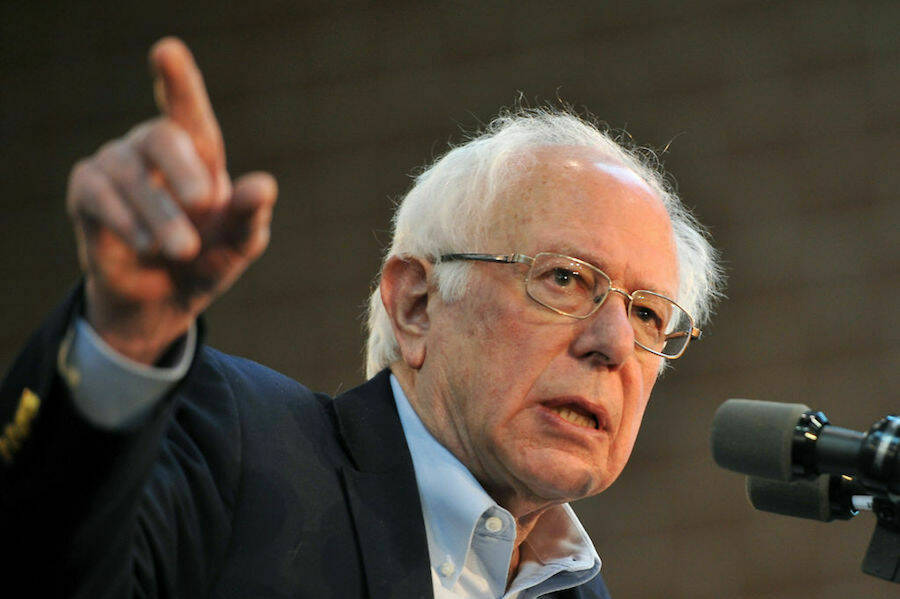 At an emer­gency meet­ing March 21, the Demo­c­ra­t­ic Social­ists of America's Nation­al Polit­i­cal Com­mit­tee, the organization's 18-mem­ber board, vot­ed 11 to 4 to endorse Ver­mont Sen. Bernie Sanders in his 2020 pres­i­den­tial run. The endorse­ment fol­lowed a deci­sion to invest hun­dreds of thou­sands of dol­lars in new staff and resources for DSA's 100-plus chapters.
The process has also highlighted the challenges of democratic decision-making in an organization that's already grown so much, so quickly.
The vote also came after a one-week advi­so­ry poll open to all dues-pay­ing mem­bers that endorsed Sanders 3 to 1 (13,324 peo­ple, rough­ly a quar­ter of DSA's mem­ber­ship, weighed in.) But it's just one event in an ongo­ing inter­nal debate about how DSA, which saw an explo­sion in mem­ber­ship after Sanders's pri­ma­ry run in 2016 — from 6,100 mem­bers to 56,000 today — should approach this sec­ond go-around. It is also, impor­tant­ly, not bind­ing for indi­vid­ual chapters.
Many DSA mem­bers agree that Sanders, a self-described demo­c­ra­t­ic social­ist who has pop­u­lar­ized poli­cies like free col­lege and Medicare for All, is the only pres­i­den­tial endorse­ment worth con­sid­er­ing. Some large chap­ters, includ­ing Philadel­phia DSA, Detroit and Chica­go, dou­bled down with their own local endorse­ments. Mem­bers argue that enter­ing the race ear­ly will ensure an orga­nized and effec­tive field strategy.
But dis­sent­ing con­tin­gents counter that the board's process was rushed and opaque. ​"I think that the small­er and more rur­al chap­ters espe­cial­ly feel that they are being ignored and not lis­tened to," says Emi­ly Cameron of Fres­no DSA, who cir­cu­lat­ed a peti­tion to defer the vote to the nation­al con­ven­tion in Atlanta this August. With 649 sig­na­tures and buy-in from 27 local chap­ters to date, the peti­tion argues that only a delay would allow for a ​"trans­par­ent" process.
And on the day of the endorse­ment vote, DSA's Afroso­cial­ist and Social­ists of Col­or Cau­cus issued an open let­ter urg­ing the NPC to with­hold an endorse­ment until Sanders ​"acknowl­edges the valid­i­ty of black demands for repa­ra­tions in Amer­i­ca," and not­ing the organization's ​"defi­cien­cies on issues of race and racism." The state­ment came in response to a Feb­ru­ary 25 CNN town hall in which Sanders declined to say he sup­port­ed repa­ra­tions.
Pro­po­nents of the Sanders endorse­ment argue that the poll opened the vote to more mem­bers than the con­ven­tion would, and express hope that the cam­paign will help DSA con­tin­ue to grow. Ide­al­ly, says NPC mem­ber Ella Maho­ny, 25, DSA can con­vert ​"that ener­gy from Sanders towards our social move­ment work, towards our labor work, towards our ten­ant orga­niz­ing." Yet the process has also high­light­ed the chal­lenges of demo­c­ra­t­ic deci­sion-mak­ing in an orga­ni­za­tion that's already grown so much, so quickly.
Does Sanders help or hinder?
One major point of dis­agree­ment is whether cam­paign­ing for Sanders will com­ple­ment or detract from local orga­niz­ing efforts. At DSA's August 2017 Nation­al Con­ven­tion, attend­ed by close to 1,000 mem­bers, the orga­ni­za­tion passed a res­o­lu­tion estab­lish­ing three top pri­or­i­ties: Medicare for All, sol­i­dar­i­ty with labor orga­niz­ing, and elec­toral pol­i­tics. But how these bal­ance and relate remains an open ques­tion — one brought to the fore by the Sanders endorse­ment debate.
In Detroit DSA, elec­toral com­mit­tee chair Jes­si­ca New­man, 32, sees knock­ing on doors and phone bank­ing for Sanders as a use­ful oppor­tu­ni­ty to ral­ly vot­ers against bad cor­po­rate actors in the state, like man­u­fac­tur­er 3M, whose chem­i­cal com­pounds have entered Michi­gan water­ways. ​"We will high­light how mea­sures like the Green New Deal, backed by Bernie Sanders, are essen­tial mea­sures to fight back against the cor­po­rate greed lit­er­al­ly poi­son­ing and exploit­ing our com­mu­ni­ties across the state," New­man says.
In the long term, she adds, the suc­cess of much of DSA's non-elec­toral work depends on the suc­cess of a Sanders cam­paign: ​"We need to be sure that the per­son in charge is going to be will­ing — and has the courage of their con­vic­tions — to stand up to super pow­er­ful inter­ests that are already try­ing to crush us."
Ugo Okere, 22, a mem­ber of Chica­go DSA, also sees elec­toral pol­i­tics as an impor­tant lever of pow­er. Okere is fresh off a local cam­paign for City Coun­cil that fell a few hun­dred votes short of a runoff. He cam­paigned on rent con­trol — one of his local chapter's major pri­or­i­ties. In Chica­go DSA, Okere says, ​"we under­stand as an orga­ni­za­tion that elect­ed offi­cials are not going to be our sav­ior. Are not going to lib­er­ate black and brown work­ing class peo­ple. But I always view elec­toral pol­i­tics as an appa­ra­tus in which we fight to do those things."
But some branch lead­ers told In These Times that their chap­ters pre­fer to focus on local, issue-based cam­paigns over nation­al elec­toral pol­i­tics: like con­demn­ing coop­er­a­tion between immi­gra­tion and law enforce­ment in Fres­no; or expand­ing access to men­stru­al prod­ucts in Birm­ing­ham; or fight­ing for food sov­er­eign­ty with the native Kana­ka Maoli com­mu­ni­ty in Hawaii. Mikey Inouye, 34, co-chair of the Demo­c­ra­t­ic Social­ists of Hon­olu­lu, says he respects his com­rades' elec­toral work, but has ​"seri­ous con­cerns about DSA as an orga­ni­za­tion invest­ing too much time and resources in elec­toral pol­i­tics, with­out a com­pa­ra­ble amount of resources and sup­port to chap­ter projects that lay out­side of our bro­ken elec­toral system."
"We love get­ting into the fields and plant­i­ng kalo with our native Hawai­ian com­rades," Inouye added. ​"And learn­ing from them, and work­ing towards the long-term project of decol­o­niza­tion. And decol­o­niza­tion is not going to hap­pen with­in the polit­i­cal sys­tem that intro­duced it."
Among the chap­ters that have chafed at the tim­ing of the endorse­ment is the Des Moines-based Cen­tral Iowa DSA. Local bylaws pro­hib­it that chap­ter from even con­sid­er­ing an endorse­ment unless a can­di­date requests it, which Sanders has not. ​"This was nev­er in our plans," said Co-Chair Car­o­line Schoonover, 28. In this ear­ly and con­se­quen­tial pri­ma­ry state, her chap­ter is excit­ed about dis­rupt­ing the Iowa Cau­cus, which, she says, ​"exem­pli­fies every­thing that is wrong with the Iowa Demo­c­ra­t­ic Par­ty; it's inac­ces­si­ble, exclu­sion­ary, and com­plete­ly focused on gain­ing nation­al pres­tige and atten­tion rather than actu­al­ly improv­ing the lives of Iowans." The chap­ter plans to use the parade of pres­i­den­tial hope­fuls to bring atten­tion to oth­er issues — when Michael Bloomberg made an explorato­ry vis­it in Decem­ber 2018, mem­bers inter­rupt­ed his speech to chal­lenge his invest­ments in ener­gy companies.
DSA Nation­al Direc­tor Maria Svart empha­sizes that the NPC endorse­ment does not com­pel indi­vid­ual chap­ters. ​"I think there are mis­con­cep­tions that indi­vid­ual chap­ters will be forced to do Bernie cam­paign work," she says.
A ques­tion of resources
Dis­sent­ing chap­ters also take issue with the use of nation­al resources. Even before Sanders announced his run, the NPC laid ground­work for cam­paign work on his behalf. At their Jan­u­ary meet­ing, the board approved $149,000 annu­al­ly for DSA to join The Move­ment Coop­er­a­tive, a suit of tech tools that assist cam­paign work. In addi­tion, they approved a pro­pos­al for up to four new staff: one or two Bernie-focused cam­paign staffers, a com­pli­ance expert, and a tech and data expert.
The total cost of these new hires hasn't been deter­mined, Svart con­firmed, adding that the com­pli­ance and data posi­tions were not con­tin­gent on a Sanders endorse­ment. Jan­u­ary meet­ing min­utes haven't been released, either, to the cha­grin of some mem­bers. (DSA's press depart­ment says some work reshuf­fling due to new hires cre­at­ed a back­log.) Though the 2019 bud­get is not yet avail­able, DSA's 2018 bud­get was $1.66 million.
In response to crit­i­cism that these expen­di­tures were an implic­it Sanders endorse­ment ahead of the vote, NPC mem­bers argued that they will take pres­sure off small chap­ters in many ways. They are ​"not depen­dent on the Bernie endorse­ment and also usable by any local for can­vass­ing work," says Renée Par­adis, 41, an attor­ney from North Brook­lyn DSA who serves on DSA's Nation­al Elec­toral Committee.
How to hold Sanders accountable?
DSA mem­bers also dis­agree on the most effec­tive way to influ­ence Sanders on issues where his stances have diverged from their own. Wide­spread con­cerns include Sanders's recent com­ments on the U.S. inter­ven­tion in Venezuela, which have fall­en short of DSA's con­dem­na­tion. Sanders also vot­ed in 2017 for SESTA/FOSTA, anti-human traf­fick­ing leg­is­la­tion that's made it more dif­fi­cult for sex work­ers to safe­ly work and gath­er online.
Ana Mri, 25, a sex work­er and for­mer mem­ber of Las Vegas DSA, thinks that DSA has lost cru­cial lever­age to push Sanders on SESTA/FOSTA by endors­ing so ear­ly, and should have wait­ed at least until the con­ven­tion to debate the best way to pro­ceed. As it stands, notes Mri (who pre­ferred to use a pseu­do­nym), the NPC has no offi­cial posi­tion on decrim­i­nal­iz­ing sex work. If the board hasn't for­mu­lat­ed its own posi­tion on the issue, how can they artic­u­late clear demands for Sanders? ​"Our strug­gle and our lives, they just feel like a foot­note that can be addressed lat­er," says Mri, who left DSA after the endorsement.
At a packed debate on the endorse­ment ques­tion host­ed by New York City DSA's Social­ist-Fem­i­nist work­ing group on March 10 in Man­hat­tan, Tatiana Coz­zarel­li, 32, argued that any attempts to change Sanders' pol­i­cy posi­tions, regard­less of the tim­ing, would be futile. ​"I actu­al­ly think it might be a lit­tle naïve for us to think that our 50,000 mem­bers can pres­sure Sanders away from the Demo­c­ra­t­ic Par­ty behe­moth estab­lish­ment," she said.
Lat­er that evening, Fainan Lakha, 24, stood up from the audi­ence to insist that an ear­ly endorse­ment and a crit­i­cal Sanders cam­paign are com­pat­i­ble. ​"We're talk­ing about an inde­pen­dent cam­paign for Bernie Sanders," she said. ​"We're talk­ing about a cam­paign that DSA runs and con­trols, where we col­lect all of the infor­ma­tion, where we orga­nize all the peo­ple, where we have our own mate­ri­als. Where we make our own arguments."
Thea Riofran­cos, 35, a polit­i­cal sci­ence pro­fes­sor and for­mer Prov­i­dence DSA co-chair, believes, like Lakha, that DSA can and should work to elect Sanders while retain­ing crit­i­cal dis­tance. But, she cau­tions, main­tain­ing that dis­tance will require care.
"We know that one of the virtues of Bernie, is that he is some­what recep­tive to social move­ment pres­sure," she said. ​"So I think that in order to hold an admin­is­tra­tion like that account­able we need to be orga­nized, and in order to be orga­nized, our strate­gic vision can't begin and end with the Bernie campaign."