Interstellar Has Great Visuals and a Bad Case of Christopher Nolan Disease
A guy with a dead wife nobly pursues the blowing up of cool shit, in a universe based on iffy science. Sound familiar?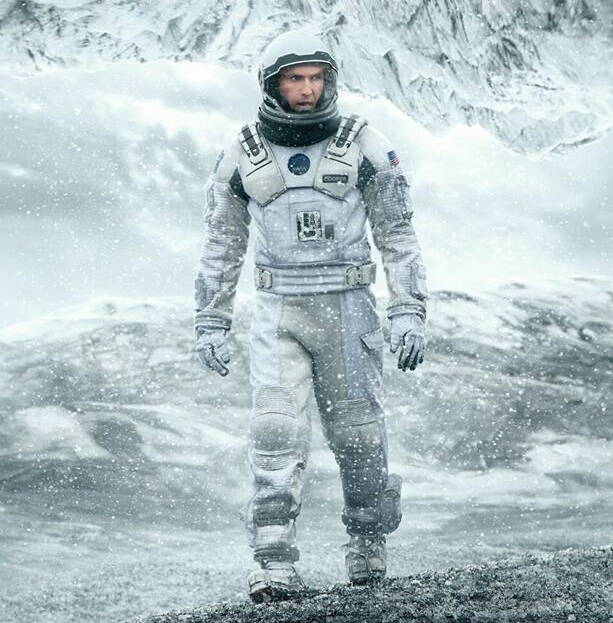 I prob­a­bly don't need to tell you that Christo­pher Nolan's Inter­stel­lar is beau­ti­ful. Nolan is a mas­ter of scenes that gen­uine­ly look and feel like vis­its to anoth­er uni­verse: cities that fold in on them­selves, in Incep­tion, or a field that sprouts light­bulbs like rows of corn, in The Pres­tige. In The Dark Knight, he man­aged to make the Jok­er, one of the camp­i­est fig­ures in pop cul­ture, into a gen­uine­ly fright­en­ing vil­lain, large­ly through good cos­tume design. So if I tell you that Inter­stel­lar shows you things you've nev­er imag­ined — ocean waves the size of moun­tain ranges, a plan­et-sized ball that holds dozens of galax­ies, and what is sup­pos­ed­ly the most accu­rate sim­u­la­tion of a black hole ever cre­at­ed, con­struct­ed over the course of a year with the help of the­o­ret­i­cal physi­cist Kip Thorne — I'm only telling you that it's a Christo­pher Nolan movie. You know it looks great. That's why you buy the IMAX tickets.
Nolan makes blockbusters. He trades in spectacle. As such, it's not necessarily wrong that he aims to elicit awe rather than compassion.
What you real­ly want to know, I sus­pect, is whether the movie has Christo­pher Nolan Dis­ease: a sad­den­ing afflic­tion, most com­mon among block­buster film direc­tors named Christo­pher Nolan, in which vast, immer­sive, awe-inspir­ing worlds are cre­at­ed sole­ly in order to tell the same damn sto­ry over and over again. There is a man. He is a sad man. His sad­ness makes him no less man­ly. The wife of this man, she is dead now. (If this man be a Bat­man, who has tak­en no wife, his par­ents will be dead, and also, his girl­friend. Yes, a clever twist, friends: They did not mar­ry, but that did not stop her from being dead! Sad.) The man's sad­ness, a great strug­gle con­duct­ed in the deep dark­ness of his soul, fuels his life's grand­est endeav­or: The blow­ing-up of cool shit. In this noble pur­suit of the blow­ing-up of things, the man's wounds are healed and his mas­culin­i­ty reaffirmed.
Memen­to, The Pres­tige, Incep­tion, The Dark Knight Tril­o­gy: Each and every one tells this sto­ry. So the real ques­tion about Inter­stel­lar is not whether it's beau­ti­ful, but whether telling a sto­ry that cov­ers the entire span of space and time has caused Nolan to broad­en his emo­tion­al palette. The answer: Well, sort of. This time, not only is the hero's wife dead, he's also on a quest to recon­nect with his estranged daugh­ter. Hey, at least Nolan's pick­ing new female fam­i­ly mem­bers for dudes to be sad about. Maybe, in ten years, we'll get to see a Christo­pher Nolan movie about a guy who's real­ly bummed about his aunt.
It's a shame to see Inter­stel­lar fall prey to Christo­pher Nolan Dis­ease, because it opens with a pret­ty great sto­ry. In a near future that's just a gen­er­a­tion or so away from our own, the Earth is dying due to a mys­te­ri­ous ​"blight" that's wip­ing out crops. Peo­ple are starv­ing, and those who don't starve will even­tu­al­ly suf­fo­cate, because the death of plant life is caus­ing the atmos­phere to run out of oxy­gen. The soil blows across the land­scape, a con­stant ambi­ent tide of dust that some­times coa­lesces into huge storms. Every­thing is a Dorothea Lange por­trait of the Dust Bowl. Most of human­i­ty is dead, and the rest are farm­ers, whether they like it or not, includ­ing Matthew McConaughey's char­ac­ter Coop­er, a for­mer engi­neer. Intel­li­gence has no place here; learn­ing is point­less; ambi­tion, tal­ent, rea­son, none of these mat­ter more than wring­ing the last few ounces of food out of the dying plan­et. Going to col­lege is seen as waste­ful self-indul­gence: What could you pos­si­bly learn that's more impor­tant than farm­ing? Tech­nol­o­gy is use­ful only inso­far as it can pro­duce more farm equipment.
There's a gen­uine­ly oppres­sive sense of progress flow­ing back­wards, in these scenes. Human­i­ty is dying not sim­ply because we've encoun­tered great obsta­cles, but because we've giv­en up the love of learn­ing that might allow us to save our­selves. Coop­er's daugh­ter, Murph, is sent home from school because she refus­es to believe that the Moon land­ings were faked. (There are also some trade­mark Nolan cryp­to-con­ser­v­a­tive mum­blings about evil peo­ple who demand ​"social respon­si­bil­i­ty," but let's be real: If any one polit­i­cal par­ty is going to cause the anti-intel­lec­tu­al dystopia, it's going to be the one that believes birth con­trol pills are abor­tion and cli­mate change is a mat­ter of opin­ion.) If the movie could stick to this mes­sage, it might actu­al­ly be a great film.
And then Matthew McConaugh­ey acci­den­tal­ly stum­bles into the head­quar­ters of NASA, which has appar­ent­ly been con­duct­ing bil­lion-dol­lar mis­sions in total secre­cy all this time, and then it turns out that he some­how knows peo­ple at NASA despite the fact that he didn't know NASA still exist­ed, and then NASA offers him the job of fly­ing a space­ship to a dis­tant galaxy in search of a new inhab­it­able plan­et with­in about five min­utes ("You're the best pilot we ever had!" Uh, he was?) and, well, the movie that start­ed out as a stir­ring defense of human intel­li­gence quick­ly gets pret­ty darn stu­pid. Also, remark­ably anti-sci­ence: The amaz­ing accu­ra­cy of that black hole mod­el is sig­nif­i­cant­ly dimin­ished when the movie's plot revolves around dudes jump­ing into it. A black hole is a col­lapsed star so dense that it devours light, warps space, and slows or even stops time. In this movie, peo­ple are just hang­ing out by the edges and hop­ping in like it's a big, scary-look­ing swim­ming pool. Although to be fair, it may func­tion a lit­tle dif­fer­ent­ly from the black holes our sci­en­tists have been study­ing, because this one turns out to be pow­ered (I swear) by love.
Again, it's not that this stuff isn't cool (well, most of it). Invok­ing rel­a­tiv­i­ty gives Nolan a chance to play around with time, as he did in Incep­tion. The char­ac­ters vis­it plan­ets close to the black hole, where time is rad­i­cal­ly slowed down, so that every hour equates to sev­en years in the out­side world. Sim­ple mis­takes cost decades. There is a real poignan­cy to Coop­er's grow­ing real­iza­tion that his chil­dren on Earth are going to grow up, grow old and per­haps die over the course of his next few days or hours — that he slipped out for a quick adven­ture and wound up miss­ing father­hood. But it's under­mined by Nolan's ham-hand­ed insis­tence that adven­ture is the wor­thi­er thing, that peo­ple (mean­ing men) must be bold and brave and explore things, that ​"love" and fam­i­ly are great and all, but ulti­mate­ly, best expressed through skip­ping town to go blow up cool shit. The best thing a daugh­ter can do, in this sce­nario, is to stop hold­ing her father back and give him per­mis­sion to aban­don her, trust­ing that he loves her any­way, in some way that can only be demon­strat­ed by obscure hooey-involv­ing love-fueled black holes.
Which brings us to the women, where Nolan's relent­less focus on sto­ic mas­cu­line trau­ma often caus­es him to drop the ball. It's not, I think, that Nolan dis­likes women: He just doesn't entire­ly see the point of them out­side of their occa­sion­al util­i­ty as moti­vat­ing fac­tors for men. Jes­si­ca Chas­tain, a great actress, plays Coop­er's daugh­ter Murph as an adult, and this char­ac­ter — a bright girl in a world that has no place for bright girls, a woman who spends her life try­ing to save a doomed plan­et — ought to be tremen­dous­ly com­pelling. In prac­tice, she most­ly cries about her father. Why wouldn't she? Murph's father is the whole point of Murph; she exists to react, not to act.
The oth­er female pres­ence in the pic­ture is a female sci­en­tist on the black-hole voy­age, played by Anne Hath­away. Her main con­tri­bu­tions to sci­ence include (1) falling down so that men have to res­cue her, (2) try­ing to derail a mis­sion so she can vis­it her boyfriend, (3) plan­ning to impreg­nate her­self (I think) with no less than 300 fer­til­ized embryos so as to res­ur­rect the human race one unas­sist­ed child­birth at a time, and (4) giv­ing a speech about how Love is the fifth dimen­sion. I like Hath­away, as an actress, but there's no way to make this stuff not insult­ing to women. She's the face of female space explo­ration, and she's lit­er­al­ly only on the space­ship so that she can go see her boyfriend and have babies.
Nolan makes block­busters. He trades in spec­ta­cle. As such, it's not nec­es­sar­i­ly wrong that he aims to elic­it awe rather than com­pas­sion or that his human dra­ma is a lit­tle sketchy and under­cooked. At the end of the day, with Nolan, you'll remem­ber the fold­ing cities and revolv­ing hall­ways and moun­tain-sized waves, not the char­ac­ters' names. And that's par for the course, with big spec­ta­cle movies. Grav­i­ty, the film to which Inter­stel­lar is being com­pared, had a pret­ty thin plot, too – a plot that revolved around an astro­naut griev­ing her dead daugh­ter, no less.
But Nolan's plot isn't just thin; it's almost copy-paste. And with Inter­stel­lar, we end up where we always do: With a very sad and man­ly man cry­ing man­ly tears to express his hero­ic grief man­ful­ly. We've seen it all before; we're just see­ing it in a new land­scape this time. And, hon­est­ly, that land­scape is so big and beau­ti­ful and strange that it wouldn't be wrong for Nolan to con­sid­er remov­ing the peo­ple from the screen com­plete­ly, so we can sim­ply sit and mar­vel at the pic­tures he creates.