The Revolution Will Be Filmed
Jehane Noujaim, director of Oscar-nominated documentary The Square, on the challenges of shooting a revolution-in-progress.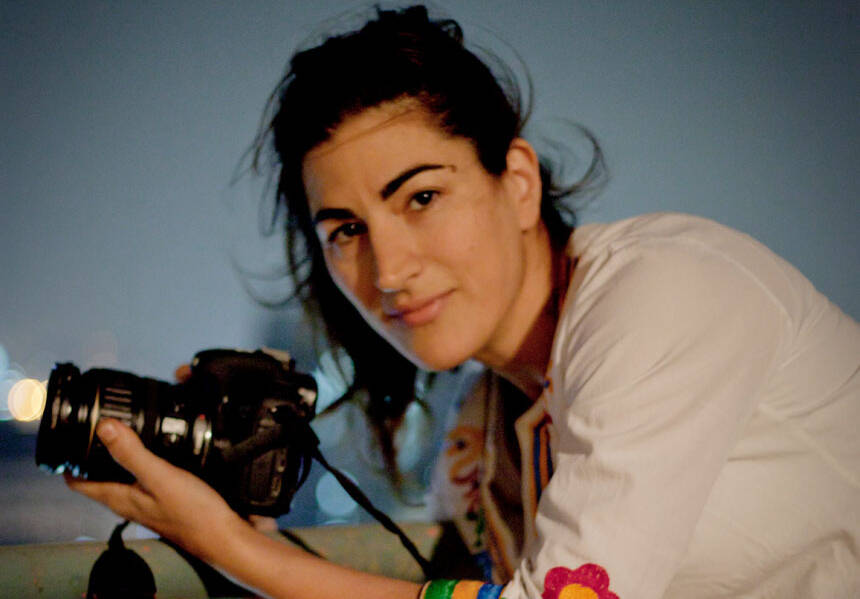 The Square is a ​"you are there" film about the Egypt­ian rev­o­lu­tion that, with its vérité footage of tear gas and bar­ri­cades, puts view­ers right in the thick of the upheaval. Dur­ing film­ing, The Square ​'s direc­tor, Jehane Nou­jaim, was caught in the vio­lent con­flicts between pro­test­ers and the Egypt­ian armed forces, and was arrest­ed by Egypt­ian police. But for Nou­jaim, who was born to an Amer­i­can moth­er and an Egypt­ian father and grew up in Egypt, it was vital to cap­ture the inti­mate dan­ger of the rev­o­lu­tion on film.
'Our characters are still deeply optimistic--they wouldn't be struggling for change if they didn't believe there was a hopeful future.'
The Square pre­miered at the 2013 Sun­dance Film Fes­ti­val, won the Toron­to Inter­na­tion­al Film Fes­ti­val​'s doc­u­men­tary People's Choice Award and received an Oscar nom­i­na­tion for Best Doc­u­men­tary Fea­ture. In These Times spoke with Nou­jaim in Feb­ru­ary at the Bev­er­ly Hills offices of Net­flix, which is now dis­trib­ut­ing The Square in 47 countries.
The on-the-go film­mak­er, who quipped that she now lives ​"in a suit­case and air­plane between Cairo and New York City," spoke about Egypt's polit­i­cal sit­u­a­tion, the wave of glob­al mass upris­ings and what's next for her as a filmmaker.
Did you fear for your life while shoot­ing The Square?
If you'd asked me a few years ago whether I'd be tear­gassed while mak­ing this film, I would have said you were crazy. But we learned a sort of fear­less­ness from our char­ac­ters. When you're sur­round­ed by peo­ple who are will­ing to put every­thing on the line for what they believe in, and you're ded­i­cat­ing your­self to giv­ing their sto­ry some kind of plat­form, your fear dis­ap­pears. My par­ents still think I'm crazy.
We were also with peo­ple, though, who were very street-smart. Every time I'd get into a dan­ger­ous sit­u­a­tion, Ahmed [Has­san, a rev­o­lu­tion­ary who is fea­tured promi­nent­ly in The Square] would appear from out of nowhere and man­age to get me out. In that way, I feel like we were very safe. Although if you see the footage it doesn't look like it was a very safe sit­u­a­tion. [Laughs]
Jodie Evans, who has pro­duced sev­er­al oth­er doc­u­men­taries and co-found­ed the activist orga­ni­za­tion CODE­PINK, was one of The Square ​'s exec­u­tive pro­duc­ers. How did she get involved in its creation?
Oh, Jodie has been a mag­ic god­send, real­ly, for this film. She has been fight­ing for change around the world for a long time, such as with the cre­ation of CODE­PINK. What Jodie saw in the film was this ​"look at how change actu­al­ly hap­pens" [aspect]. Usu­al­ly, mem­bers of the pub­lic sort of see ​"the great­est hits of change" — where Mar­tin Luther King gives his speech or Gandhi's suc­cess­ful — but they nev­er see the very dif­fi­cult, bor­ing, depress­ing, heart­break­ing moments. They nev­er see the down­side. Films like The Square give peo­ple an under­stand­ing that these kinds of change take patience. When you see char­ac­ters depressed, and hav­ing lost and failed, what's so impor­tant is that they go back to try again the next day. That is what you see in this film. And that's why Jodie got very excit­ed about this film. With­out her, The Square would not have been finished.
Will The Square be shown in Tahrir Square?
Our dream is to show The Square there. That's where it was born. We just showed it in Mex­i­co City [in Plaza San Jerón­i­mo] — the ener­gy was tan­gi­ble. In Ukraine, we showed it on blowup screens in Kiev in [Maid­an] square. We intend to show it in squares in places around the world. We're dying to bring it back to Cairo to show it in Tahrir. We're going through the com­pli­cat­ed bureau­crat­ic process of get­ting that approval. When we go back to Egypt we'll see what happens.
Do you have any appre­hen­sion about show­ing The Square in Egypt today, giv­en the government's recent push­back against dissent?
We are going through a very dark time in Egypt now. Al Jazeera jour­nal­ists have been arrest­ed. Human rights lawyer Ragia Omran just told me more than 1,000 peo­ple have been arrest­ed since Jan­u­ary 25. There's a for­mer mem­ber of Par­lia­ment who is fac­ing a court case because of a tweet he wrote.
But I don't think that the fight is over. We've only been in the strug­gle for three years; the time between the Amer­i­can Rev­o­lu­tion and Con­sti­tu­tion was some­thing like 16 years. We're in the mid­dle of the strug­gle. Even though peo­ple are being arrest­ed and rights are being tram­pled on, that's why this is the most impor­tant time for this film to come out.
Our char­ac­ters are still deeply opti­mistic — they wouldn't be strug­gling for change if they didn't believe there was a hope­ful future. If you speak to each one of them, includ­ing Magdy [Ashour], the Mus­lim Broth­er­hood char­ac­ter, every­body says, ​"We'll nev­er go back." There's a stay­ing pow­er to this move­ment, and peo­ple will con­tin­ue fight­ing for change.
So yes, it's a very scary time. At the same time, we made a film about peo­ple fight­ing on the front­lines for change, and we need to face this fear head-on. That's part of what we're doing right now, by releas­ing this film and by going through [Egypt's] cen­sor­ship process.
It seems like in great Hol­ly­wood tra­di­tion, The Square: The Sequel is beg­ging to get made. What's next for you?
Releas­ing this film in Egypt is some­thing that is clos­est and dear­est to our hearts. The Square is a stand-alone film. How­ev­er, since we fin­ished it, there have been huge­ly impor­tant polit­i­cal events that have hap­pened. We do have cam­eras still film­ing on the ground. That's what's excit­ing, actu­al­ly, about releas­ing The Square on Net­flix, because peo­ple are watch­ing it online. So they can imme­di­ate­ly con­nect to our Face­book page, our YouTube chan­nel, or go to the Twit­ter hash­tag #TheSquare and con­tin­ue the conversation.
We have the abil­i­ty — from the 1,600 hours we filmed and from the stuff we're still film­ing — to upload pieces online to con­tin­ue that conversation.
We're liv­ing in an age of mass upris­ings. Every day there seems to be anoth­er protest — such as those in Bosnia, Venezuela or Ukraine. What do you make of these mass revolts?
Young peo­ple are try­ing to change their rela­tion­ship with their gov­ern­ment. It's this excit­ing time when they're using a pub­lic space as a polit­i­cal tool for change. Even though the specifics in dif­fer­ent coun­tries are very dif­fer­ent, there is a com­mon ener­gy — per­haps like in the ​'60s — that is present around the world. And because the world is more inter­con­nect­ed, because young rev­o­lu­tion­ar­ies can see what's hap­pen­ing in Kiev and vice ver­sa, there's an amaz­ing, almost mag­i­cal ener­gy that hap­pens when peo­ple are con­nect­ing with and learn­ing from each other.
What was it like being nom­i­nat­ed for an Acad­e­my Award?
We could not be more thrilled to be in the com­pa­ny of such incred­i­bly tal­ent­ed film­mak­ers and sto­ry­tellers. What we're real­ly excit­ed about, though, is the fact that with this nom­i­na­tion, this film has the abil­i­ty to affect the con­ver­sa­tion on the ground in Egypt as a pres­i­dent and par­lia­ment are being elect­ed. That's a rare place for a doc­u­men­tary to be.
Peo­ple who we have fol­lowed in our film are fight­ing for very basic human rights and social jus­tice in the coun­try. When pub­li­ca­tions say, ​"The strug­gle in Egypt is over; it's failed; a mil­i­tary gov­ern­ment has tak­en over," that shuts the door on oth­ers con­tin­u­ing to believe in the strug­gle of those in the country.
The film's Oscar nom­i­na­tion, instead, ele­vat­ed this con­ver­sa­tion. When we told Ahmed [Has­san] about it, he said, ​"I want to run down the streets yelling and scream­ing because this means that our sto­ry, our con­tin­u­ing strug­gle, will nev­er be able to be silenced."
Ed Ram­pell

is an L.A.-based film historian/​critic, jour­nal­ist and author who wrote

Pro­gres­sive Hol­ly­wood, A People's Film His­to­ry of the Unit­ed States

and co-authored

The Hawaii Movie and Tele­vi­sion Book. Ram­pell is Co-Orga­niz­er of the

70

th Anniver­sary Com­mem­o­ra­tion of the Hol­ly­wood Blacklist.