Interviews for Resistance: Bird-Dogging To Stop Trumpcare in the Senate
This organizer is training activists on how to track down representatives and ask questions.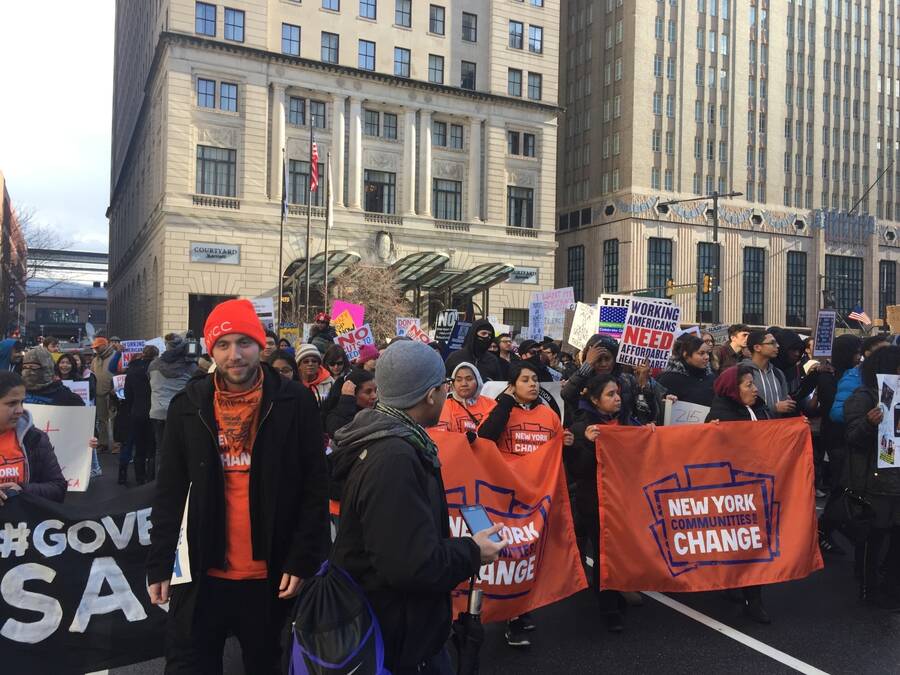 Wel­come to Inter­views for Resis­tance. Since elec­tion night 2016, the streets of the Unit­ed States have rung with resis­tance. Peo­ple all over the coun­try have wok­en up with the con­vic­tion that they must do some­thing to fight inequal­i­ty in all its forms. But many are won­der­ing what it is they can do. In this series, we'll be talk­ing with expe­ri­enced orga­niz­ers, trou­ble­mak­ers and thinkers who have been doing the hard work of fight­ing for a long time. They'll be shar­ing their insights on what works, what does­n't, what's changed and what is still the same.
"Now is not the time to slow down. Now is the time to ramp it up."
Jen­nifer Fly­nn: I am Jen­nifer Fly­nn and I am work­ing with CPD, Cen­ter for Pop­u­lar Democracy.
Sarah Jaffe: You have been work­ing on plan­ning for and protest­ing against all sorts of poten­tial hor­rors com­ing from the Repub­li­cans in terms of health­care pol­i­cy since the begin­ning of the Trump admin­is­tra­tion. Right?
Jen­nifer: Yes, absolute­ly. Right after the elec­tion the group of grass­roots orga­niz­ing groups got back togeth­er under the umbrel­la of ​"Health­care for Amer­i­ca Now" and they recon­sti­tut­ed this amaz­ing coali­tion that brought togeth­er the D.C. Belt­way pol­i­cy peo­ple, the think tanks, the media savvy groups, the large email groups with the groups that are com­prised of the peo­ple who will be most direct­ly impact­ed by these cuts: low income peo­ple around the coun­try who are orga­nized fight­ing for jobs, fight­ing for health­care, and work­ing on many dif­fer­ent issues. That is actu­al­ly the coali­tion that is large­ly cred­it­ed for lead­ing the fight that actu­al­ly won Obamacare.
Sarah: It is kind of impor­tant to remem­ber how that process went down in the first place. Talk a lit­tle bit about the work that you were doing back when — not that many years ago — when Oba­macare was actu­al­ly pushed through.
Jen­nifer: I did not have the priv­i­lege of work­ing direct­ly with Health­care for Amer­i­ca. I did work with grass­roots orga­niz­ing groups. Pri­mar­i­ly, I was work­ing with orga­ni­za­tions that were led by peo­ple with AIDS who cared very deeply about pass­ing the Afford­able Care Act, or Oba­macare. Cer­tain­ly, we were work­ing along­side HCAN.
But HCAN, Health­care for Amer­i­ca Now is com­prised of most­ly old chap­ters of ACORN, the amaz­ing, pio­neer­ing, grass­roots orga­niz­ing group that actu­al­ly was tak­en down by Bre­it­bart Media, Steve Ban­non, peo­ple who are very much in pow­er now. Many of those groups went and recon­sti­tut­ed them­selves and their mem­bers and just formed anoth­er orga­ni­za­tion. So, some of those orga­ni­za­tions are still around today under a dif­fer­ent name, dif­fer­ent lead­er­ship, and still fight­ing under this umbrel­la orga­ni­za­tion of Health­care for Amer­i­ca Now.
Sarah: When Trump was elect­ed, health­care was one of the first things that went through a lot of people's minds, since the Repub­li­can Con­gress had pledged to over­turn Oba­macare for approx­i­mate­ly ever. Tell us about the reac­tion, Day 1 after the elec­tion or even before the elec­tion if there was any plan­ning going on then.
Jen­nifer: Def­i­nite­ly. Some peo­ple actu­al­ly believed that Trump might win. Peo­ple had already start­ed talk­ing about how vul­ner­a­ble the Afford­able Care Act was. The House had vot­ed 60 times to undo it unsuc­cess­ful­ly. We knew that this was com­ing and some­thing that he said he would do on Day 1. We also knew that if we could slow down this fight and if we could build a resis­tance based on this fight, that would only help every oth­er issue that is part of the Trump agenda.
A lot of oth­er groups that are part of the Cen­ter for Pop­u­lar Democ­ra­cy net­work are also new immi­grant groups. So, we knew there would be these very tar­get­ed attacks on immi­grant com­mu­ni­ties. We real­ly saw this as one fight togeth­er, that if we could slow down on health­care, that would actu­al­ly help immi­grants, help stop some of the more hor­ren­dous poli­cies. I still think that is true. It is hard to believe, but we would actu­al­ly see poli­cies that were much worse.
A cou­ple of days after the elec­tion, a col­league of mine from the AIDS world — we actu­al­ly worked togeth­er in an orga­ni­za­tion that came out of an effort of bird-dog­ging, of fol­low­ing around elect­ed offi­cials back in the late 1990s. We worked togeth­er in this orga­ni­za­tion that was real­ly known for bird-dog­ging, par­tic­u­lar­ly the pres­i­den­tial can­di­dates when they would go around to Iowa and New Hamp­shire. So, we had done that work all along. We had been on the cam­paign trail fol­low­ing Trump so we actu­al­ly could wit­ness first-hand how pop­u­lar he was in cer­tain parts of the country.
My col­league sent out an email just on two list­servs — these kind of list­servs that sprung up the night of the elec­tion where thou­sands of peo­ple joined imme­di­ate­ly because we were all so des­per­ate for some­thing to do in a com­mu­ni­ty, to com­mis­er­ate with. He said, ​"I don't real­ly know what to do in this time." My col­league, by the way, is named Paul Davis. He now works at Hous­ing Works. He said, ​"I don't real­ly know what to do at this time, but the one thing I have done in the past that was very effec­tive under pre­vi­ous Repub­li­can admin­is­tra­tions, par­tic­u­lar­ly under the Bush Jr. admin­is­tra­tion, is that we would do this very tar­get­ed bird-dog­ging cam­paign where we would not let any elect­ed offi­cial off the hook and just repeat­ed­ly ask them ques­tions and through our ques­tion-ask­ing move them, get that dif­fer­ent answer each time. We are actu­al­ly mov­ing them from being strong­ly opposed to our view to being clos­er to our side." He said, ​"So, if you can get 15 peo­ple and a space, I will come out and do a training."
He just thought a bunch of peo­ple where he lived or he is close to, some place where he could get to eas­i­ly with sign up and he would go and do a cou­ple of train­ings. With­in three days, he had 32 cities sched­uled. Some­one on the list for­ward­ed it to a bunch of oth­er peo­ple, went on a bunch of oth­er lists, peo­ple found 15 friends and they rent­ed a space or a library avail­able, and he was sud­den­ly inun­dat­ed with these requests. He brought in myself and anoth­er of our col­leagues and went to Hous­ing Works and said, ​"Hey, I think this is going to turn into some­thing." They actu­al­ly end­ed up hir­ing him. So, the three of us have been going around, the same prin­ci­ple: We will train any­body who has got 15 peo­ple in a space. We have trained over 1,000 peo­ple. We are con­tin­u­ing those trainings.
Then, we orga­nize peo­ple on the list­serv to go and do actions and to move elect­eds through a series of ques­tions. We help peo­ple draft the ques­tions. We help peo­ple think about, ​"Well, what if the town hall has 200 peo­ple in it and you real­ly can't get called on?" or ​"What if they are not call­ing on peo­ple and they are just using these tele-town halls or they are just using ques­tions that were writ­ten ahead of time?" We brain­storm with all the peo­ple that we train on cre­ative ways to hack into those new style of ​"non-town halls" as I like to call them. In the first recess, over 100,000 dis­tinct peo­ple — and that is just what we could count — had tak­en action, direct action, with their Con­gress mem­bers. So, real­ly an unprece­dent­ed amount of activ­i­ty. Obvi­ous­ly, this is large­ly because of Indi­vis­i­ble and MoveOn and SwingLeft and Action Togeth­er — some of the groups that popped up after the elec­tion who have real­ly been focus­ing on bring­ing this mes­sage to their Con­gress members.
I think it is just going to con­tin­ue. I think it is actu­al­ly going to become a bet­ter tac­tic as few­er peo­ple go to town halls, because it is one of the few times when you are direct­ly able to ask some­one who can turn on or off the lights on your issue, who has the pow­er, their fin­ger on the but­ton to do some­thing about it. You could actu­al­ly hold them account­able and have them explain why they are vot­ing the wrong way or they are sup­port­ing some­thing … It is a very impor­tant tac­tic to use as we head into the Sen­ate vote which we expect to hap­pen in June.
Sarah: In terms of see­ing this work, obvi­ous­ly for var­i­ous rea­sons, peo­ple have said that this bill faces high­er obsta­cles in the Sen­ate, but I am think­ing about ​"What are some easy lessons peo­ple can take from the suc­cess­es that peo­ple have had so far in these town halls, the suc­cess­ful halt­ing of the bill the first time around?" What kinds of things have you learned just since this process has begun?
Jen­nifer: I think that some­thing that is impor­tant to remem­ber is this is going to be relent­less. So, beat­ing it back, slow­ing it down in the Sen­ate this go-round, which I think we are absolute­ly capa­ble of doing, doesn't mean we get through this recess and then it is over and we have won. They are going to keep try­ing to do this at every turn. We actu­al­ly have to think about ways that this can build our move­ment. And the admin­is­tra­tion, as we saw with the House, will use every sin­gle tool that they have in their tool­box to pres­sure the sen­a­tors and to pres­sure the House when they have to vote again, to vote the way that they want, to vote for the ter­ri­ble AHCA in what­ev­er form.
By the way, we believe that, yes, we can win some­thing on the Sen­ate side. We think that we can prob­a­bly do away with the Med­ic­aid block grant, but we don't think that we will be able to do away with the Med­ic­aid per capi­ta caps, which is a struc­tur­al reform to Med­ic­aid and does actu­al­ly shift it from being an enti­tle­ment to being some­thing that a state choos­es. That actu­al­ly, is dev­as­tat­ing to the Med­ic­aid pro­gram. We think of it as this thing that is there for us when, God for­bid, some­thing hap­pens to us and we get sick and we need Med­ic­aid, right? And it is just no longer being tak­en for grant­ed if that hap­pens, that it will be there for us. In many states it won't be there. You even hear a Con­gress mem­ber say­ing, ​"Well, just move to anoth­er state."
Right now, the House cov­ers 1 per­cent of pre-exist­ing con­di­tions. Some of them are very fun­ny — like, a c‑section is not cov­ered, but a vasec­to­my is. That is not a pre-exist­ing con­di­tion where you won't get health insur­ance. But, we think that we can win back some of these, but we will have 10 per­cent, maybe at most, of pre-exist­ing con­di­tions cov­ered and will still be a loss of health­care for, at this point — we will know from the CBO [Con­gres­sion­al Bud­get Office] score, which should come out some­time next week — just how many Amer­i­cans would lose health insur­ance under the plan that passed the House, which is prob­a­bly more than 24 mil­lion. But, it will still be dev­as­tat­ing to many peo­ple in the country.
I think that a thing to learn is just that we have to be relent­less and we have to actu­al­ly real­ly move Sen­a­tors over to our side. It can't just be some­thing that is tem­po­rary. They have to feel that we are going to remem­ber this when we go to elect the new House in 2018 and that we are going to remem­ber it beyond that. Because remem­ber, sen­a­tors have got a cou­ple of years in office. So, we need to prove to them that we have got a long mem­o­ry and that this will impact their jobs. So, when Trump says — as he did to Rep. [Rod­ney] Frel­inghuy­sen in New Jer­sey — he said, ​"I will take away your chair­man­ship of Ways and Means." Obvi­ous­ly, that means a loss of mon­ey for him. It means the loss of a nice office for him. A loss of a lot of staff for him. A loss of pres­tige. A loss of pow­er. We need to be able to say, ​"For­get about your chair­man­ship, we are going to take away your whole job." Some­how we have to send the mes­sage that is true, so we have to start think­ing that way. We have to start real­ly orga­niz­ing our­selves that way. I think that the 2018 elec­tion is actu­al­ly incred­i­bly cru­cial to prove that this will have an impact.
Sen­ate: In the Sen­ate, in par­tic­u­lar, are there any tar­gets that are up for re-elec­tion in the next elec­tion cycle who might be vul­ner­a­ble to pres­sure because they might actu­al­ly lose an election?
Jen­nifer: Yes, I think there are sen­a­tors who are also vul­ner­a­ble because they are some­what on the fence. There is Susan Collins who some­times votes dif­fer­ent­ly or thinks dif­fer­ent­ly. There is [Lisa] Murkows­ki, there is [Dean] Heller, [Shel­ley] Capi­to, [Jeff] Flake, [Bill] Cas­sidy, [Rob] Port­man … Then there are some sen­a­tors who are just sort of sur­pris­ing and do dif­fer­ent things like [Tom] Cot­ton or [John] Booz­man or have been say­ing things about they have some seri­ous ques­tions about the bill as it was passed. Our job is to try to make it so that what­ev­er com­pro­mise is cre­at­ed, we shine a light on all the deficits, because it will have all of the deficits. It just may cov­er them up a lit­tle bit.
Indi­vis­i­ble wrote this amaz­ing guide and they have cre­at­ed an amaz­ing infra­struc­ture. They put this one thing in the guide. I have trained a lot of peo­ple who get their direc­tion from the Indi­vis­i­ble guide. They put this one thing in where they said, ​"By all means, always be from the dis­trict, because oth­er­wise you will be crit­i­cized as you're bussed in." I just want to say, that, I think, slowed us down a lot. Peo­ple were very reluc­tant to dri­ve 10 miles to anoth­er person's dis­trict and ques­tion and go to the office of that Con­gress mem­ber. There were thou­sands of peo­ple in South Orange, New Jer­sey who want­ed to go to Frelinghuysen's office, but he is two miles away in a dif­fer­ent district.
It took a while for peo­ple to rec­og­nize, Con­gress — just like in reg­u­lar soci­ety — there are some Con­gress mem­bers who are more pow­er­ful than oth­ers. Rep. [Tom] MacArthur rep­re­sents 700,000 peo­ple and his actions took away health­care for 24 mil­lion peo­ple around the coun­try. It is absolute­ly fine to go to anoth­er dis­trict. It is absolute­ly fine to go and meet with some­one who has the abil­i­ty to make a life and death deci­sion for you and explain why you dis­agree with them. I just real­ly encour­age us all and obvi­ous­ly it's eas­i­er for the Sen­ate because our sen­a­tors rep­re­sent the whole state, but in New York we know [Chuck] Schumer is going to be … he is not going to cave, hope­ful­ly. But, we can go to New Jer­sey. We can go to Ohio. We can pres­sure Port­man. We can go to Penn­syl­va­nia. I don't know that we will have any impact on [Pat] Toomey, but we can trav­el and we can talk to oth­er mem­bers. We can go to Maine and spend a week there and talk to Collins about why she should stand strong.
Sarah: I want­ed to ask a cou­ple of ques­tions about bird-dog­ging. As we have seen, Con­gress mem­bers are less like­ly now to hold any sort of pub­lic town hall, but their sched­ules are often pub­lic, or at least parts of their sched­ules are often pub­lic, as we saw this week in New York when every­body showed up to see Paul Ryan out­side of Harlem Suc­cess Acad­e­my. Do you have any advice for peo­ple to find out where their con­gressper­son is going to be?
Jen­nifer: In this orga­ni­za­tion that I used to work for, which I will give a shout out to, Health­GAP, which came out of a bird-dog­ging effort, we saw every oppor­tu­ni­ty as a bird-dog­ging effort. Town halls are just one small part of it. The best ones are actu­al­ly fundrais­ers. Those are actu­al­ly fair­ly easy to find out about, espe­cial­ly if you live in the dis­trict. The per­son at the hard­ware store might say, ​"I am hav­ing a house par­ty for so-and-so."
It is ter­ri­ble that peo­ple run for office almost the day after they are elect­ed into office. It is also great for bird-dog­ging because they are almost con­stant­ly fundrais­ing. If you find out in the local paper that there is a fundrais­er, go to it. I have this fun­ny sto­ry of some stu­dents who went to a fundrais­er. It was one of these house par­ties were peo­ple are stand­ing around with wine and there is some cheese. Then, the can­di­date comes in or the elect­ed offi­cial comes in, gives a speech, and then there are real­ly no ques­tions because it sort of feels like every­body knows every­body. He will just come around and shake hands and say, ​"Thank you" and leave.
So, they went and he is giv­ing a stump speech. Then, one of the stu­dents just raised her hand. He said, ​"Oh, I am not going to take ques­tions. I will come around and talk to each one of you indi­vid­u­al­ly. I real­ly want to get to know you," because every­one in the room is sup­posed to be a donor. Then, she just stood there and kept her hand raised. Then, her friends just raised their hands. So, there are three peo­ple who know no one at this house par­ty and the host comes over and says, ​"I am sor­ry. He is not tak­ing ques­tions. Put your hands down." They just stared straight at them and kept their hands raised. A mur­mur is going through the room. Final­ly, he feels uncom­fort­able and these are donors, so he says, ​"I guess I will take some questions."
So, do not allow — it is not impo­lite to ask a ques­tion. I did hear that a reporter got arrest­ed for ask­ing a ques­tion too loud­ly of Price. But, up until then, I have nev­er heard of any­one get­ting arrest­ed for ask­ing a ques­tion. It is the cor­ner­stone of democ­ra­cy. They are our elect­ed offi­cials, or they are try­ing to get into office — you have every right to ask them ques­tions and those ques­tions can be stri­dent. You can ask them why they took away health­care for 24 mil­lion peo­ple. You can ask them how they expect to vote on Med­ic­aid. Do they intend to pre­serve it as an enti­tle­ment? Do it at every juncture.
Obvi­ous­ly, it is hard­er when there are these kind of protests. Although, they also serve a pur­pose. There are so many peo­ple com­ing, you can't nec­es­sar­i­ly get in a ques­tion. But, one thing that they did yes­ter­day at the Paul Ryan event was they had almost a 1,000 peo­ple out­side — I thought it was almost 1,000 — and then they had a small­er group that stood by the doors ready to shake hands and ask a ques­tion. That is a real­ly smart way to get direct ques­tions to elect­ed offi­cials in this moment. It doesn't always mean that is always suc­cess­ful, but I think it is okay, because I think that the media that was gen­er­at­ed yes­ter­day at the Paul Ryan Suc­cess Acad­e­my protest real­ly sent him a mes­sage that peo­ple are unhap­py about the health­care bill and, frankly, about his sup­port of char­ter schools.
Sarah: Any more advice for peo­ple who want to be doing this?
Jen­nifer: In our train­ing there are two things that we pri­or­i­tize. One, ques­tion writ­ing. We encour­age peo­ple who can, to write it down. One, because the process of writ­ing it down helps embed it into your mem­o­ry. Two, because it is always nerve-wrack­ing. I would rather talk to 500 peo­ple in a room in front of 500 peo­ple than to talk to one elect­ed offi­cial, who maybe seems like he can out­smart me.
The oth­er things is, we encour­age peo­ple not to ask ques­tions on the tech­ni­cal details. You don't need to know what per capi­ta caps are or what health sav­ings accounts are. You don't need to explain that. Just ask the basic ques­tions. Will your plan increase the num­ber of peo­ple who will have access to health insur­ance? Will your plan keep Med­ic­aid as an enti­tle­ment? All of those things are fine to ask in the most basic sense. Tell a per­son­al story.
The oth­er very mag­i­cal thing is to raise your hand — if they do take ques­tions — first, fast, and high. There is some­thing in the human DNA where we have to call on peo­ple when they raise their hand first. It is not jump­ing out of your seat, because that scares peo­ple. It is just putting your hand up very con­fi­dent­ly. It is actu­al­ly real­ly, real­ly hard to do because you are all pre­pared, you are ner­vous, you got in, you sat down, you wrote your ques­tion down, you met with the team, you are sit­ting in dif­fer­ent loca­tions so they can't say, ​"The right side of the room are all the crazy left-wingers" or what­ev­er. You just want anoth­er 30 sec­onds to get it togeth­er, so you don't want to raise your hand first, but that is the key to get­ting a ques­tion in. It is to just raise your hand and then take the five sec­ond breath before you ask it.
Sarah: Any last thoughts for what peo­ple can do or where they can con­nect up with groups that are doing this work around healthcare?
Jen­nifer: If any­body wants to be trained in bird-dog­ging and get con­nect­ed to a nation­al effort to go out and bird-dog oth­er can­di­dates, they cer­tain­ly can con­tact me or Paul Davis or Jaron Ben­jamin, who are at Hous­ing Works. My email is jflynn@​populardemocracy.​org. If you got 15 peo­ple in a space, we will come out. Of course, you can get lots of infor­ma­tion at Town Hall Project about where there are events.
If your elect­ed doesn't do a town hall, then make one your­self. Get the library com­mu­ni­ty room and make a fly­er, make a Face­book event and invite a bunch of peo­ple. Send a let­ter to your elect­ed say­ing that you are going to hold a town hall and they bet­ter show up. Now, you can actu­al­ly get the clos­est more pro­gres­sive Con­gress mem­ber to do the Adopt-a-Dis­trict, and they might hold a town hall in lieu of the Con­gress mem­ber who won't, which is a great way to get media atten­tion. You can have an emp­ty suit or a pic­ture of the Con­gress mem­ber who won't show up. Then, you just hold a town hall. Ask the ques­tions just as you want and just let the vio­lence sit there with their non-response, which is a real­ly pow­er­ful thing. Then, of course, Face­book Live it, put it up on the Internet.
Indi­vis­i­ble sends out an email every week with updates. Of course get con­nect­ed to MoveOn and Resis­tance Near Me … I think it will help build a move­ment and get us to the sum­mer if we can real­ly delay the vote in the Sen­ate in June. If you were get­ting burned out, but you have it in you to con­tin­ue doing a high lev­el of action, please do so to delay the health­care bill past June. They will break for the sum­mer. We will buy our­selves some time. Then, there is actu­al­ly some tech­ni­cal things that reset the process a lit­tle bit. We have even bought our­selves some more time if we can just get through the sum­mer. Now is not the time to slow down. Now is the time to ramp it up. That is not to say that is not going to be a marathon. It is def­i­nite­ly going to be a marathon, but this is a key time to try to save health­care for 24 mil­lion people.
Sarah: Oth­er than email­ing you, can peo­ple keep up with you on social media, as well?
Jen­nifer: Yes, sure. On Twit­ter I am @JenniferFlynn and my Face­book is Jen­nifer Fly­nn Walker.
Inter­views for Resis­tance is a project of Sarah Jaffe, with assis­tance from Lau­ra Feuille­bois and sup­port from the Nation Insti­tute. It is also avail­able as a pod­cast on iTunes. Not to be reprint­ed with­out permission.
Sarah Jaffe
is a for­mer staff writer at
In These Times
and author of
Nec­es­sary Trou­ble: Amer­i­cans in Revolt
, which Robin D.G. Kel­ley called ​
"
The most com­pelling social and polit­i­cal por­trait of our age." You can fol­low her on Twit­ter
@sarahljaffe
.