Interviews for Resistance: How To Stop "Neoliberalism on Steroids"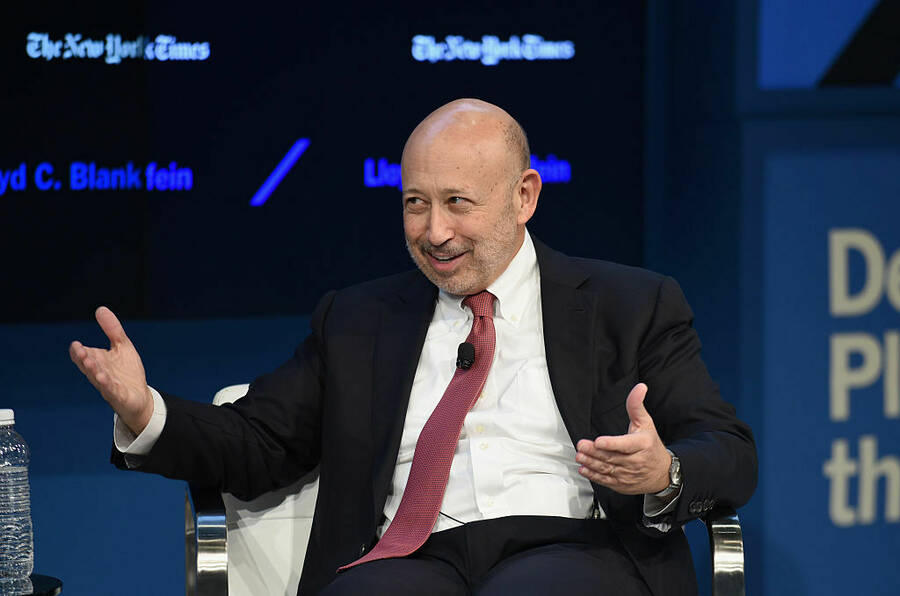 Wel­come to Inter­views for Resis­tance. Since elec­tion night 2016, the streets of the Unit­ed States have rung with resis­tance. Peo­ple all over the coun­try have wok­en up with the con­vic­tion that they must do some­thing to fight inequal­i­ty in all its forms. But many are won­der­ing what it is they can do. In this series, we'll be talk­ing with expe­ri­enced orga­niz­ers, trou­ble­mak­ers and thinkers who have been doing the hard work of fight­ing for a long time. They'll be shar­ing their insights on what works, what does­n't, what's changed and what is still the same.
Rena­ta Pumarol: My name is Rena­ta Pumarol. I am the deputy direc­tor of New York Com­mu­ni­ties for Change (NYCC).
Sarah Jaffe: You guys had an action on Tues­day at Gold­man Sachs on offi­cial Tax Day. Can you tell us about that and about what the theme of that action was?
Rena­ta: Yes­ter­day, on actu­al Tax Day, April 18th, we head­ed to the head­quar­ters of Gold­man Sachs here in New York to call them out for avoid­ing $10 bil­lion in tax­es, or for rather extract­ing $10 bil­lion from our tax dol­lars — that is, by exploit­ing loop­holes or their roles in com­pa­ny merg­ers and acqui­si­tions. We real­ly want­ed to send a mes­sage that it is not only about [Don­ald] Trump releas­ing his tax­es, but it is also about the 1% and com­pa­nies like Gold­man Sachs that real­ly con­tin­ue to exploit tax loop­holes and avoid mas­sive amounts of tax­es that could be going to pay for basic services.
Sarah: Tell us about the action on Tuesday.
Rena­ta: Tues­day we had New York Com­mu­ni­ties for Change, Resist Here, Demo­c­ra­t­ic Social­ists of Amer­i­ca join us. We had about 50 peo­ple there, includ­ing mem­bers of the com­mu­ni­ty who are direct­ly impact­ed by ser­vice cuts and who will be impact­ed by the mas­sive cuts in fund­ing that Trump is going to imple­ment. We head­ed there with a clear mes­sage that Gold­man has avoid­ed $10 bil­lion in tax­es and that they should be not only pay­ing their fair share, but also end­ing their influ­ence on the Amer­i­can government.
Sarah: This con­nects to the Tax March that was held on Sat­ur­day, right?
Rena­ta: Yes, absolute­ly. We also par­tic­i­pat­ed in the Tax March that was demand­ing that Trump release his tax­es. We want­ed to, also, talk about Gold­man, who is actu­al­ly part of our gov­ern­ment. They have com­plete­ly infil­trat­ed our gov­ern­ment. Gary Cohn, as you know, who is a for­mer pres­i­dent of Gold­man Sachs, is the top eco­nom­ic advi­sor of Don­ald Trump and is now the No. 2 guy in this admin­is­tra­tion. He has a tremen­dous amount of pow­er in this admin­is­tra­tion and how our econ­o­my is going to be run. We thought it was very fit­ting to also tar­get them for the extrac­tion of wealth that they con­tin­ue to do while push­ing for mas­sive cuts to services.
Sarah: My friend David Dayen wrote a piece the oth­er day: ​"Pres­i­dent Ban­non is dead, long live Pres­i­dent Gary Cohn," about this shift in Trump's poli­cies towards a more typ­i­cal Repub­li­can ​"extract as much wealth from the gov­ern­ment as you can and slash ser­vices to work­ing peo­ple." I am think­ing about when you had the action at Gold­man Sachs in Jan­u­ary and I met a gen­tle­man who was there who was join­ing it who had actu­al­ly vot­ed for Trump because he thought he was going to drain the swamp. I am won­der­ing if you are hear­ing any more from peo­ple like that who are real­ly sur­prised at the turn this admin­is­tra­tion is tak­ing towards the Wall Street Repub­li­can style.
Rena­ta: We haven't, per­son­al­ly, heard of any. I think that was a very spe­cial case.
To me, that is our main goal. I hope that we con­tin­ue to hear from them as we con­tin­ue to orga­nize with MH Action, which is an orga­ni­za­tion doing amaz­ing work orga­niz­ing mobile home com­mu­ni­ties that are pre­dom­i­nate­ly white work­ing class. I do hope that they con­tin­ue to see the sham pop­ulism that was sold to them by Don­ald Trump. That real­ly is the main objec­tive of going after Gold­man Sachs and going more on the offense, because we do see this as a weak point in the Trump admin­is­tra­tion. He ran under this fake pop­ulism promis­ing to get rid of Gold­man and the 1% while doing the com­plete oppo­site. Not only do we now have Gold­man with tremen­dous pow­er, but they have more pow­er than ever.
I think this is going to be neolib­er­al­ism on steroids. They are start­ing very quick­ly to imple­ment this, to run an econ­o­my that is going to give mas­sive tax breaks to cor­po­ra­tions. Gold­man, as you can see, imme­di­ate­ly after Trump was inau­gu­rat­ed, their stock dou­bled. It is doing tremen­dous­ly well. This is what you are going to see. The top peo­ple, the most pow­er­ful, the rich­est peo­ple doing very well, while they con­tin­ue to cut ser­vices, slash ser­vices to the most vulnerable.
Sarah: What were some of the things your mem­bers were speak­ing about at the action on Tuesday?
Rena­ta: They were speak­ing, for exam­ple, about the fact that they are now at risk of los­ing cru­cial ser­vices like hous­ing. As you know [Hous­ing and Urban Development]'s bud­get is going to be slashed. That real­ly would have ter­ri­ble out­comes. We don't know yet, but a lot of our folks are on dis­abil­i­ty. For exam­ple, we have a mem­ber that is on dis­abil­i­ty, receives a Sec­tion 8 vouch­er. There is no oth­er way that she can con­tin­ue to live in this city, the city she grew up in, if she doesn't get a Sec­tion 8 vouch­er and that is now cur­rent­ly at risk. We don't know what is going to hap­pen. She might lose the ser­vice com­plete­ly or, as Paul Ryan was say­ing, now he wants to set a term lim­it so that it is five years or three years or she might have to pay more in rent. Right now she pays 30 per­cent. She might pay more. Folks were also talk­ing about NYCHA [New York City Hous­ing Author­i­ty pub­lic hous­ing]. NYCHA, right here in the city has a $17 bil­lion back­log in repairs. Now that is going to get even worse. We are going to have peo­ple con­tin­ue to live under ter­ri­ble con­di­tions. Those con­di­tions are prob­a­bly going to get worse. Hon­est­ly, it is real­ly, real­ly ter­ri­fy­ing when you start think­ing about all of the outcomes.
Sarah: In terms of what are next steps, what are peo­ple mov­ing toward? Are your mem­bers tak­ing part in the May 1st actions? What are you look­ing towards as next steps for this?
Rena­ta: For exam­ple, next steps are we are going to be fight­ing against HUD cuts. We are going to have mem­bers that will be direct­ly impact­ed doing civ­il dis­obe­di­ence. That is going to be on April 20th at noon.
Of course, we are going to be par­tic­i­pat­ing in May Day actions. We are more inter­est­ed in … rather than just ral­ly­ing, real­ly think­ing of more mil­i­tant actions and how we can shed light on the cor­po­ra­tions that are prof­it­ing off crim­i­nal­iz­ing our com­mu­ni­ties and deport­ing immi­grants. We are right now plan­ning an action, which I don't think I can dis­close, tar­get­ing a huge cor­po­ra­tion that prof­its from deten­tion cen­ters. We need to con­tin­ue to shed light on the peo­ple who are real­ly prof­it­ing from this, from human misery.
I think we need to under­stand that it is not only Trump, even though he is a hor­ri­ble human being that we all love to tar­get, but it is also about the eco­nom­ic pow­ers behind him, like Gold­man and like Wells Far­go, who are prof­it­ing from crim­i­nal­iz­ing our bod­ies, from exploit­ing our peo­ple and from cut­ting our services.
Sarah: Any­thing else that peo­ple should know about the work you are doing right now?
Rena­ta: I think it is more impor­tant than ever to con­tin­ue to orga­nize our com­mu­ni­ties, to con­tin­ue to hold peo­ple account­able. Not only cor­po­ra­tions, which we know are behind these ter­ri­ble poli­cies, but also the politi­cians, the local politi­cians, the may­ors, the gov­er­nors who are not stand­ing up, who are still — for exam­ple, in New York we still have Bro­ken Win­dows that is not only crim­i­nal­iz­ing black and brown bod­ies, putting them in jail for minor infrac­tions, but also putting immi­grants at risk of depor­ta­tions. It is more impor­tant than ever in the Trump admin­is­tra­tion to also look at ​"Who are real allies? Who are the Democ­rats that are betray­ing our com­mu­ni­ties?" and real­ly hold them account­able and un-elect them.
Sarah: How can peo­ple keep up with the work you are doing?
Rena­ta: You can keep up by going to our Face­book, NYChange, and Twit­ter @NYChange. You can also learn about all of our work by going to our web­site NYCommu​ni​ties​.org. You should also sign up to our list and sign up to our rapid response pro­gram. Right now, we have a rapid response pro­gram so that you can find out about actions and ral­lies, but also find out about if some­one from our com­mu­ni­ty is at risk and you are able to do some­thing to pre­vent them from being deport­ed or being sent to a deten­tions center.
Inter­views for Resis­tance is a project of Sarah Jaffe, with assis­tance from Lau­ra Feuille­bois and sup­port from the Nation Insti­tute. It is also avail­able as a pod­cast on iTunes. Not to be reprint­ed with­out permission.
Sarah Jaffe
is a for­mer staff writer at
In These Times
and author of
Nec­es­sary Trou­ble: Amer­i­cans in Revolt
, which Robin D.G. Kel­ley called ​
"
The most com­pelling social and polit­i­cal por­trait of our age." You can fol­low her on Twit­ter
@sarahljaffe
.