Interviews for Resistance: No, Donald Trump Is Not Bringing Back Coal Jobs
A climate justice organizer for People's Action talks about what it takes to move from protest to power.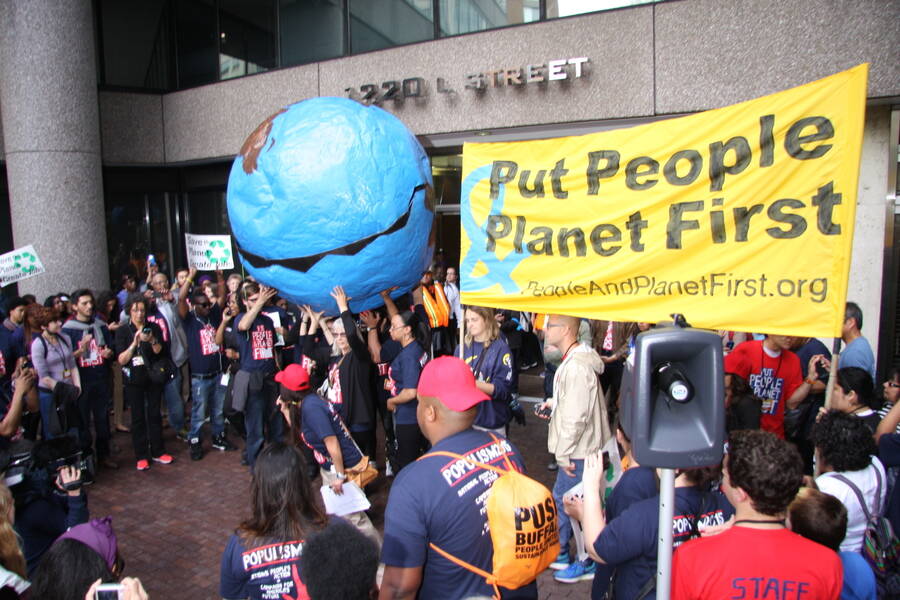 Wel­come to Inter­views for Resis­tance. Since elec­tion night 2016, the streets of the Unit­ed States have rung with resis­tance. Peo­ple all over the coun­try have wok­en up with the con­vic­tion that they must do some­thing to fight inequal­i­ty in all its forms. But many are won­der­ing what it is they can do. In this series, we'll be talk­ing with expe­ri­enced orga­niz­ers, trou­ble­mak­ers and thinkers who have been doing the hard work of fight­ing for a long time. They'll be shar­ing their insights on what works, what does­n't, what's changed and what is still the same.
"What we do need to do is figure out where we can invest so that we can start to rebuild an economy that actually puts people to work and also is good for our environment and slows climate change."
Don­ald Trump's lat­est exec­u­tive order focus­es on rolling back the cli­mate pro­tec­tions that had been put in place toward the end of Barack Oba­ma's pres­i­den­cy. Key to that move was elim­i­nat­ing the Clean Pow­er Plan — already a com­pro­mise that was far from enough to halt cat­a­stroph­ic warm­ing. Jor­dan Este­vao of Peo­ple's Action, a net­work of com­mu­ni­ty orga­ni­za­tions in 30 states, has been orga­niz­ing around a vision of cli­mate jus­tice that puts the most vul­ner­a­ble com­mu­ni­ties at the cen­ter of the fight. He spoke with me about the response to Trump's cuts.
Jor­dan Este­vao: I am Jor­dan Este­vao, senior strate­gist at People's Action. I over­see our cli­mate jus­tice program.
Sarah Jaffe: So, Don­ald Trump is try­ing to destroy the plan­et. Can you tell us what exact­ly his order today [Tues­day] was repealing?
Jor­dan: There are sev­er­al reg­u­la­tions that he is attempt­ing to over­turn with this EO [exec­u­tive order], but the one that we are most inter­est­ed in is the Clean Pow­er Plan, which is the Unit­ed States' main con­tri­bu­tion to the Paris Accords to reduce cli­mate change. Every major emit­ter, includ­ing Chi­na, agreed to reduce car­bon emis­sions by a cer­tain amount in order to avoid cat­a­stro­phe. The Unit­ed States set a tar­get of 30 per­cent reduc­tion and this was our main way get there. It required every state to reduce its car­bon emis­sions by a cer­tain amount by a cer­tain time. If it doesn't go into effect, that is a bad thing. That said, even the Clean Pow­er Plan, we only saw it as a good start to get­ting to where we actu­al­ly need to go.
Sarah: The Clean Pow­er Plan, it also had to be done state by state, correct?
Jor­dan: Exact­ly right, yes. Every state was assigned a cer­tain per­cent­age by which to reduce its emis­sions. It would range from 5 per­cent, or actu­al­ly 0 per­cent in states like Ver­mont, to 30 – 40 per­cent in some of the high­er emit­ting states where there is more coal-fired pow­er pro­duc­tion and so on.
Sarah: If it is state by state and there is a fed­er­al exec­u­tive order on this, the states that want to can go ahead and do this any­way, correct?
Jor­dan: That is exact­ly our approach to this. There are mul­ti­ple states that had no plans to com­ply any­way. Actu­al­ly, since last sum­mer it has kind of been in lim­bo, the reg­u­la­tion, because as Antonin Scalia's final act as a Supreme Court Jus­tice he and the Court issued a stay on the order, which has left the states that want­ed to keep on com­ply­ing on track and some states wait­ing to see what hap­pens. But, there is still lots of poten­tial to win good poli­cies. Our Illi­nois affil­i­ates, Illi­nois People's Action and Fair Econ­o­my Illi­nois, just recent­ly passed the Illi­nois Future Ener­gy Jobs Act, which is going to dou­ble Illi­nois' renew­able ener­gy pro­duc­tion. It is going to invest between $500 and $750 mil­lion in low income com­mu­ni­ties for ener­gy effi­cien­cy, renew­able ener­gy, job train­ing, so that low-income peo­ple can get into that kind of work, and so on.
I think what a lot of folks on the right and in the Trump admin­is­tra­tion are miss­ing is that the tran­si­tion to clean ener­gy, to ener­gy effi­cien­cy actu­al­ly could be a huge eco­nom­ic dri­ver and a way to revi­tal­ize our econ­o­my, espe­cial­ly since the coal indus­try is already going under. It is already being under­cut by frack­ing and low oil prices. Coal com­pa­nies have been going bank­rupt at a real­ly high clip with no end in sight. He is not going to bring those jobs back. There is no bring­ing them back. What we do need to do is fig­ure out where we can invest so that we can start to rebuild an econ­o­my that actu­al­ly puts peo­ple to work and also is good for our envi­ron­ment and slows cli­mate change.
Sarah: Don­ald Trump did this with a bunch of coal min­ers stand­ing behind him — obvi­ous­ly, this is this argu­ment that we are going to bring back these jobs. One of the rea­sons that I reached out to People's Action for a com­ment on this was because your orga­ni­za­tion's move into cli­mate jus­tice has been an out­growth of orga­niz­ing in low-income com­mu­ni­ties that cer­tain­ly under­stand the need for good jobs. I won­der if you could talk about the way those two things connect.
Jor­dan: Absolute­ly. We are a racial and eco­nom­ic jus­tice orga­ni­za­tion. We see cli­mate change and the envi­ron­ment as mas­sive eco­nom­ic and racial jus­tice issues. In order to reduce what are already unac­cept­able lev­els of pol­lu­tion, espe­cial­ly in low-income com­mu­ni­ties and com­mu­ni­ties of col­or, in order to slow cli­mate change, to mit­i­gate the effects, to cre­ate resilient com­mu­ni­ties, we are going to have to make huge eco­nom­ic and indus­tri­al shifts.
We know his­tor­i­cal­ly that over and over again, large indus­tri­al shifts, for the past 40 to 50 years, have tend­ed to dri­ve inequal­i­ty. In oth­er words, when the econ­o­my expands or a cer­tain sec­tor of the econ­o­my expands, it tends to leave cer­tain com­mu­ni­ties behind. There are tons of exam­ples, but look at the infor­ma­tion tech­nol­o­gy boom and how large swathes of the com­mu­ni­ty have been left behind there. If you go to San Fran­cis­co, there are hard­ly any Black peo­ple left, because not every­body ben­e­fit­ted equal­ly from that indus­tri­al growth. Then, you look at the flip side of it, like the hous­ing crash, when the econ­o­my con­tracts, every­one who gets screwed gets screwed, but it is low income folks and com­mu­ni­ties of col­or that get screwed even more. No one lost more equi­ty in the hous­ing crash than Black and Lati­no house­holds, and Asian house­holds for that mat­ter. And there's no sign of that com­ing back.
So, the econ­o­my is shift­ing, the best that the Trump admin­is­tra­tion and big oil can hope to do is slow it down. We are going to stop rely­ing on fos­sil fuels. We are going to have to become more ener­gy effi­cient. We are going to have to look at renew­able ener­gy sources. We are real­ly inter­est­ed in mak­ing sure that those indus­tries are them­selves equi­table and just and make the kind of choic­es that would bring up the work­ing class rather than exploit­ing them.
For exam­ple, with the states, Illi­nois, for exam­ple, is going to invest in ener­gy effi­cien­cy. Does that mean that it is going to sub­si­dize cor­po­ra­tions to build ener­gy effi­cient sky­scrap­ers or are we going to invest in the abil­i­ty for work­ing class home­own­ers to weath­er­ize and insu­late their homes and install dou­ble-paned win­dows? Are we going to put peo­ple from the com­mu­ni­ty to work doing those jobs as a way to both reduce the cost of ener­gy for house­holds who are pay­ing over the odds on their ener­gy and also reduce our car­bon emis­sions and also reduce air pollution?
I saw an arti­cle recent­ly about a com­pa­ny that wants to make Trump's bor­der wall ​"beau­ti­ful and sus­tain­able and ener­gy effi­cient." I think that is just such a gold­en exam­ple of what we are try­ing to avoid, which is we have sus­tain­able green indus­tries that are still exploita­tive and dri­ve inequality.
Sarah: Also, look­ing at an arti­cle open on my desk­top on my com­put­er right now, the head­line is ​"Exxon urges Trump to keep US in Paris Cli­mate Accord." Now, obvi­ous­ly, Trump's Sec­re­tary of State is the for­mer head of Exxon Mobil. I am won­der­ing if you are fol­low­ing all of these poten­tial splits in this admin­is­tra­tion and what the sort of levers might be for push­ing with­in the admin­is­tra­tion, if there are any?
Jor­dan: Our con­tention is that the way to the push the admin­is­tra­tion is from the bot­tom up. In oth­er words, to build a bul­wark of polit­i­cal will in cities and states, a bul­wark of resis­tance so that regard­less of what the fed­er­al gov­ern­ment does, states are invest­ed in build­ing a clean ener­gy future. That is real­ly where we want to focus. Trump is going to do his bull in a chi­na shop thing and make a big mess, but we think that if we are going to be resilient against those kinds of attacks, then it is going to come from the grass­roots, from local com­mu­ni­ties and from states.
Sarah: You men­tioned Illi­nois, but where are some oth­er states or cities where there is move­ment on leg­is­la­tion around this at the moment?
Jor­dan: The state of Mary­land just passed a statewide ban on frack­ing. It is the first statewide leg­isla­tive ban on frack­ing that is in a state where there are proven frack­ing reserves. It is just more evi­dence that states are mak­ing their own agen­das and still have lots of lat­i­tude to reg­u­late and leg­is­late around cli­mate and the environment.
Sarah: What would you advise for peo­ple who want to get involved in this issue who haven't done so before?
Jor­dan: People's Action and People's Action-affil­i­at­ed orga­ni­za­tions in 30 states, we are mov­ing from protest to pow­er and from resis­tance to rev­o­lu­tion. We real­ly think that it is impor­tant and it is nec­es­sary to resist the Trump agen­da, to protest the Trump agen­da, but we shouldn't stop there. We shouldn't get hung up on it or obsessed with fed­er­al reg­u­la­tion and leg­is­la­tion. There is tons of work to be done in cities and states. That is where we are going to build the bot­tom-up infra­struc­ture to real­ly shift the polit­i­cal wind in this country.
Our affil­i­ates are recruit­ing can­di­dates for office, they are talk­ing to can­di­dates about their agen­das and look­ing for can­di­dates to sup­port an agen­da that puts peo­ple and [the] plan­et above cor­po­rate prof­its. This is going on all across the coun­try. Loads of orga­ni­za­tions to get involved in. We are train­ing folks not just to run for office, but also how to be an effec­tive vol­un­teer in a cam­paign, how to run a local leg­isla­tive cam­paign, whether it is for a school board or for a rur­al elec­tric coop­er­a­tive or for may­or or for state gov­ern­ment. There is no short­age of work to be done and we real­ly think that cities and states should be the big pri­or­i­ty for how we not just beat back and resist the worst of Trump's pol­i­cy agen­da, but also how we actu­al­ly build the polit­i­cal pow­er to shift the coun­try back to a more sane course.
Sarah: How can peo­ple keep up with you and People's Action?
Jor­dan: You can fol­low us at People's Action [@PplsAction] on Twit­ter and also People's Action Insti­tute [@PplsActionInst].
Inter­views for Resis­tance is a project of Sarah Jaffe, with assis­tance from Lau­ra Feuille­bois and sup­port from the Nation Insti­tute. It is also avail­able as a pod­cast on iTunes. Not to be reprint­ed with­out permission.
Sarah Jaffe
is a for­mer staff writer at
In These Times
and author of
Nec­es­sary Trou­ble: Amer­i­cans in Revolt
, which Robin D.G. Kel­ley called ​
"
The most com­pelling social and polit­i­cal por­trait of our age." You can fol­low her on Twit­ter
@sarahljaffe
.