Interviews for Resistance: "Standing Rock is Everywhere Right Now"
The director of the Native Organizers Alliance on why we must do more than mobilize.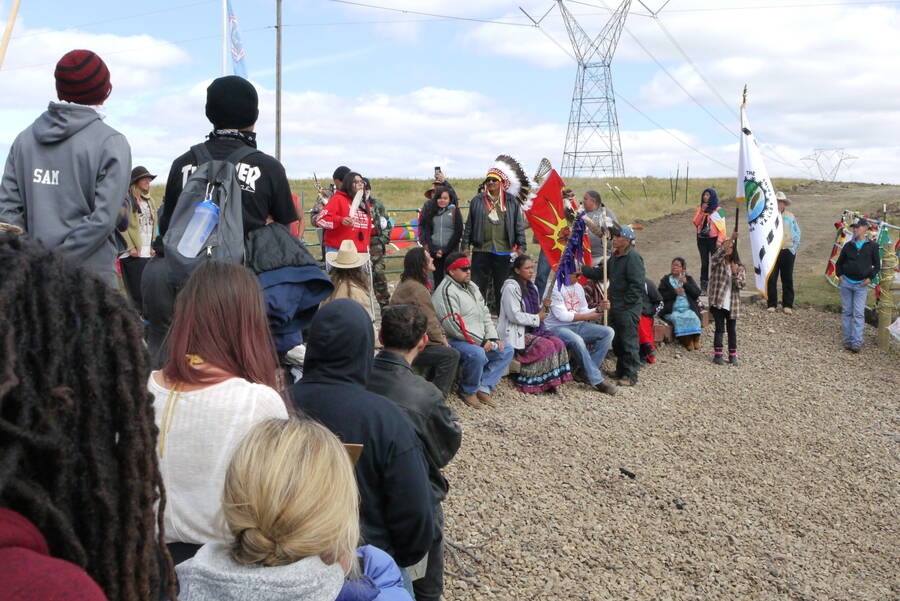 Wel­come to Inter­views for Resis­tance. In this series we'll be talk­ing with orga­niz­ers, trou­ble­mak­ers and thinkers who are work­ing both to chal­lenge the Trump admin­is­tra­tion and the cir­cum­stances that cre­at­ed it. It can be easy to despair, to feel like trends toward inequal­i­ty are impos­si­ble to stop, to give in to fear over increased racist, sex­ist and xeno­pho­bic vio­lence. But around the coun­try, peo­ple are doing the hard work of fight­ing back and com­ing togeth­er to plan for what comes next. This series will intro­duce you to some of them.
'Community organizing is not an idea that a few white guys in Chicago came up with. It is as old as dirt.'
Judith LeBlanc: My name is Judith LeBlanc. I am a mat­ter of the Cad­do Nation of Okla­homa. I am the direc­tor of the Native Orga­niz­ers Alliance.
Sarah Jaffe: What is going on at Stand­ing Rock?
Judith: Stand­ing Rock is every­where right now. [Thurs­day, Feb­ru­ary 2] there was a march in down­town Seat­tle, hun­dreds of peo­ple in sup­port of the Seat­tle City gov­ern­ment res­o­lu­tion to divest from Wells Fargo.
Stand­ing Rock is every­where and it is a beau­ti­ful thing because water gives us life and water has become, because of what has hap­pened at Stand­ing Rock, a sym­bol for all that is sacred and impor­tant for human­i­ty and for Moth­er Earth. We have an orga­nized approach to mov­ing the bat­tle for Stand­ing Rock to the oth­er reser­va­tions of the Oceti Sakowin and to spread the orga­niz­ing all across the coun­try, because tens of thou­sands of peo­ple have gone through the Oceti Sakowin camp and have become a part of this mag­ic moment in Indi­an coun­try. The Oceti Sakowin elders who came togeth­er for the first time since the Bat­tle of the Lit­tle Bighorn, extin­guished the fire that had been burn­ing to guide the prayers of the camp, to guide the way the camp exist­ed. They now are plan­ning to vis­it each of the ter­ri­to­ries of the Oceti Sakowin to for­ti­fy the resis­tance to poten­tial takeovers of our land and the infringe­ment on our sovereignty.
Every social move­ment going into new stages is nev­er smooth or even. In the last few days some of those in the camp who want to remain in the area built anoth­er camp out­side of the Oceti Sakowin camp a lit­tle ways down the road. There were many peo­ple arrest­ed as a result.
One of the dif­fi­cul­ties that we face in Indi­an Coun­try is that the pipeline for the Stand­ing Rock Sioux Tribe is one major issue, but there are oth­er many, many major issues that the Stand­ing Rock Sioux Tribe is work­ing on all at once. The medi­an income at the Stand­ing Rock Sioux Reser­va­tion is a lit­tle over $13,000. There are key issues of health­care and eco­nom­ic devel­op­ment and edu­ca­tion. In many ways, I think the Stand­ing Rock Sioux Tribe has real­ly been show­ing how dif­fi­cult and how impor­tant it is to build uni­ty in sup­port of pro­tect­ing our larg­er rights, Indi­an Coun­try-wide right to pro­tect our sov­er­eign­ty and that is what the fight in stop­ping the pipeline was about. Because when the Bis­mar­ck folks said, ​"No," to the pipeline, their ​"No" stuck. When the Stand­ing Rock Sioux Tribe said, ​"No," the Ener­gy Trans­fer Part­ners said, ​"Well, any­way…" and act­ed as if they could build this pipeline.
We have run up against a very dif­fi­cult sit­u­a­tion with the Trump admin­is­tra­tion being elect­ed to office. One of the sen­a­tors from North Dako­ta, very pro-pipeline, has become the head of the Chair of the Indi­an Affairs Com­mit­tee in the Sen­ate. We are up against a sit­u­a­tion where it is very hard to see how the pipeline will be stopped, unless we con­tin­ue to put the pres­sure where it needs to be, on the 17 banks that have invest­ed, con­tin­ue to pres­sure the Trump admin­is­tra­tion to not vio­late the law and pro­ceed with the envi­ron­men­tal impact study that was man­dat­ed under the Oba­ma admin­is­tra­tion. It is a tough fight in the next days ahead. It will be deter­mined by whether or not the gov­ern­ment vio­lates the will of the peo­ple who have been in sol­i­dar­i­ty with Stand­ing Rock and the 17,000,000 peo­ple along the shores of the river.
Sarah: What has it been like this win­ter? There have been peo­ple camped out all the way through, right?
Judith: I like to think about Stand­ing Rock, what it was like on the ground there Sep­tem­ber 1st when it was warm. I think about it at sun­set. It was a very gold­en kind of light where thou­sands of Indi­an peo­ple had gath­ered in sol­i­dar­i­ty. We cre­at­ed a 21st cen­tu­ry Indi­an city. We had our own kitchen serv­ing three hot meals a day, cof­fee all day long, and a school and a radio sta­tion, and the feel­ing of prayers and peo­ple pow­er being the most amaz­ing med­i­cine that our peo­ple could expe­ri­ence because of all of the trau­ma, all of the deep gen­er­a­tional prob­lems that come with the poli­cies of the U.S. gov­ern­ment since colo­nial times.
Peo­ple began to pre­pare in Octo­ber for the win­ter, because North Dako­ta win­ters, you don't play with them. Very, very severe. Col­lec­tive­ly, peo­ple began to pre­pare for win­ter start­ing in Octo­ber and ear­ly Novem­ber, for­ti­fy­ing the dif­fer­ent places where peo­ple were sleep­ing, yurts, insu­lat­ing the teepees, redis­trib­ut­ing the kitchen so that it could be in dif­fer­ent sec­tors of the camp. But as we moved into Decem­ber, when the big bliz­zard hit, it became clear that peo­ples' lives were in dan­ger. There was a call for peo­ple to pro­tect them­selves by tak­ing the strug­gle home, to go home and to con­tin­ue to sup­port the legal fight.
Many, many peo­ple fol­lowed that direc­tive, because it is just too tough. Oth­ers stayed and real­ly have dug in and there­fore the dis­man­tling of the camp right now is a com­pli­cat­ed busi­ness. We have to use back­hoes and teams to remove the struc­tures that were set up because it is on a flood plain. The floods are going to be very, very bad this year because of the amount of snow. There is great dan­ger for the peo­ple who are camped there. Back in the day, when our peo­ple were there with­out down, with­out wool socks, it is real­ly hard to imag­ine how amaz­ing our peo­ple were to be able to not only sur­vive, but to con­tin­ue to thrive and grow as a peo­ple under such severe weath­er conditions.
Sarah: Trump and his peo­ple have already made nois­es about try­ing to sell off more native peo­ples' lands. How can peo­ple respond to that if they are just going to try to pri­va­tize everything?
Judith: It goes to the heart of how the vast major­i­ty of peo­ple in this coun­try is going to pro­tect hard-won rights and pro­grams and con­tin­ue to push for­ward for the things our com­mu­ni­ties need. Sov­er­eign­ty is the bot­tom line. In Indi­an Coun­try, we are prepar­ing now for a mobi­liza­tion to Wash­ing­ton. The time is now to plant all of our nations' flags in [Wash­ing­ton] D.C. to sig­nal to both the Trump admin­is­tra­tion and Con­gress that we are here to stay in this coun­try as sov­er­eign nations, that we are ready to fight for sovereignty.
We are nations that have not only a legal, but a moral, respon­si­bil­i­ty to pro­tect our land, our air, our water for all of human­i­ty. Sov­er­eign­ty is also a way to pro­tect the com­mu­ni­ties and the states and the rivers that affect all of us. When you have trib­al gov­ern­ments that are able to do what is best for Moth­er Earth, then it ben­e­fits the bor­der com­mu­ni­ties, it ben­e­fits the econ­o­my of states, and it makes our coun­try a bet­ter place to live for all and will save the plan­et. At this point, the Trump admin­is­tra­tion sig­naled, even before tak­ing office, that they were will­ing to fol­low a pol­i­cy of pri­va­tiz­ing Indi­an land for oil, for ener­gy resources.
The Stand­ing Rock Sioux Tribe is call­ing on peo­ple, all peo­ple, Indi­ans and non-Indi­ans to come to D.C. March 6 – 10th where we will estab­lish a prayer camp on the Nation­al Mall and we will spend our days doing actions, flood­ing Capi­tol Hill, and then, march­ing on the White House on March 10th. We are work­ing to bring togeth­er the oth­er 300 tribes that stood with Stand­ing Rock. Over 300 tribes, many of them derive sig­nif­i­cant rev­enue streams from fos­sil fuels, but they stood with Stand­ing Rock because it is a mat­ter of trib­al sov­er­eign­ty. We have the right to decide for our land, our water, and air, how our peo­ple are affect­ed by these greedy cor­po­ra­tions who will stop at noth­ing to max­i­mize their profits.
When you look at the Nava­jo Reser­va­tion, you look at the reser­va­tions in Neva­da, all over the coun­try fos­sil fuel cor­po­ra­tions have come onto our land, paid us mon­ey, tak­en their prof­its and run, leav­ing gen­er­a­tions of dis­ease and death in their wake. We are invit­ing all of these tribes to march on the White House to say, ​"Pres­i­dent Trump, you meet with us, you deal with us as sov­er­eign nations." The Indi­an peo­ple who come from all over the coun­try, as we did flock to Stand­ing Rock Reser­va­tion, we will flock to Capi­tol Hill and lay it on the line with the mem­bers of Congress.
In this ses­sion of Con­gress, there are many issues that affect our sov­er­eign­ty: the attack on Oba­macare is an attack on the right to health­care for Indi­an peo­ple. Legal­ly, we have been guar­an­teed, from birth to death, qual­i­ty health­care and we have not been able to achieve that. If Oba­macare is destroyed, it will destroy some steps for­ward that we took under the Indi­an Health Improve­ment Act, which was incor­po­rat­ed into Oba­macare. We are going to make a state­ment, just as the peo­ple did at the air­ports on pro­tect­ing the rights of immi­grants and as we did dur­ing the Women's March. Pres­i­dent Trump, we are on our way.
Sarah: There was anoth­er trip dur­ing the Key­stone XL fight, where there was also a prayer camp set up in D.C. Correct?
Judith: Cor­rect. Many of the vet­er­ans that orga­nized those events and orches­trat­ed that vic­to­ry to stop the pipeline are the lead on this, like Faith Spot­ted Eagle from Yank­ton tribe who received one Pres­i­den­tial elec­toral vote here in the state of Wash­ing­ton, the Indige­nous Envi­ron­men­tal Net­work. Many of the grass­roots lead­ers, many of them who were the heads­men and some of the spir­i­tu­al lead­ers at the Oceti Sakowin camp are in the lead of this initiative.
The chal­lenge now is: How do we not only con­tin­ue to mobi­lize our peo­ple and build strong alliances with non-native, envi­ron­men­tal, faith-based groups, the labor move­ment, but also how we sup­port at the grass­roots an orga­nized strate­gic role that peo­ple can play in fight­ing for the every­day imme­di­ate poli­cies that are being debat­ed and need the sup­port of a move­ment for them to become trans­for­ma­tion­al poli­cies, even under a time when the right wing is on the offen­sive? That is a big chal­lenge for us in Indi­an Coun­try, how we will con­tin­ue to orga­nize, not just mobilize.
Sarah: Let's talk a lit­tle bit more about the role of these divest­ment cam­paigns tar­get­ing the banks and the finan­cial insti­tu­tions that are fund­ing the pipeline and how they con­nect to things like Wall Street dereg­u­la­tion that Trump has called for.
Judith: This is a very impor­tant strat­e­gy in order to get at the sys­temic nature of the role that fos­sil fuels play in the econ­o­my and in cre­at­ing the huge threat to the exis­tence of our plan­et. If you want to go to the roots, the eco­nom­ic and struc­tur­al roots of a prob­lem, you have to dig into the role of finan­cial­iza­tion and the banks. This divest­ment move­ment has giv­en a han­dle for many who wouldn't come to Oceti Sakowin camp, who need to do work in their own com­mu­ni­ties to make the links between the prob­lems we face and the role that banks and the eco­nom­ic sys­tem plays in the broad­er crisis.
You look back over many decades, dur­ing the anti-apartheid move­ment and the glob­al sol­i­dar­i­ty move­ment, divest­ment was a key tool. In oth­er coun­tries, there is incred­i­ble mobi­liza­tion that has result­ed in some of the banks in oth­er coun­tries divest­ing from Ener­gy Trans­fer Part­ners. The divest­ment strat­e­gy has also been a way for us in this moment to build glob­al aware­ness of the threats that exist to the exis­tence of our planet.
No mat­ter how strong cap­i­tal­ism seems to be, it is inher­ent­ly full of con­tra­dic­tions and there­fore mass­es of peo­ple, when orga­nized, even if not the major­i­ty, can have an impact. We have orga­nized this alliance, joined a coali­tion that involved many, many groups — faith groups, as well as divest­ment groups and envi­ron­men­tal groups like 350​.org — in doing a seri­ous of actions in the last few days to pres­sure the 17 banks who are invest­ed in Ener­gy Trans­fer Part­ners to meet with the tribe. To divest, but to do so on the basis of meet­ing with the tribes and under­stand­ing what the issues are and the impact the pipeline can have. We have also had tremen­dous num­bers of peo­ple, I can't remem­ber the fig­ures of peo­ple who closed their per­son­al accounts that were in some of the 17 banks. It has giv­en many peo­ple the abil­i­ty to say, ​"Amen," in their per­son­al lives, to live a life that is actu­al­ly in sync with their beliefs that we all have a role to play in sav­ing Moth­er Earth.
I think the divest­ment strat­e­gy and the pres­sure that it is putting on Ener­gy Trans­fer Part­ners is very impor­tant in shift­ing those around the Trump admin­is­tra­tion to think about the bot­tom line. At this point, the pipeline is los­ing mon­ey. It is not a good busi­ness invest­ment. Ener­gy Trans­fer Part­ners act­ed for the last two years in the busi­ness pages in North Dako­ta and the Wall Street Jour­nal that ​"Hey, we have got this. We have the per­mit. This is going through." They kept build­ing the pipeline until it got to the point where it was so close to the reservation's water sup­ply that the resis­tance began. I don't think they antic­i­pat­ed the resis­tance would last as long as it has and I think it has begun to dawn on some of the investors, espe­cial­ly the banks out­side of the coun­try, that even if the pipeline was moved away from the cur­rent path, that the resis­tance would con­tin­ue. It wasn't the Stand­ing Rock Sioux Tribe say­ing, ​"Not in my back­yard." They were say­ing, ​"Not in anyone's back­yard." Pipelines break.
It is a clas­sic cap­i­tal­ist sit­u­a­tion. They over­pro­duce vehi­cles and ways that oil should be trans­ferred. Truth is, they don't need this pipeline. It is not a neces­si­ty. We are hop­ing to con­vince the banks and there­fore the peo­ple of Wall Street who have some sem­blance of busi­ness sense to pull out of this.
Now, the Trump admin­is­tra­tion, we are deal­ing with one that is not ratio­nal. Even the Koch broth­ers are ques­tion­ing the direc­tion of what the Trump admin­is­tra­tion is going on, which is a direc­tion of chaos. Shoot­ing from the hip and ask­ing ques­tions lat­er. I think the divest­ment strat­e­gy is even more impor­tant, because there are some sec­tors of finance cap­i­tal, some sec­tors of cor­po­rate Amer­i­ca who are ratio­nal and if you cre­ate more chaos, it is not good for busi­ness. If there is no sta­bil­i­ty, mar­kets respond. The divest­ment strat­e­gy is a good strat­e­gy because you are point­ing peo­ple to the root caus­es in the cap­i­tal­ist sys­tem, but in this moment it can have a huge impact on Wall Street and there­fore a mit­i­gat­ing fac­tor on the Trump admin­is­tra­tion's chaot­ic cow­boy attitude.
Sarah: You spent a lot of time work­ing with Unit­ed for Peace and Jus­tice (UFPJ), the big umbrel­la move­ment against the wars dur­ing the Bush years. Now that we are, again, in a moment with a right-wing pres­i­dent who looks like he might start a war any day now, can you talk about some lessons from that movement?
Judith: I have thought a lot about this in the last two weeks. I had the hon­or of speak­ing at the Women's March in D.C. I was stand­ing on the stage and I was look­ing out at the peo­ple and I thought about what it was like when Unit­ed for Peace and Jus­tice brought togeth­er over 1,000 orga­ni­za­tions; nation­al immi­grant rights, labor, faith-based peace groups, a real cross sec­tion of move­ments and orga­ni­za­tions. We did demon­stra­tions of hun­dreds of thou­sands for years to put the pres­sure on the Bush admin­is­tra­tion and to open up the polit­i­cal space to con­nect the poli­cies of mil­i­tarism and war with the eco­nom­ic and the moral impact in our com­mu­ni­ties. The eco­nom­ic impact was clear, that more mon­ey was being and con­tin­ues to be spent on the Pen­ta­gon and wars than on the social safe­ty net that is need­ed in our communities.
I think the Iraq anti-war move­ment had a huge impact on chang­ing pub­lic opin­ion. Some say, ​"Well, you didn't stop the war," but we did gain polit­i­cal momen­tum that became the dri­ving force behind peo­ple push­ing for the elec­tion of a pres­i­dent who had com­mit­ted to a date cer­tain for troop with­draw­al from Iraq.
But, the truth is, that we were so busy mobi­liz­ing against the full spec­trum of the Bush agen­da that we did not pay enough atten­tion to orga­niz­ing. We focused on try­ing to build uni­ty across sec­tors and to main­tain a coali­tion effort that was focused on end­ing the war, but did not pay enough atten­tion to how grass­roots folks con­tin­ue to be engaged in between mobi­liza­tions. I think it was because of the nature of the urgency of the moment and the nature of the wars that were going on in Afghanistan and Iraq. But, I also think it was because the move­ment, as a whole, had that blind spot that grass­roots orga­niz­ing was not the key ele­ment of work in com­mu­ni­ties. Although there has always been a sec­tor of peo­ple, eco­nom­ic and racial jus­tice orga­ni­za­tions, that have been doing that. We weren't able to incor­po­rate it as a part of that move­ment-build­ing project.
We are in a total­ly dif­fer­ent place now. In fact, the first two weeks of the Trump admin­is­tra­tion have shown that we are at a lev­el where not only are peo­ple will­ing to mobi­lize, but peo­ple are mak­ing the con­nec­tions from their own self-inter­est to peo­ple way beyond their own imme­di­ate com­mu­ni­ties. That is what was pow­er­ful about the Women's March and the demon­stra­tions at the air­ports. Num­ber one, it was grass­roots-dri­ven. When you looked at the signs at the march­es all over the coun­try, but espe­cial­ly in Wash­ing­ton, the hand­made signs that peo­ple brought with them were about democ­ra­cy. That the pro­tec­tion of women's rights was part and par­cel of pro­tect­ing the sys­tem of democ­ra­cy in its best and truest form. When you look at the air­port demon­stra­tions, peo­ple said, ​"I have to be there to sup­port and stand on the side of peo­ple who are being detained at the air­ports." I think it is because of the incred­i­ble grass­roots orga­niz­ing and work that has been done dur­ing the eight years dur­ing the Oba­ma administration.
We had a peri­od where peo­ple began to go deep­er into what it takes to change the eco­nom­ic sys­tem. There has been more exper­i­men­ta­tion and ini­tia­tives around gen­er­at­ing sus­tain­able green eco­nom­ic devel­op­ment. There have been unlike­ly coali­tion rela­tion­ships around an array of issues. There's a broad­er cross sec­tion of groups and infra­struc­ture out there that is will­ing to sup­port this grass­roots upsurge by delv­ing deep­er into polit­i­cal edu­ca­tion and help­ing peo­ple to devel­op themes that will sus­tain them, that we need to push back the attacks that we are facing.
There is an array of issues that peo­ple are ready to pro­mote and devel­op a sus­tained, strate­gic cam­paign on. That wasn't the case when Bush was elect­ed. We were just in full hair on fire, ​"We have got to show our pow­er in the streets," mode. It is the same now, but the dif­fer­ence is that I think peo­ple are ready to dig in for the long haul. We are not going to solve this with one demon­stra­tion. We are not going to solve this sim­ply with anger. We have to use all the tools in our tool­box, from divest­ment strate­gies to deep polit­i­cal edu­ca­tion that helps peo­ple under­stand the roots of the prob­lems and not just respond to the agi­ta­tion and chaos. And we need to be orga­nized. This is going to take years to deal with and you can't burn your­self out. We are in a marathon, not a sprint.
I think the Stand­ing Rock moment has laid the basis for peo­ple to under­stand that we need orga­niz­ing at the com­mu­ni­ty lev­el that is led with love and open hearts and led by val­ues. That we are not on the defen­sive. We are on the offen­sive. We under­stand that we have to reach out to peo­ple who maybe didn't vote and those who maybe vot­ed for Trump, because there already is the begin­nings of buyer's remorse. Peo­ple were swayed by the val­ues-led cam­paign that Trump did and now we need to orga­nize and lead with move­ments that are val­ue-cen­tered, that are root­ed in love of humanity.
That is what you saw at the air­ports. That was a beau­ti­ful thing. My heart soared like an eagle to under­stand that even through hate and the racist agi­ta­tion that has become the norm in polit­i­cal dis­course, that many white peo­ple under­stood that they have a per­son­al stake and respon­si­bil­i­ty to stand on the side of Mus­lims and peo­ple of col­or who were being attacked and detained. That sol­i­dar­i­ty is the norm, not the exception.
UFPJ, our mis­sion was to try to build that uni­ty. When it was work­ing well, it was a beau­ti­ful thing. We need that kind of lev­el of col­lab­o­ra­tion, and we also need to do the work at the grass­roots that taps into the val­ues that peo­ple share, the long-term work of going deep into people's hearts and minds.
The Native peo­ple, we have a spe­cial role to play. Our cul­ture, our expe­ri­ences for many peo­ple are a source of inspi­ra­tion. No mat­ter what the impact of the ini­tial col­o­niza­tion was, no mat­ter all of the attempts to side­line and to erase us from this coun­try, we not only have sur­vived, but we have thrived.
Sarah: How can peo­ple keep up with you?
Judith: Native Orga­niz­ers Alliance is putting togeth­er a very broad cohort of native train­ers that can sup­port tribes and native non-prof­its and social move­ment activists at the local lev­el. We are going to be work­ing with Oceti Sakowin elders in South Dako­ta to Mis­souri to pro­tect the water and to empow­er trib­al gov­ern­ments to lead the water pro­tec­tion that needs to hap­pen, when the EPA could be gut­ted. We are also work­ing with orga­niz­ers on the Nava­jo Reser­va­tion to devel­op a Col­orado Riv­er pro­tec­tion project which would involve all of the states along the Col­orado Riv­er, start­ing with the tribes and the activists who have been work­ing for gen­er­a­tions on the ura­ni­um con­t­a­m­i­na­tion of the water there and land.
We are also con­duct­ing our annu­al Nation­al Native Com­mu­ni­ty Orga­niz­ing Train­ing in August, which is a six-day train­ing. We have done it for six years. Hun­dreds of peo­ple have come through the train­ing and many of our alum­ni were play­ing impor­tant roles at the Oceti Sakowin camps. Our cur­ricu­lum is root­ed in our inter-trib­al cul­tures. Com­mu­ni­ty orga­niz­ing is not an idea that a few white guys in Chica­go came up with. It is as old as dirt. Our com­mu­ni­ties have always been premised on the idea of col­lec­tive economies, col­lec­tive res­o­lu­tions to prob­lems. We are using our his­to­ry and expe­ri­ences to devel­op cur­ricu­lums that build and strength­en those traditions.
We are also col­lab­o­rat­ing on an array of vot­er pro­tec­tion and civ­il rights issues, because Indi­an Coun­try had the largest num­ber of Indi­an can­di­dates in U.S. his­to­ry ran in 2015. We have an array of elect­ed offi­cials in states that are con­trolled by the right wing. We will be doing a lot of work to help them devel­op an inside/​outside strategy.
Inter­views for Resis­tance is a project of Sarah Jaffe, with assis­tance from Lau­ra Feuille­bois and sup­port from the Nation Insti­tute. It is also avail­able as a podcast.
Sarah Jaffe
is a for­mer staff writer at
In These Times
and author of
Nec­es­sary Trou­ble: Amer­i­cans in Revolt
, which Robin D.G. Kel­ley called ​
"
The most com­pelling social and polit­i­cal por­trait of our age." You can fol­low her on Twit­ter
@sarahljaffe
.