How a Small Town in Iowa Freed Local Workers From ICE Detention
A grassroots movement is growing to raise bail for people held by ICE.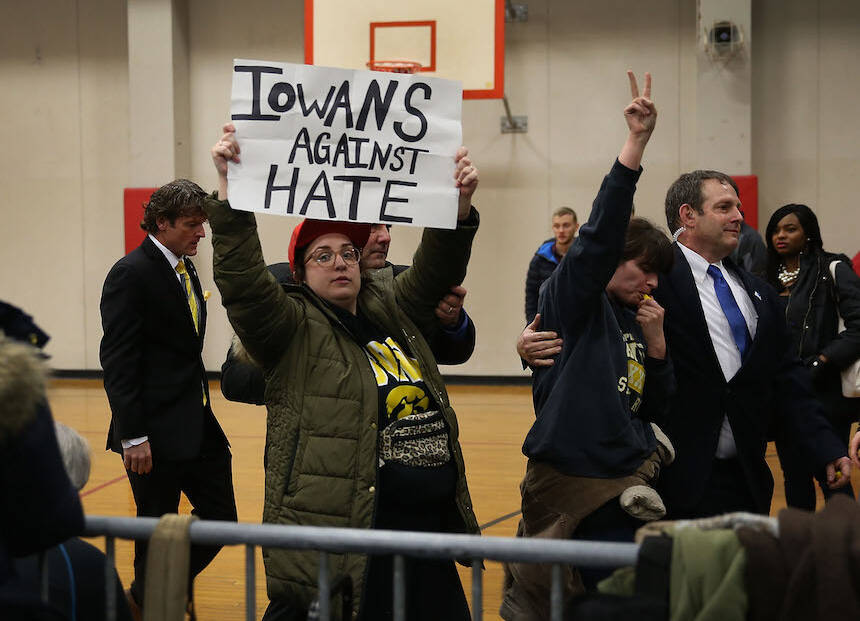 MT. PLEAS­ANT, IOWA — Isabel dis­cov­ered she was preg­nant May 14. She and her hus­band, Jack (names changed because of his undoc­u­ment­ed sta­tus), had been try­ing to start a fam­i­ly for years. They had a mis­car­riage in 2015. In 2016, their baby girl died an hour and a half after being born pre­ma­ture. Giv­en the past com­pli­ca­tions, this new preg­nan­cy was a huge deal. But Isabel wasn't able to tell Jack in person.
He was one of 32 work­ers seized dur­ing a May 9 raid at the Mid­west Pre­cast Con­crete facil­i­ty (MPC) in Mt. Pleas­ant. It was the largest Immi­gra­tion and Cus­toms Enforce­ment (ICE) raid in the state since 2008, when 900 agents blitzed a meat­pack­ing plant in Postville and put a tenth of the small town's pop­u­la­tion in jail.
Isabel's step­fa­ther, also an MPC employ­ee, went out for lunch that day, nar­row­ly avoid­ing arrest. He returned to find a desert­ed plant — uneat­en plates of food, cars left in the park­ing lot.
When Isabel called Jack to tell him about the preg­nan­cy, he was being held in an ICE­con­tract­ed deten­tion facil­i­ty in Wis­con­sin. He was over­joyed; he'd been using the time to think of baby names ​"for when­ev­er we do have a kid."
But Jack was also wor­ried. He didn't know whether he'd be present for his child's birth, still in deten­tion, or deported.
Then Isabel received a call from the East­ern Iowa Com­mu­ni­ty Bond Project (EICBP), part of a wave of new groups that bail out detained immi­grants. They want­ed to help.
EICBP post­ed Jack's bond on June 18, and he's now home with Isabel. His immi­gra­tion hear­ing is sched­uled for 2019. He could still be deport­ed to El Sal­vador, where gang vio­lence and the state crack­down on orga­nized crime (car­ried out with U.S. sup­port) cause many civil­ian causal­i­ties. Still, Jack will be present for the birth of their child, which Isabel con­sid­ers a blessing.
"If the out­come is not favor­able, at least they've had time to sort out fam­i­ly affairs," says Natalia Espina, a co-founder of EICBP.
When EICBP start­ed in Jan­u­ary 2017, it was one of two immi­gra­tion bond funds in the nation. Since its scrap­py, grass­roots begin­ning, the small, vol­un­teer­run orga­ni­za­tion has raised over $80,000 to free a total of 21 immi­grants, 13 of whom are undoc­u­ment­ed work­ers seized dur­ing the May 9 raid. Today, EICBP is one of 15 active immi­gra­tion bond projects in 12 states and one of 37 mem­bers of the Nation­al Bond Fund Network.
For most detained immi­grants, secur­ing a bond is the only way to live out­side deten­tion while the fed­er­al gov­ern­ment decides whether to deport them, a process that aver­ages 700 days. There is no fed­er­al lim­it on how long an immi­grant can be held with­out trial.
Accord­ing to a PBS News Hour inves­ti­ga­tion, the aver­age bond amount has increased under Pres­i­dent Trump, with immi­gra­tion court judges often set­ting bond at amounts in excess of $10,000 — well above the $1,500 legal min­i­mum. High­er bonds mean that immi­grants are spend­ing more time in deten­tion (and for-prof­it deten­tion facil­i­ty oper­a­tors are mak­ing more mon­ey). Jack was for­tu­nate to get out in 40 days.
EICBP worked with a net­work of inter­faith groups in Mt. Pleas­ant that raised funds for the MPC work­ers' legal fees, includ­ing Jack's. Immi­grants fac­ing removal have a right to legal rep­re­sen­ta­tion, but not at the government's expense, because depor­ta­tion is not treat­ed as a crim­i­nal mat­ter. Unsur­pris­ing­ly, immi­grants with access to attor­neys fare bet­ter at every stage of the process.
Those like Jack who are fight­ing for ​"can­cel­la­tion of removal" face an uphill bat­tle: They must demonstrate"good moral char­ac­ter," no con­vic­tions that ren­der them deportable, and a con­tin­u­ous pres­ence in the U.S. for at least ten years. What's more, they must prove that depor­ta­tion would cause ​"excep­tion­al and extreme­ly unusu­al hard­ship" to a child, spouse, or par­ent — above and beyond the expect­ed trau­ma of sep­a­rat­ing a family.
Dur­ing the month that her hus­band was impris­oned, Isabel expe­ri­enced what the U.S. gov­ern­ment would like­ly con­sid­er ​"unex­cep­tion­al" hard­ship. ​"At night, the entire house would be qui­et — it was just bad," she says. See­ing her husband's emp­ty place in the church pew ​"was real­ly sad, know­ing that I had no idea when I would see him again or when he would fill that spot."
Ele­na Carter
is a free­lance writer and teach­es at the Uni­ver­si­ty of Iowa.