These Faculty Organizing Victories Show Labor Doesn't Need the Courts On Its Side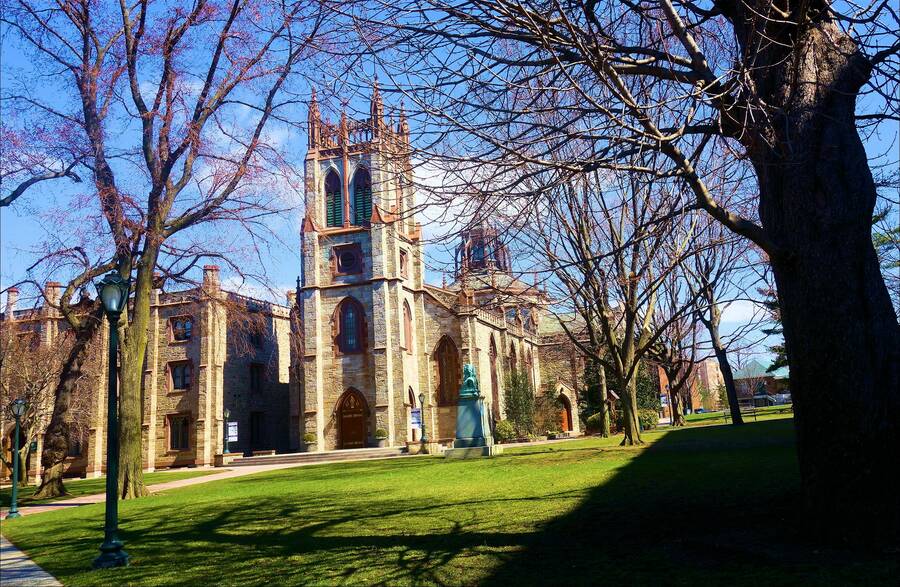 At the University of Iowa and Fordham University, two new faculty unions recently won key victories by adopting unconventional strategies adapted from service-sector organizing. In contract negotiations for the academic year, contingent faculty at both schools, organizing with SEIU Faculty Forward, mounted high-profile campaigns that pushed administrators to the negotiation table despite opposition to union certification.
In each case, separate concerns over anti-labor laws and courts pushed faculty to bypass NLRB elections and aim straight for the negotiation table. Fordham eventually changed course after its campaign succeeded — winning a promise from the university's president that he would no longer oppose a union election.
At Fordham, non-tenure-track faculty ended negotiations in July, locking down major raises: Fordham's lowest-paid instructors will see pay increase by as much as 90 percent with raises of at least 67 percent for all but two departments employing non-tenure-track staff. By the spring of 2021, Fordham's adjuncts will earn up to $8,000 per class.
"At one point, they offered a $20 increase in pay," said Ashar Foley, a lecturer in Fordham's department of Communication and Media Studies. ​"Our tactic was to get student support, faculty support, to show up at their alumni events and at parent weekends if we didn't have a contract by the fall."

Although Fordham professors were prepared to move forward without official recognition, faculty and community pressure led Fordham to accept contingent faculty's right to organize — paving the way for a vote to unionize.
"Fordham is in the public eye a lot," Foley said. ​"We made it show that we would go to the public with our demands. As negotiations progressed, the tone changed.
Then, on August 6, contingent faculty — many of whom previously lacked health insurance and sick leave — won a range of new benefits. Faculty hired for at least a full year will now receive fully-funded healthcare for themselves and their dependents — along with retirement contributions and other insurance coverage, including life and disability.
The wins came after several actions targeting Iowa's administration, especially controversial president Bruce Harreld, one of the state's best-paid public servants. Harreld, who had no prior academic experience, entered the administration from the corporate sector despite a faculty vote of no confidence. In a series of actions, faculty and supporters marched on campus, staked Harreld's 12,000-square-foot official residence with yard signs, and staged a sit-in in Harreld's office. After 24 hours, the union ended the sit-in — slated to last three days — when administrators caved.
"I guess we were a thorn in his side," said Faye Bartram, a visiting assistant professor in Iowa's history department. Bartram says her new contract will help her address health issues that affect her teaching. ​"Now I'll have full health insurance," she said, ​"plus life, disability, dependent coverage, and accrued sick leave. We had none of that beforehand. It's good for my health, for my teaching, and it's a lot of peace of mind."
"Iowa has really extensive anti-bargaining laws," said Alex Niemi, a visiting instructor in Russian. ​"We've just found other ways to make our voices heard. I'd say that it could be a model for other people who live in right-to-work states."
Charting a new course
Labor board certification, which would have required Iowa's administrators to negotiate with faculty, comes with growing risks and restrictions. With the NLRB now dominated by conservative appointees — including two Trump picks—university administrators have every incentive to mount legal challenges, a problem University of Chicago graduate instructors faced earlier this year.
That can lead to drawn-out hearings, drain union funds, and, with anti-union NLRB appointees, lead to court decisions that entirely restrict bargaining rights, like the NLRB's 2004 Brown University ruling that graduate instructors had no right to a union.
"We're facing a next-level degree of intransigence from the state, and it's giving license to a number of university administrations to mess with adjuncts and graduate students a little bit more," said Cedric de Leon, director of the Labor Center at the University of Massachusetts Amherst. ​"This includes universities that see themselves as very liberal, but on labor are quite happy to let the Trump NLRB adjudicate their union drives."
In Iowa, harsh restrictions on public employees bar faculty from bargaining on a wide range of topics, and only require negotiations on extremely limited wage increases. Iowa contingent faculty's gains would have been impossible to win through the state-sanctioned process.
At Fordham, a Jesuit institution, unionizing faculty initially didn't want to give administrators the chance to argue for a broadened religious exemption before the NLRB, as a pro-management decision could have had serious repercussions for unions at other universities including Loyola, DePaul and Georgetown. Fordham's successful campaign, and administrators' agreement to drop opposition, points to a workaround. Public pressure, not sympathetic judges, kept administrators from expanding the religious exemption in academia.
"For the most part, labor board elections have been really stacked against workers, Trump or no Trump," de Leon said. ​"A lot of strategies that organizers are using now at Fordham and Iowa are strategies that the United Farm Workers used in the 1960s — and I don't think it's an accident, because farmworkers didn't have the legal right to organize in California, either!"
A more militant future
The campaigns at Iowa and Fordham are part of a growing wave of confrontational direct actions by educators nationwide, including strikes by public-school teachers in Arizona, West Virginia, Kentucky, and Oklahoma, walkouts by teachers in Colorado and adjuncts at Loyola University Chicago, and a contingent faculty sit-in at the University of Michigan.
At the City University of New York, adjuncts are demanding the same $7,000 per-class wage as Fordham faculty. In Chicago, non-tenure-track faculty at the University of Chicago and Loyola University Chicago have won recent raises and contractual reforms.
"What you are starting to see is the spread of non-normative direct action," de Leon says. ​"As the collective bargaining framework becomes dismantled through right-to-work laws and other draconian legal regimes, you're going to have more militancy, more direct action, more strikes."
The federal acts regulating collective bargaining are part of a long-standing compromise designed to temper labor militancy and reduce work stoppages. De Leon believes the Right, eager to tear up those deals, is shooting itself in the foot.

​"They think they're on to a strategy," he said. ​"But what happens then? People will say, ​'If the legal framework won't let me do this, the hell with the legal framework.'"
As faculty unions ramp up their militancy — and look to expand — de Leon emphasizes the importance of field-testing new strategies. ​"If you keep going to the well, they're going to cotton on and figure out something to beat you," he says.
Relative to their bosses and tenured colleagues, contingent faculty are younger, more diverse, and more often women: the frontline workers of higher education. For de Leon and others, union fights like those at Iowa or Fordham are about the strategies that new unions and young workers are using to revitalize labor — strategies that, so far, are netting wins.
Correction: A previous version of this article misidentified Iowa's contingent faculty as members of SEIU Local 199. Although Local 199 organizes workers at the University of Iowa, it is not legally affiliated with non-tenure-track faculty there.