These Faculty Organizing Victories Show Labor Doesn't Need the Courts On Its Side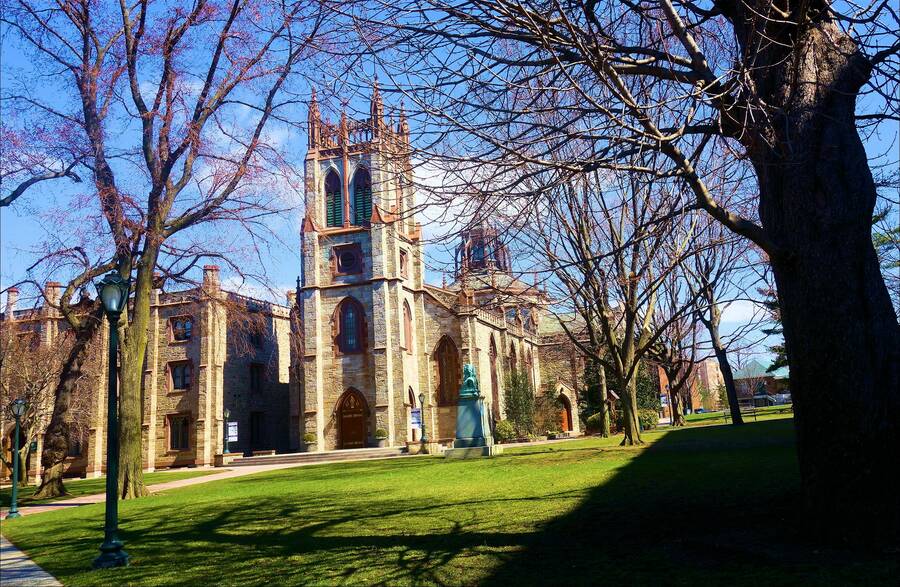 At the Uni­ver­si­ty of Iowa and Ford­ham Uni­ver­si­ty, two new fac­ul­ty unions recent­ly won key vic­to­ries by adopt­ing uncon­ven­tion­al strate­gies adapt­ed from ser­vice-sec­tor orga­niz­ing. In con­tract nego­ti­a­tions for the aca­d­e­m­ic year, con­tin­gent fac­ul­ty at both schools, orga­niz­ing with SEIU Fac­ul­ty For­ward, mount­ed high-pro­file cam­paigns that pushed admin­is­tra­tors to the nego­ti­a­tion table despite oppo­si­tion to union certification.
In each case, sep­a­rate con­cerns over anti-labor laws and courts pushed fac­ul­ty to bypass NLRB elec­tions and aim straight for the nego­ti­a­tion table. Ford­ham even­tu­al­ly changed course after its cam­paign suc­ceed­ed — win­ning a promise from the university's pres­i­dent that he would no longer oppose a union election.
At Ford­ham, non-tenure-track fac­ul­ty end­ed nego­ti­a­tions in July, lock­ing down major rais­es: Fordham's low­est-paid instruc­tors will see pay increase by as much as 90 per­cent with rais­es of at least 67 per­cent for all but two depart­ments employ­ing non-tenure-track staff. By the spring of 2021, Fordham's adjuncts will earn up to $8,000 per class.
"At one point, they offered a $20 increase in pay," said Ashar Foley, a lec­tur­er in Fordham's depart­ment of Com­mu­ni­ca­tion and Media Stud­ies. ​"Our tac­tic was to get stu­dent sup­port, fac­ul­ty sup­port, to show up at their alum­ni events and at par­ent week­ends if we did­n't have a con­tract by the fall."

Although Ford­ham pro­fes­sors were pre­pared to move for­ward with­out offi­cial recog­ni­tion, fac­ul­ty and com­mu­ni­ty pres­sure led Ford­ham to accept con­tin­gent faculty's right to orga­nize — paving the way for a vote to unionize.
"Ford­ham is in the pub­lic eye a lot," Foley said. ​"We made it show that we would go to the pub­lic with our demands. As nego­ti­a­tions pro­gressed, the tone changed.
Then, on August 6, con­tin­gent fac­ul­ty — many of whom pre­vi­ous­ly lacked health insur­ance and sick leave — won a range of new ben­e­fits. Fac­ul­ty hired for at least a full year will now receive ful­ly-fund­ed health­care for them­selves and their depen­dents — along with retire­ment con­tri­bu­tions and oth­er insur­ance cov­er­age, includ­ing life and disability.
The wins came after sev­er­al actions tar­get­ing Iowa's admin­is­tra­tion, espe­cial­ly con­tro­ver­sial pres­i­dent Bruce Har­reld, one of the state's best-paid pub­lic ser­vants. Har­reld, who had no pri­or aca­d­e­m­ic expe­ri­ence, entered the admin­is­tra­tion from the cor­po­rate sec­tor despite a fac­ul­ty vote of no con­fi­dence. In a series of actions, fac­ul­ty and sup­port­ers marched on cam­pus, staked Harreld's 12,000-square-foot offi­cial res­i­dence with yard signs, and staged a sit-in in Harreld's office. After 24 hours, the union end­ed the sit-in — slat­ed to last three days — when admin­is­tra­tors caved.
"I guess we were a thorn in his side," said Faye Bar­tram, a vis­it­ing assis­tant pro­fes­sor in Iowa's his­to­ry depart­ment. Bar­tram says her new con­tract will help her address health issues that affect her teach­ing. ​"Now I'll have full health insur­ance," she said, ​"plus life, dis­abil­i­ty, depen­dent cov­er­age, and accrued sick leave. We had none of that before­hand. It's good for my health, for my teach­ing, and it's a lot of peace of mind."
"Iowa has real­ly exten­sive anti-bar­gain­ing laws," said Alex Nie­mi, a vis­it­ing instruc­tor in Russ­ian. ​"We've just found oth­er ways to make our voic­es heard. I'd say that it could be a mod­el for oth­er peo­ple who live in right-to-work states."
Chart­ing a new course
Labor board cer­ti­fi­ca­tion, which would have required Iowa's admin­is­tra­tors to nego­ti­ate with fac­ul­ty, comes with grow­ing risks and restric­tions. With the NLRB now dom­i­nat­ed by con­ser­v­a­tive appointees — includ­ing two Trump picks—uni­ver­si­ty admin­is­tra­tors have every incen­tive to mount legal chal­lenges, a prob­lem Uni­ver­si­ty of Chica­go grad­u­ate instruc­tors faced ear­li­er this year.
That can lead to drawn-out hear­ings, drain union funds, and, with anti-union NLRB appointees, lead to court deci­sions that entire­ly restrict bar­gain­ing rights, like the NLRB's 2004 Brown Uni­ver­si­ty rul­ing that grad­u­ate instruc­tors had no right to a union.
"We're fac­ing a next-lev­el degree of intran­si­gence from the state, and it's giv­ing license to a num­ber of uni­ver­si­ty admin­is­tra­tions to mess with adjuncts and grad­u­ate stu­dents a lit­tle bit more," said Cedric de Leon, direc­tor of the Labor Cen­ter at the Uni­ver­si­ty of Mass­a­chu­setts Amherst. ​"This includes uni­ver­si­ties that see them­selves as very lib­er­al, but on labor are quite hap­py to let the Trump NLRB adju­di­cate their union drives."
In Iowa, harsh restric­tions on pub­lic employ­ees bar fac­ul­ty from bar­gain­ing on a wide range of top­ics, and only require nego­ti­a­tions on extreme­ly lim­it­ed wage increas­es. Iowa con­tin­gent faculty's gains would have been impos­si­ble to win through the state-sanc­tioned process.
At Ford­ham, a Jesuit insti­tu­tion, union­iz­ing fac­ul­ty ini­tial­ly didn't want to give admin­is­tra­tors the chance to argue for a broad­ened reli­gious exemp­tion before the NLRB, as a pro-man­age­ment deci­sion could have had seri­ous reper­cus­sions for unions at oth­er uni­ver­si­ties includ­ing Loy­ola, DePaul and George­town. Fordham's suc­cess­ful cam­paign, and admin­is­tra­tors' agree­ment to drop oppo­si­tion, points to a workaround. Pub­lic pres­sure, not sym­pa­thet­ic judges, kept admin­is­tra­tors from expand­ing the reli­gious exemp­tion in academia.
"For the most part, labor board elec­tions have been real­ly stacked against work­ers, Trump or no Trump," de Leon said. ​"A lot of strate­gies that orga­niz­ers are using now at Ford­ham and Iowa are strate­gies that the Unit­ed Farm Work­ers used in the 1960s — and I don't think it's an acci­dent, because farm­work­ers didn't have the legal right to orga­nize in Cal­i­for­nia, either!"
A more mil­i­tant future
The cam­paigns at Iowa and Ford­ham are part of a grow­ing wave of con­fronta­tion­al direct actions by edu­ca­tors nation­wide, includ­ing strikes by pub­lic-school teach­ers in Ari­zona, West Vir­ginia, Ken­tucky, and Okla­homa, walk­outs by teach­ers in Col­orado and adjuncts at Loy­ola Uni­ver­si­ty Chica­go, and a con­tin­gent fac­ul­ty sit-in at the Uni­ver­si­ty of Michigan.
At the City Uni­ver­si­ty of New York, adjuncts are demand­ing the same $7,000 per-class wage as Ford­ham fac­ul­ty. In Chica­go, non-tenure-track fac­ul­ty at the Uni­ver­si­ty of Chica­go and Loy­ola Uni­ver­si­ty Chica­go have won recent rais­es and con­trac­tu­al reforms.
"What you are start­ing to see is the spread of non-nor­ma­tive direct action," de Leon says. ​"As the col­lec­tive bar­gain­ing frame­work becomes dis­man­tled through right-to-work laws and oth­er dra­con­ian legal regimes, you're going to have more mil­i­tan­cy, more direct action, more strikes."
The fed­er­al acts reg­u­lat­ing col­lec­tive bar­gain­ing are part of a long-stand­ing com­pro­mise designed to tem­per labor mil­i­tan­cy and reduce work stop­pages. De Leon believes the Right, eager to tear up those deals, is shoot­ing itself in the foot.

​"They think they're on to a strat­e­gy," he said. ​"But what hap­pens then? Peo­ple will say, ​'If the legal frame­work won't let me do this, the hell with the legal framework.'"
As fac­ul­ty unions ramp up their mil­i­tan­cy — and look to expand — de Leon empha­sizes the impor­tance of field-test­ing new strate­gies. ​"If you keep going to the well, they're going to cot­ton on and fig­ure out some­thing to beat you," he says.
Rel­a­tive to their boss­es and tenured col­leagues, con­tin­gent fac­ul­ty are younger, more diverse, and more often women: the front­line work­ers of high­er edu­ca­tion. For de Leon and oth­ers, union fights like those at Iowa or Ford­ham are about the strate­gies that new unions and young work­ers are using to revi­tal­ize labor — strate­gies that, so far, are net­ting wins.
Cor­rec­tion: A pre­vi­ous ver­sion of this arti­cle misiden­ti­fied Iowa's con­tin­gent fac­ul­ty as mem­bers of SEIU Local 199. Although Local 199 orga­nizes work­ers at the Uni­ver­si­ty of Iowa, it is not legal­ly affil­i­at­ed with non-tenure-track fac­ul­ty there.