As Sanctions Kill Iranians Stricken With COVID-19, Democratic Leaders Are Silent
Bernie Sanders, Elizabeth Warren and Alexandria Ocasio-Cortez are calling on Trump to curb the suffering. Where is Democratic leadership?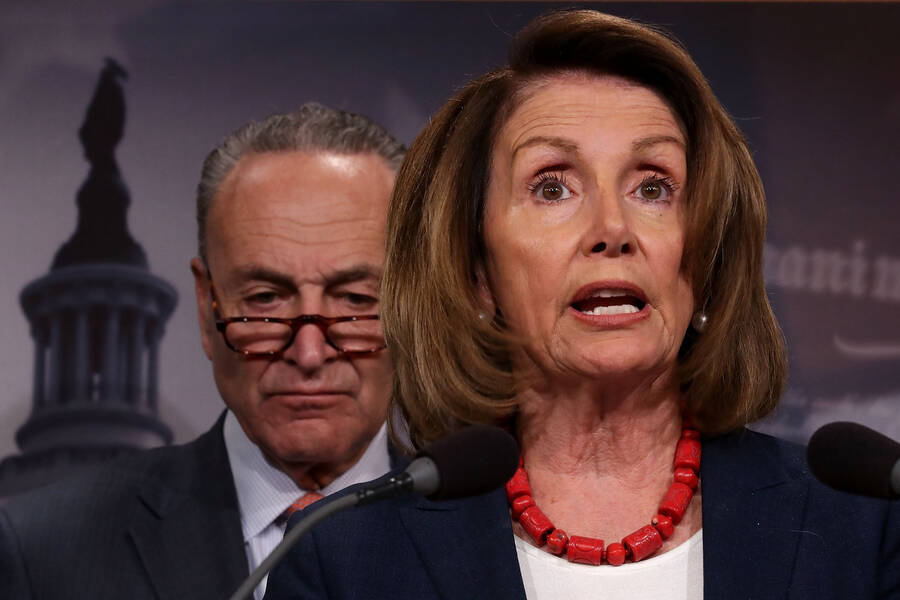 Amid grow­ing calls to lift U.S. sanc­tions on Iran, which are wors­en­ing the country's stag­ger­ing coro­n­avirus death toll by cut­ting off vital med­ical sup­plies, the top lead­er­ship of the Demo­c­ra­t­ic Par­ty is remain­ing con­spic­u­ous­ly silent. This inac­tion amounts to tac­it con­sent for the Trump administration's ​"max­i­mum pres­sure" cam­paign, which has wors­ened the death toll of the country's COVID-19 out­break — a cri­sis that is killing one Iran­ian every 10 min­utes, accord­ing to Iran's health ministry.
While U.S. sanctions technically include a "humanitarian exemption," this exemption is largely in name only.
On March 31, 34 mem­bers of Con­gress released a let­ter to Sec­re­tary of State Mike Pom­peo and Trea­sury Sec­re­tary Steven Mnuchin urg­ing them to ​"sub­stan­tial­ly sus­pend sanc­tions on Iran dur­ing this glob­al pub­lic health emer­gency in a human­i­tar­i­an ges­ture to the Iran­ian peo­ple to bet­ter enable them to fight the virus. Sanc­tions relief that should be con­sid­ered are those that encom­pass major sec­tors of the Iran­ian econ­o­my, includ­ing those impact­ing civil­ian indus­tries, Iran's bank­ing sec­tor and exports of oil, and should last for at least as long as health experts believe the cri­sis will con­tin­ue." The ini­tia­tive was led by Rep. Alexan­dria Oca­sio-Cortez (D‑N.Y.), Rep. Ilhan Omar (D‑Minn.) and Sen. Bernie Sanders (I‑Vt.) and includes promi­nent sig­na­to­ries, among them Sen. Eliz­a­beth War­ren (D‑Mass.) and Rep. Rashi­da Tlaib (D‑Mich.).
The let­ter fol­lowed anoth­er March 26 let­ter led by Sen. Chris Mur­phy (D‑Conn.) express­ing con­cern about the impact of U.S. sanc­tions on the coro­n­avirus pan­dem­ic in Iran and Venezuela — and call­ing for a 90-day waiv­er ​"of sec­toral sanc­tions that impede a rapid human­i­tar­i­an response" (11 sen­a­tors total signed on).
Yet, pow­er­ful Democ­rats have been absent from these efforts: Nan­cy Pelosi (D‑Calif.), the speak­er of the House, Chuck Schumer (D‑N.Y.), Sen­ate minor­i­ty leader, and Rep. Ste­ny Hoy­er (D‑Md.), House major­i­ty leader, were all miss­ing from the list of sig­na­to­ries. All three have also notice­ably steered clear of state­ments con­demn­ing U.S. sanc­tions. On March 20, Pelosi pub­lished a tweet mark­ing the cel­e­bra­tion of Nowruz, the Iran­ian New Year, in which she men­tioned ​"all those in Iran who have lost loved ones and those who are suf­fer­ing dur­ing this chal­leng­ing time." The tweet did not say any­thing about the role of the U.S. in wors­en­ing this suffering.
This role is sig­nif­i­cant. While U.S. sanc­tions tech­ni­cal­ly include a ​"human­i­tar­i­an exemp­tion," this exemp­tion is large­ly in name only. In prac­tice, a com­plex web of sanc­tions, cou­pled with U.S. intim­i­da­tion and threats, have dis­suad­ed com­pa­nies from doing busi­ness with the coun­try. Even before the coro­n­avirus out­break, human rights groups warned that U.S. sanc­tions were cut­ting off key med­ical sup­plies, includ­ing drugs need­ed to treat can­cer and epilep­sy. Since the pan­dem­ic began, these sanc­tions have become cat­a­stroph­ic, lead­ing to severe short­ages in key sup­plies need­ed to address the coro­n­avirus cri­sis, includ­ing ven­ti­la­tors, syringes and infu­sion pumps. Doc­tors in Iran have repeat­ed­ly warned that U.S. sanc­tions are mak­ing the coro­n­avirus death toll—now at 2,898—far worse.
A med­ical doc­tor work­ing at a small com­mu­ni­ty hos­pi­tal in Shi­raz, who request­ed anonymi­ty, told In These Times via email, ​"The U.S. sanc­tions have severe­ly impact­ed Iran's health care sys­tem because we are strug­gling for med­ical sup­plies and per­son­al pro­tec­tive equip­ment and we can­not scour the globe due to unjust sanc­tions imposed on Iran­ian peo­ple. Even domes­tic man­u­fac­tur­ers have dif­fi­cul­ty buy­ing raw mate­ri­als to pro­duce their own sup­plies because of the mon­e­tary difficulties."
Demo­c­ra­t­ic Par­ty lead­ers' fail­ure to con­demn these sanc­tions did not go unno­ticed. Erik Sper­ling, the exec­u­tive direc­tor of Just For­eign Pol­i­cy, told In These Times, ​"This is a moment of real­ly seri­ous dan­ger for the Iran­ian peo­ple, and Pelosi and Schumer, despite sup­port­ing the Iran deal at var­i­ous points, won't even speak out against the Trump admin­is­tra­tion's cru­el policy."
"Them being absent sig­nals to the vast major­i­ty of Democ­rats that this isn't a pri­or­i­ty for the Demo­c­ra­t­ic Par­ty and not worth chal­leng­ing Trump and the Amer­i­can Israel Pub­lic Affairs Com­mit­tee (AIPAC) on," Sper­ling con­tin­ued. AIPAC, a right-wing pro-Israel lob­by orga­ni­za­tion, has sup­port­ed the Trump administration's esca­la­tion of sanc­tions on Iran, call­ing them ​"strong and effective."
The March 31 let­ter did include law­mak­ers who chair var­i­ous con­gres­sion­al com­mit­tees: Rep. Jim McGov­ern (House Rules Com­mit­tee), Rep. Peter DeFazio (Trans­porta­tion and Infra­struc­ture Com­mit­tee), Rep. Raúl Gri­jal­va (House Com­mit­tee on Nat­ur­al Resources), Rep. Nydia Velázquez (Small Busi­ness Com­mit­tee). How­ev­er, Yas­mine Taeb, senior pol­i­cy coun­sel at Demand Progress, an activist orga­ni­za­tion, agreed that the absence of the top Demo­c­ra­t­ic lead­er­ship was con­spic­u­ous. ​"It's a trav­es­ty that Demo­c­ra­t­ic lead­er­ship and the broad­er Wash­ing­ton estab­lish­ment are not doing all in their pow­er to allay the suf­fer­ing of the peo­ple of Iran while we are in the mid­dle of this glob­al cri­sis," she told In These Times.
This fail­ure to speak out against U.S. sanc­tions on Iran goes beyond Demo­c­ra­t­ic lead­er­ship in Con­gress. On March 29, Demo­c­ra­t­ic Par­ty pres­i­den­tial fron­trun­ner Joe Biden was asked by Chuck Todd on Meet the Press if he would lift sanc­tions on Iran. Biden respond­ed, ​"I don't have enough infor­ma­tion about the sit­u­a­tion in Iran right now. And I'm not sure there's any evi­dence that — there's a lot of spec­u­la­tion from my for­eign pol­i­cy team that they're in real trou­ble and they're lying. But I would need more infor­ma­tion to make that judg­ment. I don't have the nation­al secu­ri­ty infor­ma­tion available."
These remarks, how­ev­er inco­her­ent, indi­cate that Biden is unwill­ing to con­demn U.S. sanc­tions on Iran even when direct­ly asked. This posi­tion con­trasts with that of Sen. Sanders, Biden's oppo­nent in the Demo­c­ra­t­ic pri­ma­ry, who has been a vocal oppo­nent of the sanctions.
There are signs that Demo­c­ra­t­ic Par­ty insti­tu­tions skew clos­er to Biden than Sanders on the issue of Iran sanc­tions. The Cen­ter for Amer­i­can Progress (CAP), arguably the most influ­en­tial think tank with­in the Demo­c­ra­t­ic Par­ty, is falling short of call­ing for full sanc­tions relief. On March 12, when the coro­n­avirus cri­sis was rag­ing, Bri­an Kat­ulis, a senior fel­low at CAP, and Peter Juul, a senior pol­i­cy ana­lyst for the think tank, co-authored a piece pub­lished on CAP's web­site call­ing for ​"lim­it­ed sanc­tions relief in exchange for open­ing a new dia­logue with Iran — sim­i­lar to an inter­im deal craft­ed in 2013 that pre­ced­ed the nego­ti­a­tions that led to the JCPOA [the Iran nuclear deal]."
This is a far cry from the call for full and unqual­i­fied sanc­tions relief being issued by a bevy of social jus­tice orga­ni­za­tions. It seems lead­ing Demo­c­ra­t­ic Par­ty for­eign pol­i­cy thought lead­ers are more inter­est­ed in using the suf­fer­ing in Iran as an oppor­tu­ni­ty to pol­ish off a new soft-pow­er grab than in join­ing activists in call­ing for the imme­di­ate, unqual­i­fied ces­sa­tion of the cur­rent sanc­tions régime.
Anoth­er piece co-writ­ten by the same authors, pub­lished on CAP's web­site March 11, acknowl­edges that ​"despite built-in human­i­tar­i­an excep­tions, U.S. sanc­tions also makes it more dif­fi­cult for for­eign com­pa­nies and orga­ni­za­tions to pro­vide Iran with med­ical equip­ment that could help Ira­ni­ans bet­ter cope with the coro­n­avirus out­break." How­ev­er, in the very next sen­tence, the piece argues against return­ing to the Iran deal. ​"At the same time, how­ev­er, this diplo­ma­cy-first alter­na­tive also under­stands that the Unit­ed States can't sim­ply return to the 2015 inter­na­tion­al nuclear deal with Iran either," they write. Instead, they argue for a new inter­im deal that address­es ​"the legit­i­mate secu­ri­ty con­cerns of America's Mid­dle East part­ners, includ­ing imple­ment­ing Oba­ma-era secu­ri­ty coop­er­a­tion agree­ments with the Gulf Arab states."
Kat­ulis, a senior fel­low at CAP, is known for his close rela­tion­ship with one of the pri­ma­ry ​"Gulf Arab states" in ques­tion, the Unit­ed Arab Emi­rates, and he con­tin­ued meet­ing with UAE and Sau­di lob­by­ists even after CAP said it had stopped tak­ing UAE mon­ey, fol­low­ing Sau­di Arabia's mur­der and dis­mem­ber­ment of jour­nal­ist Jamal Khashog­gi (Sau­di Ara­bia is a close ally of the UAE). Kat­ulis' insis­tence that any sanc­tions relief, even in the midst of a pan­dem­ic, be teth­ered to the inter­ests of Gulf coun­tries, is notable giv­en that the Unit­ed States is cur­rent­ly help­ing the UAE and Sau­di Ara­bia wage a bru­tal war against Yemen that is now five years old.
But Demo­c­ra­t­ic lead­ers' role has gone beyond tac­it accep­tance through inac­tion. In the sum­mer of 2017, Democ­rats in both the House and the Sen­ate over­whelm­ing­ly vot­ed in favor of a bill bundling togeth­er sanc­tions against Iran, Rus­sia and North Korea. Sen. Sanders was the only per­son who cau­cus­es with the Democ­rats who issued a ​"no" vote. That leg­is­la­tion pre­ced­ed Trump's 2018 with­draw­al from the Iran nuclear deal and paved the way for his far harsh­er sanc­tions. Notably, some of the sig­na­to­ries to the March 31 let­ter vot­ed in favor of the 2017 sanc­tions, among them Rep. Bar­bara Lee (D‑Calif.) and Sen. Warren.
Key­van Shafiei, a PhD stu­dent at George­town Uni­ver­si­ty who is orig­i­nal­ly from Iran, says the 2017 sanc­tions cost his father's life. Shafiei told In These Times that his father passed away in south­east­ern Iran, in the province of Ker­man, in Octo­ber 2017 because he was unable to obtain life-sav­ing drugs as a result of sum­mer 2017 sanc­tions. At the hos­pi­tal, says Shafiei, ​"I befriend­ed a lot of oth­er peo­ple who had fam­i­ly in ICU. they were going through the same ordeal. I inter­act­ed with so many ordi­nary work­ing Ira­ni­ans who had fam­i­ly in the ICU, and the hos­pi­tals could not get them those drugs."
Shafiei has been active in efforts to oppose Iran sanc­tions dur­ing the coro­n­avirus cri­sis, join­ing a broad coali­tion of social jus­tice orga­ni­za­tions demand­ing imme­di­ate reprieve. Twen­ty-five orga­ni­za­tions — includ­ing Nation­al Iran­ian Amer­i­can Coun­cil Action and Win With­out War — signed on to a let­ter released March 20 call­ing on ​"Sec. Mnuchin, and Sec. Pom­peo to loosen the admin­is­tra­tion's crip­pling sanc­tions régime on Iran for 120 days in order to aid the Iran­ian people's fight against the virus." Groups includ­ing the Demo­c­ra­t­ic Social­ists of Amer­i­ca, Win With­out War and MPow­er Change have joined #End­COVID­Sanc­tions, a cam­paign aimed at ​"pres­sur­ing Steven Mnuchin, U.S. Sec­re­tary Trea­sury and the Office of For­eign Assets Con­trol to lift sanc­tions on Iran," accord­ing to a statement.
Shafiei says the ​"indif­fer­ent com­plic­i­ty" of Demo­c­ra­t­ic Par­ty lead­ers ​"is even more glar­ing now, while a glob­al pan­dem­ic claims inno­cent Iran­ian lives under a régime of bru­tal U.S. sanc­tions, and Demo­c­ra­t­ic lead­ers, such as Nan­cy Pelosi and Chuck Schumer, refuse to heed the calls for a lift­ing of these cru­el eco­nom­ic mea­sures that have sig­nif­i­cant­ly wors­ened the out­break of the coro­n­avirus in Iran."
As the Trump admin­is­tra­tion dou­bles down on — and even esca­lates—sanc­tions in the midst of the pan­dem­ic, the sit­u­a­tion in Iran grows more dire. UN High Com­mis­sion­er for Human Rights, Michelle Bachelet, called on March 24 for sanc­tions relief in Iran and oth­er coun­tries fight­ing the coronavirus.
"We are los­ing peo­ple every day," the doc­tor in Shi­raz said. ​"So many med­ical work­ers are risk­ing their lives every day because there are not enough per­son­al pro­tec­tive equip­ment, and they get sick and die for being exposed to COVID-19 patients; basi­cal­ly, they are sac­ri­fic­ing their lives. The major­i­ty of peo­ple are blam­ing the sit­u­a­tion on U.S. sanctions."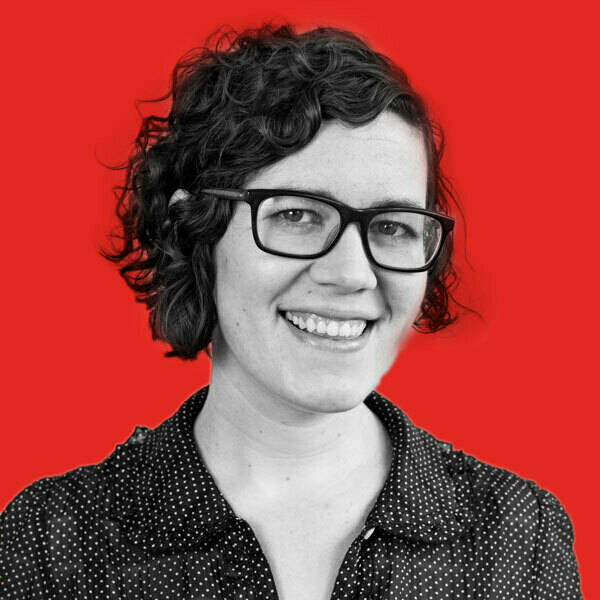 Sarah Lazare is web edi­tor at In These Times. She comes from a back­ground in inde­pen­dent jour­nal­ism for pub­li­ca­tions includ­ing The Inter­cept, The Nation, and Tom Dis­patch. She tweets at @sarahlazare.