As a Domestic Violence Survivor, I Don't Always Feel Safer at Home
Shelter in place orders can remind those of us with C-PTSD of past times we were trapped.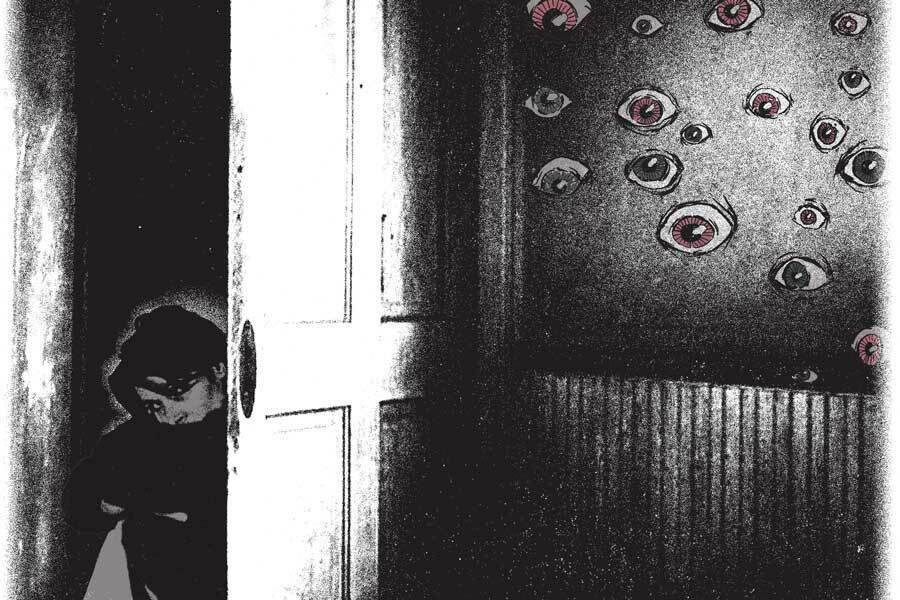 In an attempt to rein in the spread of the dead­ly new coro­n­avirus, many state lead­ers have asked res­i­dents to self-iso­late or shel­ter in place. In Cal­i­for­nia, Los Ange­les Coun­ty offi­cials have called this order ​"safer at home." Reduc­ing per­son-to-per­son con­tact will cer­tain­ly improve over­all pub­lic health in the face of COVID-19. Those of us who have expe­ri­enced domes­tic abuse, how­ev­er, may not feel safer at home — even if our abusers are long gone.
Nearly everyone is feeling an amplified sense of fear right now. For those of us with histories of domestic trauma, staying in a shared home can feel unsafe.
Domes­tic abuse — includ­ing inti­mate part­ner vio­lence, child mal­treat­ment and elder or depen­dent abuse — harms or kills mil­lions of Amer­i­cans. More than 10 mil­lion adults are phys­i­cal­ly hurt by an inti­mate part­ner each year. These num­bers don't include the many oth­er forms of domes­tic and inti­mate vio­lence. In 2017, state agen­cies deter­mined that about 674,000 chil­dren were vic­tims of mal­treat­ment war­rant­i­ng inter­ven­tion. Peo­ple exposed to ongo­ing abuse fre­quent­ly devel­op a chron­ic med­ical con­di­tion known as com­plex post-trau­mat­ic stress dis­or­der (C‑PTSD), which can cause out­sized feel­ings of fear and anx­i­ety, among oth­er dis­tress­ing symp­toms, for decades.
Many of us who have expe­ri­enced past abuse are now able to ​"shel­ter in place" with­out fac­ing imme­di­ate threats of phys­i­cal or ongo­ing emo­tion­al harm. But stay­ing in the house with oth­ers can remind those of us with C‑PTSD of past times we were trapped. It can be a chal­lenge to untan­gle cur­rent feel­ings of fear, sad­ness and anger from his­tor­i­cal ones.
I grew up very scared in my house. All my adult guardians, includ­ing my moth­er, father and step­fa­ther, were under-resourced finan­cial­ly, cul­tur­al­ly and psy­cho­log­i­cal­ly. They were frus­trat­ed and exhaust­ed peo­ple who com­pul­sive­ly and some­times bru­tal­ly trans­ferred their extreme dis­com­fort onto me. I learned to live in unpre­dictabil­i­ty, fac­ing fre­quent domes­tic vio­lence, includ­ing ongo­ing, unpre­dictable emo­tion­al abuse. I knew I had to stay out of the way, but there was nowhere in the house that was ​"mine," because adults were the own­ers and made the rules. I came to think of my house as a cage.
One of the ear­li­est ways I cre­at­ed more pre­dictable cir­cum­stances was to be awake when every­one else was asleep. Anoth­er way I coped was to lose myself in watch­ing TV and eat­ing. I felt safest when I was alone, or when everyone's eyes were closed. But this also made me feel so unpro­tect­ed some­times, because I knew I couldn't pro­vide for or defend myself well. Lat­er, try­ing to escape while still stay­ing alive, I dis­ap­peared into work, rela­tion­ships and substances.
Even­tu­al­ly, I found more effec­tive ways to address trau­ma. Ther­a­py, body­work, 12-step groups, yoga, phar­ma­ceu­ti­cals, art and med­i­ta­tion have shown me how to pri­or­i­tize being engaged, respon­sive and well. Even so, I still some­times need to remind myself of the sim­ple truth: ​"I have a chron­ic con­di­tion that makes me feel scared some­times, even when I don't know exact­ly why."
It took a few days of shel­ter­ing in place with my very kind and nur­tur­ing girl­friend to notice that child­hood wire had been tripped. I wor­ried that my school papers and clothes were dis­rupt­ing my girlfriend's calm home life, that my dogs were annoy­ing and that I was drink­ing too much of her cof­fee. With­out quite know­ing it, I want­ed reas­sur­ance that I wasn't dis­gust­ing, super self­ish, in the way, and all the oth­er self-sham­ing beliefs I devel­oped as a kid.
Before those of us with scary home his­to­ries can bring our­selves to do things that remind us we are not in dan­ger right now, we may have to melt down a lit­tle first. We might find our­selves on a two-hour walk or sit­ting in a clos­et bit­ing the hem of a coat.
Melt­downs are a good indi­ca­tor that part of our ner­vous sys­tem is try­ing to deter­mine the fastest instinc­tu­al response to threat. For many peo­ple with C‑PTSD, our sys­tem has become so pro­found­ly vig­i­lant that it sends out the same sig­nals in low-threat sit­u­a­tions as it would if we were tru­ly in per­il. We might begin breath­ing shal­low­ly, get­ting slight­ly dizzy and going blank. Frus­tra­tion and rage may flood in. Some of us will need to gain new skills to avoid act­ing out in ways that will hurt our­selves or oth­ers, will cause last­ing dam­age, or will scare any­one near­by, espe­cial­ly kids.
Those of us who have lots of expe­ri­ence with calm­ing our hair-trig­ger nerves might be able to help guide some of the oth­er peo­ple who have less expe­ri­ence doing so. Over the past 25 years of recov­ery and mind­ful­ness prac­tice, I have learned ways to try and soothe myself and can share some basic tricks.
Some­times say­ing sim­ple words about what is hap­pen­ing right at the moment — such as, ​"I am wear­ing bright orange socks" — can bring me back into the present. For­mal mind­ful­ness tech­niques like sit­ting still and notic­ing the sen­sa­tions of the breath in the nos­trils, chest or bel­ly can also be effective.
What works best for me is direct­ing my atten­tion to non-lan­guage-based sense stim­u­lus, which is pos­si­ble to do dur­ing the reg­u­lar course of the day, even when oth­ers are around.
A sim­ple method is to feel the points at which parts of your body meet a sur­face and, in your head, to describe what you feel. No one will know you are direct­ing most of your atten­tion to the exact sen­sa­tions of your pinkie toe against the rug or your sweat­shirt on your shoul­der. Does that cof­fee mug feel warm or cool in your hand? Rough or smooth? Soft or hard? Where is it touch­ing the skin of your hand, and where is it not? Try to walk slow­ly to anoth­er room, feel­ing each part of your foot touch down. Put a raisin or a round peb­ble in your mouth and care­ful­ly explore it with your tongue. Smell your spices and expe­ri­ence the nuances of scent. Or play some non­threat­en­ing music and lis­ten deeply while you breathe.
Hum­ming, singing and sway­ing calms part of the ner­vous sys­tem on a deep phys­i­o­log­i­cal lev­el, so rock out. It also helps to hold a fur­ry pet, espe­cial­ly if that pet purrs.
If you're able to, you might let a loved one in the house help you. Ask them to hold you the way you like to be held or to stroke you in a way that feels nice. Some may even be able to notice when you're hold­ing your breath and remind you to exhale. It can be weird to ask for and receive care like this, but it can real­ly work.
As you dis­cov­er things that bring you into a sense of embod­ied, con­scious pres­ence, you and your loved ones might con­sid­er work­ing with a spe­cial­ist who can help every­one prac­tice seek­ing and offer­ing support.
It's not always easy, even for those of us who have had years of prac­tice. Some­times, when I'm alarmed, I still com­pul­sive­ly grab a hand­ful of snacks and turn to the news or the gos­sip stream again. I can't always be my own per­fect par­ent, or stop myself from doing things that make me feel worse for a while. This escape instinct may be a form of harm reduc­tion. It is not at all a failure.
I've come to see every time I'm able to make a con­scious choice about effec­tive self-care as lit­er­al mag­ic. When I'm able to focus on my breath or the poo­dle or a sound, when I'm able to be in the house with my girl­friend for two straight weeks with­out flee­ing, it's a total tick­er-tape-parade mir­a­cle! A mir­a­cle, a miracle!
For­tu­nate­ly, I have come to know a lot of oth­er peo­ple with sim­i­lar back­grounds, and we meet reg­u­lar­ly — now vir­tu­al­ly — to remind each oth­er what we're up against, face chal­lenges and cheer each oth­er on. Thank­ful­ly, it's not a super com­mon expe­ri­ence to have learned that home is the scari­est place, but it's com­mon enough that there are free sup­port groups around the world. Dur­ing this stay-at-home peri­od, online groups are avail­able around the clock.
Near­ly every­one is feel­ing an ampli­fied sense of fear right now. For those of us with his­to­ries of domes­tic trau­ma, stay­ing in a shared home can feel unsafe, which can in turn cause emo­tion­al dys­reg­u­la­tion. If you ever lived in a home where you were scared and felt trapped, and you now find your­self pan­icky, dis­so­cia­tive or extra-snap­py, there are effec­tive ways to soothe your­self. Sup­port is avail­able if and when you need it.
RESOURCES FOR THOSE FEEL­ING UNSAFE AT HOME
Al-Anon Fam­i­ly Groups
A recov­ery pro­gram for friends and fam­i­ly of alcoholics
» al​-anon​.org
Adult Chil­dren of Alcoholics
A recov­ery pro­gram for adults who grew up in abu­sive homes
» adultchil​dren​.org
Bud­dhist Recov­ery Network
A Bud­dhist approach to recov­ery, open to all backgrounds
» bud​dhistre​cov​ery​.org
Arielle Schwartz, Ph.D.
Blog from the cre­ator of the Com­plex PTSD Workbook
» drarielleschwartz​.com
Mind­ful­ness and Trauma
Resources and back­ground on mind­ful­ness-based stress reduction
» trau​ma​-recov​ery​.ca/​r​e​c​o​v​e​r​y​/​m​i​n​d​f​u​lness