Israel, Afghanistan and Drones: What the Democrats Didn't Talk About Last Night
The Democrats' foreign policy discussions often took a hawkish line and avoided many of the most important issues that a future president will face.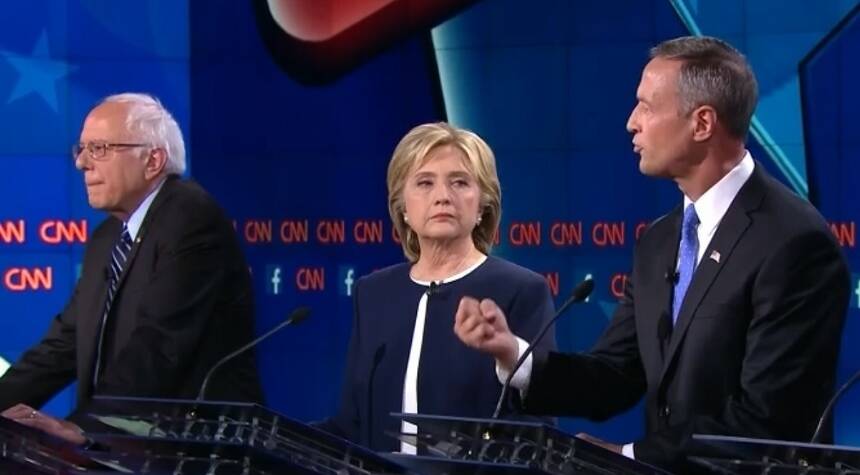 With inequal­i­ty ram­pant, ordi­nary Amer­i­cans strug­gling to make ends meet and the Unit­ed States as a whole still attempt­ing to drag itself back out of reces­sion, it's to be expect­ed that for­eign pol­i­cy would not be as promi­nent a debate top­ic as it was dur­ing the 2003 and 2007 demo­c­ra­t­ic debates. Still, last night's debate was instruc­tive on the sub­ject — more because of what both the can­di­dates and the mod­er­a­tors didn't talk about than what they did.
This should have been a slam dunk for Sanders, who could have linked the end of the [Afghanistan] war to his proposed social spending at home—after all, the war has cost approximately $685 billion over its duration.
The Unit­ed States and Israel
Despite ongo­ing unrest in Israel and occu­pied Pales­tin­ian ter­ri­to­ries that has seen 29 Pales­tini­ans and sev­en Israelis killed over the last two weeks, as well as what some are call­ing the pos­si­ble begin­nings of a ​"third Intifa­da," there was not a sin­gle ques­tion about U.S. pol­i­cy toward Israel.
The clash­es are dri­ven in part by the fact that ille­gal Israeli set­tle­ments have con­tin­ued to spread dur­ing the Oba­ma admin­is­tra­tion, with the Israeli set­tler pop­u­la­tion grow­ing by near­ly 25 per­cent between 2009 and 2014, mak­ing a two-state solu­tion clos­er and clos­er to becom­ing an impos­si­bil­i­ty. Yet the only time Israel was even men­tioned was by Jim Webb, who slipped an ador­ing ref­er­ence to Israel as ​"our great­est ally" in an answer to a ques­tion about Russia.
Giv­en that U.S. sup­port of Israel, which is the largest recip­i­ent of U.S. mil­i­tary aid in the world, is one of the chief sources of resent­ment toward the Unit­ed States in the Mid­dle East, it's a top­ic worth dis­cussing. After all, it's this resent­ment that helps dri­ve the ter­ror­ism that many of the can­di­dates did talk about dur­ing the debate, and which Hillary Clin­ton and Mar­tin O'Malley specif­i­cal­ly deemed the Unit­ed States' ​"great­est nation­al secu­ri­ty threat."
This silence might be relat­ed to the fact that there may not be much day­light between the two front-run­ners on this issue — Clin­ton is a major sup­port­er of Israel, while many on the left see Bernie Sanders' rela­tion­ship with Israel as uncom­fort­ably cozy.
The war in Afghanistan
The U.S. war in Afghanistan is still going on. In fact, last week, the Unit­ed States was respon­si­ble for the bomb­ing of a Doc­tors With­out Bor­ders hos­pi­tal there which killed 22 doc­tors, nurs­es and patients. At 14 years and count­ing, it's cur­rent­ly the longest for­eign war in the his­to­ry of the Unit­ed States. And while the White House would like you to think the war end­ed at the end of 2014, in real­i­ty, the mil­i­tary left near­ly 10,000 troops in Afghanistan and con­tin­ues to bomb the country.
You would not know any of this from last night's debate, where Afghanistan was either used as a rhetor­i­cal crutch (Ander­son Coop­er: ​"tell an Amer­i­can sol­dier who is watch­ing right now tonight in Afghanistan why you can be com­man­der-in-chief") or received unques­tioned sup­port ("I sup­port­ed the war in Afghanistan," said Sanders, dis­put­ing that he is a paci­fist). The one time a dis­cus­sion about the war was brought up, it was as a throw­away ques­tion insert­ed in the mid­dle of Lin­coln Chafee's answer about how his admin­is­tra­tion would dif­fer from Obama's, meant as clar­i­fi­ca­tion. (To his cred­it, Chafee was clear that ​"We've got to stop these wars" and men­tioned the bomb­ing of the hospital.)
The U.S. war in Afghanistan, which may well go into its 16th year, sure­ly war­rant­ed some dis­cus­sion. Sanders attempt­ed to dif­fer­en­ti­ate him­self from Clin­ton by oppos­ing U.S. involve­ment in Syr­ia, call­ing it ​"a quag­mire in a quag­mire": ​"I will do every­thing that I can to make sure that the Unit­ed States does not get involved in anoth­er quag­mire like we did in Iraq," he pledged. Yet Afghanistan is as much a quag­mire as Iraq, a grave­yard for impe­r­i­al pow­ers that last helped bring down the for­mer Sovi­et Union.
Sanders' silence on the issue is in stark con­trast to his words of warn­ing regard­ing Putin's involve­ment in Syr­ia, that he ​"is going to regret what he is doing" when he ​"gets bogged down" in the coun­try. This should have been a slam dunk for Sanders, who could have linked the end of the war to his pro­posed social spend­ing at home — after all, the war has cost approx­i­mate­ly $685 bil­lion over its dura­tion. Com­pare this to Den­nis Kucinich speak­ing at the Sep­tem­ber 25, 2003 Demo­c­ra­t­ic debate:
I'm dis­ap­point­ed that my fel­low col­leagues here haven't con­tin­ued to make the con­nec­tion between the ris­ing deficit and the war in Iraq. … They're talk­ing about spend­ing hun­dreds of bil­lions of dol­lars for this war. And if you look at the mald­is­tri­b­u­tion of wealth, it's going to be accel­er­at­ed by this war. … I think we have to reorder our pri­or­i­ties. It begins with get­ting out of Iraq and putting mon­ey again into health care, into edu­ca­tion, into job creation.
Exchange ​"2003" for ​"2015," and ​"Iraq" for ​"Afghanistan," and this could sound like your run-of-the-mill Bernie Sanders stump speech. This was a missed opportunity.
Drone strikes
Although the Unit­ed States only has ground troops in Afghanistan and Iraq, and is nom­i­nal­ly at war only in Afghanistan, the use of drones has meant that in real­i­ty it's bomb­ing at least four dif­fer­ent pre­dom­i­nant­ly Mus­lim coun­tries. The strikes have killed more than 3,000 peo­ple at least, many of them civilians.
The expan­sion of the Unit­ed States' use of drones is one of the most sig­nif­i­cant devel­op­ments of the Oba­ma admin­is­tra­tion. While Democ­rats spent much of the 2003 and 2007 Demo­c­ra­t­ic debates lam­bast­ing George Bush's use of exec­u­tive pow­er and for­eign entan­gle­ments, Oba­ma' drone pro­gram has far out­paced any­thing Bush ever did. It has also cre­at­ed a gov­ern­ment assas­si­na­tion pro­gram based on dubi­ous legal grounds with no Con­gres­sion­al over­sight that has killed at least four U.S. cit­i­zens since 2009 with no due process.
Giv­en that it's a Demo­c­rat, not a Repub­li­can, in the White House that has presided over all this, it's per­haps not sur­pris­ing that many of the can­di­dates would remain tight-lipped dur­ing the debate — aside from Lin­coln Chafee, who, again, specif­i­cal­ly denounced the use of drones. This was also a fail­ure of the CNN mod­er­a­tors, who were focused on the lat­est for­eign pol­i­cy boogey­man of the day — Rus­sia — at the expense of oth­er issues.
What the can­di­dates did talk about when it came to for­eign pol­i­cy often stuck to a hawk­ish line. O'Malley declared that a nuclear Iran, along with ISIS, was the Unit­ed States' great­est nation­al secu­ri­ty threat. Clin­ton argued for con­fronting Rus­sia and defend­ed the dis­as­trous U.S. inter­ven­tion in Libya she pushed as Sec­re­tary of State, while brag­ging that she had made ene­mies of ​"the Ira­ni­ans." Jim Webb, far and away the most aggres­sive of the five can­di­dates, saw Chi­na as America's next great threat, blamed the Iran deal for ​"bad body lan­guage" that spurred Rus­sia to invade Syr­ia and even joked about mur­der­ing a guy in Viet­nam. The only can­di­date who con­sis­tent­ly held an anti­war, anti-inter­ven­tion line was Lin­coln Chafee, who may well not make it through all of the debates, giv­en his poll numbers.
"[T]here is such a dif­fer­ence between every­thing you're hear­ing here on this stage, and what we hear from the Repub­li­cans," Hillary Clin­ton said at one point last night. Yet if the Demo­c­ra­t­ic can­di­dates keep toe­ing this aggres­sive line on for­eign pol­i­cy, that will get less and less true. Com­pas­sion for ordi­nary peo­ple is what's meant to set the Democ­rats apart from their Repub­li­can col­leagues, at least accord­ing to their own cam­paign mate­r­i­al — that should be as true for for­eign pol­i­cy as it is for any­thing else.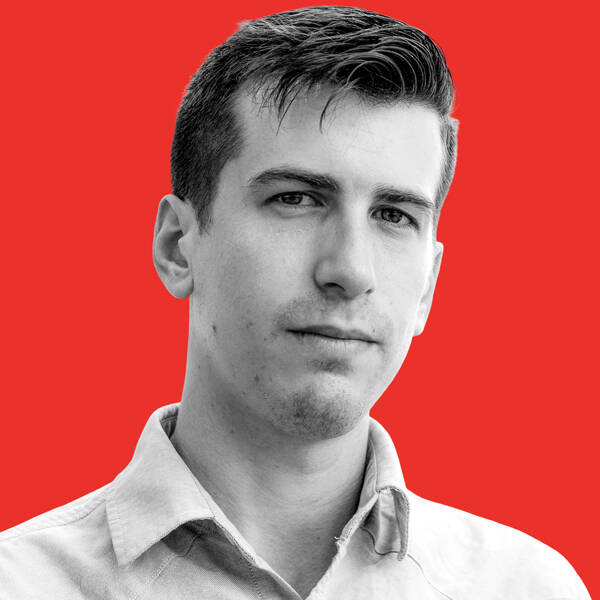 Branko Marcetic
is a staff writer at Jacobin mag­a­zine and a
2019
 – 
2020
Leonard C. Good­man Insti­tute for Inves­tiga­tive Report­ing fel­low. He is work­ing on a forth­com­ing book about Joe Biden.