J20 "Not Guilty" Verdict Deals Blow to Trump Admin and Shows the Power of Collective Defense
A defendant on why dissenters everywhere should feel emboldened by the outcome of the first trial.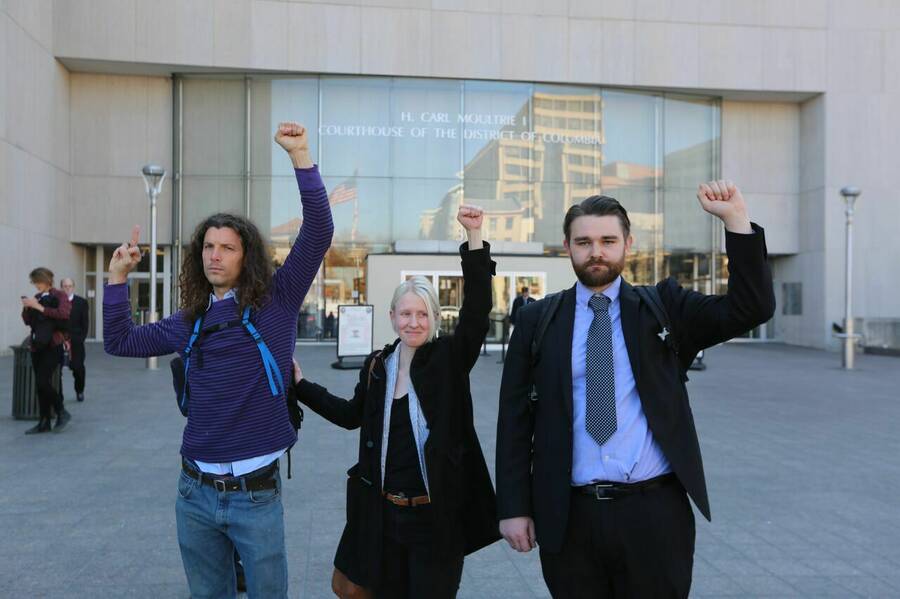 In a blow to the Trump administration's efforts to quell dis­sent, on Thurs­day six defen­dants arrest­ed at Inau­gu­ra­tion Day ​"Dis­rupt J20" protests were found not guilty of all charges. The heavy pros­e­cu­tion of the ​"J20" case has become a bell­wether for repres­sion in the era of Trump, with this first wave of defen­dants fac­ing mul­ti­ple felonies and decades in prison for par­tic­i­pat­ing in — or sim­ply being in prox­im­i­ty to — an anti-fas­cist and anti-cap­i­tal­ist mobilization.
The environment of support is one I will never forget for my entire life.
The Inau­gu­ra­tion Day protest was tar­get­ed by a vio­lent police crack­down which led to more than 200 peo­ple being ket­tled and arrest­ed. These pro­test­ers were then hit with con­spir­a­cy charges that local defense attor­neys say are unprece­dent­ed. The pros­e­cu­tion is being waged by the U.S. Attorney's Office for the Dis­trict of Colum­bia, which answers direct­ly to Jeff Ses­sions' Depart­ment of Justice.
In the face of this crack­down, a major­i­ty of defen­dants signed a uni­ty state­ment declar­ing their refusal to col­lab­o­rate with the pros­e­cu­tion or under­cut one anoth­er. They have been backed by a vast net­work of sup­port­ers who packed the court­room, brought food to defen­dants and helped pub­li­cize a case ini­tial­ly met with a dearth of pub­lic attention.
The tri­al entered the nation­al media spot­light when it was revealed this month that the pros­e­cu­tion used footage pro­vid­ed by the far-right media provo­ca­teurs Project Ver­i­tas and the neo-fas­cist mili­tia Oath Keep­ers. The pros­e­cu­tion based its case on the prin­ci­ple of group lia­bil­i­ty — that every­one present at a protest is legal­ly respon­si­ble for all acts that take place. Defen­dants and their sup­port­ers say this strat­e­gy is aimed at chill­ing dissent.
Defen­dants walked out of the cour­t­house Thurs­day ​"elat­ed at the out­come," accord­ing to a state­ment from Defend J20 Resis­tance. How­ev­er, the defense net­work notes that 188 defen­dants still face a series of rolling tri­als — and sup­port­ers are now demand­ing that all charges be dropped and rais­ing funds for the ongo­ing efforts.
Bet­ty Roth­stein of Defend J20 Resis­tance said the acquit­tal ​"is a clear vic­to­ry for the six defen­dants who were just tried, and a rejec­tion of the government's attempt to crim­i­nal­ize dissent."
In These Times spoke with one of the defen­dants, Michelle ​"Miel" Mac­chio, short­ly after the ver­dict was announced. Miel is a 26-year-old street medic from Asheville, N.C. who says they trav­eled to the protest because they were ​"fed up and scared and angry and need­ed to voice that and show that this isn't okay."
Sarah: How do you feel right now?
Miel: I am feel­ing beyond ecsta­t­ic and so relieved that not only myself but all six tri­al defen­dants were acquit­ted of every sin­gle one of the charges. This is such a strong prece­dent for all 188 defen­dants in this case. We are relieved that our strat­e­gy for this ear­ly tri­al paid off and will help every­one else down the line hope­ful­ly get acquittals.
Every­one is jump­ing for joy and hug­ging each oth­er and smil­ing, like a mil­lion pounds of weight have been lift­ed off our shoul­ders to know the first of many bat­tles has been won. I can't imag­ine a more beau­ti­ful com­mu­ni­ty to be sup­port­ed by.
Sarah: Can you talk a lit­tle about what the col­lec­tive sup­port has looked like?
Miel: I want to give a huge shout-out to every sin­gle per­son who put their lives on hold to sup­port us. There's been oth­er defen­dants on lat­er tri­al blocks, sup­port­ers from every part of this coun­try and even fur­ther — we even had a sup­port­er from Van­cou­ver. The amount of emo­tion­al sup­port we've had is huge. The Pots and Pans Kitchen Col­lec­tive showed up every day and made sure we had lunch, and din­ners were made for us.
The envi­ron­ment of sup­port is one I will nev­er for­get for my entire life. Peo­ple showed up at the most intense and hard­est of times. Hav­ing peo­ple in court with us every day showed us that we are not alone. Many peo­ple do have to go through the sys­tem alone. I went through it with now some of my clos­est friends — my tri­al family.
Sarah: What does this case say about the pow­er of col­lec­tive, uni­fied defense?
Miel: With­out col­lec­tive defense, I can't imag­ine what this expe­ri­ence would have looked like or felt like — or how we would have got­ten through it. The charges were so out­landish, we might have still got­ten acquit­ted. But the col­lec­tive defense real­ly kept us strong and fight­ing through all of it.
We decid­ed to push for ear­li­er tri­als — and have peo­ple with real­ly strong cas­es stand up to the pros­e­cu­tion first, to break down what they were try­ing to do to that big­ger group of people.
More than 150 defen­dants agreed to points of uni­ty very ear­ly on in the process. We said we were unwill­ing to coop­er­ate with the gov­ern­ment — or any coer­cive process to gain infor­ma­tion about any of the oth­er defen­dants. We said we would work togeth­er for the sake of all of us in our col­lec­tive defense. I feel very strong­ly that every­one did stick to that agree­ment and will con­tin­ue to.
Sarah: What do you want peo­ple to know about what took place dur­ing the trial?
Miel: Regard­less of where peo­ple are at and how they feel about the way the gov­ern­ment works, the First Amend­ment is a right we have. This case is call­ing into ques­tion the strength and valid­i­ty of the First Amend­ment. Peo­ple need to real­ize that this about more than just the peo­ple who were arrest­ed that day. This affects everyone's abil­i­ty to stand up and speak out and be heard about the ways in which this coun­try works — and the ways we want to see change in the world.
We need to fight back against police and state repres­sion and sup­port each oth­er in the strug­gle. The mass media hasn't cov­ered this tri­al the way it needs to be cov­ered. We need to keep talk­ing and spread­ing the word. We need to make sure peo­ple are aware this is going on. We will con­tin­ue to fight and speak out until all of us are free.
One of the most inter­est­ing moments in the case was when, on cross exam­i­na­tion, the police offi­cers were ques­tioned about their bias­es and the dis­ci­pli­nary records that were obtained by our lawyers. Com­man­der Kei­th Dev­ille was found out to have made anti-Semit­ic, trans­pho­bic and homo­pho­bic remarks on the record that he received dis­ci­pli­nary actions for. We believe that played into his deci­sion to arrest more than 200 peo­ple at an antifas­cist march.
Dur­ing the tri­al, Dev­ille repeat­ed­ly pro­filed the entire group as anar­chists, and made this out as sin­is­ter rather than a polit­i­cal stance. That lev­el of manip­u­la­tion — say­ing these are all anar­chists, let's bring in an arma­da of riot cops — shows he was look­ing to arrest peo­ple and silence dis­sent. The pub­lic should know this is a polit­i­cal case and not just about a few bro­ken windows.
Sarah: Do you believe the heavy pros­e­cu­tion was aimed at silenc­ing dis­sent? Can you say more about this?
Miel: The case was the first thing the Trump admin­is­tra­tion did, and the Trump admin­is­tra­tion is who calls the shots here. The inten­tion was to crim­i­nal­ize protest­ing. That's exact­ly what they are attempt­ing to do.
Sarah: 188 peo­ple still face charges. What's next?
Miel: Hope­ful­ly because all six of us were acquit­ted, the major­i­ty of peo­ple who have evi­dence against them will have their charges dropped. The hope is that most peo­ple won't have to go to tri­al and will have their charges dropped from this tri­al. That's what we are demand­ing. The date for the next tri­al is up in the air right now. It was set for Decem­ber ini­tial­ly, but has been pushed back to Jan­u­ary or Feb­ru­ary. That group, through pros­e­cu­to­r­i­al dis­cre­tion, was giv­en a reduc­tion in charges. They have a sta­tus hear­ing in Jan­u­ary, and then we will find out when their tri­al will be.
Sarah: Do you believe that a cli­mate of repres­sion has sur­round­ed this trial?
Miel: Yes, def­i­nite­ly. It's been very inter­est­ing to see the length to which the gov­ern­ment has gone to try to pros­e­cute us — going into someone's house who they allege to have been one of the orga­niz­ers and tak­ing items like his cell phone.
The gov­ern­ment sub­poe­naed Face­book about peo­ple they alleged were orga­niz­ers and tried to get IP address­es of every sin­gle per­son who vis­it­ed the Dis­rupt j20 web­site in order to incrim­i­nate us. It's been appar­ent that they don't have much to work off of. That's why they're try­ing so hard to go out of the con­text of what hap­pened that day, try­ing to use polit­i­cal ties and asso­ci­a­tions to pros­e­cute us.
The lead detec­tive showed up in court every day to observe peo­ple who were show­ing up. Dur­ing tri­al, we found a lot of infor­ma­tion from his Twit­ter account show­ing all of his bla­tant hatred for Black Lives Mat­ter — for any­one who express­es dissent.
Sarah: What moti­vat­ed you to take to the streets on Inau­gu­ra­tion Day?
Miel: Like many oth­er peo­ple in the Unit­ed States, I was hor­ri­fied and appalled at what had hap­pened. This isn't about Trump. This is about the very sys­tem we exist under in the Unit­ed States. I went to Wash­ing­ton, D.C. because I was fed up and scared and angry and need­ed to voice that and show that this isn't okay.
I went out there as a street medic. I went there to help any­one who might have any num­ber of needs, from hydra­tion to pep­per spray treat­ment. Luck­i­ly, myself and many oth­ers were there in a medic capac­i­ty to help, because the police were ruth­less — they attacked with­out warn­ing and with­out a chance to get away.
It was an hon­or to be there with peo­ple brave enough to speak out. Trump is still pres­i­dent today. Hope­ful­ly, through our dis­sent and this case, we can get the mes­sage out that we will not stand by and let this hap­pen. We will con­tin­ue to resist and build our movement.
I hope peo­ple are pay­ing atten­tion to the ongo­ing Stand­ing Rock cas­es. While we were in tri­al, a num­ber of undoc­u­ment­ed folks were arrest­ed for stand­ing up to pro­tect DACA after launch­ing a hunger strike.
Sarah: Do you think the out­come of this case could poten­tial­ly embold­en oth­ers to take action?
Miel: The nature of the charges were an attempt to instill a lot of fear in peo­ple from going out and protest­ing. We stood up against this repres­sion, and we hope peo­ple will feel inspired and more con­fi­dent in the abil­i­ties they have to take action around issues they feel pas­sion­ate about.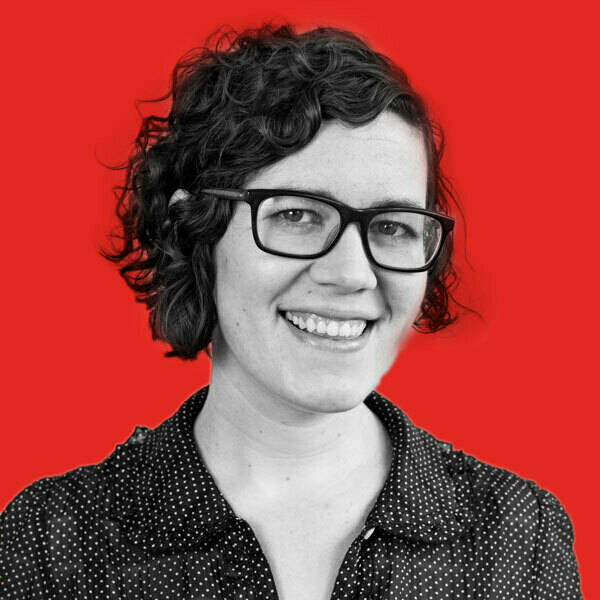 Sarah Lazare is web edi­tor at In These Times. She comes from a back­ground in inde­pen­dent jour­nal­ism for pub­li­ca­tions includ­ing The Inter­cept, The Nation, and Tom Dis­patch. She tweets at @sarahlazare.