Jane Kleeb, Nebraska Democratic Party Chair, on How to Overcome the Rural-Urban Divide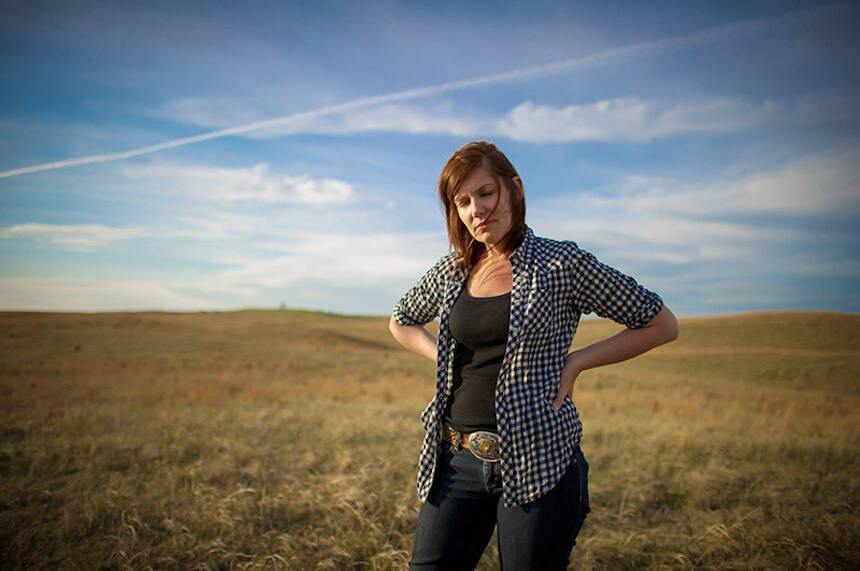 In 2010, Jane Kleeb found­ed Bold Nebras­ka, a polit­i­cal advo­ca­cy group work­ing in the state to advance pro­gres­sive caus­es and unite res­i­dents against projects like the Key­stone XL pipeline.
In June 2016, with the help of Bernie Sanders sup­port­ers, Kleeb was elect­ed chair of the Nebras­ka Demo­c­ra­t­ic Par­ty, defeat­ing Chuck Has­se­brook (a Hillary Clin­ton backer) by 42 votes out of 410 cast. Fol­low­ing her elec­tion, she threw down the gaunt­let and declared: ​"The oppo­si­tion par­ty is now here." On the nation­al stage, she serves on the board of Our Rev­o­lu­tion, the orga­ni­za­tion that grew out of the Sanders campaign.
Kleeb, 43, lives on a farm out­side Hast­ings, Nebras­ka, with her hus­band Scott, three daugh­ters and their three-legged dog. She describes her­self as a ​"mom with a minivan."
In the fol­low­ing inter­view Joel Blei­fuss, In These Times edi­tor & pub­lish­er, asks Kleeb what the cli­mate change move­ment could be doing bet­ter, how the Demo­c­ra­t­ic Par­ty can best reach rur­al vot­ers and whether she is an agent of the Luther­an Church.
Joel Blei­fuss: The cli­mate change move­ment has in recent years become a force in nation­al pol­i­tics. As some­one who is a leader of that move­ment, and look­ing back at your­self crit­i­cal­ly, what do you think that move­ment could have done better?
Jane Kleeb: After sev­en years where rur­al farm­ers and ranch­ers were at the fore­front of one of the most sig­nif­i­cant bat­tles of the cli­mate move­ment, when I'm in a room with some of the most respect­ed lead­ers of the cli­mate move­ment there is still nei­ther a con­nec­tion or acknowl­edge­ment that rur­al peo­ple matter.
A lot of these fights are in rur­al com­mu­ni­ties, whether it's rur­al Louisiana, rur­al Okla­homa or rur­al Nebras­ka. And the vast major­i­ty of their mem­ber­ship and donors are on the coasts, so that's where their mind­set is. I've been chal­leng­ing this group to hire peo­ple, to not hire a young kid out of col­lege and put them in Okla­homa, but spend time on the ground in Okla­homa so you can iden­ti­fy the true grass­roots lead­ers who may not come from an Ivy League back­ground, but know the land and water bet­ter than any­body else.
It's impor­tant that we talk about cli­mate change in dif­fer­ent ways, right? In rur­al and small towns we may not use the word ​"cli­mate change" in the first five sen­tences, but every­thing we're doing is talk­ing about pro­tect­ing the land and water and stop­ping these risky projects, which ulti­mate­ly, obvi­ous­ly, impact cli­mate change. So I think that there's got to be an embrac­ing of rur­al com­mu­ni­ties, an embrac­ing of the agri­cul­ture sec­tor, not as a vil­lain, which still, to this day, some of the big green groups, you know, vil­lainize farm­ers and ranch­ers. And instead, look at the things that they are doing to help on cli­mate change, like decreas­ing water use, many of them are putting up solar and wind to become ener­gy inde­pen­dent. They're a big part of that kind of rev­o­lu­tion in our coun­try. That's one of the biggest lessons.
At the march­es — and I've been to a lot of march­es with the cli­mate com­mu­ni­ty — they always acknowl­edge, right­ful­ly so, the indige­nous com­mu­ni­ties who are giv­en the first sev­er­al rows of the march. But at the For­ward on Cli­mate march, on Feb. 17, 2013, when Key­stone was in the height of its resis­tance, they didn't even ask a farmer or ranch­er to be onstage. For me that shows how far we still have to come to get them to under­stand that focus­ing on things like end­ing immi­nent domain for pri­vate gain is one of the best things that they can do to help stop cli­mate change.
JB: And I ask this as hav­ing grown up in a very small town in Mis­souri, why is there this divide between lib­er­al, urban Amer­i­ca and rur­al Amer­i­ca? What are its ori­gins? What are its roots?
JK: Some of it is because folks in urban towns have nev­er real­ly met or engaged with folks in rur­al com­mu­ni­ties. And so, there's this stereo­type that every­body in rur­al com­mu­ni­ties or small towns are right-wingers, which, as you know, is just not true. Right-wingers exist every­where, right? Urban towns, small towns. They're everywhere.
But I find, on all the small towns that I work in, that there is this beau­ti­ful ecosys­tem hap­pen­ing, and because they're not near a Tar­get, peo­ple become very resource­ful, and there are a lot of small cre­ative busi­ness­es that cater to the local econ­o­my — that build up the local econ­o­my. And local food is very much part of, not just a fun thing to do at a farm­ers' mar­ket, but how that econ­o­my keeps going. I know not every­body from an urban town can go vis­it a rur­al com­mu­ni­ty, but you can cre­ate an open space that inte­grates more rur­al thought into every­thing that we're doing, because that will not only get us the votes need­ed to pass crit­i­cal cli­mate pol­i­cy, it will also make us look at those two words — ​"cli­mate change" — in very dif­fer­ent ways.
JB: As you note, in our cul­ture, infor­ma­tion flows from the coastal big cities to the rest of the coun­try. If that were reversed, what are some of the things about rur­al life, rur­al com­mu­ni­ties, small towns, that rur­al com­mu­ni­ties could teach the rest of the country?
JK: That rely­ing on your neigh­bors is the num­ber one key to sur­viv­ing. Cat­tle ranch­ers, with­out their neigh­bors, can't get brand­ing done, they don't get their fences fixed, they don't find a stray cow. There's a very strong con­nec­tion to neigh­bors and the cul­ture of help­ing out each oth­er in small towns. We all know each oth­er. There's a very deep moral con­nec­tion to the land and to the water. It's obvi­ous­ly con­nect­ed to their very liveli­hood, but it's also con­nect­ed to their cul­ture. That is, I think, a les­son to be learned. If you actu­al­ly spend some time with a farmer in a com­bine, he knows every con­tour of that land. They're the best envi­ron­men­tal­ists. They do every­thing to pro­tect endan­gered species. They know where the endan­gered species are on their land, where the whoop­ing cranes come, you know, the nests. So, tak­ing a step back and look­ing at rur­al com­mu­ni­ties dif­fer­ent­ly and real­ly see­ing that they're the ones that know the land and water best, and those are the experts that you should be talk­ing to, as well as the cli­mate scientists.
JB: How do Nebraskans feel about open­ing up pub­lic lands to drilling? And is this an issue that could attract more rur­al vot­ers to the Demo­c­ra­t­ic Party?
JK: They hate it. When the Bundy thing was hap­pen­ing, ranch­ers that I know were so pissed off at the Bundy fam­i­ly, because some of them graze on pub­lic land, and pay the gov­ern­ment to do that. And they see it as a beau­ti­ful cir­cle. Their cat­tle are help­ing man­age the land and help­ing turn over the soil, which is crit­i­cal, espe­cial­ly in our prairie. They're not free­load­ers. They want to see more cat­tle graz­ing on pub­lic land, and more parks that our kids can enjoy for hunt­ing, fish­ing, et cetera, and not a bunch of oil com­pa­nies, pol­lut­ing the land. So, yes, this is one of those issues that urban and rur­al folks can be join­ing hands. We could and should be talk­ing to rur­al com­mu­ni­ties. But, you can iden­ti­fy sev­er­al of these types of issues. Pub­lic land is cer­tain­ly one of them. But you can't just do a TV ad or brochure, right? You've got to have the Demo­c­ra­t­ic Par­ty in these towns, talk­ing about that issue and mak­ing it clear that Repub­li­cans are com­plete­ly on the oppo­site side.
JB: So you think there are a sig­nif­i­cant num­ber of Bernie/​Trump vot­ers in Nebras­ka, and have you met any?
JK: Yes! (Laughs) Just at the hear­ing this week, one of the ranch­ers came up to me, and said, ​"You know, Jane, I respect and love you for stand­ing with us this entire time. I don't always agree with all of those stances, like that gay mar­riage thing, but I know you're always with us on our prop­er­ty rights and our water." And he said, in this elec­tion, ​"I would've vot­ed for Bernie, because Bernie real­ly had our back. I could have nev­er vot­ed for Clin­ton." And I didn't have the heart to tell him that Bernie sup­ports that gay mar­riage thing, too.
Rur­al vot­ers def­i­nite­ly saw Bernie in a dif­fer­ent way. They saw him as respect­ing them. His ad, Amer­i­ca, that show­cased farm­ers and ranch­ers, was earth-shat­ter­ing, like the way he respect­ed the poll work­ers at that one town hall with CNN.
You know, small towns hate big cor­po­ra­tions. Right, they hate big any­thing. They think Tyson is the dev­il, try­ing to con­sol­i­date mar­kets and put chick­en farm­ers under these real­ly bad con­tracts. And so, there are lots of threads that Democ­rats should be talk­ing to rur­al and small town vot­ers on. And Bernie was obvi­ous­ly one of the best mes­sen­gers for that.
JB: In recent years, Nebras­ka, on a per capi­ta basis, has set­tled more refugees than any oth­er state in Amer­i­ca? And the Nebras­ka Demo­c­ra­t­ic Par­ty, under your lead­er­ship, has become known for sup­ply­ing wel­come bas­kets to refugees who are set­tling in Nebras­ka. And in that wel­come bas­ket a Demo­c­ra­t­ic Par­ty vot­er reg­is­tra­tion card includ­ed. Why are you doing that? Are you agents of the Luther­an Church?
JK: (Laughs) Yeah, you know, I def­i­nite­ly come to the par­ty with one foot in the advo­ca­cy world and one foot in elec­toral pol­i­tics. In every sin­gle job I've held, I've always strad­dled both worlds. So even when I was at Ameri­Corps in the 1990s, I was always con­nect­ing the issues we work­ing on at the local lev­el and in school to laws that we need­ed to change in order to help our kids. Whether it was reduced free lunch, or mon­ey going to all-minor­i­ty schools, et cetera. So when Pres­i­dent Trump cre­at­ed his trav­el ban against Mus­lims, as the Demo­c­ra­t­ic Par­ty chair, I was like, we have to do some­thing. I've worked with refugees, some of whom are from the Ogo­ni tribe along the coast of West Africa. They are our best pipeline fight­ers, because they had had to leave their land in Nige­ria because of the oil pol­lu­tion from Shell. We had to do some­thing oth­er than writ­ing press releas­es and going to the vig­ils, which we did, and those were impor­tant stances for us to take.
So I called the Luther­an Fam­i­ly Ser­vices and the Refugee Empow­er­ment Cen­ter and asked, what do fam­i­lies need? And they said it's real­ly dif­fi­cult just get­ting the basic stuff: sil­ver­ware, dish­es, blan­kets, tow­els. So we put up an Ama­zon wish­list, and put out the call that at our next state Demo­c­ra­t­ic Par­ty meet­ing. With­in a week there was very lit­tle room to walk in our office, we were get­ting box­es from Ama­zon dai­ly with items that peo­ple donated.
Peo­ple real­ly kind of leaned into that. And at each meet­ing, we do this. We col­lect some­thing to leave behind for the com­mu­ni­ty that we're hold­ing our meet­ing in.
We have four meet­ings a year. So, the first meet­ing we col­lect­ed dia­pers for a home­less shel­ter and left those with the com­mu­ni­ty we had the meet­ing in. We did the refugee bas­kets this last time. This next time we're hav­ing a meet­ing out in West­ern Nebras­ka, right near a reser­va­tion, so we're col­lect­ing hygiene kits, which is some­thing they're in need of. There's a lot of home­less folks up there.
It's impor­tant that we live our val­ues, and that we don't just do it through state­ments to the press.
JB: I heard about the ker­fuf­fle over the Demo­c­ra­t­ic Par­ty reg­is­tra­tion form and a Nebras­ka Demo­c­ra­t­ic Par­ty stick­er that you were giv­ing to refugees, the impli­ca­tion being that you are encour­ag­ing vot­er fraud.
JK: Yeah, it was a major week-long bat­tle in the state. I got some death threats and some ugly posts dur­ing Key­stone, but the amount of death threats and rape threats and just flat-out dis­gust­ing, racist emails and phone calls I got dur­ing those two weeks was, like, mind-boggling.
I make no apolo­gies for includ­ing a Demo­c­ra­t­ic stick­er, a vot­er reg­is­tra­tion form in those bas­kets and a let­ter from me, as the state par­ty chair, say­ing the Demo­c­ra­t­ic Par­ty wel­comes you.
Our pres­i­dent was part of the Repub­li­can Par­ty and I want­ed them to know that there was a polit­i­cal par­ty here in our coun­try that does wel­come them and does see them as a crit­i­cal part of our nation. And of course the refugees couldn't vote they weren't cit­i­zens, but they were on the path to becom­ing so in the future, and I want­ed them to know that it was the Demo­c­ra­t­ic Par­ty wel­com­ing them. But of course, the Repub­li­cans take any good deed and turn it into some type of scan­dal. Which is so typ­i­cal of the Repub­li­can play­book. So, we keep our head high, and we're not going to back down from what we did.
JB: What kind of wel­come bas­kets has the Nebras­ka Repub­li­can Par­ty sup­plied to refugees set­tling in?
JK: None. Instead, our Repub­li­can gov­er­nor just vetoed a bill that would have giv­en felons the right to vote back. So, you know, the Repub­li­cans don't wel­come refugees, or any­body that is not white and mid­dle-class. They put up bar­ri­ers to hav­ing them engaged in our democracy.
This blog's mis­sion is to pro­vide the pub­lic ser­vice of help­ing make the issues that rur­al Amer­i­ca is grap­pling with part of nation­al discourse.