Jane McAlevey Is Right About Labor's Problem—But Wrong About the Solution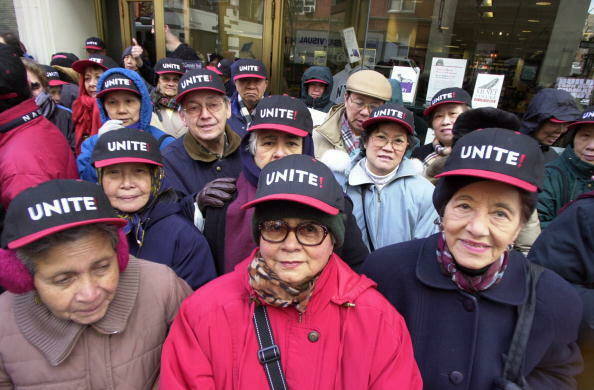 No one who cares about the future of the Amer­i­can labor can dis­agree with the con­clu­sion of Jane McAlevey's new book, No Short­cuts: Orga­niz­ing for Pow­er in the New Gild­ed Age.
She calls for a ​"bot­tom-up orga­niz­ing mod­el, one that encour­ages and equips work­ers to resist the mul­ti­fac­eted assault on their inter­ests inside and out­side the work­place." That sort of orga­niz­ing is nec­es­sary for unions to sur­vive and thrive, McAlevey writes, out­lin­ing both her book's great­est virtue and its biggest prob­lem. She is right that orga­niz­ing needs to be what the labor move­ment does, but wrong in her analy­sis of why unions aren't doing enough of it now.
McAlevey's first book, Rais­ing Expec­ta­tions (and Rais­ing Hell), was built around her per­son­al expe­ri­ences as a union orga­niz­er. It had an intense, you-are-there qual­i­ty that is rare and made the book a must-read. Draw­ing from her work with the Ser­vice Employ­ees Inter­na­tion­al Union in Las Vegas in the mid-2000s, McAlevey argued that the U.S. labor move­ment had aban­doned ​"deep orga­niz­ing" for ​"shal­low mobi­liz­ing," and that recov­er­ing what McAlevey calls ​"whole work­er orga­niz­ing" is key to a revived labor movement.
No Short­cuts aims to extend that argu­ment. As in Rais­ing Expec­ta­tions, McAlevey tells com­pelling sto­ries of work­ers in action through a series of well-cho­sen case stud­ies of recent labor move­ment suc­cess­es, half-suc­cess­es and fail­ures. Through­out, she shows that when orga­niz­ing efforts embrace work­er involve­ment, leader iden­ti­fi­ca­tion and train­ing, and take the time to build con­nec­tions from with­in the work­place to the broad­er com­mu­ni­ty, suc­cess is pos­si­ble. Sim­i­lar­ly, when unions bypass or ignore work­ers to cut deals direct­ly with boss­es or politi­cians, nei­ther unions nor work­ers win.
If such a for­mu­la­tion seems trite or cliché, that's because it is. Almost no one in the labor move­ment would dis­agree. The crit­i­cal ques­tion, then, is this: If we all agree on what needs to be done, why aren't we doing it?
McAlevey wants her read­ers to believe that many unions have made a delib­er­ate deci­sion to eschew deep orga­niz­ing, a ​"strate­gic choice by key lead­ers of New Labor to move away from work­ers and the work­place." (She defines ​"New Labor" as unions that have embraced new kinds of orga­niz­ing over the past 20 years, putting in that bas­ket some 75 per­cent of union­ized work­ers in the coun­try.) She implies that unions have, and had, com­plete free­dom to choose one approach or the oth­er, and chose wrongly.
McAlevey finds the roots of this deci­sion in the work of leg­endary com­mu­ni­ty orga­niz­er Saul Alin­sky who, she con­tends, fatal­ly mis­un­der­stood his expe­ri­ences orga­niz­ing in Chica­go in the years around World War II. Well known for his 1971 book Rules for Rad­i­cals: A Prac­ti­cal Primer for Real­is­tic Rad­i­cals, Alin­sky cre­at­ed a mod­el where orga­niz­ers, not work­ers, are the movers of change, and work­ers are lit­tle more than pawns to be manip­u­lat­ed in the ser­vice of a larg­er vision.
McAlevey's cri­tique of Alin­sky is intrigu­ing and fair­ly per­sua­sive. How­ev­er, she then attempts to claim that Alinsky's phi­los­o­phy and method­ol­o­gy were con­scious­ly adopt­ed by New Labor as a delib­er­ate turn away from the deep orga­niz­ing used by the Con­gress of Indus­tri­al Orga­ni­za­tions dur­ing the 1930s. This claim involves gar­gan­tu­an and unjus­ti­fi­able leaps of log­ic. Not only is she unable to demon­strate that labor has a spe­cif­ic and coher­ent the­o­ry of change inspired by Alin­sky, McAlevey fails to demon­strate that it has a spe­cif­ic or coher­ent the­o­ry of change at all. The alter­na­tive view — that unions pri­mar­i­ly oper­ate based on con­tin­gency, chance and cir­cum­stance, rather than the prin­ci­pled appli­ca­tion of an over­ar­ch­ing the­o­ry — is effec­tive­ly ignored by McAlevey. I, for one, with 20 years of expe­ri­ence in ​"orga­nized" labor, can only wish that unions are half as capa­ble of the philo­soph­i­cal coher­ence attrib­uted to them in No Short­cuts.
What's most puz­zling about McAlevey's argu­ment is that her book's case stud­ies prove the exact oppo­site point than the one she is try­ing to make. Orga­niz­ing is a messy, mud­dy, com­plex process. There is no neat divid­ing line between mobi­liz­ing and orga­niz­ing. Suc­cess involves skill, luck, tim­ing, per­sis­tence and ade­quate resources. What works in one place doesn't always work in anoth­er, and the same union can and will do things very dif­fer­ent­ly depend­ing on a host of fac­tors. The exam­ples in No Short­cuts demon­strate this with dev­as­tat­ing clarity.
Her case stud­ies — nurs­ing home orga­niz­ing by SEIU, the Chica­go Teach­ers Union insur­gency that led to its 2012 strike, the 2008 Smith­field plant vic­to­ry in North Car­oli­na and the work­er center/​union Make the Road New York — are sat­is­fy­ing­ly diverse. The sto­ries are, by turns, empow­er­ing, frus­trat­ing and fas­ci­nat­ing. They make the book worth read­ing even though McAlevey draws the wrong lessons from them. They show that gift­ed, tal­ent­ed and com­mit­ted union lead­ers have very dif­fer­ent views on how unions should do what unions do, and that the most suc­cess­ful unions are the ones will­ing to toss aside dog­ma and adapt to chang­ing cir­cum­stances quickly.
I share McAlevey's belief that unions can and should do bet­ter, and that they need to involve work­ers in all aspects of a cam­paign. But their fail­ures aren't the con­se­quence of a deeply-ingrained, all-encom­pass­ing flawed phi­los­o­phy. Nor is the solu­tion, as McAlevey argues, the whole­sale adop­tion of a dif­fer­ent mod­el of orga­niz­ing. Try­ing to find an ide­al ​"mod­el" is a dis­trac­tion. Orga­niz­ing is hard. It is expen­sive, risky and even in ide­al cir­cum­stances fails a lot. The les­son of the sto­ries in McAlevey's new book is that the best orga­niz­ing isn't done by adher­ing to an abstract orga­niz­ing mod­el, but by prop­er­ly assess­ing where you are, where you need to go and how to get there.
Dave Kam­per
is an orga­niz­er and writer in the Twin Cities. He can be reached on Twit­ter @dskamper.