When America Was Overcome with Anti-Japanese Xenophobia During WWII, One Union Fought Back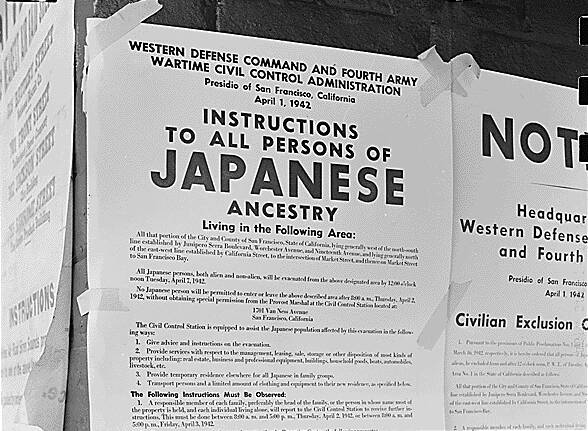 In the after­math of the dev­as­tat­ing ter­ror­ist attacks in Paris, a new wave of fear and hatred direct­ed against Arab and Mus­lim peo­ple has re-emerged in the Unit­ed States. Giv­en this turn of events, it seems wise to revis­it U.S. his­to­ry and its most infa­mous exam­ple of intern­ment: that of more than 100,000 Japan­ese and Japan­ese Americans.
Then, too, anger and hate reached a fever-pitch that seem­ing­ly could not be tem­pered. But the lead­ers of one, rad­i­cal labor union, Inter­na­tion­al Longshoremen's & Warehousemen's Union (ILWU), fought back.
Despite the fact that there is incred­i­ble diver­si­ty among the 1.5 bil­lion Mus­lims in the world, some Amer­i­cans still paint them all with the same brush. Most loud­ly, Don­ald Trump — cur­rent­ly lead­ing the Repub­li­can field in the 2016 pres­i­den­tial race — called for a data­base of all Mus­lims in the Unit­ed States so as to track their move­ments. Sim­i­lar­ly, Ben Car­son, anoth­er pop­u­lar Repub­li­can can­di­date, com­pared Syr­i­an refugees to ​"rabid dogs."
This hys­te­ria quick­ly mor­phed into some — includ­ing the major­i­ty of gov­er­nors in states around the coun­try — advo­cat­ing against accept­ing any more Syr­i­an refugees while oth­ers have ratch­eted up the Islama­pho­bia, with some argu­ing that all Syr­i­ans or maybe all Mus­lims in the Unit­ed States should be interned in prison camps. One U.S. Navy vet­er­an recent­ly sug­gest­ed on her Twit­ter feed, ​"Dear­born, MI, has the high­est Mus­lim pop­u­la­tion in the Unit­ed Sates. Let's fuck that place up and send a mes­sage to ISIS." A politi­cian in Ten­nessee, Glen Casa­da, cried out for his state's Nation­al Guard to ​"round up" the few dozen Syr­i­an refugees in the state and deport them.
Of course, this cur­rent fren­zy is hard­ly the first time Amer­i­cans have been stam­ped­ed into such wild suggestions.
Intern­ment in World War II
The Decem­ber 7, 1941 attack on Pearl Har­bor, a vital base for the U.S. Pacif­ic Fleet, enraged Amer­i­cans. Many called for the blood of any and every Japan­ese per­son they could get their hands upon.
That Amer­i­cans were shocked and angered about the attack was under­stand­able. But it also fed into the pre­ex­ist­ing and vir­u­lent hatred of Japan­ese peo­ple among many oth­er peo­ple in the Unit­ed States. More than 30 years ear­li­er, in 1907, this racism had result­ed in a so-called ​"Gentlemen's Agree­ment" between Pres­i­dent Ted­dy Roo­sevelt and his Japan­ese coun­ter­part to halt Japan­ese immi­gra­tion to the Unit­ed States. More­over, exist­ing Japan­ese immi­grants were dis­al­lowed from becom­ing cit­i­zens (though chil­dren born on U.S. soil, of course, auto­mat­i­cal­ly were). This dis­crim­i­na­tion close­ly fol­lowed the Chi­nese Exclu­sion Act of 1882, the first time an entire eth­nic group were cat­e­gor­i­cal­ly denied entry into the Unit­ed States.
Just over two months after the attack on Pearl, Pres­i­dent Franklin D. Roo­sevelt signed Exec­u­tive Order 9066, which deemed all Japan­ese and Japan­ese Amer­i­cans liv­ing near the Pacif­ic Coast (where near­ly all lived) a nation­al secu­ri­ty threat. FDR's order led to approx­i­mate­ly 110,000 peo­ple being relo­cat­ed, against their will, to one of 10 intern­ment camps in the inte­ri­or West. These des­o­late pris­ons, most in sparse­ly pop­u­lat­ed desert areas, sur­round­ed by barbed wire and patrolled by U.S. sol­diers, became the mis­er­able homes for more than 100,000 peo­ple for the next three years. Not a sin­gle one of them had assist­ed in the Japan­ese strike at Pearl, nor com­mit­ted any crime.
Nev­er­the­less, the leader of the U.S. Army in the West, Gen­er­al John L. DeWitt, claimed at the time, ​"In the war in which we are now engaged, racial affini­ties are not sev­ered by migra­tion. The Japan­ese race is an ene­my race."
In oth­er words, even though not a shred of evi­dence linked a sin­gle one of these Amer­i­cans to espi­onage, their crime was being Japan­ese or an Amer­i­can of Japan­ese parents.
These Amer­i­cans lan­guished, mis­er­able and down­trod­den, for about three years in inter­ment camps. The pho­tog­ra­ph­er Ansel Adams doc­u­ment­ed life in the camps, pro­vid­ing haunt­ing pho­tographs of the mis­eries of life there, which was some­thing like being kept in prison for the crime of hav­ing Japan­ese ancestry.
The ILWU steps up
Who stood up on behalf of these inno­cent vic­tims when hos­til­i­ty towards them reached epic pro­por­tions? Pre­cious few — but among the most note­wor­thy was the ILWU.
In sworn tes­ti­mo­ny before Con­gress in Feb­ru­ary 1942, only three months after Pearl Har­bor and pri­or to the imple­men­ta­tion of FDR's exec­u­tive order, ILWU leader and soon-to-be Sec­re­tary-Trea­sur­er Louis ​"Lou" Gold­blatt sage­ly pre­dict­ed, ​"This entire episode of hys­te­ria and mob chant against the native-born Japan­ese will form a dark page of Amer­i­can his­to­ry. It may well appear as one of the vic­to­ries one by the Axis pow­ers." He chal­lenged the Con­gress­men, ask­ing if ​"per­se­cu­tion of minori­ties [would] rise in place of the stan­dard of democracy?"
Why would Gold­blatt and the ILWU fight on behalf of these Japan­ese Amer­i­cans when almost no one else did? Sim­ply put, they were rad­i­cal union­ists. Many were social­ists and com­mu­nists. Mil­i­tant dock­work­ers had cre­at­ed their union in the depths of the Great Depres­sion and com­mit­ted it to total equal­i­ty. In the hir­ing halls that they built, the mem­ber who had worked the least amount of hours in that por­tion of the year would get the first job dis­patched, the ​"low man out" system.
The union's pol­i­cy — lit­er­al­ly putting the ide­al of equal­i­ty into prac­tice — was pred­i­cat­ed upon the com­mon sense, work­ing-class notion of sol­i­dar­i­ty. It can be summed up in its mot­to ​"an injury to one is an injury to all," first coined by an ear­li­er, even more rad­i­cal union, the Indus­tri­al Work­ers of the World (the ​"Wob­blies").
Cru­cial­ly, the ILWU com­mit­ment to equal­i­ty includ­ed eth­nic and racial equal­i­ty, anoth­er lega­cy of the Wob­blies.
ILWU Pres­i­dent Har­ry Bridges, prob­a­bly the most well-known left-wing labor leader in mid-20th cen­tu­ry Amer­i­ca, declared on more than one occa­sion, ​"If things reached a point where only two men were left on the water­front," if he had any­thing to say about it, ​"one would be a black man."
The ILWU not only rhetor­i­cal­ly con­demned the intern­ment pro­gram but also attacked the per­se­cu­tion of Japan­ese work­ers in its own ranks. Some Japan­ese and Japan­ese-Amer­i­can work­ers belonged to the ILWU includ­ing its Stock­ton, Cal­i­for­nia ware­house divi­sion, a part of the San Fran­cis­co Bay Area Local 6.
In May 1945, the month Ger­many sur­ren­dered and three months before Japan would, the Stock­ton divi­sion denied a few Japan­ese-Amer­i­cans, recent­ly released from an intern­ment camp, entry into the union. Bridges was try­ing to help these for­mer­ly interned Amer­i­cans in con­junc­tion with the government's War Relo­ca­tion Author­i­ty. Rather than tol­er­ate this dis­crim­i­na­tion, Bridges and Gold­blatt pulled the char­ter until the white major­i­ty accept­ed the Japan­ese Amer­i­cans into the local. The whites soon caved and offered these for­mer­ly interned peo­ple membership.
Alas, the ILWU's prin­ci­pled stands did not alle­vi­ate most Amer­i­cans' fear, hys­te­ria or racism. One-hun­dred ten thou­sand total­ly inno­cent human beings were false­ly impris­oned for about three years, rank­ing among the most shame­ful chap­ters in U.S. History.
The ILWU, race and social justice
Many peo­ple think of unions pri­mar­i­ly for the ben­e­fits they bring their own mem­bers. But the ILWU engaged in what schol­ars call ​"civ­il rights union­ism." The ILWU and oth­er unions like it advo­cat­ed for caus­es beyond their mem­bers and work­places. That was why, in 1967, Dr. Mar­tin Luther King, Jr. vis­it­ed ILWU Local 10's hir­ing hall in San Fran­cis­co to vis­it the long­shore­men there.
Address­ing a large gath­er­ing of dock­work­ers, King declared, ​"I don't feel like a stranger here in the midst of the ILWU. We have been strength­ened and ener­gized by the sup­port you have giv­en to our strug­gles." King con­tin­ued, ​"We've learned from labor the mean­ing of power."
More than 40 years lat­er, the African-Amer­i­can long­shore­man Cleophas Williams insight­ful­ly recalled to me King's speech: ​"He talked about the eco­nom­ics of dis­crim­i­na­tion." Williams had moved to the Bay Area dur­ing World War II to escape Jim Crow in his native Arkansas. He lat­er became a leader in the ILWU. Williams also point­ed out dur­ing our inter­view at his Oak­land church that, ​"What [King] said is what [Har­ry] Bridges had been say­ing all along," about how orga­nized work­ers can mate­ri­al­ly ben­e­fit by attack­ing racism and form­ing inter­ra­cial unions.
Unions' fight against xeno­pho­bia and for jus­tice today
We live in scary times. In our quest for secu­ri­ty, pre-exist­ing prej­u­dices eas­i­ly can be exploit­ed to hor­rif­ic ends. For­tu­nate­ly, know­ing his­to­ry pro­vides us with exam­ples of past mis­takes as well as alter­na­tives to prob­lems today.
For instance, the inter­ment of 110,000 Japan­ese and Japan­ese Amer­i­cans now is wide­ly con­demned—out­side of Roanoke, Vir­gini­a's may­oral office, at least — as hav­ing been a hor­ren­dous mis­take, just as Lou Gold­blatt predicted.
Gold­blatt, Bridges and oth­ers in the ILWU stood up and spoke truth to pow­er. They con­demned the bla­tant prej­u­dice that unfair­ly blamed all Japan­ese immi­grants and Japan­ese Amer­i­cans for Pearl Harbor.
We often turn to his­to­ry to learn what we got wrong, and there's plen­ty in U.S. his­to­ry that falls into that cat­e­go­ry. But it can also teach us of what we got right, pro­vid­ing inspi­ra­tional exam­ples when brave peo­ple stood up to irra­tional witch hunts and denounced them for being big­ot­ed and hys­ter­i­cal. ILWU his­to­ry shows how peo­ple can active­ly com­bat racist hate by orga­niz­ing across eth­nic, nation­al and racial boundaries.
In the nev­erend­ing strug­gle for free­dom and jus­tice, unions remain among the largest and most pow­er­ful groups of non-elites. Even today, with mem­ber­ship down dra­mat­i­cal­ly from their highs in mid-20th cen­tu­ry, unions can play cru­cial roles in U.S. pol­i­tics, help­ing their mem­bers earn liv­ing wages but also to fight for social jus­tice. The ILWU, for one, strove to be anti-racist in an era when few major­i­ty-white orga­ni­za­tions or white Amer­i­cans were.
It would be a tragedy if Syr­i­ans, Arabs, and/​or Mus­lims in the Unit­ed States were round­ed up and interned. Like the ILWU dur­ing World War II, we must swift­ly and firm­ly con­demn the absurd claims some Amer­i­cans are mak­ing. Now, as in the past, we need orga­ni­za­tions of work­ing peo­ple to resist racism and xenophobia.
Peter Cole
is a Pro­fes­sor of His­to­ry at West­ern Illi­nois Uni­ver­si­ty and Research Asso­ciate in the Soci­ety, Work and Devel­op­ment Pro­gram at the Uni­ver­si­ty of the Wit­wa­ter­srand in Johan­nes­burg, South Africa. He is the author of Wob­blies on the Water­front: Inter­ra­cial Union­ism in Pro­gres­sive Era Philadel­phia and the award-win­ning Dock­work­er Pow­er: Race and Activism in Dur­ban and the San Fran­cis­co Bay Area. He also is the founder and co-direc­tor of the Chica­go Race Riot of
1919
Com­mem­o­ra­tion Project (CRR
19
). He tweets from @ProfPeterCole.