The Most Radical Union in the U.S. Is Shutting Down the Ports on Juneteenth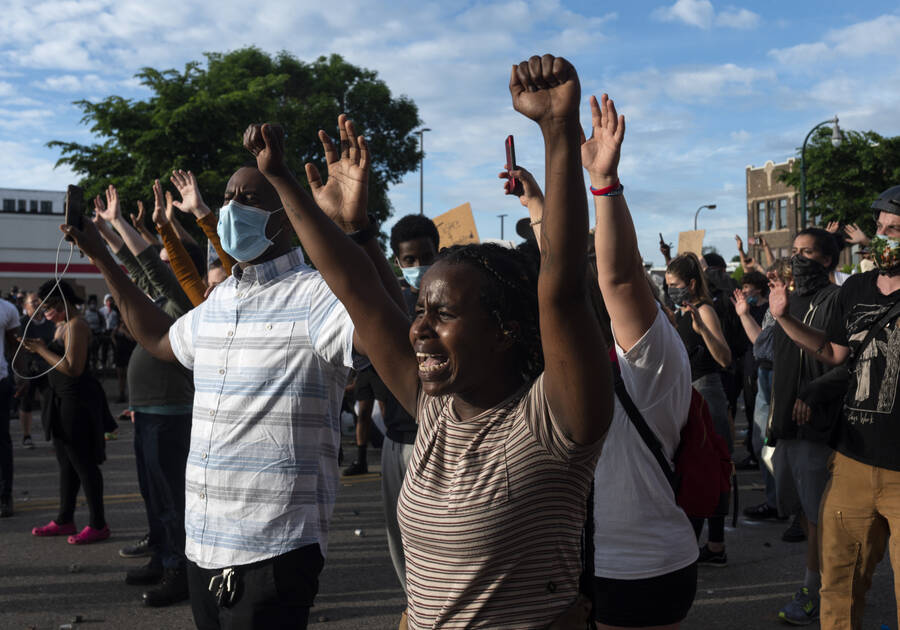 Out­rage over the police mur­der of George Floyd launched Black Lives Mat­ter protests across the coun­try and world. Most actions are being orga­nized by young black peo­ple. While many are work­ing-class and at least some are anti-cap­i­tal­ist, few protests are for­mal­ly part of the labor movement.
That may change this Fri­day when the most rad­i­cal union in the Unit­ed States shuts down the country's gate­way to the world, West Coast ports, in sol­i­dar­i­ty with Black Lives Mat­ter on the day com­mem­o­rat­ing the end of slav­ery. As Clarence Thomas, a long-time dock­work­er activist for black equal­i­ty and social­ism, not­ed recent­ly, ​"It will be the first time that an inter­na­tion­al union has ever tak­en off from work for the pur­pose of com­mem­o­rat­ing Juneteenth."
Thomas, an African Amer­i­can from Oak­land, is a proud, third-gen­er­a­tion mem­ber of the Inter­na­tion­al Long­shore and Ware­house Union (ILWU). Arguably, no union has fought longer and hard­er for black equal­i­ty. As Willie Adams, the union's first black Inter­na­tion­al Pres­i­dent, recent­ly declared: ​"Our union has a long his­to­ry of con­fronting racism on the job, in our com­mu­ni­ties and around the world."
By con­trast, most unions — hypo­thet­i­cal­ly, the col­lec­tive voice of work­ing peo­ple — seem hes­i­tant to take action. While per­haps by mis­take, the trash­ing of the AFL-CIO head­quar­ters, locat­ed near the White House, exem­pli­fied the yawn­ing divide sep­a­rat­ing black and youth pro­test­ers and ​"orga­nized labor." Yet, con­sid­er that the AFL-CIO, how­ev­er weak it may seem, still rep­re­sents 12,500,000 work­ers. There is no larg­er move­ment of ordi­nary peo­ple than unions. Despite their poten­tial, unions are issu­ing nice­ly word­ed state­ments but pro­vid­ing lit­tle tan­gi­ble sup­port to the cur­rent protests, the largest work­ing-class upris­ing in two generations.
Some unions, such as the Chica­go Teach­ers Union (CTU) and Unit­ed Elec­tri­cal, Radio and Machine Work­ers of Amer­i­ca (UE) are active­ly chal­leng­ing racism, police bru­tal­i­ty, and oth­er reac­tionary poli­cies with pro­gres­sive, for­ward-think­ing actions. Such mil­i­tan­cy and rad­i­cal­ism, not coin­ci­den­tal­ly, have emerged in unions with larg­er num­bers of black and brown, immi­grant, and female mem­bers. Still, the ILWU's June­teenth action rais­es the bar for what work­er sol­i­dar­i­ty with Black Lives Mat­ter looks like.
The breadth and depth of this union's rad­i­cal com­mit­ment to equal­i­ty may shock those who stereo­type unions as lib­er­al or even con­ser­v­a­tive. Har­ry Bridges, the ILWU's first and long-time pres­i­dent, once declared in the 1940s, ​"If things reached a point where only two men were left on the water­front, if he had any­thing to say about it, one would be a black man." Him­self an Aus­tralian immi­grant and anti-cap­i­tal­ist, Bridges made this claim when this union was more than 90% white.
Zack Pat­tin, a white, rank-and-file activist in ILWU Local 23 (Taco­ma), proud­ly recount­ed to this writer some of his union's his­to­ry: ​"We pass down sto­ries about inte­grat­ing the water­front and our union in the 30s and 40s, oppo­si­tion to Japan­ese intern­ment, Harry's depor­ta­tion tri­als and the fight for immi­grant rights, sup­port for Dr. King and the civ­il rights move­ment, sup­port for Cesar Chavez and the Delano Grape Strike, refus­ing to han­dle South African car­go to protest Apartheid, and resis­tance to the wars in Iraq and Afghanistan."
ILWU mem­bers also under­stand the role of police in under­min­ing social move­ments. Pat­tin made this con­nec­tion by high­light­ing the Big Strike of 1934, out of which his union was born. ​"It's not lost to us that the for­ma­tive moment in our his­to­ry — Bloody Thurs­day — was a police mur­der [of two strik­ers] right out­side the San Fran­cis­co union hall on July 5, 1934," he said.
That's why Jack Hey­man, a vet­er­an Local 10 activist and white anti-racist, recent­ly told The Nation, ​"if you look at ILWU locals' bylaws, many of them explic­it­ly ban police from mem­ber­ship. That's because the police have been always been used as tools in the fight against the work­ing people."
Local 10, the only black-major­i­ty long­shore branch, and its com­pan­ion Local 34, have led the way in con­demn­ing racist, police bru­tal­i­ty. In 2010, the unions shut down the Port of Oak­land after local law enforce­ment killed Oscar Grant. They did so again on May Day, in 2015, to protest the police mur­der of Wal­ter Scott, an unarmed black man in South Carolina.
After George Floyd's mur­der, the country's lead­ing social jus­tice union once more is play­ing a major role. Last Tues­day, the ILWU downed tools for nine min­utes dur­ing Floyd's funer­al. This Fri­day, June­teenth, the ILWU will shut down all twen­ty-nine ports it con­trols — from San Diego to Belling­ham, Wash­ing­ton — for the entire, eight-hour day shift.
Dock­work­ers intend to use their labor pow­er to send a mes­sage. As Local 10 Pres­i­dent Trent Willis, an African Amer­i­can, declared at an SEIU-led protest in Berke­ley on June 13, ​"We're send­ing a clear state­ment to the pow­ers that be, our gov­ern­ment. We're send­ing a clear state­ment to these cor­po­rate boss­es that we intend to use our labor, put our labor where our mouth is. We intend to take eco­nom­ic action if our demands are not met." Willis was refer­ring to the demand to end racist policing.
When tak­ing this polit­i­cal stand, dock­work­ers appre­ci­ate that their strate­gic loca­tions at hubs of glob­al trans­port give them tremen­dous pow­er. The Pacif­ic Mar­itime Asso­ci­a­tion, which rep­re­sents ship­ping cor­po­ra­tions, explained in a June 8 state­ment why that mat­ters: ​"West Coast ports han­dle a major­i­ty of the mar­itime car­go that helps fuel the U.S. econ­o­my, brings vital goods and med­ical sup­plies to local com­mu­ni­ties, and sup­ports mil­lions of Amer­i­can jobs." Clarence Thomas put it suc­cinct­ly: ​"Long­shore work­ers prob­a­bly under­stand cap­i­tal­ism bet­ter than any­one else…If the car­go doesn't come off the ship, that's mer­chan­dise not sold. Stop­ping work…is not a sym­bol; it's an act that demon­strates the lever­age of the work­ing class."
Willis, Thomas, Gabriel Prawl (of Local 52, Seat­tle), Kei­th Shanklin (Local 34 pres­i­dent) and oth­ers orga­nized this June­teenth stop-work pri­or to Trump's provo­ca­tion to speak that day, in Tul­sa of all places. An ILWU press release explains this day's sig­nif­i­cance, past and present: ​"June­teenth com­mem­o­rates the end of slav­ery in the Unit­ed States. On this date in 1865, Black Slaves in Texas were told of their eman­ci­pa­tion from slav­ery two years after the Eman­ci­pa­tion Procla­ma­tion became effective…our nation has made progress but the changes nec­es­sary to end sys­temic racism have come slow­ly or not at all, as the mur­der of Mr. Floyd on May 25, 2020 demonstrated."
Shanklin, the first black per­son elect­ed to head Local 34, summed up at the June 13 protest in Berke­ley why the ILWU will con­duct this June­teenth stop-work: ​"to stand up against sys­temic police oppres­sion and sys­temic police bru­tal­i­ty. We need to under­stand one thing. We can­not sur­vive in this world no more with police bru­tal­i­ty. It's time for it to end."
Peter Cole
is a Pro­fes­sor of His­to­ry at West­ern Illi­nois Uni­ver­si­ty and Research Asso­ciate in the Soci­ety, Work and Devel­op­ment Pro­gram at the Uni­ver­si­ty of the Wit­wa­ter­srand in Johan­nes­burg, South Africa. He is the author of Wob­blies on the Water­front: Inter­ra­cial Union­ism in Pro­gres­sive Era Philadel­phia and the award-win­ning Dock­work­er Pow­er: Race and Activism in Dur­ban and the San Fran­cis­co Bay Area. He also is the founder and co-direc­tor of the Chica­go Race Riot of
1919
Com­mem­o­ra­tion Project (CRR
19
). He tweets from @ProfPeterCole.