The New Yorker Wants You To Be Afraid of the Labour Party's Jeremy Corbyn—Very Afraid
"Quantitative easing" isn't a far-left fantasy—it's mainstream economics.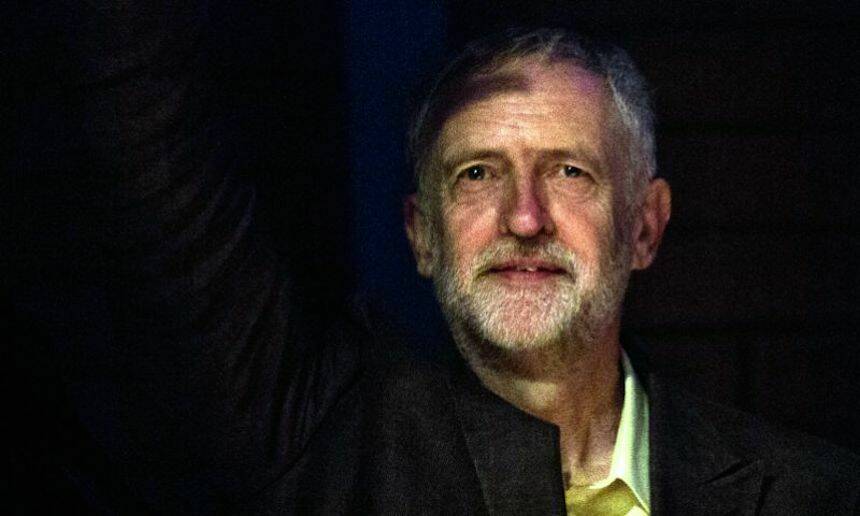 The land­slide vic­to­ry of left-wing can­di­date Jere­my Cor­byn for Labour Par­ty leader in the Unit­ed King­dom has many estab­lish­ment types bent out of shape. The Blair wing of the par­ty was lit­er­al­ly oblit­er­at­ed, with Cor­byn draw­ing more than four times the votes of his near­est com­peti­tor. After giv­ing the coun­try the war in Iraq, and the hous­ing bub­ble whose col­lapse led to the 2008 – 2009 reces­sion and finan­cial cri­sis, the dis­con­tent of the Labour Party's rank and file is understandable.
The problem faced by the moderate-left parties in this story is not a real economic constraint, but rather their failure to understand economics.
But nat­u­ral­ly the elite types are fight­ing back. In this vein we get a lengthy piece in the New York­er by film crit­ic Antho­ny Lane warn­ing us of the evils of Jere­my Cor­byn. I will leave for oth­ers the dis­cus­sion of Corbyn's friends and asso­ciates. I am most­ly inter­est­ed in Lane's treat­ment of Corbyn's eco­nom­ic agen­da. He tells readers:
The nation­al deficit would be erased not through aus­ter­i­ty, as prac­ticed by the heinous Con­ser­v­a­tives, but through tax­es on the rich and by what Cor­byn calls ​"quan­ti­ta­tive eas­ing for peo­ple." This means, we are told, that the Bank of Eng­land will print more mon­ey: an endear­ing and almost child­like solu­tion, though not one that has met with unqual­i­fied suc­cess elsewhere.
First off, ​"quan­ti­ta­tive eas­ing for peo­ple" is obvi­ous­ly a polit­i­cal slo­gan. As such, it is not obvi­ous­ly more sil­ly than ​"putting peo­ple first" or ​"yes we can." The issue is the sub­stance behind the slogan.
What Cor­byn is propos­ing is direct­ly financ­ing spend­ing by print­ing mon­ey. If that is ​"child­like," then folks like Paul Krug­man have a sim­i­lar affin­i­ty for child­like solu­tions to eco­nom­ic prob­lems. Just last week, in ref­er­ence to Japan's con­tin­u­ing eco­nom­ic weak­ness, Krug­man told read­ers:
What's remark­able about this record of dubi­ous achieve­ment is that there actu­al­ly is a sure­fire way to fight defla­tion: When you print mon­ey, don't use it to buy assets; use it to buy stuff. That is, run bud­get deficits paid for with the print­ing press.
By ​"stuff," Krug­man means things like child­care, schools, hos­pi­tals, cut­ting-edge inter­net, research into clean ener­gy and oth­er use­ful items. If the econ­o­my is suf­fer­ing from a lack of demand, the gov­ern­ment can direct­ly cre­ate it by spend­ing mon­ey. And, since the econ­o­my is below its poten­tial, it doesn't need tax mon­ey to finance this spend­ing. It doesn't even need to bor­row; it can sim­ply print the money.
But wouldn't this cause infla­tion? Hmmm, we start­ed with a sto­ry where the prob­lem was defla­tion, or at least an infla­tion rate that is too low. This means that if the government's spend­ing and print­ing mon­ey leads to more infla­tion, then it is get­ting us exact­ly what we want.
There are plen­ty of oth­er well-respect­ed econ­o­mists who would share in Krugman's child­like think­ing. One can ques­tion whether Cor­byn has the best mech­a­nism for allo­cat­ing this spend­ing, and whether he has stop­gaps in place to make sure that it doesn't go too far and lead to actu­al prob­lems with infla­tion, but his basic posi­tion rests on very sol­id economics.
If Lane were the only per­son con­fi­dent­ly mak­ing unground­ed eco­nom­ic asser­tions, we could dis­miss the arti­cle as the result of the New York­er​'s dif­fi­cul­ties in get­ting qual­i­fied writ­ers, but unfor­tu­nate­ly this sort of think­ing dom­i­nates elite cir­cles. Just last week, E.J. Dionne, an unusu­al­ly thought­ful Wash­ing­ton Post colum­nist, com­ment­ed on NPR on the rise of out­siders like Corbyn:
And I think the col­lapse — the eco­nom­ic col­lapse in 2008 and the trou­ble everybody's hav­ing to get their foot­ing again — is at the heart of these prob­lems. In good times, mod­er­ate-right par­ties can defend cap­i­tal­ism, mod­er­ate-left par­ties can spread around mon­ey and redis­trib­ute it, but when cap­i­tal­ists behave bad­ly, the cen­ter-right has trou­ble defend­ing the eco­nom­ic estab­lish­ment and the mod­er­ate-left faces a hard­er left. You see it in Syriza, to some degree Bernie Sanders, Jere­my Cor­byn, the — who's a left-wing fron­trun­ner to lead the Labour Par­ty in Britain. They all have strong grounds for attack­ing the system.
The irony here is that Dionne has the sit­u­a­tion exact­ly reversed. In more nor­mal eco­nom­ic times, when the econ­o­my is near its poten­tial, the only way mod­er­ate-left par­ties can finance new pro­grams is either through new tax­es or by cut­ting oth­er spend­ing. The econ­o­my is up against its capac­i­ty con­straints, so there are no free lunch­es. By con­trast, in the cur­rent sit­u­a­tion, where there are large num­bers of idle work­ers and pro­duc­tive capac­i­ty, the gov­ern­ment actu­al­ly can spread mon­ey around with­out wor­ry­ing about where it will get it. Again, the prob­lem is too lit­tle demand, so we don't have to wor­ry about pulling resources away from anywhere.
The prob­lem faced by the mod­er­ate-left par­ties in this sto­ry is not a real eco­nom­ic con­straint, but rather their fail­ure to under­stand eco­nom­ics. They appar­ent­ly pre­fer to believe sto­ries their par­ents told them about the evils of debt rather than try­ing to under­stand how the econ­o­my actu­al­ly works. For this incred­i­ble lev­el of intel­lec­tu­al lazi­ness, these par­ties and can­di­dates deserve the con­tempt they are get­ting from the electorate.