Nearly 5,000 JetBlue Flight Attendants Just Voted To Unionize, in a Major Win for Airline Labor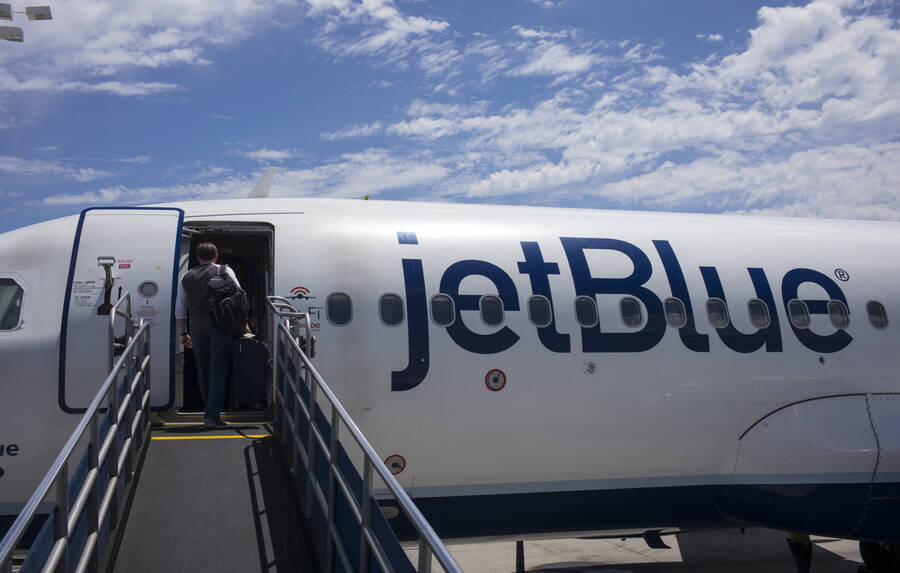 On April 18, near­ly 5,000 Jet­Blue Air­ways flight atten­dants vot­ed to form a union, notch­ing a major vic­to­ry for orga­nized labor. The employ­ees vot­ed 2,661 to 1,387 to join the Trans­port Work­ers Union (TWU), a labor group that rep­re­sents rail and air­line work­ers, among oth­ers, and is affil­i­at­ed with the AFL-CIO.
Sean Doyle, Assis­tant Direc­tor of Orga­niz­ing for the TWU, tells In These Times that the vote to union­ize Jet­Blue is ​"prob­a­bly one of the largest and most suc­cess­ful union cam­paigns that's hap­pened in quite some time." Doyle sees a con­nec­tion between the suc­cess­ful effort to orga­nize Jet­Blue employ­ees and the recent wave of strikes and walk­outs, par­tic­u­lar­ly among teach­ers in states like Okla­homa and West Virginia.
"You can see by the work­ers, the teach­ers and what they're doing that mid­dle-class Amer­i­ca has tak­en it on the chin long enough," Doyle says. ​"Work­ers are unit­ing to pro­tect their inter­ests, not only in their jobs, but also their fam­i­lies and their wel­fare." Although most work­ers at air­lines such as South­west are already union­ized, Doyle believes Jet­Blue was hop­ing to block their employ­ees' desire to orga­nize and join the TWU.
"We don't do cold calls," Doyle wry­ly points out, not­ing that it was Jet­Blue flight atten­dants who sought his group's help, and not the oth­er way around.
Jet­Blue CEO Robin Hayes said in a state­ment that, while his com­pa­ny does ​"respect the out­come of the elec­tion," they are also dis­mayed at the vote to union­ize. The state­ment does not spell out JetBlue's rea­sons for resist­ing the flight atten­dants' efforts, although labor orga­niz­ing is not a new issue for the air­line. In 2014, the company's pilots 3,500 union­ized with the Air­line Pilots Asso­ci­a­tion, yet they are report­ed­ly still wait­ing to have their first con­tract ratified.
Jet­Blue flight atten­dants have been attempt­ing to form a union since at least 2017, accord­ing to sev­er­al news accounts from last year. From the New York Post to the New Repub­lic, writ­ers and indus­try observers have doc­u­ment­ed the brew­ing bat­tle between the company's ​"in-flight crewmem­bers" and Jet­Blue man­age­ment. An inflam­ma­to­ry mes­sage sent by Jet­Blue to its employ­ees last year even went so far as to declare that the TWU was an ​"oppor­tunis­tic and neg­a­tive third par­ty" deter­mined to ​"gen­er­ate neg­a­tiv­i­ty and drama."
Jet­Blue advised flight atten­dants that, if they found them­selves being ​"harassed" by union orga­niz­ers, to ​"Just Say No."
That mes­sage clear­ly did not work. The air­line indus­try is extreme­ly prof­itable, accord­ing to Ted Reed, who cov­ers the busi­ness side of air­lines for Forbes. In a Feb­ru­ary 2018 sto­ry, Reed not­ed that air­lines scored a ​"record $25.6 bil­lion in 2015 prof­its," and that JetBlue's val­ue is esti­mat­ed to be just north of $1 bil­lion. Although air­lines typ­i­cal­ly engage in prof­it shar­ing ges­tures with employ­ees, accord­ing to Reed, that hasn't shield­ed the indus­try from remain­ing a ​"labor strong­hold" — even in the era of right-to-work laws that seek to under­mine union organizing.
Reed describes Jet­Blue as a ​"pri­ma­ry bat­tle­ground" for union activ­i­ty. In Jan­u­ary 2018, just after the flight atten­dants won the right to hold a union vote from the Nation­al Medi­a­tion Board, Jet­Blue gave all of its employ­ees a $1,000 bonus in what the com­pa­ny said was a nod to the new fed­er­al tax cuts signed into law in late 2017 by Pres­i­dent Trump. If management's inten­tion was to douse employ­ees with a one-time bonus and hope that the union threat would go away, they were sore­ly mistaken.
Instead, accord­ing to Doyle, the tax cuts and one-time bonus­es served as more evi­dence of run­away cor­po­rate greed. ​"These tax cuts were sold as being ben­e­fi­cial to the mid­dle class," Doyle says, ​"but those at the top have made mil­lions from them already." This point of view was echoed by a recent post from Matt Egan at CNN Mon­ey, which not­ed that the post-tax cut bonus­es cel­e­brat­ed by Trump and his sup­port­ers are lit­tle in com­par­i­son to the wind­fall rain­ing on ​"already-wealthy share­hold­ers and CEOs."
In this cli­mate, work­ers are ​"fight­ing for a seat at the table," Doyle insists. ​"Jet­Blue flight atten­dants want a legal­ly bind­ing con­tract so that they are no longer at-will employ­ees. They want respect on the job and voice in their future." Some of the main points of con­tention appear to be health insur­ance cov­er­age and the right to weigh in on com­pa­ny poli­cies, such as work schedules.
In a video post­ed to a web­site cre­at­ed by pro-union Jet­Blue flight atten­dants, employ­ees describe the work­ing con­di­tions they face. ​"We work in a petri dish," flight atten­dant Lyn­di Howard says, while her col­leagues note that health insur­ance pre­mi­ums have more than dou­bled in recent years. ​"I want a prop­er griev­ance and arbi­tra­tion process," flight atten­dant Vance Green says, explain­ing that he wants to make sure he can express his views with­out fear of reprisal.
Now, Green and the thou­sands of oth­er flight atten­dants who keep Jet­Blue in the air have won the oppor­tu­ni­ty to nego­ti­ate their first con­tract with the airline's man­age­ment team.
In a state­ment, John Samuelsen, pres­i­dent of TWU, called on Jet­Blue to quick­ly come to the table and nego­ti­ate a ​"fair and just con­tract with the work­ers they employ." If not, Samuelsen says, TWU is ​"pre­pared to engage in a fight­back cam­paign that will con­tin­ue until a con­tract is secured and Inflight Crewmem­bers are protected."
Sarah Lahm is a Min­neapo­lis-based writer and for­mer Eng­lish Instruc­tor. She writes the Mid­west Dis­patch col­umn for the Pro­gres­sive mag­a­zine, and her work has appeared in oth­er local and nation­al outlets.