Nearly 5,000 JetBlue Flight Attendants Just Voted To Unionize, in a Major Win for Airline Labor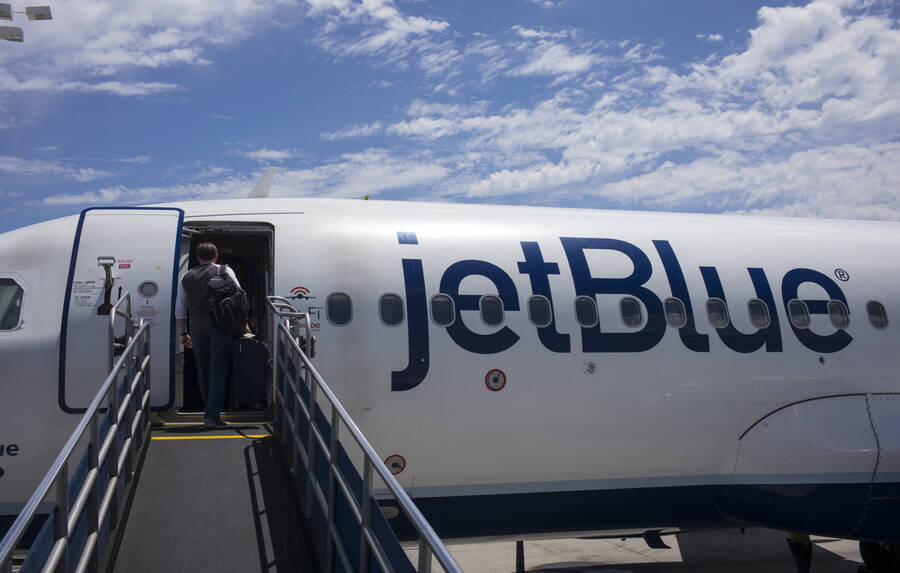 On April 18, nearly 5,000 JetBlue Airways flight attendants voted to form a union, notching a major victory for organized labor. The employees voted 2,661 to 1,387 to join the Transport Workers Union (TWU), a labor group that represents rail and airline workers, among others, and is affiliated with the AFL-CIO.
Sean Doyle, Assistant Director of Organizing for the TWU, tells In These Times that the vote to unionize JetBlue is ​"probably one of the largest and most successful union campaigns that's happened in quite some time." Doyle sees a connection between the successful effort to organize JetBlue employees and the recent wave of strikes and walkouts, particularly among teachers in states like Oklahoma and West Virginia.
"You can see by the workers, the teachers and what they're doing that middle-class America has taken it on the chin long enough," Doyle says. ​"Workers are uniting to protect their interests, not only in their jobs, but also their families and their welfare." Although most workers at airlines such as Southwest are already unionized, Doyle believes JetBlue was hoping to block their employees' desire to organize and join the TWU.
"We don't do cold calls," Doyle wryly points out, noting that it was JetBlue flight attendants who sought his group's help, and not the other way around.
JetBlue CEO Robin Hayes said in a statement that, while his company does ​"respect the outcome of the election," they are also dismayed at the vote to unionize. The statement does not spell out JetBlue's reasons for resisting the flight attendants' efforts, although labor organizing is not a new issue for the airline. In 2014, the company's pilots 3,500 unionized with the Airline Pilots Association, yet they are reportedly still waiting to have their first contract ratified.
JetBlue flight attendants have been attempting to form a union since at least 2017, according to several news accounts from last year. From the New York Post to the New Republic, writers and industry observers have documented the brewing battle between the company's ​"in-flight crewmembers" and JetBlue management. An inflammatory message sent by JetBlue to its employees last year even went so far as to declare that the TWU was an ​"opportunistic and negative third party" determined to ​"generate negativity and drama."
JetBlue advised flight attendants that, if they found themselves being ​"harassed" by union organizers, to ​"Just Say No."
That message clearly did not work. The airline industry is extremely profitable, according to Ted Reed, who covers the business side of airlines for Forbes. In a February 2018 story, Reed noted that airlines scored a ​"record $25.6 billion in 2015 profits," and that JetBlue's value is estimated to be just north of $1 billion. Although airlines typically engage in profit sharing gestures with employees, according to Reed, that hasn't shielded the industry from remaining a ​"labor stronghold" — even in the era of right-to-work laws that seek to undermine union organizing.
Reed describes JetBlue as a ​"primary battleground" for union activity. In January 2018, just after the flight attendants won the right to hold a union vote from the National Mediation Board, JetBlue gave all of its employees a $1,000 bonus in what the company said was a nod to the new federal tax cuts signed into law in late 2017 by President Trump. If management's intention was to douse employees with a one-time bonus and hope that the union threat would go away, they were sorely mistaken.
Instead, according to Doyle, the tax cuts and one-time bonuses served as more evidence of runaway corporate greed. ​"These tax cuts were sold as being beneficial to the middle class," Doyle says, ​"but those at the top have made millions from them already." This point of view was echoed by a recent post from Matt Egan at CNN Money, which noted that the post-tax cut bonuses celebrated by Trump and his supporters are little in comparison to the windfall raining on ​"already-wealthy shareholders and CEOs."
In this climate, workers are ​"fighting for a seat at the table," Doyle insists. ​"JetBlue flight attendants want a legally binding contract so that they are no longer at-will employees. They want respect on the job and voice in their future." Some of the main points of contention appear to be health insurance coverage and the right to weigh in on company policies, such as work schedules.
In a video posted to a website created by pro-union JetBlue flight attendants, employees describe the working conditions they face. ​"We work in a petri dish," flight attendant Lyndi Howard says, while her colleagues note that health insurance premiums have more than doubled in recent years. ​"I want a proper grievance and arbitration process," flight attendant Vance Green says, explaining that he wants to make sure he can express his views without fear of reprisal.
Now, Green and the thousands of other flight attendants who keep JetBlue in the air have won the opportunity to negotiate their first contract with the airline's management team.
In a statement, John Samuelsen, president of TWU, called on JetBlue to quickly come to the table and negotiate a ​"fair and just contract with the workers they employ." If not, Samuelsen says, TWU is ​"prepared to engage in a fightback campaign that will continue until a contract is secured and Inflight Crewmembers are protected."
Sarah Lahm is a Min­neapo­lis-based writer and for­mer Eng­lish Instruc­tor. She writes the Midwest Dispatch column for the Progressive magazine, and her work has appeared in other local and national outlets.