Hold the Applause. Biden's Climate Plan Is Mostly Fluff.
Biden avoids taking on the fossil fuel industry by relying on vague promises and unproven technologies.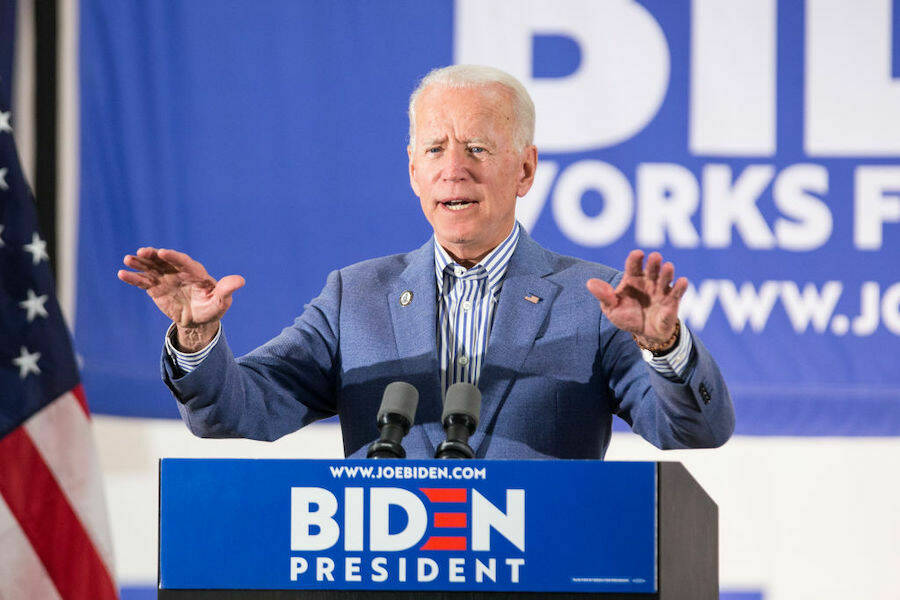 When I first skimmed the sec­tion head­ers of Joe Biden's cli­mate plan on Tues­day, my eyes gloss­ing past most of the details, I came away cau­tious­ly opti­mistic. While I wished his goals were more ambi­tious, I was heart­ened to see even a rel­a­tive mod­er­ate like Biden call­ing for an end to fos­sil fuel sub­si­dies, a vast expan­sion of pro­tect­ed lands and $1.7 tril­lion in cli­mate invest­ment over the next 10 years. That seemed like a win.
Biden's plan is a gamble, plunging us into the torrent and betting on carbon capture to stabilize the climate—and the fossil fuel industry.
Lat­er in the after­noon, how­ev­er, I took the time to read the whole thing more close­ly, and my opti­mism turned to dis­ap­point­ment. The 10,000-word plan cov­ers a lot of ground — includ­ing some­what arbi­trary for­ays into the sci­ence of the green­house effect, Biden's record, and steps already tak­en by city and state gov­ern­ments to address cli­mate change — giv­ing the appear­ance of a mon­u­men­tal doc­u­ment. But once you look beneath the puff, it becomes clear the plan is not ground­ed in robust pro­pos­als, and the sub­stance is remark­ably flim­sy. His good ideas (like end­ing sub­si­dies) are most­ly shared by the rest of the Demo­c­ra­t­ic field; he puts undue faith in new tech­nolo­gies, hop­ing they can save us with­out hav­ing to direct­ly con­front the fos­sil fuel indus­try; and the reg­u­la­tions he sug­gests are gen­er­al­ly either mild or tooth­less — like­ly not enough to achieve his stat­ed goals, them­selves insuf­fi­cient to stem the crisis.
Lack of speci­fici­ty is not, in itself, dis­qual­i­fy­ing. The Green New Deal res­o­lu­tion, as intro­duced in Con­gress by Rep. Alexan­dria Oca­sio-Cortez (D‑N.Y.) and Sen. Ed Markey (D‑Mass.), is much more a state­ment of goals and prin­ci­ples than an actu­al plan. Any com­pre­hen­sive cli­mate plan will ulti­mate­ly require input from Con­gress, and from envi­ron­men­tal, labor and com­mu­ni­ty orga­ni­za­tions; the pres­i­dent won't and shouldn't write the whole thing on their own. But Biden's goals leave much to be desired, and many of the solu­tions he does pro­pose are either woe­ful­ly insuf­fi­cient, doomed to fail­ure or both. The Green New Deal begins to sketch out a gen­uine eco­nom­ic trans­for­ma­tion; Biden's plan seems designed to sal­vage the sta­tus quo. While cli­mate activists and sci­en­tists are increas­ing­ly doubt­ful that mod­est mar­ket-based actions can reduce emis­sions at the speed we need, Biden is try­ing sell such a mod­er­ate approach to the public.
A Green New Deal?
In the last month, Joe Biden has tak­en a lot of heat on cli­mate change. On May 10, Reuters report­ed that Biden cli­mate advis­er Heather Zichal — for­mer­ly on the board of a nat­ur­al gas com­pa­ny — said the cam­paign was search­ing for a ​"mid­dle ground" on cli­mate change. Envi­ron­men­tal orga­ni­za­tions pum­meled Biden over this com­pro­mise strat­e­gy, and Bernie Sanders turned "#NoMid­dle­Ground" into a hash­tag. Then Green­peace gave Biden a D‑minus in its can­di­date score­card released May 30, nar­row­ly edg­ing out John Hick­en­loop­er to place 18th out of 19 Dems. And in a June 3 Wash­ing­ton Post arti­cle sur­vey­ing the Demo­c­ra­t­ic can­di­dates on cli­mate pol­i­cy, Biden was cit­ed as the only one with­out a stance on the Green New Deal, declin­ing to answer any of the Post​'s ques­tions.
In his new plan, some of this appears to change. He calls the Green New Deal a ​"cru­cial frame­work," and says that his plan shares two impor­tant prin­ci­ples with the GND: "(1) the Unit­ed States urgent­ly needs to embrace greater ambi­tion on an epic scale to meet the scope of this chal­lenge, and (2) our envi­ron­ment and our econ­o­my are com­plete­ly and total­ly connected."
Oth­er such rad­i­cal-sound­ing rhetoric pep­pers the plan, includ­ing an explic­it call to ​"go well beyond the Oba­ma-Biden Admin­is­tra­tion plat­form." To hear this from an estab­lish­ment-backed fron­trun­ner looks like progress. The Sun­rise Move­ment, a youth-led cli­mate group that has been advo­cat­ing a Green New Deal, claimed vic­to­ry in a press release — ​"We forced [the Biden cam­paign] to back­track and today, he put out a com­pre­hen­sive cli­mate plan" — and Green­peace upped his grade to a B, putting him in a more respectable sev­enth place.
The prob­lem is, Biden's plan doesn't actu­al­ly endorse the Green New Deal. While prais­ing its spir­it, he sets a goal that is notably less ambi­tious: net-zero emis­sions by 2050, a goal shared by Beto O'Rourke. (The Green New Deal calls for a ​"10-year mobi­liza­tion" to achieve zero-emis­sions elec­tric­i­ty, and to get as close to zero in oth­er sec­tors as ​"tech­no­log­i­cal­ly fea­si­ble.") He also steers clear of some of the Green New Deal's more ambi­tious com­po­nents, such as a jobs guarantee.
Worse, the plan is ​"com­pre­hen­sive" only in the most super­fi­cial sense. It is true that it is long, that it includes many facts about cli­mate change, and that it at least briefly address­es near­ly every high-emit­ting sec­tor — includ­ing oft-over­looked sec­tors such as ship­ping, cement and steel. But, despite a few spe­cif­ic ideas scat­tered here and there, his pro­pos­als tend to be vague at best, and the whole thing is slop­pi­ly put together.
Wait­ing for car­bon capture
To under­stand the oper­at­ing log­ic behind Biden's plan, you have to scroll down about a third of the way in the orig­i­nal ver­sion, to a sen­tence that appar­ent­ly was pla­gia­rized: ​"Car­bon cap­ture, use, and stor­age (CCUS) is a rapid­ly grow­ing tech­nol­o­gy that has the poten­tial to cre­ate eco­nom­ic ben­e­fits for mul­ti­ple indus­tries while sig­nif­i­cant­ly reduc­ing car­bon diox­ide emis­sions." (After this and oth­er instances of pla­gia­rism made head­lines, the plan now cred­its the Blue­Green Alliance for this quote.)
CCUS means suck­ing car­bon diox­ide — either out of the air or out of a pow­er plant — and then either using it or stor­ing it some­where. Most UN pro­jec­tions incor­po­rate some amount of CCUS in their pre­dict­ed futures; we can buy our­selves more time to decar­bonize, they assure us, if we can fig­ure out neg­a­tive emis­sions. The ​"eco­nom­ic ben­e­fits for mul­ti­ple indus­tries" Biden men­tions would like­ly include extend­ing the life of the fos­sil fuel indus­try through cap­tur­ing (or promis­ing to even­tu­al­ly cap­ture) its emis­sions. The prob­lem is, CCUS tech­nolo­gies are expen­sive, do not yet exist at scale and poten­tial­ly would not all even work at scale.
There is good-faith debate among pro­gres­sives over whether the tech­nol­o­gy mer­its fur­ther research. Some say to drop it alto­geth­er: It only encour­ages fur­ther fos­sil fuel use, they argue, and cer­tain vari­eties of CCUS would require pro­hib­i­tive amounts of land. But even among pro­po­nents of fur­ther research — such as cli­mate sci­en­tists Kevin Ander­son and Glen Peters — few pro­gres­sives think we should plan on this tech com­ing through.
"Neg­a­tive-emis­sion tech­nolo­gies are … an unjust and high-stakes gam­ble," Ander­son and Peters wrote in Sci­ence. ​"The mit­i­ga­tion agen­da should pro­ceed on the premise that they will not work at scale." To do oth­er­wise, they wrote, would be like ​"let­ting some­one jump into a rag­ing tor­rent, and telling them that we may be able to save them with a tech­nol­o­gy that we have not yet developed."
With­out exten­sive use of CCUS, the world would need to reach net-zero emis­sions by 2050 for a 50/50 shot at keep­ing tem­per­a­ture increase to 1.5 degrees Cel­sius (2.7 degrees Fahren­heit). Biden calls on the Unit­ed States to ​"lead through the pow­er of exam­ple" by achiev­ing ​"net-zero emis­sions no lat­er than 2050 here at home" [empha­sis mine].
Biden does not seem to expect the whole world to reach net-zero by 2050. Biden's plan, then, is a gam­ble, plung­ing us into the tor­rent and bet­ting on CCUS to sta­bi­lize the cli­mate — and the fos­sil fuel industry.
This tech­no­log­i­cal opti­mism per­me­ates the plan. One of the more sub­stan­tive pro­pos­als is to estab­lish an Advanced Research Projects Agency focused on cli­mate (ARPA‑C), meant to pur­sue not only CCUS but every­thing from clean refrig­er­a­tion to new and improved nuclear reac­tors to alter­na­tive con­struc­tion mate­ri­als to improved bio­fu­els for air­planes and ships. It's not that I nec­es­sar­i­ly oppose any of this research — some of it is cru­cial.
But for Biden, this research is the cen­ter­piece: In his plan, it will allow us to con­tin­ue with busi­ness as usu­al with­out any major chal­lenge to indus­try or changes in our eco­nom­ic and social lives. In oth­er words, Biden bets the farm on what is fun­da­men­tal­ly unknown. We don't have time to keep wait­ing for future tech­nol­o­gy; we need to start act­ing imme­di­ate­ly to trans­form elec­tric­i­ty, trans­porta­tion, agri­cul­ture, man­u­fac­tur­ing and more.
Giv­ing fos­sil fuels a pass
One might argue I'm being unfair to Biden — research and inno­va­tion are only part of his plan to build a domes­tic clean-ener­gy econ­o­my. There are also calls for tax cred­its to incen­tivize clean ener­gy; a com­mit­ment to end fos­sil fuel sub­si­dies; and pro­posed exec­u­tive orders on reg­u­lat­ing methane emis­sions, improv­ing fuel effi­cien­cy stan­dards and cre­at­ing new nation­al parks. All of this, how­ev­er, has become stan­dard fare for Democ­rats: Biden per­haps deserves cred­it for shift­ing some with the times, but move­ments are to thank for trans­form­ing the debate, and oth­er lead­ing can­di­dates are as strong or stronger.
Crit­i­cal to Biden's plan is con­gres­sion­al action to cre­ate ​"an enforce­ment mech­a­nism to achieve the 2050 [100% net-zero emis­sions] goal, includ­ing a tar­get no lat­er than the end of his first term in 2025 to ensure we get to the fin­ish line." What is this enforce­ment mech­a­nism, and what is the tar­get? We don't know. For­mer Oba­ma advis­er Kel­ly Sims Gal­lagher told Earth­er that ​"Biden appar­ent­ly wants to give Con­gress the oppor­tu­ni­ty to shape this mech­a­nism." It could mean a car­bon tax, cap-and-trade or some oth­er pric­ing mechanism.
Again, giv­ing Con­gress a say is good. But the mys­tery mech­a­nism is rep­re­sen­ta­tive of the plan's broad­er lack of sub­stance, and sug­gests a lack of seri­ous­ness about tak­ing on the fos­sil fuel industry.
Com­pare Biden's pro­pos­al to the Ever­green Econ­o­my Plan of Wash­ing­ton Gov. Jay Inslee, who has cen­tered his entire pres­i­den­tial cam­paign around cli­mate change, and leads Greenpeace's score­card with an A‑minus grade. On his web­site, one is bom­bard­ed with pol­i­cy after pol­i­cy that the fed­er­al gov­ern­ment can con­crete­ly pur­sue. There are spe­cif­ic goals and sub­goals for spe­cif­ic time increments.
To be fair, not even Inslee quite meets the ambi­tion of the Green New Deal res­o­lu­tion: He's called for full decar­boniza­tion by 2045, 100% renew­able elec­tric­i­ty by 2035, and also stopped short of a jobs guar­an­tee. I hope oth­er can­di­dates go much fur­ther. But Inslee's pro­pos­al stands in stark con­trast to Biden's vague­ness. Biden's plan is full of sen­tences like, ​"Biden will com­mit that every infra­struc­ture invest­ment that receives fed­er­al fund­ing should reduce cli­mate pol­lu­tion, as much as pos­si­ble." Ques­tion­able gram­mar aside, that doesn't actu­al­ly mean any­thing — ​"as much as pos­si­ble" ren­ders it tooth­less. Dec­la­ra­tions like, ​"Work­ing with the insur­ance indus­try, the Biden Admin­is­tra­tion will iden­ti­fy ways to low­er prop­er­ty insur­ance pre­mi­ums," hard­ly inspire confidence.
Telling­ly, one of Biden's intend­ed ​"day one" exec­u­tive orders calls for reduc­ing methane emis­sions ​"for new and exist­ing oil and gas oper­a­tions"— O'Rourke's anal­o­gous plan only men­tions ​"exist­ing sources." The dis­tinc­tion could be innocu­ous, but one also won­ders whether this is a sub­tle assur­ance to indus­try: Under Pres­i­dent Biden, there will be new oil and gas development.
As Inslee put it on Tues­day, ​"My plan puts up stop signs, and I'm afraid that the vice president's plan does not."
Not a cli­mate leader
Biden's plan, to its cred­it, rec­og­nizes that any tru­ly effec­tive cli­mate strat­e­gy must be glob­al. Here he seems to favor the stick over the car­rot, propos­ing to ​"stop coun­tries from cheat­ing [on cli­mate com­mit­ments] by using America's eco­nom­ic lever­age and pow­er of exam­ple," and to ​"name and shame glob­al cli­mate out­laws." Unfor­tu­nate­ly, he doesn't rec­og­nize that the Unit­ed States has been one of these out­laws — even before Trump.
A whole sec­tion of the plan focus­es on how to pres­sure Chi­na, ​"far and away the largest emit­ter of car­bon in the world." There is no men­tion of the fact that the U.S. is sec­ond; or that cumu­la­tive­ly, we have emit­ted more than Chi­na; or that on a per capi­ta basis we still emit more than Chi­na; or that a good chunk of China's emis­sions go toward pro­duc­ing con­sumer goods for the U.S. and Europe. China's emis­sions are indeed a real prob­lem, but this is a case of the pot call­ing the ket­tle black.
Biden also calls on Chi­na to reduce its coal exports, point­ed­ly omit­ting that the Unit­ed States is a top oil and gas exporter, and calls on U.S. inter­na­tion­al finance insti­tu­tions such as the Export-Import Bank to stop invest­ing in coal-fired pow­er plants and ​"sig­nif­i­cant­ly reduce the car­bon foot­prints of their port­fo­lios." Yet under ​"the Oba­ma-Biden Admin­is­tra­tion," the Export-Import Bank spent $34 bil­lion financ­ing 70 fos­sil fuel projects around the globe. In a glob­al cli­mate plan released the fol­low­ing day by the Inslee cam­paign, the Wash­ing­ton gov­er­nor one-ups Biden, call­ing to end Export-Import Bank sup­port for all fos­sil fuel projects, not just coal.
Biden also calls for ​"enforce­able" inter­na­tion­al cli­mate com­mit­ments, ignor­ing that legal­ly bind­ing tar­gets are what the Oba­ma-Biden admin­is­tra­tion opposed at the Paris con­fer­ence (enforce­able com­mit­ments require Sen­ate approval, which was not an option in 2015).
Hypocrisy aside, per­haps the most omi­nous com­po­nent of the plan's inter­na­tion­al vision lies in a sub­tle fore­shad­ow­ing of what could become the next phase in the war on ter­ror: "[Cli­mate change] puts our nation­al secu­ri­ty at risk by lead­ing to region­al insta­bil­i­ty that will require U.S. mil­i­tary-sup­port­ed relief activ­i­ties. … Dete­ri­o­rat­ing eco­nom­ic con­di­tions in cli­mate-impact­ed areas could increase pira­cy and ter­ror­ist activ­i­ty, requir­ing a U.S. mil­i­tary response."
A just transition
Accord­ing to Reuters, Zichal hoped Biden's cli­mate plan would help bridge the gap between pro­gres­sive envi­ron­men­tal­ists and unions. So what does he offer labor that the Green New Deal doesn't?
Well, for one, the pos­si­ble con­tin­u­ance of the nat­ur­al gas or even coal indus­try through CCUS tech­nol­o­gy. Many unions do sup­port this as a way to keep fos­sil fuel jobs alive, and mem­bers of the AFL-CIO ener­gy com­mit­tee called for CCUS in a cri­tique of the Green New Deal (though the Green New Deal does not rule CCUS out). While under­stand­able, this posi­tion is ulti­mate­ly short-sight­ed: Giv­en the tech­nol­o­gy is still unproven, every moment we delay phas­ing out fos­sil fuels the even­tu­al effects of cli­mate change get more severe, dev­as­tat­ing impacts that by and large will hurt work­ers more than their boss­es. There is hard work to be done in ensur­ing the tran­si­tion for work­ers in dirty indus­tries is fair and equi­table, and that green jobs are union­ized and well-com­pen­sat­ed, but this is a fight we must embrace rather than postpone.
Biden's plan does rec­og­nize that the coun­try is shift­ing away from coal (thanks to ​"mar­ket­place com­pe­ti­tion"), and com­mits to fund­ing coal min­er pen­sions and healthcare.
It promis­es to ​"defend work­ers' rights to form unions and col­lec­tive­ly bar­gain in these emerg­ing and grow­ing indus­tries; pur­sue new part­ner­ships with com­mu­ni­ty col­leges, unions, and the pri­vate sec­tor to devel­op pro­grams to train all of America's work­force to tap into the grow­ing clean ener­gy econ­o­my; incor­po­rate skills train­ing into infra­struc­ture invest­ment plan­ning by engag­ing state and local com­mu­ni­ties; and rein­vig­o­rate and repur­pose Ameri­Corps for sus­tain­abil­i­ty, so that every Amer­i­can can par­tic­i­pate in the clean ener­gy economy."
He also calls for a Task Force on Coal and Pow­er Plant Com­mu­ni­ties, which would ​"help these com­mu­ni­ties access fed­er­al invest­ments and lever­age pri­vate sec­tor invest­ments to help cre­ate high-pay­ing union jobs based upon the unique assets of each com­mu­ni­ty, part­ner with unions and com­mu­ni­ty col­leges to cre­ate train­ing oppor­tu­ni­ties for these new jobs, repair infra­struc­ture, keep pub­lic employ­ees like fire­fight­ers and teach­ers on the pay­roll, and keep local hos­pi­tals open."
This is not noth­ing, but what's strik­ing is that the Green New Deal res­o­lu­tion already con­tains strength­ened labor pro­tec­tions, union jobs at a pre­vail­ing wage, and much of what Biden advo­cates—plus a jobs guar­an­tee. Writ­ing for In These Times, Jere­my Brech­er of the Labor Net­work for Sus­tain­abil­i­ty sug­gest­ed the Green New Deal could do even more, offer­ing work­ers dis­placed full wages and ben­e­fits for four years and no-cost train­ing and education.
But it's Biden's plan, where labor gets a few neb­u­lous promis­es toward the very end, that Zichal claims can bring union mem­bers into the cli­mate fight. It is a trag­ic irony that a plan osten­si­bly designed to appeal to orga­nized labor does less than the Green New Deal to actu­al­ly build work­er power.
In the end, Joe Biden's plan takes a few good ideas from oth­er cam­paigns but advances few new specifics, show­ing lit­tle inter­est in tak­ing on the fos­sil fuel indus­try (or, it must be said, in con­sis­tent punc­tu­a­tion and for­mat­ting). In the two areas where he most dis­tin­guish­es him­self from oth­er can­di­dates — his empha­sis on tech­no­log­i­cal research and inter­na­tion­al rela­tions — he shows him­self to be liv­ing in a fan­ta­sy world, where future inno­va­tions allow us to avoid dras­tic action and the Unit­ed States is some sort of glob­al cli­mate hero.
As a state­ment from Food and Water Watch's exec­u­tive direc­tor put it, ​"Joe Biden's cli­mate plan is a cob­bled-togeth­er assort­ment of weak emis­sions tar­gets and unproven tech­no­log­i­cal schemes that fail to ade­quate­ly address the depth and urgency of the cli­mate cri­sis we face. This plan can­not be con­sid­ered a seri­ous pro­pos­al to tack­le cli­mate change."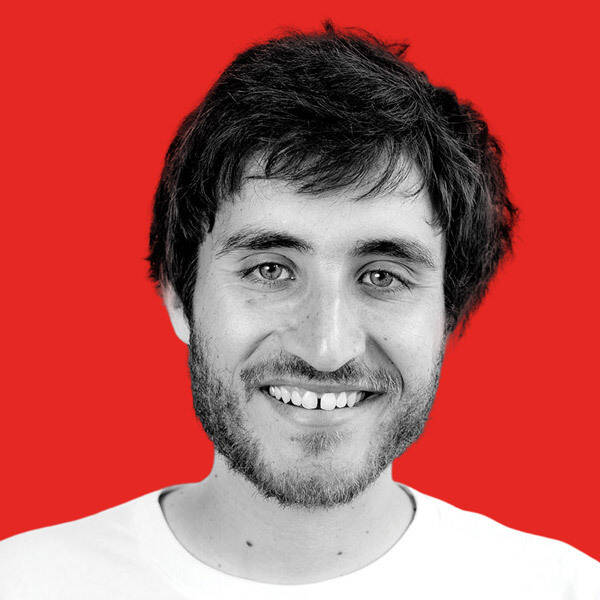 Day­ton Mar­tin­dale is a free­lance writer and for­mer asso­ciate edi­tor at In These Times. His work has also appeared in Boston Review, Earth Island Jour­nal, Har­bin­ger and The Next Sys­tem Project. Fol­low him on Twit­ter: @DaytonRMartind.