Biden Says He's the Workers' Candidate, But He Has Worked To Cut Medicare and Social Security
The universal retirement programs are Biden's go-to sacrificial lambs.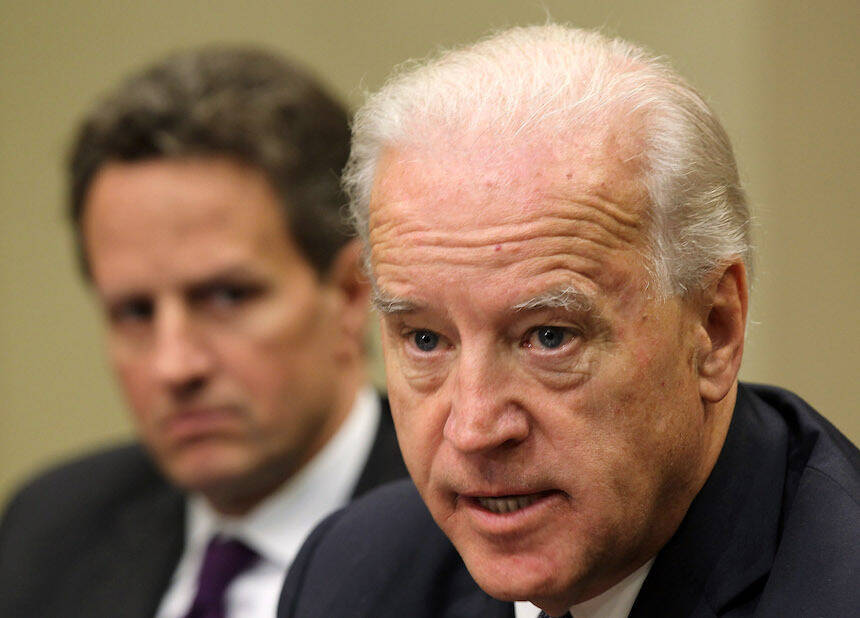 For­mer Vice Pres­i­dent Joe Biden, who offi­cial­ly announced his pres­i­den­tial cam­paign on Thurs­day, is posi­tion­ing him­self as the defend­er of the embat­tled work­ing class: giv­ing speech­es to union audi­ences, tap­ping orga­nized labor for ear­ly sup­port, walk­ing the Stop & Shop pick­et lines, and pair­ing his announce­ment with a report­ed­ly impend­ing endorse­ment from the Inter­na­tion­al Asso­ci­a­tion of Fire­fight­ers, who have pledged to help him raise money.
In a 2018 speech, Biden said, "Paul Ryan was correct when he did the tax code. What's the first thing he decided we needed to go after? Social Security and Medicare. We need to do something about Social Security and Medicare."
How­ev­er, an episode from the not-so-dis­tant past cuts against this ​"friend of the work­ing man" image: Biden's lead­ing role in the Oba­ma admin­is­tra­tion's 2011 efforts to slash the deficit by offer­ing Repub­li­cans spend­ing cuts to Medicare and Social Security.
At the time, the GOP had just fin­ished giv­ing then-Pres­i­dent Oba­ma a ​"shel­lack­ing" in the 2010 midterms, with a brand new major­i­ty in the House to show for it. Oba­ma was large­ly focused on three things: rais­ing the debt ceil­ing to avoid a loom­ing and poten­tial­ly cat­a­stroph­ic debt default; avoid­ing a gov­ern­ment shut­down; and reach­ing a ​"grand bar­gain" with Repub­li­cans over spend­ing, includ­ing to so-called enti­tle­ment pro­grams like Social Secu­ri­ty and Medicare that had long been in the crosshairs of the GOP and oth­er deficit hawks.
Oba­ma had been open about his plans to take on Social Secu­ri­ty and Medicare, pledg­ing to the staff of the Wash­ing­ton Post only a few days before his 2009 inau­gu­ra­tion that he would ​"spend some polit­i­cal cap­i­tal on this." He tasked Biden, a vet­er­an of con­gres­sion­al wheel­ing and deal­ing, with spear­head­ing negotiations.
Biden had an ambiva­lent rela­tion­ship with gov­ern­ment spend­ing. Con­sid­ered in the 1980s to be one of the Demo­c­ra­t­ic Par­ty's new ​"neolib­er­als," Biden called then for a spend­ing freeze on Social Secu­ri­ty and a high­er Social Secu­ri­ty retire­ment age. In 1995, he cast his vote for a bal­anced bud­get con­sti­tu­tion­al amend­ment, despite his ear­li­er crit­i­cisms of it. The choice was, he said, ​"an imper­fect amend­ment or con­tin­ued spend­ing." When he ran for pres­i­dent 12 years lat­er, he again called for the Social Secu­ri­ty retire­ment age to go up.
In jour­nal­ist Bob Wood­ward's 2012 book The Price of Pol­i­tics, he por­trays Biden dur­ing Obama's first term eager to sac­ri­fice Social Secu­ri­ty and Medicare for the sake of bipar­ti­san com­pro­mise and achiev­ing what would be, in the eyes of Wash­ing­ton, a polit­i­cal victory.
Biden first dis­played his friend­li­ness to GOP enti­tle­ment hawks when he appoint­ed for­mer Wyoming Sen. Alan Simp­son to co-chair the pres­i­den­t's Nation­al Com­mis­sion on Fis­cal Respon­si­bil­i­ty, cre­at­ed in Feb­ru­ary 2010 via exec­u­tive order. Simp­son was one of Con­gress's most high-pro­file foes of enti­tle­ments and a pro­po­nent of Social Secu­ri­ty pri­va­ti­za­tion. In Wood­ward's telling, Biden even had to light­ly pres­sure a some­what reluc­tant Simp­son to take the role.
Sure enough, the Simp­son-Bowles Com­mis­sion, as it came to be known, rec­om­mend­ed cuts to Medicare, Med­ic­aid and Social Secu­ri­ty, lead­ing lib­er­al econ­o­mist Paul Krug­man to label the com­mis­sion ​"ter­ri­ble." Fail­ing to secure enough votes from the com­mis­sion to rec­om­mend the plan to Con­gress, the pro­pos­als were nev­er tak­en up.
But Biden took a far more direct role in under­min­ing Social Secu­ri­ty and Medicare when he head­ed tax pol­i­cy nego­ti­a­tions with Sen­ate Minor­i­ty Leader Mitch McConnell in Decem­ber 2010. In Wood­ward's telling, Biden's eager­ness to cut a deal with the Repub­li­cans some­times elicit­ed out­rage from his fel­low Democ­rats, who felt he was giv­ing too much away.
An Oba­ma pri­or­i­ty was to end the Bush tax cuts on top earn­ers. Woodard reports that, to achieve this, Biden's team at one point con­sid­ered drop­ping the poor­est cit­i­zens — any­one who didn't pay income tax­es — from the Oba­ma stim­u­lus pay­ments of $400 a year. Econ­o­mist Gene Sper­ling, then a coun­selor to Trea­sury Sec­re­tary Tim­o­thy Gei­th­n­er, strong­ly object­ed, call­ing the idea ​"immoral." At Sperling's urg­ing, Biden's team instead pro­posed a hol­i­day for pay­roll tax­es, which are used to fund Social Secu­ri­ty and Medicare.
The final deal extend­ed the Bush tax cuts, cut pay­roll tax­es by $112 bil­lion and met a host of oth­er Repub­li­can demands: a low­er estate tax with a high­er exemp­tion, new tax write-offs for busi­ness­es, and a max­i­mum 15 per­cent cap­i­tal gains tax rate locked in for two years. In return, unem­ploy­ment insur­ance was extend­ed for 13 months and the Oppor­tu­ni­ty Tax Cred­it for two years.
House Democ­rats were furi­ous at both the estate tax pro­vi­sion and the Bush tax cut exten­sion, part­ly because, accord­ing to Wood­ward, Biden had failed to men­tion the exten­sion was on the table when he briefed Demo­c­ra­t­ic lead­ers dur­ing the talks. Even con­ser­v­a­tive Democ­rats like House Whip Ste­ny Hoy­er had strong­ly opposed the exten­sion, and the deal drew con­ster­na­tion from across the par­ty. Dianne Fein­stein balked at its size, and Bernie Sanders and two oth­er sen­a­tors inter­rupt­ed Biden's pre­sen­ta­tion of the pack­age. Sanders lat­er vowed to ​"do every­thing I can to defeat this pro­pos­al," includ­ing fil­i­buster it. How­ev­er, enough Democ­rats even­tu­al­ly capit­u­lat­ed, with some grum­bling, for the deal to pass, over­com­ing an eight-hour fil­i­buster by Sanders.
Biden sub­se­quent­ly led the debt nego­ti­a­tions with then-House Major­i­ty Leader Eric Can­tor, Sen. Jon Kyl and oth­er Repub­li­cans. Biden's ​"open­ing bid" was cut­ting $4 tril­lion in spend­ing over ten years, with a 3 to 1 pro­por­tion of cuts to rev­enue. Biden lat­er pro­posed $2 tril­lion in cuts to gen­er­al spend­ing, fed­er­al retire­ment funds, Medicare and Med­ic­aid, and, at Can­tor's urg­ing, food stamps.
At one point, Biden sud­den­ly called for $200 bil­lion more in cuts that had nev­er been dis­cussed, which, accord­ing to Wood­ward, led then-Mary­land Rep. Chris Van Hollen — also involved in the nego­ti­a­tions — to believe Biden had gone over to the Can­tor-Kyl side. Biden again crossed Van Hollen when he offered to take rev­enue-rais­ing out of the ​"trig­ger" — a com­bi­na­tion of rev­enue rais­ing and spend­ing cuts meant to be equal­ly unpalat­able to both par­ties, which would auto­mat­i­cal­ly kick in if a deal failed to be reached.
Lat­er in the nego­ti­a­tions, Biden dan­gled the pos­si­bil­i­ty of Medicare cuts in return for more rev­enue — mean­ing high­er tax­es. Soon after, he sug­gest­ed Democ­rats might be com­fort­able rais­ing the eli­gi­bil­i­ty age for enti­tle­ments, impos­ing means test­ing and chang­ing the con­sumer price index cal­cu­la­tion, known as CPI. (Means test­ing is often seen a Tro­jan horse for chip­ping away at these pro­grams, because their uni­ver­sal­i­ty is one of the rea­sons they've remained vir­tu­al­ly untouch­able for almost a cen­tu­ry. It's also been crit­i­cized for impos­ing an unnec­es­sary and dis­cour­ag­ing lay­er of bureaucracy.)
At one point, Biden report­ed­ly called the Medicare provider tax a ​"scam." ​"For a moment, Biden sound­ed like a Repub­li­can," Wood­ward notes. Biden's team was forced to remind him that such a move would force states to cut ser­vices to the poor, to which he replied, ​"We're going to do lots of hard things," and so ​"we might as well do this."
As Wood­ward writes, ​"this was a huge deal" for Can­tor ("Biden had caved"), and showed the admin­is­tra­tion had adopt­ed the Repub­li­can view on the mat­ter of the Medicare provider tax. Despite this give­away, the Repub­li­cans con­tin­ued their stub­born oppo­si­tion to any rev­enue increas­es in the pro­posed deal.
The nego­ti­a­tions were ulti­mate­ly scut­tled by Can­tor, after Biden inad­ver­tent­ly revealed to him that then-Speak­er of the House John Boehn­er was secret­ly hold­ing his own ​"grand bar­gain" talks with Oba­ma. But the Biden por­trayed in Wood­ward's book con­tin­ued this pat­tern of bend­ing over back­wards to achieve the Repub­li­cans' coop­er­a­tion in sub­se­quent negotiations.
When Oba­ma lat­er in 2011 put for­ward what he called the ​"big deal" — $4 tril­lion in deficit reduc­tion, name­ly through ​"bend[ing] the cost curve" of Medicare, Med­ic­aid, and pos­si­bly even Social Secu­ri­ty — Biden insist­ed to Repub­li­cans this approach was the best way for­ward on cut­ting spend­ing. Accord­ing to Woodward's account, Biden lat­er appeared to offer Boehn­er a deal of one dol­lar cut from Medicare and Med­ic­aid for every dol­lar of revenue.
Months into the nego­ti­a­tions with recal­ci­trant Repub­li­cans, Biden admit­ted that he and the admin­is­tra­tion had giv­en away every­thing in their attempt to strike the ​"grand bargain."
"We've giv­en up on rev­enues, we've giv­en on dol­lar for dol­lar," Wood­ward quotes Biden telling McConnell. ​"All the major things we're inter­est­ed in we've giv­en up. So basi­cal­ly you've pushed us to the limit."
Iron­i­cal­ly, the fact that the ​"grand bar­gain" nev­er hap­pened — and that the Oba­ma admin­is­tra­tion failed to team up with Repub­li­cans to cut Social Secu­ri­ty and Medicare — was a result of a stub­born GOP's refusal to give ground on just about any issue.
Yet there are indi­ca­tions that anoth­er ​"grand bar­gain" may be in the cards should Biden win the pres­i­den­cy. In a speech last year at a joint event held by the Brook­ings Insti­tu­tion and the Biden Foun­da­tion, Biden said, ​"Paul Ryan was cor­rect when he did the tax code. What's the first thing he decid­ed we need­ed to go after? Social Secu­ri­ty and Medicare. We need to do some­thing about Social Secu­ri­ty and Medicare." At the event, Biden sug­gest­ed the pro­grams should be means test­ed, and would require ​"adjust­ments."
Biden's will­ing­ness to go after the last rem­nants of the New Deal may well win him points from the polit­i­cal estab­lish­ment, which has long treat­ed such an approach as a mark of seri­ous­ness. Whether it wins him points among vot­ers, who are over­whelm­ing­ly sup­port­ive of such pro­grams, is anoth­er sto­ry altogether.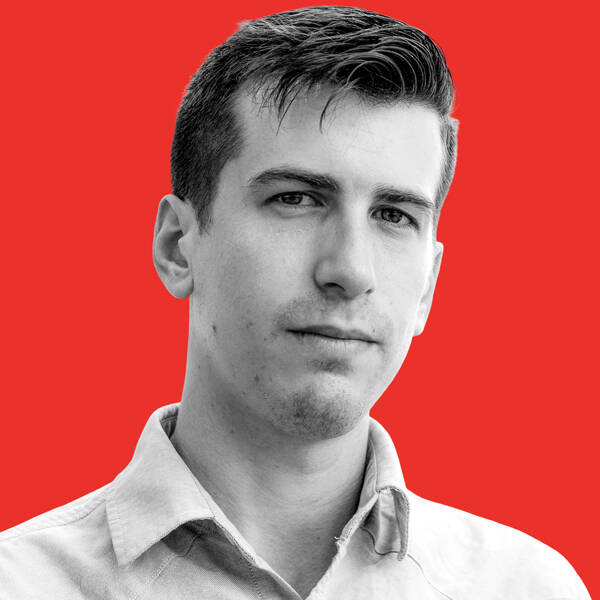 Branko Marcetic
is a staff writer at Jacobin mag­a­zine and a
2019
 – 
2020
Leonard C. Good­man Insti­tute for Inves­tiga­tive Report­ing fel­low. He is work­ing on a forth­com­ing book about Joe Biden.