Joe Biden Is Railing Against Hedge Fund Managers, But He Has a Long History of Courting Them
Biden may cast himself as the champion of working people, but he's seeking support from the same financial elite that he chides on the 2020 campaign trail.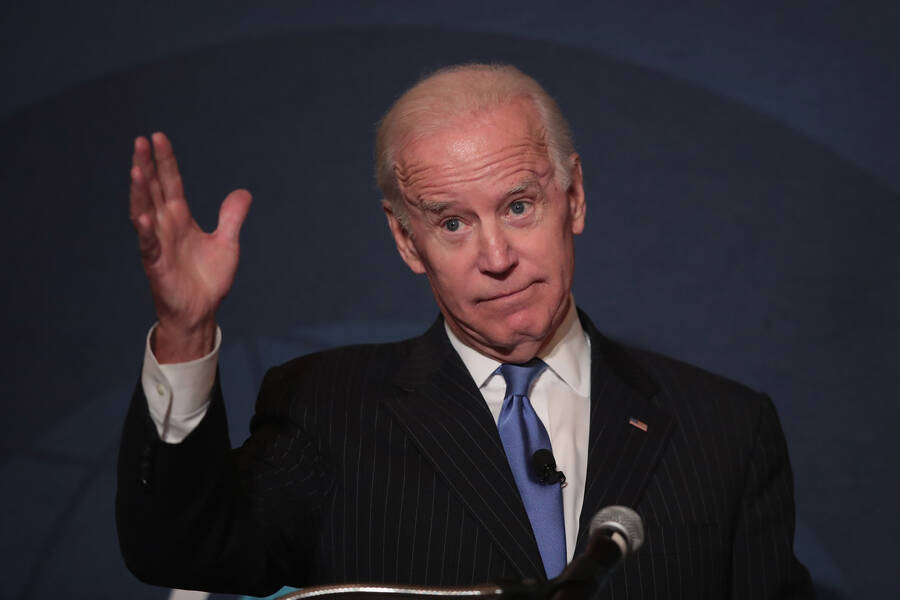 "The coun­try was­n't built by Wall Street bankers, CEOs and hedge fund man­agers," Joe Biden told a crowd at a Mon­day cam­paign ral­ly held in a Team­sters hall, his first appear­ance as an offi­cial 2020 candidate.
The first time Biden publicly opened the door to a possible 2020 run, he was standing among figures from the hedge fund industry.
This is like­ly a dif­fer­ent mes­sage than what Biden has been send­ing to hedge fund man­agers them­selves, whom he has spent the two years lead­ing up to his announce­ment aggres­sive­ly court­ing. These titans of finance cap­i­tal have also been among Biden's ear­ly supporters.
In fact, the first time Biden pub­licly opened the door to a pos­si­ble 2020 run, he was stand­ing among fig­ures from the hedge fund indus­try. After months of flat out denials, Biden first admit­ted he ​"may very well do it" at the Sky­bridge Alter­na­tives (SALT) Con­fer­ence in May 2017, where he appeared as a keynote speak­er. SALT is an annu­al con­fer­ence bring­ing togeth­er hedge funds in Las Vegas orga­nized and run by Antho­ny Scara­muc­ci, the hedge fund oper­a­tor who briefly served as Pres­i­dent Trump's White House com­mu­ni­ca­tions direc­tor in 2017. While Biden is not list­ed as a speak­er for this year's SALT, his pic­ture is still fea­tured promi­nent­ly on the front page of its website.
Atten­dees at the 2017 con­fer­ence includ­ed bil­lion­aire investor Sam Zell, The Car­lyle Group co-founder and Co-Exec­u­tive Chair­man David Ruben­stein, hedge fund man­ag­er James Chanos, Mil­wau­kee Bucks co-own­er and Avenue Cap­i­tal Group co-founder Marc Las­ry, as well as a host of celebri­ties and polit­i­cal fig­ures such as Karl Rove and Don­na Brazile. Much of the cov­er­age of the event at the time focused on Biden's teased pres­i­den­tial run and his testy, pos­si­bly mis­re­port­ed exchange with bil­lion­aire hedge fund man­ag­er Bill Ack­man. But Biden was well-received at the event, receiv­ing a stand­ing ova­tion from the 2,000-strong crowd of Wall Street bigwigs.
Biden's speech report­ed­ly paint­ed an image of the kind of uni­fied, coop­er­a­tive Amer­i­can poli­ty that tends to ani­mate his world­view, one where com­pet­ing inter­ests work togeth­er and the coun­try func­tions more as a sin­gu­lar team than one marked by class divi­sions. The Unit­ed States had a pletho­ra of research uni­ver­si­ties and the ​"most nim­ble" ven­ture cap­i­tal­ists, he told the gath­er­ing. And while hoard­ing their wealth wouldn't enrich the econ­o­my, he said, invest­ing in edu­ca­tion and oth­er pub­lic goods would.
This wasn't the only time Biden spoke along­side such an ultra-wealthy crowd that year. At an event at the Uni­ver­si­ty of Delaware in April 2017 to pro­mote his Biden Insti­tute—which describes itself as a ​"a research and pol­i­cy cen­ter" aim­ing to ​"influ­ence, shape, and work to solve the most press­ing domes­tic pol­i­cy prob­lems fac­ing Amer­i­ca" — Biden con­vened a pan­el called ​"Win-Win: How the Long View Works for Busi­ness and the Mid­dle Class." At the pan­el, Biden was joined by var­i­ous cor­po­rate exec­u­tives and fig­ures from the invest­ment indus­try. He kicked things off by expound­ing on the virtues of a strong mid­dle class, whose fate, he said, depend­ed on ​"what com­pa­nies decide to do with their prof­its": invest them in ​"research, train­ing, equip­ment" or plow them back into ​"share­hold­er payout."
The eight-mem­ber pan­el—con­sist­ing of Biden, var­i­ous cor­po­rate exec­u­tives and two uni­ver­si­ty asso­ciates — was crit­i­cal of both cor­po­rate Amer­i­ca, which they argued was dri­ven to short-term think­ing by fear of poor quar­ter­ly per­for­mance, and of hedge fund man­agers who pushed exec­u­tives into such behavior.
Yet sev­er­al of these pan­elists were them­selves mem­bers of the hedge fund world: Carsten Sten­de­vad of Bridge­wa­ter Asso­ciates, which recent­ly topped the list of the world's biggest and most prof­itable hedge funds; Sarah Williamson, a for­mer part­ner and 21-year vet­er­an of hedge fund man­ag­er Welling­ton Man­age­ment Co. who sat on its Hedge Fund Over­sight Com­mit­tee; Charles Elson, a finance pro­fes­sor at the uni­ver­si­ty who just months before was nom­i­nat­ed to run a hedge fund; and Mark Wise­man, the Glob­al Head of Active Equi­ty at Black­Rock, the world's largest asset man­ag­er with bil­lions of dol­lars invest­ed in hedge funds, in which the firm is increas­ing investment.
The fol­low­ing year, Biden looked part­ly to the hedge fund world to fill out his insti­tute's Pol­i­cy Advi­so­ry Board, adding for­mer hedge fund boss and major Oba­ma bundler Eric Mindich as well as a num­ber of employ­ees and vet­er­ans of firms such as Black­Rock, Mor­gan Stan­ley and JP Mor­gan Chase. The Advi­so­ry Board's mis­sion involved draft­ing ​"a set of new pol­i­cy ideas to make sure Amer­i­cans are able to obtain qual­i­ty jobs that will grow the mid­dle class and our econ­o­my." Mindich, for his part, has also promised to help Biden raise mon­ey for his cur­rent campaign.
Such events con­tin­ued into 2018. Ear­ly that year, Biden report­ed­ly attend­ed a fundrais­er at the home of Laeti­tia Gar­riott de Cayeux, a career-long hedge fund exec­u­tive, and was the spe­cial guest at a $10,000 per per­son din­ner for House Democ­rats at the afore­men­tioned James Chanos' home. Chanos, a bil­lion­aire who made his for­tune by bet­ting on the fall in val­ue of com­pa­ny stocks, has said Biden would ​"make a great pres­i­dent" and ​"hits a chord with the mid­dle class," pledg­ing to ​"sup­port him any way I can."
Mean­while, Flori­da bil­lion­aire Mar­sha Laufer, whose hus­band Hen­ry served as an exec­u­tive at the $57 bil­lion hedge fund Renais­sance Tech­nolo­gies, had kind words for Biden before he joined the race, say­ing he rep­re­sents ​"sta­bil­i­ty of gov­ern­ment, truth and val­ues in a tra­di­tion­al sense that peo­ple are long­ing for," while express­ing fear about the Democ­rats' left­ward shift.
It appears Biden may be return­ing to this well even after tak­ing a rhetor­i­cal jab at ​"Wall Street bankers, CEOs and hedge fund man­agers." Some of those slat­ed to attend an LA fundrais­er for Biden next month include: Richard Blum, hedge fund man­ag­er, pri­vate equi­ty investor and hus­band of Cal­i­for­nia Sen. Dianne Fein­stein; James Cos­tos, board mem­ber of PJT Part­ners Inc.; and Martha Karsh, whose hus­band, Bruce, co-found­ed pri­vate equi­ty firm Oak­tree Capital.
Biden's close­ness to the indus­try is noth­ing new. A 2015 let­ter signed by near­ly 50 Demo­c­ra­t­ic Par­ty donors and activists urg­ing Biden to run for pres­i­dent the fol­low­ing year fea­tured long­time hedge fund man­ag­er Jim Tor­rey as well as oth­er finance exec­u­tives. Biden's 2008 pres­i­den­tial cam­paign was fined $219,000 by the FEC part­ly because three mem­bers of the cam­paign took a flight on a pri­vate jet owned by the Clin­ton Group, a New York-based hedge fund. And Biden's son Hunter was pre­vi­ous­ly chair­man of Par­a­digm, a now-defunct fund of hedge funds he ran along­side Biden's broth­er, James.
Along­side this rela­tion­ship to hedge funds, Biden has been heav­i­ly court­ing labor union sup­port for his pres­i­den­tial run. He opened his cam­paign with an endorse­ment from the Inter­na­tion­al Asso­ci­a­tion of Fire Fight­ers, has spo­ken in union halls and in front of union audi­ences in the lead up to his run (includ­ing on the day he announced), and recent­ly said that ​"I make no apolo­gies — I am a union man." This is despite union antipa­thy toward hedge funds, which have a his­to­ry of deplet­ing pen­sion funds through poor per­for­mance and exor­bi­tant fees.
These events sug­gest the con­tours of what Biden's cam­paign and poten­tial gov­ern­ing style may look like. Biden will like­ly con­tin­ue seek­ing the sup­port of unions while play­ing up his work­ing-class, Scran­ton roots in pub­lic speech­es, while qui­et­ly court­ing hedge fund man­agers and oth­er cor­po­rate and Wall Street exec­u­tives for funding.
Mean­while, unlike Bernie Sanders, one of his chief rivals for the Demo­c­ra­t­ic nom­i­na­tion who frames the rela­tion­ship between cor­po­rate Amer­i­ca and work­ing peo­ple as antag­o­nis­tic, these episodes sug­gest Biden sees this rela­tion­ship as a fun­da­men­tal­ly coop­er­a­tive one.
As Biden said at the Brook­ings Insti­tu­tion in May 2018, ​"I'm not Bernie Sanders. I don't think 500 bil­lion­aires are the rea­son why we're in trou­ble." He went on to say, ​"The folks at the top are not bad guys… wealthy Amer­i­cans are just as patri­ot­ic as poor folks."
In this view, Wall Street and cor­po­rate exec­u­tives serve as key stake­hold­ers who must help shape gov­ern­ment pol­i­cy, with Biden act­ing as a kind of bro­ker between them and the rest of the pub­lic. It's an approach not dis­sim­i­lar from that tak­en by pre­vi­ous Demo­c­ra­t­ic pres­i­dents in the post-Rea­gan era.
But can such a coali­tion of the work­ing class and ultra-rich exec­u­tives hold togeth­er through­out the cam­paign, par­tic­u­lar­ly at a time of pop­ulist anger and his­toric wealth inequal­i­ty? With a dan­ger­ous bil­lion­aire real estate mogul in the White House, that's one risky proposition.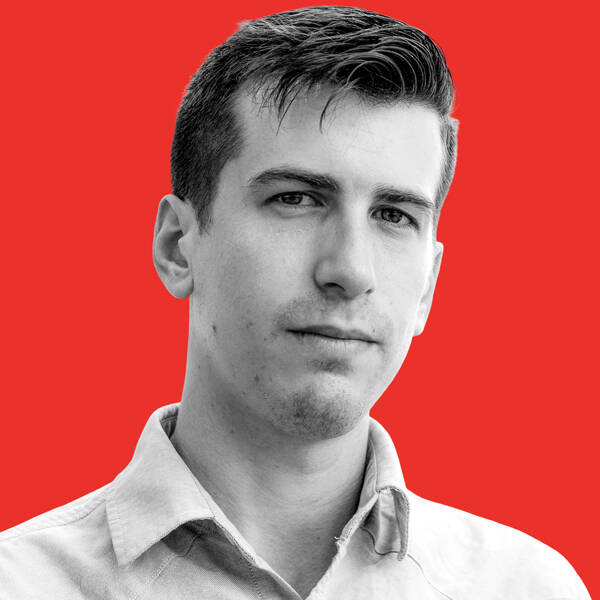 Branko Marcetic
is a staff writer at Jacobin mag­a­zine and a
2019
 – 
2020
Leonard C. Good­man Insti­tute for Inves­tiga­tive Report­ing fel­low. He is work­ing on a forth­com­ing book about Joe Biden.