Joe Biden Lied His Face Off About the Iraq War
Our score for Biden's debate performance: 8 million pinocchios.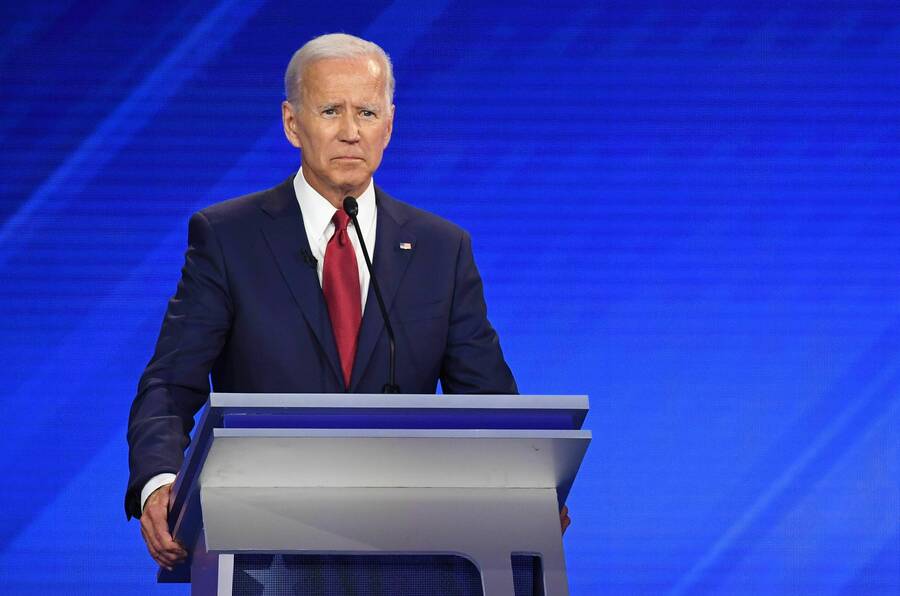 Thurs­day night's Demo­c­ra­t­ic debate fea­tured anoth­er attempt by Joe Biden to rewrite his record on the Iraq War.
Biden rolled out a famil­iar ratio­nal­iza­tion for vot­ing to autho­rize the war in Iraq — what would become the most dis­as­trous for­eign pol­i­cy ven­ture of the 21st Cen­tu­ry. ​"I should have nev­er vot­ed to give Bush the author­i­ty to go in and do what he said he was going to do," Biden admit­ted, before stress­ing that he had believed Bush's claim that the pres­i­dent need­ed the war autho­riza­tion to have the lever­age to send weapons inspec­tors into Iraq.
Biden then attempt­ed to deal with con­tro­ver­sy stem­ming from com­ments he made to NPR in ear­ly Sep­tem­ber, in which he claimed: ​"that moment it start­ed, I came out against the war at that moment." As I doc­u­ment­ed for In These Times in July, Biden, in fact, remained a sup­port­er of the war effort long after it began.
At Thursday's debate, Biden attempt­ed to clarify:
"I said — from that point on — what I was argued against in the begin­ning, once he start­ed to put the troops in, was that in fact we were doing it the wrong way; there was no plan; we should not be engaged; we did­n't have the peo­ple with us; we did­n't have our — we did­n't have allies with us, et cetera."
All of these state­ments are mis­lead­ing in dif­fer­ent ways. And while Bernie Sanders did use the oppor­tu­ni­ty to draw a con­trast between him­self and Biden, point­ing out that he'd vot­ed against the war because he had ​"nev­er believed what Cheney and Bush said about Iraq," Sanders' crit­i­cism con­tin­ued to let Biden off the hook when it comes to the full his­to­ry of his record.
For one, Biden con­tin­ues to wrong­ly boil down his role in the Iraq War to his 2002 vote for the war autho­riza­tion. As I report­ed for In These Times, Biden was a cen­tral fig­ure in lead­ing the march to war.
As chair­man of the pow­er­ful Sen­ate For­eign Rela­tions Com­mit­tee, Biden was an influ­en­tial Demo­c­ra­t­ic voice large­ly back­ing Pres­i­dent George W. Bush's calls for régime change in Iraq. As ear­ly as Feb­ru­ary 2002, Biden was telling crowds that ​"if Sad­dam Hus­sein is still there five years from now, we are in big trou­ble," that ​"it would be unre­al­is­tic … to believe we can claim vic­to­ry in the war on ter­ror­ism if Sad­dam is still in pow­er," and that ​"dia­logue with Sad­dam is useless."
That July, Biden told ​"Fox News Sun­day" that if the admin­is­tra­tion could prove Sad­dam and al-Qae­da were in cahoots, it would jus­ti­fy a pre-emp­tive war. While a link between the two was fic­tion, this claim formed a key ele­ment of the Bush administration's case for war.
That month, Biden held con­gres­sion­al hear­ings on the sub­ject of invad­ing Iraq. Despite reports that top mil­i­tary brass was uneasy about Bush's push for war, Biden stacked the hear­ings with pro-war voic­es, and opened pro­ceed­ings by warn­ing that weapons of mass destruc­tion ​"must be dis­lodged from Sad­dam, or Sad­dam must be dis­lodged from pow­er." For­mer UN chief weapons inspec­tor Scott Rit­ter, who, along with oth­er experts crit­i­cal of the administration's war nar­ra­tive, wasn't invit­ed to tes­ti­fy, warned that ​"Biden's open embrace of régime removal in Bagh­dad" could turn the hear­ings into ​"polit­i­cal cov­er" for war.
"We have no choice but to elim­i­nate the threat," Biden lat­er told ​"Meet the Press" of Sad­dam Hus­sein, cit­ing the pro-war tes­ti­mo­ny he had arranged.
These snap­shots illus­trate Biden's lead­ing role in sell­ing the war to the U.S. pub­lic. But they also demon­strate he was well aware the Bush admin­is­tra­tion wasn't sim­ply plan­ning to send inspec­tors into Iraq, but rather was set on invading.
If Biden tru­ly believed that his vote in Octo­ber 2002 wasn't meant to pave the way for war, he like­ly wouldn't have embarked on a world tour two months lat­er that involved meet­ing an Iraqi resis­tance leader in Ger­many, talk­ing to the King of Jor­dan, and mak­ing pit stops in Israel and Qatar. Nor would he have spo­ken to the Kurd Par­lia­ment in Kur­dish-con­trolled North­ern Iraq, telling Saddam's bit­ter ene­mies that the Unit­ed States would ​"stand with you in your effort to build a unit­ed Iraq."
Nor does Biden's descrip­tion of his actions after the war began tell the full sto­ry. It's true that Biden fre­quent­ly crit­i­cized Bush for the way the war was con­duct­ed. But Biden was also one of the increas­ing­ly lone­ly Demo­c­ra­t­ic voic­es insist­ing that war had been the right deci­sion all along, despite Bush's bungling of its prosecution.
In June 2003, Biden told ​"Fox News Sun­day" host Tony Snow that ​"it was a just war." The next month he said he'd ​"vote to do it again" and gave remarks to the Brook­ings Insti­tu­tion in which he charged that ​"any­one who can't acknowl­edge that the world is bet­ter off with­out [Sad­dam] is out of touch." In August, he called for send­ing 20,000−50,000 more U.S. troops to Iraq. And in a Sep­tem­ber speech to the Nation­al Press Club, he crit­i­cized ​"the knee-jerk mul­ti­lat­er­al­ists in my own par­ty who have not yet faced the real­i­ty of the post‑9/​11 world." The list goes on.
The U.S. pub­lic must make sure the per­son they select to be pres­i­dent not only demon­strates wis­dom, but also won't be swept away in a tidal wave of pro-war fer­vor. By allow­ing Biden to mis­lead vot­ers on his Iraq War record, his rivals (and the debate mod­er­a­tors) are doing a dis­ser­vice to the Amer­i­can public.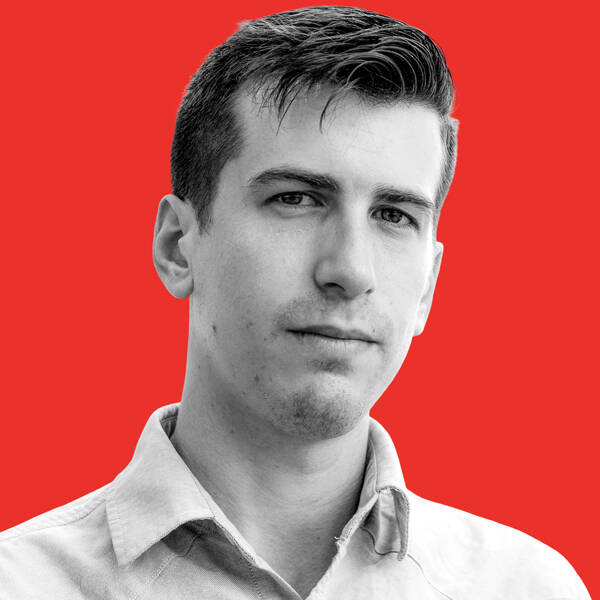 Branko Marcetic
is a staff writer at Jacobin mag­a­zine and a
2019
 – 
2020
Leonard C. Good­man Insti­tute for Inves­tiga­tive Report­ing fel­low. He is work­ing on a forth­com­ing book about Joe Biden.