Want to Push Biden Left? Focus on These Appointments.
Appointments will have a major impact on whether a potential Biden administration delivers on progressive policies. Here's what the Left should push for now.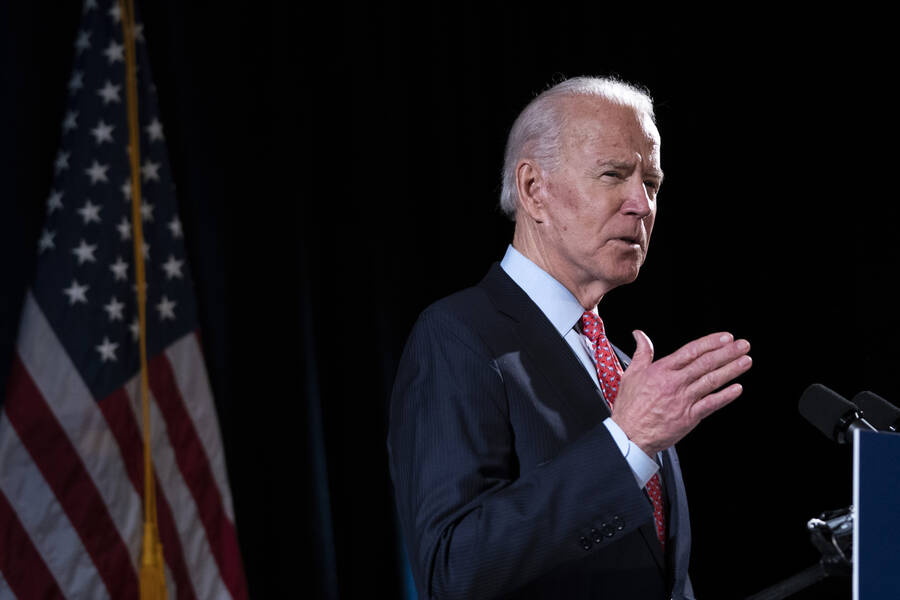 When Sen. Bernie Sanders end­ed his pres­i­den­tial cam­paign in April, he assured his sup­port­ers that ​"the strug­gle con­tin­ues." And he's right. In the com­ing weeks and months, the strug­gle will con­tin­ue in the streets (although per­haps in cars for the time being), at the bal­lot box, in work­places, and in our efforts to care for each oth­er in these bleak times.
Depending on their priorities, appointees may help or hurt working people—and pad or undercut corporate profits.
Impor­tant­ly, although per­haps less obvi­ous­ly, in the near term the U.S. Left must also work to influ­ence the com­po­si­tion of a poten­tial Joe Biden admin­is­tra­tion. With Biden the pre­sump­tive Demo­c­ra­t­ic nom­i­nee, the peo­ple he empow­ers will help to shape — for bet­ter or for worse — the con­di­tions under which the Left orga­nizes for struc­tur­al trans­for­ma­tion. With that real­i­ty in mind, in the com­ing months, shut­ting out worst-case appointees and ele­vat­ing best-case ones should — along with remov­ing Pres­i­dent Trump — be a top priority.
With Sanders out of the race, many pro­gres­sives are being forced to think through how, or if, Biden can be made a more palat­able can­di­date. If 2016 is any guide, there will be many efforts to move Biden left­wards on pol­i­cy by, for exam­ple, push­ing him to sup­port Medicare for All or the Green New Deal.
Yet such efforts alone will not be enough to achieve the kind of bold change Sanders sup­port­ers are hop­ing to see. As pres­i­dent, Biden would have lim­it­ed pow­er to pass any leg­is­la­tion, cen­trist or oth­er­wise. Even if it's pos­si­ble to push him to a ​"yes" on Medicare for All — a change that does not appear like­ly — it would be easy for him to let that com­mit­ment fall by the way­side in the face of con­gres­sion­al intransigence.
This is, of course, not to sug­gest the Left stop push­ing on health­care and oth­er issues, or oth­er­wise lim­it its ambi­tions. Those efforts are more like­ly to be suc­cess­ful, how­ev­er, if we tai­lor our demands to match our tar­gets' actu­al powers.
So as groups fight fero­cious­ly for leg­is­la­tors to sup­port poli­cies like Medicare for All and the Green New Deal, they should con­sid­er that pres­i­dents have lim­it­ed pow­er over the leg­isla­tive process. The exec­u­tive is, instead, tasked with car­ry­ing out the laws that Con­gress has writ­ten. While that may sound mun­dane, it offers sig­nif­i­cant lat­i­tude in both the domes­tic and inter­na­tion­al are­nas. Just look, for exam­ple, at what Pres­i­dent Trump has been able to ​"accom­plish" — and in the case of his Hur­ri­cane Maria and COVID-19 respons­es, ruin — with­out legislation.
Help­ing the pres­i­dent with this task are thou­sands of polit­i­cal appointees sta­tioned across the fed­er­al gov­ern­ment. These indi­vid­u­als inter­pret, admin­is­ter and enforce the law. And they do so with con­sid­er­able dis­cre­tion, as the pres­i­dent and inner cir­cle can­not pos­si­bly keep up with every key deci­sion. Depend­ing on their pri­or­i­ties, appointees may help or hurt work­ing peo­ple — and pad or under­cut cor­po­rate prof­its and wealthy people's wallets.
It should come as no sur­prise that recent admin­is­tra­tions have favored the lat­ter set of inter­ests. Pres­i­dents of both par­ties have tend­ed to sur­round them­selves with their friends and bene­fac­tors, often peo­ple with lit­tle to no under­stand­ing of work­ing people's dai­ly strug­gles. Those fig­ures, through legal inter­pre­ta­tion and admin­is­tra­tion, have tend­ed to make imper­fect laws even worse in real­i­ty than they are on paper.
Con­sid­er, for exam­ple, the Oba­ma administration's dis­as­trous han­dling of the hous­ing cri­sis. Numer­ous gov­ern­ment bod­ies, includ­ing the Depart­ments of the Trea­sury, Hous­ing and Urban Devel­op­ment, and Jus­tice, plus the Nation­al Eco­nom­ic Coun­cil, were tasked with admin­is­ter­ing or over­see­ing var­i­ous aspects of hous­ing pol­i­cy. The fig­ures at the tops of those agen­cies—Tim­o­thy Gei­th­n­er, Shaun Dono­van, Eric Hold­er, and Lar­ry Sum­mers respec­tive­ly — could have used this pow­er to keep mil­lions more peo­ple in their homes. Instead, they turned the oth­er cheek or, in some cas­es, active­ly abet­ted Wall Street's fur­ther takeover of our econ­o­my which result­ed in mil­lions fac­ing fore­clo­sure or eviction.
Of course, even the most pub­lic-mind­ed appointees could not have ful­ly addressed the con­se­quences of the finan­cial cri­sis, nor fixed all the prob­lems that led to the melt­down in the first place. But bet­ter appointees could have improved people's lives in impor­tant ways, first and fore­most by help­ing keep them in their homes and out of bankruptcy.
With­out out­side pres­sure, Biden seems like­ly to repeat these same mis­takes. His list of cam­paign fundrais­ers, advis­ers and donors is replete with cor­po­rate exec­u­tives and indi­vid­u­als in the phar­ma­ceu­ti­cal, ener­gy, pri­vate equi­ty, real estate, and bank­ing indus­tries (among many oth­ers). If ele­vat­ed to posi­tions of pow­er in the exec­u­tive branch, these fig­ures are sure to pri­or­i­tize pri­vate prof­it over the pub­lic good. The Left can­not cede such crit­i­cal ter­rain to these actors with­out a fight, even if such a vic­to­ry rep­re­sents only a small bat­tle in the broad­er fight for fun­da­men­tal change.
This isn't mere­ly a defen­sive play. Rather, pro­gres­sives should think seri­ous­ly about the good that the right peo­ple in the right posi­tions could do — and which fig­ures will be open and respon­sive to out­side advocacy.
Think, for exam­ple, about what it would mean for the mil­lions of peo­ple who cur­rent­ly strug­gle with the bur­den of stu­dent loan debt to be freed of it. The next Sec­re­tary of Edu­ca­tion could make it hap­pen but would have to be will­ing to weath­er sig­nif­i­cant resis­tance. Amer­i­can Fed­er­a­tion of Teach­ers Pres­i­dent Ran­di Wein­garten endorsed Eliz­a­beth Warren's plan, which would can­cel up to $50,000 of debt for 95% of stu­dent loan bor­row­ers, and co could be a promis­ing can­di­date when it comes to that issue.
And while it may pale in com­par­i­son to the ben­e­fits of Medicare for All, low­er­ing pre­scrip­tion drug prices would be a mean­ing­ful improve­ment for count­less Amer­i­cans in the near term. A moti­vat­ed Sec­re­tary of Health and Human Ser­vices who is com­mit­ted to advanc­ing the pub­lic inter­est, not grow­ing cor­po­rate prof­its, could set about max­i­mal­ly seiz­ing phar­ma­ceu­ti­cal patents to imme­di­ate­ly low­er prices. Some­one like, say, Dr. Abdul El-Sayed, who ran for Michi­gan gov­er­nor in 2018 on a left plat­form, or Rep. Prami­la Jaya­pal (D‑WA). It is hard to imag­ine, how­ev­er, that top Biden advis­er and for­mer phar­ma­ceu­ti­cal lob­by­ist Steve Ric­chet­ti would avail him­self of these pow­ers if sim­i­lar­ly ele­vat­ed to the position.
It's not just domes­ti­cal­ly that Biden's per­son­nel picks will mat­ter. Good appointees could help oppose the Blob's incur­sions. A Defense Sec­re­tary Ro Khan­na would like­ly pri­or­i­tize an end to U.S. involve­ment in the war in Yemen and work to keep us out of oth­er armed engage­ments. And although he may not be real­is­tic pick for a Cab­i­net-lev­el posi­tion, Matt Duss would make for a strong ally in an under­sec­re­tary position.
There are many oth­er exam­ples. The right per­son at the Depart­ment of Home­land Secu­ri­ty might fight for a depor­ta­tion mora­to­ri­um (or be pushed to do so). A good CMS admin­is­tra­tor could pave the way for almost a mil­lion home­care work­ers to join unions. All of these things would make a dif­fer­ence in mil­lions of people's lives in the very near term.
Even more impor­tant­ly, how­ev­er, these pro­gres­sive fig­ures would pro­vide the space to demand even more. Peo­ple who no longer fear miss­ing a stu­dent loan pay­ment will be more like­ly to leave a bad job, or take the risk of orga­niz­ing their work­place. Peo­ple who no longer fear depor­ta­tion are more like­ly to make their voic­es heard, and on and on.
Groups on the Left will engage with the Biden cam­paign dif­fer­ent­ly, but all should con­sid­er incor­po­rat­ing bet­ter per­son­nel among their goals. For those groups that are con­sid­er­ing an endorse­ment, mak­ing con­crete per­son­nel com­mit­ments a pre­con­di­tion for sup­port may be a way to max­i­mize pos­i­tive impact (and min­i­mize bad outcomes).
In a let­ter to Biden last week, for exam­ple, a num­ber of youth-led pro­gres­sive groups asked the now-nom­i­nee to com­mit to includ­ing staunch pro­gres­sives on his pres­i­den­tial tran­si­tion team and to exclud­ing exec­u­tives from Wall Street, the oil and gas indus­try, and oth­ers from his admin­is­tra­tion. Such con­di­tions pro­vide a clear met­ric by which groups can mea­sure Biden's efforts to win their sup­port and that of the broad­er Left.
Even groups that have no inten­tion of endors­ing, how­ev­er, have an impor­tant role to play in keep­ing detestable fig­ures out of a poten­tial Biden admin­is­tra­tion. Incom­ing admin­is­tra­tions like to min­i­mize dis­trac­tions and hoard polit­i­cal cap­i­tal, mak­ing con­tro­ver­sial appointees unap­peal­ing regard­less of ide­ol­o­gy. That means that by mere­ly draw­ing atten­tion to the worst aspects of a nominee's record, pro­gres­sives can cause an incom­ing admin­is­tra­tion to listen.
What­ev­er the par­tic­u­lar strat­e­gy, appoint­ments are a worth­while strug­gle for the Left in the near term. Biden may be the Demo­c­ra­t­ic nom­i­nee, but the shape of his admin­is­tra­tion is still very much in flux. That means there is an oppor­tu­ni­ty now to expand the space in which we orga­nize in the com­ing years. We shouldn't pass it up.