A contract affecting some 9,500 workers and 17,000 retirees at the world's largest farm machinery manufacturer was ratified this week. John Deere employees at 15 factories in Illinois, Iowa, Georgia, Kansas and Colorado are covered under the deal, which was approved by members of the United Autoworkers after the company and the union announced it had reached a tentative agreement last week. It will be in effect through October 2015.
The contract was approved by 82 percent in Sunday voting. As part of the agreement, Deere agreed not to close any plants for the duration of the deal. Workers will also receive a $3,500 ratification bonus.
"This contract gives our members wage gains and protections, job security improvements and pension gains they need to keep pace with today's economic uncertainties," said UAW Vice President Jimmy Settles.
Dennis Williams, Region 4 Director for the union, said the deal also calls for a new apprenticeship program that will help workers develop skills and prepare for job advancement.
The UAW — or the United Automobile, Aerospace and Agricultural Implement Workers of America — represents more than 510,000 members and 575,000 retirees in the United States, Canada and Puerto Rico.
United Farmworkers make inroads in the Pacific Northwest
The nation's largest farmworkers' union had a productive summer in the Pacific Northwest. They reached an agreement to represent 100 workers at a cattle plant in Oregon and Washington. They also filed suit on behalf of workers at Ruby Ridge Dairy in eastern Washington state.
Workers for the dairy say they had hours cut from their shifts, weren't allowed to take or were discouraged from taking breaks and suffered verbal abuse.
Ten of them say they were fired when they attempted to organize a union to address their problems. The owners contend that one worker was fired for safety violations and another for incompetence and the others left of their own accord.
Margarito Martinez, 56, said of his coworkers:
Many still are afraid that if they join, they'll be fired. But many people welcomed the union…. We worked without lunch breaks and breaks. They didn't pay for all the hours worked. You worked 10 hours, you'd get paid 8, 9.5. It's not fair.
The union's organizing efforts in the state prompted the Washington Farm Bureau to issue a ​"Labor Advisory" (PDF) that gives advice on how to respond to union activity.
Discouraging workers from signing a union petition may not be legal and cannot be tolerated. Managers should never spy on workers or argue with a worker who makes pro-union statements – simply take note and report it to management. Supervisors should treat all workers fairly and never discriminate against workers who support unionization.
But the bureau's bias is clear in statements like: ​"Do not provide any information about your workforce, not even the total number of employees" and in the fact that they held a meeting and rally supporting Ruby Ridge, where they say the majority of employees did not want a union in late September.
Ruby Ridge Dairy employs some 40 workers. There are tens of thousands of agricultural workers in the Pacific Northwest. The UFW represents 600 workers in the region, including 150 workers at the region's largest vinyard and 250 workers at an Oregon dairy.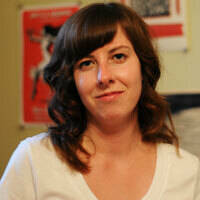 Emily Udell
is a writer for Angie's List Magazine in Indianapolis. In
2009
, she finished a stint drinking bourbon and covering breaking news for
The Courier-Journal
in Louisville, Ky. Her eclectic media career also includes time at the Associated Press,
Punk Planet
(R.I.P.),
The Daily Southtown
in southwest Chicago, and Radio Prague in the Czech Republic. She co-hosted and co-produced
In These Times
' radio show ​
"
Fire on the Prairie
" from
2003
to
2006
.