This week's hunt for rur­al sto­ries of inter­est uncov­ered two inter­views def­i­nite­ly worth shar­ing. The first, cour­tesy of the Rur­al Amer­i­ca Round­table pod­cast with Todd Plimp­ton, is a con­ver­sa­tion with agri­cul­tur­al econ­o­mist, pro­fes­sor and author John Ikerd. The sec­ond, pro­duced by the hard-rock music mag­a­zine Revolver, is a short four part video series with May­nard James Keenan — the eccen­tric lead singer of Tool, A Per­fect Cir­cle and Pucifer — about his less­er-known wine­mak­ing and com­mu­ni­ty-build­ing efforts in the Black Hills of Yava­pai Coun­ty, Ariz.
Often fea­tured on Rur­al Amer­i­ca In These Times, Ikerd, now in his eight­ies, was raised on a small dairy farm in south­west Mis­souri before elec­tric­i­ty and indoor plumb­ing reached that part of the state. He received B.S., M.S. and Ph.D degrees in agri­cul­tur­al eco­nom­ics and worked for a time in cor­po­rate agribusi­ness before going into acad­e­mia. Accord­ing to his bio, dur­ing the farm crises of the 1980s, Ikerd ​"expe­ri­enced first-hand the fail­ures of the poli­cies he had been advo­cat­ing to farm­ers." He then shift­ed the focus of his work to sus­tain­able agri­cul­ture and eco­nom­ic sus­tain­abil­i­ty. ​"Sus­tain­able Cap­i­tal­ism," linked to below, explores the eco­nom­ic and cul­tur­al dis­con­nect that's tak­en place since the indus­tri­al­iza­tion of agri­cul­ture in the 1950s, and what it will take to repair the damage.
Keenan, 53, is the front­man for two of the most suc­cess­ful the hard rock bands in the world. But in 1981, inspired by Bill Murray's char­ac­ter in Stripes, Keenan joined the U.S. Army so he could go to art school on the G.I. Bill. His first band to make it big, Tool, formed in 1990 and has sold mil­lions of records since. A Per­fect Cir­cle formed in 1999 and released their first record in 14 years last month. Despite inter­na­tion­al fame, Keenan could walk down most streets with­out get­ting rec­og­nized — even in the pre-inter­net music indus­try hey­days, he avoid­ed (and often ridicules in his lyrics) Hol­ly­wood. In 2004, Keenan found­ed Caduceus Cel­lars, a farm and win­ery in the tiny town of Jerome, Ariz. (Edi­tor's note: even as a long­time Tool fan, I did­n't know about Keenan's work in Jerome until I saw him speak at the Busi­ness Alliance for Local Liv­ing Economies con­fer­ence a few years back in Phoenix.) ​"The Art of Work," stream­ing below, is about the impor­tance of doing work that mat­ters to us and how doing it the right way can trans­form a com­mu­ni­ty for the better.
In short, though Ikerd and Keenan come from rad­i­cal­ly dif­fer­ent back­grounds, they've come to some pret­ty sim­i­lar con­clu­sions about the state of our econ­o­my and culture.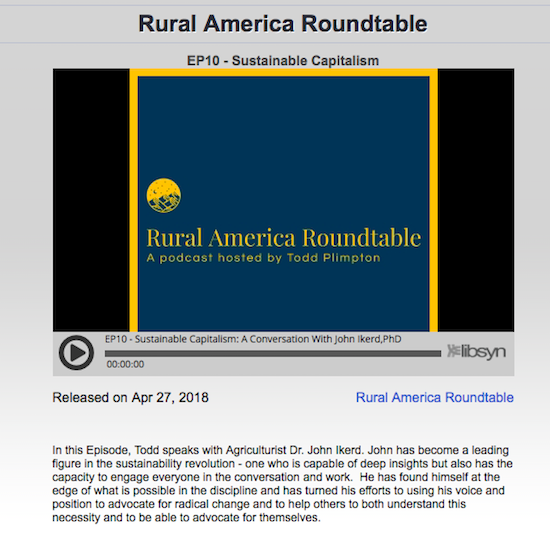 You can click here to check out the Ikerd inter­view. For more infor­ma­tion about Rur­al Amer­i­ca Round­table and its host, retired Brigadier Gen­er­al Todd Plimp­ton, vis­it ruralameri​caround​table​.com. To learn more about John Ikerd's work, books and upcom­ing speak­ing engage­ments, click here.
Notable quotes from the Ikerd interview:
I have to say that I don't blame any­body for mak­ing the deci­sions that we were mak­ing, in terms of try­ing to make agri­cul­ture more effi­cient by turn­ing it into a busi­ness — by indus­tri­al­iz­ing it. The basic idea was that we were going to cre­ate prof­it oppor­tu­ni­ties for inno­v­a­tive farm­ers and those prof­itable farm­ing oper­a­tions would sup­port viable rur­al com­mu­ni­ties. The most impor­tant thing was that we were going to make good food afford­able to every­one. That's what I real­ly believed, that's what moti­vat­ed me more than any­thing else: We bring down the cost of agri­cul­ture pro­duc­tion, we bring down food costs and basi­cal­ly do away with hunger…well, we didn't do any of those things.
We're still as depen­dent on agri­cul­ture — upon the peo­ple out here on the land that are farm­ing and grow­ing crops and live­stock — as we were when we were a hunter and gath­er­er soci­ety. It's just that our con­nec­tions are more com­plex, less direct and we kind of lost our sense of that con­nect­ed­ness. I think it's crit­i­cal­ly impor­tant to our future, not only as a nation but the future of human­i­ty, that we under­stand the kind of agri­cul­tur­al sys­tem we have — under­stand its impli­ca­tions not only in the present in terms of eco­nom­ics, but its impli­ca­tions as far as the future of our coun­try and human­i­ty is concerned.
To those of us who are seri­ous about it, what sus­tain­abil­i­ty means is meet­ing needs for the present with­out dimin­ish­ing oppor­tu­ni­ties for the future.
And from Revolver, ​"The Art of Work" Parts 1 through 4, the inter­view with May­nard James Keenan about art, wine, hard work and sustainability:
(Source: Revolver / YouTube)
(Source: Revolver / YouTube)
(Source: Revolver / YouTube)
(Source: Revolver / YouTube)