John McCain's Constituents Are Revolting Against His Attempt to Take Away Their Healthcare
Meet Lauren Klinkhammer, a Tucson resident who was politicized by the federal assault on healthcare rights.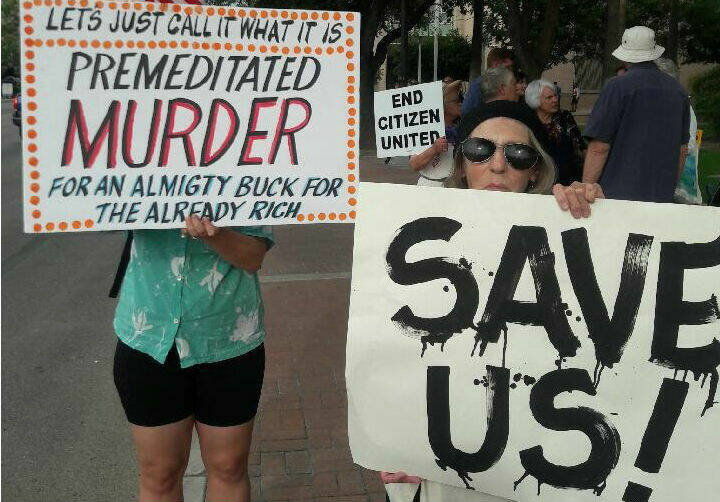 John McCain came to Wash­ing­ton, D.C. this week straight from can­cer treat­ment to vote in favor of tak­ing health­care from his con­stituents. As the Sen­ate moves for­ward in attempt to a repeal of the Afford­able Care Act (ACA), activists from around the coun­try have man­aged to swing enough votes to defeat two major pro­pos­als already. But there's more com­ing. In Wash­ing­ton, D.C. and in states around the coun­try where Repub­li­can sen­a­tors are based, pro­test­ers are com­ing togeth­er for a last-ditch effort to save the ACA and Med­ic­aid from cuts or dismantling.
People's health is the most important thing in your life. Money doesn't die with you. You die.
I spoke with Lau­ren Klinkham­mer from an impromp­tu ral­ly out­side of Sen. John McCain's office in Tucson.
Lau­ren Klinkham­mer: My name is Lau­ren Klinkham­mer and I am from Tuc­son, Arizona.
Sarah Jaffe: Right now, as we are talk­ing, it is Wednes­day evening and you are at a ral­ly at Sen­a­tor McCain's office in Tuc­son. Correct?
Lau­ra: I am.
Sarah: Tell us how this ral­ly came togeth­er. You were say­ing before that it is not com­mon for there to be 150 peo­ple on the street in Tuc­son in the evening.
Lau­ra: No. We are a small town and it is sprawl­ing out in Ari­zona. We don't have a lot of city cen­ters. It is sort of all over. So, this is a sur­prise. I am real­ly impressed that this many peo­ple came out, because Ari­zona is sort of a qui­et place. It is pret­ty amaz­ing. It is touch­ing, because even though it is peo­ple who are not want­i­ng the ACA repealed, they have Amer­i­can flags. They have these signs that are say­ing, ​"Repeal. Don't die." Seri­ous mes­sages, but with Amer­i­can flags. It is that com­bi­na­tion of speak­ing out and jump­ing up, but also in a real­ly kind way. It is very American.
Sarah: Do you think it was the par­tic­u­lars of Sen­a­tor McCain's sit­u­a­tion, com­ing back while he is fight­ing can­cer, that is draw­ing peo­ple out like this tonight?
Lau­ra: There have been all kinds of sides. Some peo­ple are real­ly angry. I guess it just depends on what your point of view is. Some peo­ple are angry that he has done this. Some peo­ple feel, ​"How could he vote for the motion to go for­ward, when he him­self is deal­ing with health­care issues?" We had bus dri­vers beep­ing before. It is fun­ny. We are kind of near the high­way, so peo­ple are beep­ing because they are excit­ed. They agree. Most peo­ple agree.
Like I said, a lot of peo­ple have dif­fer­ent opin­ions, even if they are against repeal­ing the bill. Some peo­ple feel vio­lat­ed that he made this deci­sion. They see it as, ​"He is sick. He should be there for us." Some peo­ple see it as an open­ing to the dis­cus­sion. It just depends. Peo­ple are try­ing to be respect­ful and to give him a chance.
I was very upset. I went and made a sign, and I got here and didn't even know what I was going to do. Then, some­one told me about his speech. Every­thing is hap­pen­ing so fast. I think peo­ple are just all over the place with their feel­ings on it. Over­all, I have been going around the city — and this is affect­ing me direct­ly — and talk­ing to peo­ple. Almost every­one I talk to real­ly is not for repeal­ing Oba­macare. They want it fixed. They don't want it repealed.
They want the funds that the mid­dle class was sup­posed to have put back in so that the prob­lem that we have right now is not going on with mid­dle class fam­i­lies. They want to keep the pre-exist­ing con­di­tions and the fund­ing with­in the pro­gram and all of the lit­tle claus­es. They don't want to lose that. There are a lot of things with­in that bill that save mon­ey, help peo­ple and pro­tect the vulnerable.
I just met with a staffer at McCain's office, who was very, very nice. I went out there and I said, ​"You know what, if you guys are going to be doing this vote-a-rama, I am a dis­abled per­son. I have been mid­dle class. I want to be avail­able to your researcher or who­ev­er it is that advis­es McCain."
I actu­al­ly went with a local group called LUCHA and Planned Par­ent­hood. Then, I went indi­vid­u­al­ly, as well, because I have had health issues, and I have been try­ing to work with them for a long time. Now, I am just try­ing to be a bridge. What­ev­er it is we are going to do, let's do some­thing that actu­al­ly helps the Amer­i­can pub­lic to the best we can with­out caus­ing too much harm. I am wor­ried. At least they met with me. They are not going to real­ly let me vol­un­teer for leg­is­la­tion, which makes me sad. I haven't got­ten in to meet with the gov­er­nor. I haven't been able to get to have an appoint­ment with Sen. Flake's office. They did take some of my notes, but it takes some time.
Sarah: Tell us about your sto­ry. How did you get involved in this fight?
Lau­ra: You are going to laugh, because lit­er­al­ly it has been three weeks now. Three weeks ago, I was hav­ing a day where I was feel­ing bet­ter, and some­one from my doctor's office was going to an event that was put on by ten dif­fer­ent orga­ni­za­tions in Ari­zona. They were video­tap­ing an open house so they could send it out to our lead­ers. They asked me to go and I was like, ​"Okay. They have a van going up to Phoenix. Why not? I will go." A lot of times I can't. I was like, ​"Well, I can. So, I will go." On the way up, they were like, ​"How would you like to go to Wash­ing­ton, D.C?" I was like, ​"Sure. I will go." So, I took time off and then I went.
When I got out there, I didn't real­ly know what we would be doing. I thought I would just be speak­ing on the Mall, or maybe speak­ing to a group of peo­ple, or maybe hav­ing a meet­ing, because every­thing was so quick. It was lit­er­al­ly a day or two after they asked me, and I am sud­den­ly in Wash­ing­ton, D.C. The next thing I know, I am among about 150 peo­ple who are doing civ­il dis­obe­di­ence in kind of the way that Mar­tin Luther King Jr. did. Health­care work­ers, sick peo­ple, broth­ers and sis­ters of peo­ple who will die if this bill pass­es: We were will­ing to be arrest­ed so that our gov­er­nors and our sen­a­tors and our rep­re­sen­ta­tives could real­ize that if a nurse prac­ti­tion­er or a Har­vard stu­dent or a patient dying of AIDS is will­ing to be arrest­ed for the first time in their life for the good of human­i­ty, maybe it is impor­tant enough to listen.
We are chant­i­ng, and I am like, ​"Oh my good­ness." There are cam­eras. I had no idea there would be cam­eras. I am pret­ty pri­vate usu­al­ly. It end­ed up being way big­ger than I thought. I just thought I would be going and giv­ing my sto­ry and com­ing home. Then, a week after we were there, it felt great because it went from pre­dict­ing to kill 24 mil­lion peo­ple to only 18 mil­lion people.
Sarah: It is depress­ing that that is a cheer­ful moment.
Lau­ra: Yes. It is hard for me to chant. I was emo­tion­al. But, the thing is, I am very con­cerned about the safe­ty of chil­dren and adults and elder­ly peo­ple: basi­cal­ly, all humans in Amer­i­ca. I am very concerned.
They need peo­ple to go back out to Wash­in­ton, D.C. I wish I could. I don't have the mon­ey. I feel bad ask­ing my work again for the third week in a row, ​"Could you please let me have off again so I can go up to Wash­ing­ton, D.C. last minute and be around these rad­i­cals?" But, hey, you know what? It is to help them. Hon­est­ly, regard­less of their par­ty, my co-work­ers, my friends and ran­dom peo­ple have been sup­port­ing me. Peo­ple have been buy­ing me ice cream. Peo­ple have been just super sup­port­ive. You know what else? They have been Repub­li­can, Inde­pen­dent, Green Par­ty and Lib­er­tar­i­an. This is not a pop­u­lar bill. This is every­body. I have had a lot of sup­port local­ly, and Ari­zona is a very con­ser­v­a­tive place.
I can't be arrest­ed, because I have health issues and oth­er things. I kind of got involved with­out mean­ing to. But, at this point, I just want to help. I have told both offices and the governor's office that, since I have been in the mid­dle class, and now I am a dis­abled cit­i­zen, I feel that I have had enough expe­ri­ences in my life that I could be able to offer nuances as they are decid­ing a vote.
On the 31st, there are going to be lots of groups of peo­ple in Wash­ing­ton, D.C. con­gre­gat­ing and protest­ing this, and we need peo­ple. We need peo­ple from all 50 states to go. Espe­cial­ly cer­tain states, like Vir­ginia, Arkansas, Ohio, Col­orado, Neva­da, Ari­zona and Alas­ka. There are cer­tain states where their sen­a­tors have been mod­er­ate, and we real­ly need them to con­tin­ue call­ing their sen­a­tors. We need peo­ple to car­a­van out to Wash­ing­ton, D.C., lit­er­al­ly, before Mon­day, and we need them to go out there and we need them to par­tic­i­pate and we need them to pull a Mar­tin Luther King Jr. and stand up.
We need peo­ple in the reli­gious com­mu­ni­ty. We need peo­ple who are celebri­ties, peo­ple who have influ­ence. We need to have peo­ple who are entre­pre­neurs. You get my drift. We need peo­ple to go to Wash­ing­ton. Get in your car, get in your plane, get in your bus, go put your thumb out and go out there. Put your mon­ey towards it, too. Vol­un­teer. Go to the local ral­lies. Pick up your tele­phone and call all of your sen­a­tors. Call sen­a­tors from oth­er states.
Lit­er­al­ly, this is not the time to sit back and say, ​"It is not going to hap­pen" — because it is. Nobody pre­dict­ed it would hap­pen. Nobody thought McCain was going to fly out there. He went out there. This is not the time to sit back. Health­care is at risk. People's health is the most impor­tant thing in your life. Mon­ey doesn't die with you. You die. So, we need health­care. Peo­ple need to real­ize this is real, this is every­body, this is all of us, and we need to get out there and do stuff. So, what­ev­er way peo­ple can do, they need to do the max­i­mum and they need to do it yesterday.
Inter­views for Resis­tance is a project of Sarah Jaffe, with assis­tance from Lau­ra Feuille­bois and sup­port from the Nation Insti­tute. It is also avail­able as a pod­cast on iTunes. Not to be reprint­ed with­out permission.
Sarah Jaffe
is a for­mer staff writer at
In These Times
and author of
Nec­es­sary Trou­ble: Amer­i­cans in Revolt
, which Robin D.G. Kel­ley called ​
"
The most com­pelling social and polit­i­cal por­trait of our age." You can fol­low her on Twit­ter
@sarahljaffe
.