Julián Castro's Troubling Record in San Antonio
While Castro may now boast of his progressive bona fides, his record shows a history of embracing austerity and neoliberal reforms.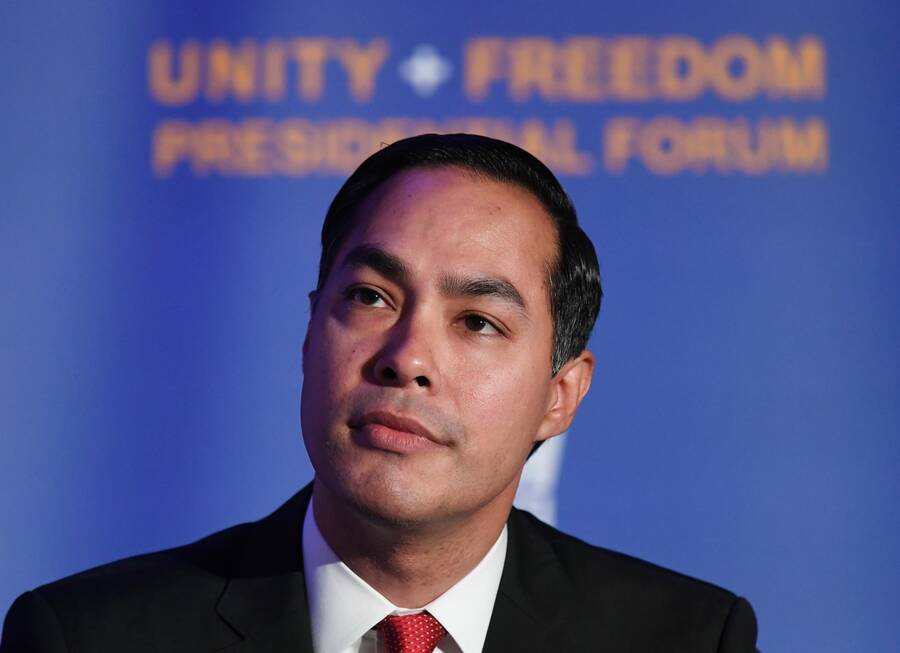 It was only a mat­ter of time before Julián Cas­tro threw his hat in the 2020 ring. Talkedabout as the ​"Lati­no Oba­ma" for at least sev­en years now, Cas­tro and his twin broth­er, cur­rent Texas con­gress­man Joaquin, have long been slat­ed for big things with­in the Demo­c­ra­t­ic Party.
If Castro is indeed the "Latino Obama," it's because his early years in San Antonio replicated many of the ingredients of the former president's recipe for failure.
The moniker is more fit­ting than just a crude ref­er­ence to the broth­ers' future in an ever more diverse par­ty. More than just about every oth­er Demo­c­ra­t­ic can­di­date in 2020, Cas­tro is the quin­tes­sen­tial Oba­ma-esque can­di­date. Though thir­teen years younger he is a young, ambi­tious Har­vard Law grad­u­ate who entered pol­i­tics at the tail end of the Clin­ton era (1997 for Oba­ma, 2000 for Cas­tro) and made a nation­al splash via a high-pro­file Demo­c­ra­t­ic Nation­al Con­ven­tion speak­ing slot (2004 for Oba­ma, 2012 for Castro).
More impor­tant­ly, Cas­tro absorbed many of the polit­i­cal lessons and much of the approach that defined both Obama's time in the White House and the years pre­ced­ing it: a tech­no­crat­ic, busi­ness-friend­ly style aim­ing to work square­ly with­in exist­ing polit­i­cal ortho­doxy, stress con­sen­sus over class war, and one that often gave short shrift to the work­ing class.
Despite being a major ris­ing star in the par­ty for around a decade now, Cas­tro is some­how still some­thing of an unknown. While his role in Obama's cab­i­net is vague­ly remem­bered today, lit­tle is known about the bulk of his polit­i­cal career: the decade spent in the city coun­cil and may­oral­ty of his home­town of San Anto­nio, the Unit­ed States' sev­enth-largest city. For those inter­est­ed in find­ing out Castro's gov­ern­ing style, ide­ol­o­gy, and approach to pol­i­tics, there's no bet­ter place to look than this ear­ly incu­ba­tion period.
A place at the board­room table
Ear­ly pro­files of the Cas­tros were pre­scient. As the Los Ange­les Times not­ed in 2005, the broth­ers were the suc­ces­sors to the Chi­cano move­ment of the pre­vi­ous cen­tu­ry, eschew­ing the rad­i­cal­ism of the old­er gen­er­a­tion and, to use the paper's terms, ​"as com­fort­able in a board­room as a barrio."
Most biogra­phies of the Cas­tros start with their moth­er, Rosie, a Chi­cano activist in the 1960s and 1970s who co-found­ed La Raza Uni­da, a mil­i­tant Chi­cano par­ty that aimed to build polit­i­cal pow­er for Mex­i­can Amer­i­cans, orga­nized around work­ers' rights, and was built on a deep, pop­u­lar dis­sat­is­fac­tion with the Demo­c­ra­t­ic Par­ty. Rosie took the twins to farm­work­er ral­lies and strat­e­gy ses­sions, and ran for the San Anto­nio city coun­cil in 1971 on the Com­mit­tee for Bar­rio Bet­ter­ment slate — an elec­tion which she lost, but saw vot­er turnout jump twen­ty points from two years ear­li­er to the still-unmatched 53 percent.
The Cas­tros' pol­i­tics are not those of their moth­er, who once called the Amer­i­cans who died at the Alamo ​"a bunch of drunks and crooks and slave­hold­ing impe­ri­al­ists who con­quered land that didn't belong to them." As Luis Fra­ga, a polit­i­cal sci­ence pro­fes­sor who taught the twins at Stan­ford, told the Times, while ​"in the ear­ly 1970s, you were either with the sys­tem or against the sys­tem," the Cas­tros ​"under­stand that that kind of dichoto­my was false, that the deep­er chal­lenge is simul­ta­ne­ous­ly serv­ing the inter­ests of both — com­mu­ni­ties that tra­di­tion­al­ly ben­e­fit from pol­i­cy and those that don't."
After grad­u­at­ing from Stan­ford, the Cas­tros went to Har­vard Law, where they kept their eyes on pol­i­tics. Julián sub­mit­ted op-eds to the San Anto­nio Express-News defend­ing affir­ma­tive action and warn­ing the GOP about the elec­toral per­ils of its increas­ing hos­til­i­ty to immi­grants. In 1998, the broth­ers worked for the city of San Antonio's Neigh­bor­hood Action depart­ment, liais­ing between the city and neigh­bor­hood groups and home­own­er associations.
Accord­ing to a Nation­al Jour­nal pro­file of the two, a year lat­er they made a pil­grim­age to see Lionel Sosa, the GOP's point man in Texas, where they told him, ​"We're going to be may­or of San Anto­nio." When Sosa asked them to clar­i­fy which one, the reply was, ​"One of us will." The Cas­tros deny the anec­dote. But as the pro­file point­ed out, they had told a local reporter only two years ear­li­er that they had even lofti­er ambi­tions: gov­er­nor or even the US Senate.
The road to get there start­ed at the San Anto­nio city coun­cil, which Julián began cam­paign­ing for in 2000. With Joaquin as his cam­paign trea­sur­er, Julián solicit­ed a total of $2,000 from his Har­vard class­mates as seed mon­ey. His employ­er — megafirm Akin, Gump, Strauss, Hauer & Feld, which Joaquin also called home — agreed to make room for his polit­i­cal aspi­ra­tions, allow­ing him time off to attend to coun­cil busi­ness. The firm no doubt saw hav­ing an employ­ee in San Antonio's gov­ern­ment as a good deal, giv­en the numer­ous clients it had in the city.
At only twen­ty-six, Cas­tro became the youngest ever mem­ber of the city coun­cil. Over his four years in the seat, Cas­tro pushed for more fund­ing for seniors' meals, pro­posed a ban on all tax abate­ments for recharge land projects to pre­vent more devel­op­ment on such areas (which failed), put for­ward a ban on using cell phones while dri­ving in school zones, pushed to allow city employ­ees to buy cheap­er Cana­di­an drugs, and cham­pi­oned ethics reforms that for the first time put lim­its on cam­paign dona­tions and loans in city elec­tions. The thing Castro's moth­er had fought for thir­ty years ear­li­er — to sit at the table and make pol­i­cy rather than pound on the door from the out­side — appeared to have been fulfilled.
Ear­ly in his first term, Cas­tro resigned from his rel­a­tive­ly lucra­tive posi­tion at Akin Gump in Jan­u­ary 2002. For Cas­tro, whose wife is a pub­lic-school teacher, the deci­sion was a gen­uine finan­cial risk giv­en the com­par­a­tive­ly pal­try pay of a coun­cil seat, and he lat­er talked about falling behind on mort­gage pay­ments and com­ing close to foreclosure.
But Akin Gump's large client base meant fre­quent con­flicts of inter­est, forc­ing him to abstain from votes. And no vote was more charged than the bat­tle over the pro­posed PGA Vil­lage golf resort on the Edwards Aquifer recharge zone, which would dom­i­nate Castro's four years at the coun­cil and, ulti­mate­ly, his may­oral run.
Out of the rough and into the green
The PGA Vil­lage saga was the issue that defined Castro's ear­ly polit­i­cal career. The project's evo­lu­tion over the years mir­rored Castro's own trans­for­ma­tion away from his ear­ly image of an ide­al­is­tic, prin­ci­pled young politi­cian stand­ing up for the com­mu­ni­ty against mon­eyed interests.
The PGA Vil­lage project was a 2,855-acre devel­op­ment pro­posed in 2001 by the Pro­fes­sion­al Golfers' Asso­ci­a­tion of Amer­i­ca (PGA), Mar­riott Hotels, and Lumbermen's Invest­ment Cor­po­ra­tion, with the fin­ished project planned to fea­ture homes, apart­ments, two hotels, and three golf cours­es. The prob­lem was, part of the resort would be built over a recharge zone that replen­ished the city's pri­ma­ry source of drink­ing water, the Edwards Aquifer, draw­ing the ire of local res­i­dents, activist groups, and envi­ron­men­tal­ists who were con­cerned about water con­t­a­m­i­na­tion, and pit­ting them against the city's busi­ness and devel­op­er com­mu­ni­ty, includ­ing Akin Gump.
Owing to this con­flict of inter­est, Cas­tro ini­tial­ly sat out the issue, though hav­ing opposed tax abate­ments over the recharge zone in the past, it wasn't dif­fi­cult to fig­ure out his per­son­al feel­ings on the mat­ter. In fact, Cas­tro had pre­vi­ous­ly said the city shouldn't encour­age any devel­op­ment on the aquifer.
In March 2002, Cas­tro became the first coun­cil mem­ber to take a firm stand on the project, reject­ing it. He called it a ​"gol­fopo­lis" and the ​"kind of cre­ation I can't sup­port," and decried the ​"cor­po­rate wel­fare" involved. He was one of only two city coun­cil mem­bers to vote against approv­ing the project.
A hail of con­tro­ver­sy led the PGA to with­draw from the project in August 2002, killing it, only for then-may­or Ed Garza to put for­ward a new, in some ways sub­stan­tial­ly worse, plan eleven days lat­er. This time, through legal maneu­ver­ing, it would have nei­ther pub­lic com­ment nor be sub­ject to a ref­er­en­dum, the caus­es of the orig­i­nal project's demise. Cas­tro was again the sole vote against approv­ing it.
The sto­ry typ­i­cal­ly stops here when retold. As Hen­ry Cis­neros, San Antonio's first Lati­no may­or and some­thing of a men­tor and role mod­el to Cas­tro, told Texas Month­ly in 2002: ​"I think Julián's posi­tion on the coun­cil, espe­cial­ly on this PGA mat­ter, has assumed the pro­por­tions of a long tra­di­tion in San Anto­nio … as the per­son of con­science." Cas­tro had been ​"the sort of pro­tec­tor of the grass­roots, com­mu­ni­ty-based per­son, who is will­ing to call it as he sees it no mat­ter where every­body is, whether it's the polit­i­cal com­mu­ni­ty or the busi­ness com­mu­ni­ty," Cis­neros said. When the LA Times cov­ered the 2005 may­oral race that Cas­tro was part of, it stat­ed that he had ​"opposed and helped to kill" the project.
But this wasn't the end of the sto­ry. Fol­low­ing two years of pres­sure from activist groups, the PGA again pulled out of the project in May 2004, after oppo­nents charged the city's agree­ment for the resort was ille­gal, owing to missed dead­lines and undis­closed con­tract changes. Cas­tro had called for the city audi­tor to inves­ti­gate the contract.
But by this point the may­oral race was get­ting clos­er, and Cas­tro couldn't afford to anger devel­op­ers. This time, hav­ing sub­tly mod­er­at­ed his stance on the issue, Cas­tro remarked upon the pull­out that ​"nobody won today," and that he was ​"glad this divi­sion is behind us."
But it wasn't, because a month lat­er, Garza and oth­er offi­cials revived the deal again. This time, oppo­si­tion to the deal had weak­ened. Activists were exhaust­ed after the pre­vi­ous fights, and city offi­cials had can­ni­ly planned to hold pub­lic hear­ings and the coun­cil vote dur­ing the hol­i­days, ensur­ing scarce atten­tion and even scarcer turnout. The new plan reduced the amount of imper­vi­ous cov­er — things like hous­es and con­crete paths that keep aqui­fiers from absorb­ing rain­fall and recharg­ing — from 25 to 15 per­cent. But in exchange, the project wouldn't be annexed into the city for twen­ty-five years. In oth­er words, its devel­op­ers would avoid pay­ing the city's prop­er­ty tax­es for a quar­ter of a century.
One oth­er thing had changed: Cas­tro, pre­vi­ous­ly the lone voice against the deal and devel­op­ment on the recharge zone in gen­er­al, had now come around to sup­port the project.
He flew to the PGA Tour's (dis­tinct from PGA of Amer­i­ca, from which the PGA Tour had tak­en over the project the third time around) Play­ers Cham­pi­onship course in Jack­sonville and came back prais­ing their envi­ron­men­tal stan­dards. Accord­ing to the San Anto­nio Express-News, Castro's image among the project's sup­port­ers shift­ed from ​"obsta­cle to progress" to ​"cham­pi­on for a major development."
"Peo­ple are say­ing how use­ful Julián has been, how impres­sive it is that he's come around on this issue, and some mem­bers of the cham­ber com­mu­ni­ty are echo­ing those sen­ti­ments," one offi­cial involved in the meet­ings told the paper.
"I think we can both grow our econ­o­my and pro­tect the envi­ron­ment with this agree­ment," Cas­tro said. Besides, he ​"hon­est­ly believe[d] this is sci­en­tif­i­cal­ly bet­ter for the aquifer and bet­ter pol­i­cy for San Anto­nio than the alter­na­tive." He insist­ed to the project's oppo­nents that it was the best deal they were going to get, and asked them: ​"are you going to hold a grudge now and for­go some­thing that is bet­ter for the envi­ron­ment, or are you going to let this pass and address the oth­er issues some­time in the future?"
It was a far cry from his belief years ear­li­er that there should be no devel­op­ment on the recharge zone, period.
"[Cas­tro] wants to be may­or. He's under pres­sure to be pro-devel­op­ment," Gra­ciela Sanchez of the Esper­an­za Peace and Jus­tice Cen­ter, one of the groups oppos­ing the project, said at the time, call­ing it an ​"about-face."
In Jan­u­ary 2005, the city coun­cil vot­ed 10 – 1 to approve the project, even as new details were rammed into the agree­ment just hours ear­li­er, includ­ing an exten­sion of the tax give­away from twen­ty-five to twen­ty-nine years. This time, the lone vote against was a dif­fer­ent coun­cil mem­ber. At a pub­lic meet­ing, activists com­plained that the coun­cil was rush­ing the vote through.
Cas­tro, pre­vi­ous­ly mis­trust­ed by busi­ness and pil­lo­ried in news­pa­per edi­to­ri­als, showed he could play ball with devel­op­ers, just as the may­oral race was begin­ning and his oppo­nents were rais­ing tens of thou­sands of dol­lars from busi­ness inter­ests. He had dis­ap­point­ed the activists for whom he had been a cham­pi­on. But as San Anto­nio jour­nal­ist Ken Rodriguez point­ed out, they couldn't aban­don him: ​"To whom would they turn?"
"You're not going to run away from your record"
Castro's shift on the PGA Vil­lage fight were part of his gen­er­al, polit­i­cal­ly moti­vat­ed drift toward neolib­er­al politics.
Cas­tro was the first coun­cil mem­ber to advo­cate for a bal­lot mea­sure to per­ma­nent­ly freeze San Antonio's prop­er­ty tax­es for seniors and dis­abled, even though the city already exempt­ed the elder­ly from the first $65,000 of their home's val­ue, and the first $12,500 of a dis­abled resident's home val­ue. Rather than pro­pose rais­ing these thresh­olds, as San Antonio's for­mer city man­ag­er had the pre­vi­ous year and as city bud­get writ­ers pro­posed, Cas­tro favored a blan­ket freeze. This would chiefly ben­e­fit res­i­dents in the city's North Side, where prop­er­ty val­ues were high­er, and only four of the city's ten dis­tricts would see more than half of seniors ben­e­fit from the freeze.
City offi­cials and oth­ers warned the plan could lead to cut­backs. At 24.7 per­cent of the city's gen­er­al fund, prop­er­ty tax­es — which at that point hadn't risen in eleven years — were its biggest source of fund­ing. The city's bud­get direc­tor point­ed to Cor­pus Christie, which had insti­tut­ed the same freeze and was forced to start slash­ing. (Under state law, munic­i­pal bud­gets had to be balanced).
The tax freeze also worked against Castro's stat­ed goals in gov­ern­ment. The city was already fac­ing con­sec­u­tive bud­get short­falls in the tens of mil­lions, with city offi­cials warn­ing cuts would be nec­es­sary. Cas­tro flat­ly refused to raise prop­er­ty tax­es even as he called for an increase in fund­ing for assis­tance to the poor in the face of grow­ing home­less­ness, par­tic­u­lar­ly among chil­dren. When Cas­tro lat­er helped pass a $52 mil­lion home­less plan, per­haps it wasn't a coin­ci­dence that it didn't actu­al­ly com­mit any funds. (Inci­den­tal­ly, when the coun­cil lat­er passed four laws aimed at crim­i­nal­iz­ing home­less­ness, Cas­tro missed the vote.)
The freeze may have clashed with Castro's stat­ed desire for a more activist city gov­ern­ment, but it was cru­cial to his may­oral ambi­tions. For one, seniors were a cru­cial and active vot­ing bloc. But he was also court­ing right-lean­ing vot­ers, tout­ing his sup­port for the freeze and oppo­si­tion to a tax hike in dis­tricts loy­al to his Repub­li­can oppo­nent, Car­oll Schubert.
"That's con­sid­ered fis­cal­ly con­ser­v­a­tive," he said.
Once the race went to a runoff, and Schu­bert was knocked out, Cas­tro con­tin­ued to make a play for his supporters.
"I'm reach­ing out to Carroll's sup­port­ers and not­ing our com­mon com­mit­ment to light­en­ing the load for tax­pay­ers," he said in an ad, com­par­ing his record to Schubert's.
Cas­tro eas­i­ly led the may­oral race for most of its dura­tion, despite con­tin­u­ing to be ham­mered on his pre­vi­ous oppo­si­tion to the PGA Vil­lage project and a cou­ple of minor ​"scan­dals" that ranged from the hilar­i­ous (hav­ing his twin broth­er take his place at a parade while he attend­ed a neigh­bor­hood forum) to the some­what embar­rass­ing (fil­ing a shod­dy, error-filled cam­paign finance report after mak­ing gov­ern­ment ethics rules a cor­ner­stone of his cam­paign). When busi­ness sup­port swung to his chief oppo­nent, retired Demo­c­ra­t­ic appeals court judge Phil Hard­berg­er, Cas­tro com­plained the judge had ​"all of that devel­op­er mon­ey to attack my record," even though he him­self had court­ed devel­op­ers in the lead-up to the race.
Though the two strug­gled to find any mean­ing­ful dif­fer­ences between each oth­er, Hard­berg­er even­tu­al­ly over­took Cas­tro in the polls. Despite his attempts to court con­ser­v­a­tive vot­ers, Cas­tro con­tin­ued to lack sup­port in the city's North Side, and a May 2005 sur­vey found that only 67 per­cent of the Lati­no pop­u­la­tion was back­ing Cas­tro — far less than the 96.9 per­cent that had brought Ed Garza to the mayor's seat in 2001 or even the num­ber who had won Cis­neros the elec­tion two decades before that. Hard­berg­er was able to pare off Lati­no vot­ers based on his long his­to­ry of civ­il rights work in the community.
In lieu of actu­al pol­i­cy dif­fer­ences, Cas­tro began attack­ing Hardberger's record on the bench, run­ning ads that crit­i­cized him for over­turn­ing var­i­ous crim­i­nal con­vic­tions on legal tech­ni­cal­i­ties — or, in Castro's words, ​"turn­ing con­vict­ed crim­i­nals loose."
Cas­tro called it a ​"clear pat­tern of bad judg­ment" and told Hard­berg­er: ​"You're not going to run away from your record. Those cas­es are impor­tant." The county's Repub­li­can dis­trict attor­ney even ran an ad call­ing the attacks ​"unfair and unfounded."
Hard­berg­er ulti­mate­ly beat Cas­tro by only three points, or 3,700 votes. While Cas­tro had eas­i­ly beat­en him in major­i­ty Lati­no areas, just as polls had pre­dict­ed, Lati­nos hadn't ful­ly swung behind Cas­tro in the end. 35 per­cent vot­ed for Hard­berg­er, which USA Today called ​"a sig­nif­i­cant break" from the ​"past prac­tice of giv­ing near-unan­i­mous sup­port to the His­pan­ic can­di­date." With Hardberger's dom­i­nance in wealth­i­er, most­ly white wards, it was the cru­cial fac­tor that sunk Castro's run.
A hard les­son learnt
Castro's chief take­away from his 2005 loss was that it would be impos­si­ble to win the San Anto­nio may­oral­ty with­out the sup­port of local busi­ness. When asked in 2007 what he would do dif­fer­ent­ly, he said that he had ​"spent the last two years build­ing bridges with folks who did not sup­port my cam­paign in 2005."
By the time his cam­paign got going in 2008, Cas­tro was endorsed by and hired as trea­sur­er Mike Bel­don, a local busi­ness­man who had served in that posi­tion for Hard­berg­er in 2005 and had been instru­men­tal in secur­ing him busi­ness back­ing that year. Bel­don had pre­vi­ous­ly chaired the Greater San Anto­nio Cham­ber of Commerce's PAC in the nineties dur­ing a bat­tle to pre­vent fed­er­al con­trol of the Edwards Aquifer. He had also been part of that era's ​"Major­i­ty of Six," a pro-busi­ness group likened to the Good Gov­ern­ment League of the 1970s, the polit­i­cal arm of the city's busi­ness estab­lish­ment whose iron grip on the city coun­cil Castro's moth­er had iron­i­cal­ly tried to beat in 1971. With Bel­don on board, Cas­tro got the sup­port of sev­er­al local busi­ness­peo­ple and developers.
"He's broad­ened his hori­zons," Bel­don said of Cas­tro. ​"He knows that he must be a may­or for all of the city, not just one area."
"They know I don't have horns now," Cas­tro said about how the hir­ing would impact his busi­ness standing.
He promised to con­tin­ue ​"the progress that San Anto­nio has made under" Hard­berg­er. Besides Bel­don, Hardberger's for­mer cam­paign man­ag­er came on board to run Castro's bid for office.
Cas­tro now also had a sub­stan­tial sum from his per­son­al wealth to invest in the race, allow­ing him to claim he would be free of ​"undue influ­ence." In the years between his cam­paigns, Cas­tro had received an undis­closed sev­en-fig­ure refer­ral fee from local per­son­al injury lawyer and influ­en­tial Demo­c­ra­t­ic donor Mikal Watts, after pass­ing a client with a poten­tial­ly lucra­tive law­suit on to Watts's much big­ger firm. Cas­tro lent his cam­paign $215,000 in 2008, and in April 2009, Watts held a fundrais­er for the for­mer councilman.
Cas­tro said all the right things. He expressed regret for being so ​"stri­dent" on the PGA Vil­lage issue and insist­ed he had done ​"what I thought was right" when switch­ing on the issue. Even as the city man­ag­er ordered city depart­ments in Feb­ru­ary 2008 to plan for bud­get cuts of 2 per­cent in response to eco­nom­ic reces­sion, and Cas­tro warned that the ​"city's going to have to tight­en its belt the way fam­i­lies are hav­ing to tight­en their belts across the nation," he ten­ta­tive­ly backed tax cuts.
In meet­ings with busi­ness lead­ers, Cas­tro promised not to use the mayor's office to empow­er unions. While Cas­tro backed the right of non-uni­formed city employ­ees to ​"meet and con­fer" with the city man­ag­er, some­thing unan­i­mous­ly approved by a 2008 coun­cil vote, he stressed that ​"it's non-bind­ing, it's not col­lec­tive bar­gain­ing," and opposed grant­i­ng such rights to civil­ian city employ­ees. Nonethe­less, he received the endorse­ments of sev­er­al local unions, includ­ing the San Anto­nio Police Offi­cers Association.
He eas­i­ly trounced the com­pe­ti­tion. Rais­ing $373,000 over his run, a com­bi­na­tion of busi­ness and small-dol­lar sup­port, Cas­tro far out­spent his oppo­nents. Cit­ing his ​"sig­nif­i­cant" new­found busi­ness back­ing, will­ing­ness to expand nuclear ener­gy pro­duc­tion, and oppo­si­tion to col­lec­tive bar­gain­ing, the Express-News now endorsed him, and he increased his sup­port in the wealth­i­er dis­tricts he'd pre­vi­ous­ly lost.
Tak­ing care of business
Eval­u­at­ing Castro's time as may­or is tricky. For one, there's the nature of San Antonio's ​"weak may­or-strong man­ag­er" struc­ture, where the task of actu­al­ly run­ning the city falls to the city man­ag­er. The may­or, whose pow­er and influ­ence rests on a few added respon­si­bil­i­ties and the bul­ly pul­pit, is more like the most promi­nent mem­ber of the city council.
Besides the mayor's lack of pow­er, it's hard to sep­a­rate local devel­op­ments from wider trends at the state and fed­er­al lev­el. So City Lab not­ed that while San Anto­nio enjoyed job growth under Cas­tro, who in 2010 had set the ambi­tious goal of cre­at­ing twen­ty thou­sand jobs, this growth also tracked with wider trends seen in Texas and the wider US at the time.
Still, there is enough in Castro's time as may­or to give a sense of his politics.
Castro's sig­na­ture may­oral accom­plish­ment was his ​"Brain­pow­er Ini­tia­tive," lat­er changed to ​"Pre‑K 4 SA" and passed by bal­lot mea­sure in 2012. The ini­tia­tive raised the sales tax by an eighth of one cent to pay for extend­ing ear­ly child­hood edu­ca­tion to thou­sands of most­ly impov­er­ished four-year-olds. Cas­tro ini­ti­at­ed and relent­less­ly cam­paigned for the measure.
As admirable as the mea­sure was, it also reveals much about Castro's pol­i­tics. Despite the push­back it received from anti-gov­ern­ment zealots like the Heart­land Insti­tute, Pre‑K 4SA was very much a pro-busi­ness mea­sure that enjoyed broad sup­port and was fund­ed through a small but regres­sive tax increase.
It had been devised by a ​"Brain­pow­er Ini­tia­tive Task Force" put togeth­er by Cas­tro, and led by Joe Rob­les, Jr., the CEO of finan­cial ser­vices firm USAA , and Charles Butt, the CEO of super­mar­ket giant H‑E-B, who, togeth­er with his com­pa­ny, fundraised and put more than $300,000 toward an ad blitz that helped push the vote over the top. It got the back­ing of the city's biggest employ­ers and sev­en local cham­bers of com­merce, and Cas­tro jus­ti­fied it as an invest­ment in a future work­force, say­ing, ​"You can't be pro-busi­ness unless you're pro-edu­ca­tion." Even Ted Cruz didn't oppose it in a 2012 debate between the two men.
Cas­tro also led the cre­ation of one of the country's strictest anti-smok­ing laws, draft­ed a suc­cess­ful res­o­lu­tion denounc­ing Arizona's racist 2010 immi­gra­tion law, sup­port­ed extend­ing ben­e­fits to same-sex part­ners of city employ­ees and, after years of reluc­tance, even­tu­al­ly sup­port­ed an update to anti-dis­crim­i­na­tion pro­tec­tions to include sex­u­al orientation.
He suc­cess­ful­ly pushed to fur­ther tight­en cam­paign finance and ethics rules (ones Cas­tro, iron­i­cal­ly, would lat­er run afoul of when it turned out he hadn't dis­closed the $27,000 worth of trips he'd tak­en from third par­ties like H‑E-B and the Greater San Anto­nio Cham­ber of Com­merce). And in keep­ing with Castro's empha­sis on cre­at­ing ​"a stronger brain­pow­er com­mu­ni­ty," there was also Café Col­lege, a cen­ter fund­ed by the city offer­ing free guid­ance and resources for San Anto­ni­ans get­ting ready to go to university.
The oth­er jew­el in Castro's crown was his push to devel­op the city's down­town area and revi­tal­ize its poor­er neigh­bor­hoods like the East Side. Cas­tro want­ed to ​"cre­ate a brain­pow­er com­mu­ni­ty that is the liveli­est city in the Unit­ed States," rest­ing on ​"eco­nom­ic devel­op­ment, matched with a well-edu­cat­ed work­force that's pre­pared for twen­ty-first-cen­tu­ry jobs and a city that is excit­ing to live and work in."
To this end, he drew up the ambi­tious SA2020 plan for the city's future and pushed for numer­ous devel­op­ment projects as part of his ​"Decade of Down­town," to make the city a more vibrant liv­ing space. He had the Eco­nom­ic Devel­op­ment Foun­da­tion (EDF), a non­prof­it bankrolled and peo­pled by the city's busi­ness inter­ests to lure cap­i­tal to the city, draw up a strate­gic plan on eco­nom­ic devel­op­ment, which he said would ​"get us where we need to go."
And Castro's San Anto­nio made some steps for­ward on clean ener­gy. He cre­at­ed a Green Jobs Lead­er­ship Coun­cil stocked with cor­po­rate lead­ers, and vot­ed for an incen­tive pack­age to bring solar pan­el mak­er Nex­olon Amer­i­ca to the city. The CPS Ener­gy (City Pub­lic Ser­vices, San Antonio's pub­licly owned ener­gy util­i­ty) invest­ed $50 mil­lion in alter­na­tive ener­gy research and signed a deal for the world's largest solar instal­la­tion, approved ener­gy effi­cien­cy upgrades to three land­marks, lured green tech com­pa­nies to the city, inked a deal to build five solar plants, and pledged to close one of its coal plants by 2018, which it just fol­lowed through on.
Cas­tro told City Lab in 2013 that his approach to eco­nom­ic devel­op­ment was to ​"focus on twen­ty-first cen­tu­ry indus­tries" like the health sec­tor and ​"the new ener­gy econ­o­my." He expressed his goal for San Anto­nio to become for clean ener­gy ​"what Sil­i­con Val­ley is to soft­ware and what Boston is to biotech." He was laud­ed as a ris­ing star with a ​"strong green streak."
What Cas­tro didn't men­tion was that this this clean, green sur­face rest­ed on a dirty foun­da­tion. San Anto­nio, like much of Texas, relied on a drilling boom in the Eagle Ford Shale, an oil and nat­ur­al gas basin that spanned more than twen­ty coun­ties, and which helped turn Texas into one of the world's biggest oil pro­duc­ers. ​"This is the kind of moment that comes only once a cen­tu­ry," Cas­tro told the San Anto­nio Clean Tech­nol­o­gy Forum about the Eagle Ford's eco­nom­ic poten­tial, hav­ing already brought thou­sands of jobs to San Anto­nio. Unfor­tu­nate­ly, its exploita­tion also put the Unit­ed States on its cur­rent road as the world's worst car­bon pol­luter behind Sau­di Ara­bia, and con­tributed to the city's poor air qual­i­ty.
Nonethe­less, Cas­tro was eager to take advan­tage of it. ​"We have an unprece­dent­ed oppor­tu­ni­ty if we can train our work­force," Cas­tro said, com­plain­ing that ​"capac­i­ty now is not where it needs to be" and call­ing for high schools and uni­ver­si­ties to do more to make sure locals were trained for oil indus­try jobs. He applaud­ed the arrival of oil-field ser­vices com­pa­nies like Hal­libur­ton to serve Eagle Ford drillers, declar­ing that ​"San Anto­nio is the place to be for com­pa­nies ser­vic­ing the Eagle Ford shale play."
This was Castro's ​"new ener­gy econ­o­my": con­tin­ued invest­ment in and pro­mo­tion of oil, nat­ur­al gas, and ​"clean coal," part­nered with a move­ment toward alter­na­tive ener­gy for elec­tric­i­ty pro­duc­tion. In oth­er words, it was Obama's dis­as­trous ​"all of the above" ener­gy pol­i­cy, but at the munic­i­pal lev­el. And despite it all, as of last year, CPS still only plans to tran­si­tion to renew­able ener­gy over the span of decades.
Despite stress­ing health care as chief among ​"twen­ty-first cen­tu­ry indus­tries" he want­ed to focus on, Cas­tro also left out San Antonio's con­tin­ued reliance on the mil­i­tary indus­tri­al com­plex. By 2011 the military's eco­nom­ic impact in the city was mea­sured at $27.7 bil­lion, larg­er than any oth­er sec­tor. And Cas­tro wasn't a pas­sive ben­e­fi­cia­ry — after the US Cyber Com­mand announced plans in 2009 to hire one thou­sand cyber experts, Cas­tro co-signed a let­ter with the head of the Greater San Anto­nio Cham­ber of Com­merce ask­ing for them to be head­quar­tered in the city. A year lat­er, he accom­pa­nied the Cham­ber on a four-day lob­by­ing trip that includ­ed stops at the Pen­ta­gon. ​"San Anto­nio is pro­duc­ing the brain­pow­er in the twen­ty-first cen­tu­ry to defend our nation," he told a cyber­se­cu­ri­ty con­fer­ence held by the St. Mary's Uni­ver­si­ty Cen­ter for Ter­ror­ism Law.
Castro's approach to job growth often involved the kind of cor­po­rate give­aways typ­i­cal of today's Demo­c­ra­t­ic politi­cians. A month after insur­ance com­pa­ny All­State announced it was open­ing up a bilin­gual cus­tomer infor­ma­tion cen­ter in San Anto­nio, receiv­ing $1.1 mil­lion from the state gov­ern­ment for the trou­ble, Cas­tro backed and vot­ed for an incen­tives pack­age that gave the com­pa­ny a six-year, 65 per­cent tax abate­ment, a $30,000 grant for per­mit­ting and devel­op­ment fees, and nom­i­nat­ed it to be able to receive a $1.25 mil­lion refund in sales and uses tax­es. He report­ed­ly also worked over­time to try and get Tes­la to move to the city, focus­ing, in the words of the Express-News, ​"on give­aways — a lot of giveaways."
An admir­er of Sil­i­con Val­ley, Cas­tro court­ed tech entre­pre­neurs and looked to ​"learn from Sil­i­con Val­ley CEOs," even as those same CEOs were pric­ing work­ing-class fam­i­lies out of their homes a few states west­ward. He warm­ly wel­comed Uber and Lyft's 2014 entry into the city, even as San Anto­nio taxi com­pa­nies filed a twen­ty-three-plaini­tiff suit charg­ing the com­pa­nies were in vio­la­tion of a local vehi­cle-for-hire ordi­nance, and seek­ing a tem­po­rary restrain­ing order and injunc­tion stop­ping them from oper­at­ing. When the city's police chief issued the com­pa­nies a cease-and-desist let­ter in response to the vio­la­tion, Cas­tro announced he was open to chang­ing the ordinance.
It's lit­tle won­der the busi­ness lead­ers who had once been sus­pi­cious of Cas­tro were now ful­ly on board with him. ​"We believe in your vision and we believe in your lead­er­ship," the chair­man of the Greater San Anto­nio Cham­ber of Com­merce told him after a 2011 speech to local businesspeople.
Starv­ing the beast
All the while, through­out Castro's two and a half terms, the city con­tin­ued to suf­fer from the tax freeze he'd backed and vot­ed for before he was mayor.
By the time Cas­tro won the may­oral­ty in May 2009, the city was in the midst of a major tax short­fall: rev­enue from the sales tax and hotel occu­pan­cy tax had both dropped, and, for the first time since 1993, so had the prop­er­ty tax base, as it would con­tin­ue to do over his tenure. This cou­pled with the reces­sion meant Castro's first order of busi­ness as may­or was deal­ing with the first of a series of aus­ter­i­ty bud­gets he had helped produce.
The city manager's first bud­get in 2009 cut 334 jobs, froze wages, made across-the-board cuts to all pro­grams, reduced hours for libraries, and cut back on ser­vices like lawn-mow­ing at city parks. Insu­lat­ed from this pain were fire­fight­ers and police, who actu­al­ly saw more per­son­nel hired that year, the lat­ter thanks to fed­er­al stim­u­lus funds lob­bied for by Cas­tro. This was a reg­u­lar fea­ture: the 2010 bud­get would see $12 mil­lion in cuts and effi­cien­cies bal­anced out with $13 mil­lion of new spend­ing, some of which would go to yet more police and fire depart­ment staff. (Inci­den­tal­ly, the police and fire­fight­ers union had backed Cas­tro ear­ly on.)
While $64 mil­lion over ten years was cer­tain­ly a drop in the buck­et, it start­ed look­ing a lot big­ger once the city gov­ern­ment began nick­el-and-dim­ing its res­i­dents for every spare scrap of cash pos­si­ble. City man­ag­er Sheryl Scul­ly actu­al­ly wel­comed a 2009 sum­mer heat wave that caused pow­er plant shut­downs, because high­er ener­gy bills meant more mon­ey for the city, and suc­ces­sive bud­gets would con­tin­ue to rely on high­er ener­gy use to make up bud­get short­falls. Mean­while, she end­ed events like the Hous­ton Fair and Mar­ket and a Win­ter Won­der­land, sav­ing a measly $82,000 a year, while insti­tut­ing $3.6 mil­lion worth of fee increases.
Cas­tro and the coun­cil balked at rais­ing prop­er­ty tax­es. In fact, the 2009 bud­get cut them by less than 0.2 cents. When one coun­cil mem­ber sug­gest­ed rais­ing them in 2010 to avoid con­tin­ued ser­vice cut­backs, Cas­tro demurred. ​"I'm very com­fort­able leav­ing the prop­er­ty tax rate where it's at," he said. ​"We have made sig­nif­i­cant spend­ing cuts over the last cou­ple years and that has served us well dur­ing this bud­get year." By the time he left office, prop­er­ty tax­es in the city hadn't gone up for more than twen­ty years, while their rev­enue intake shrunk year after year.
"Over the last six years, we've dropped our prop­er­ty tax rate three times and we're the first big city to embrace the senior tax freeze in 2005 – 6," he boast­ed in 2012.
But the city spent his may­oral­ty con­tin­u­ing to drain more and more from San Anto­ni­ans through regres­sive means. With Cas­tro and the rest of the council's approval, pub­lic util­i­ties raised rates, which were 80 per­cent of cus­tomers' bills, year after year: 7.5 and 4.25 per­cent for elec­tric­i­ty in 2010 and 2013, respec­tive­ly, and 7.9 and 8.4 per­cent for water in 2011 and 2013, respectively.
"Nobody ever likes a rate increase," said Cas­tro. But, he explained, this was ​"a rea­son­able rate request that ben­e­fits the entire com­mu­ni­ty" and the hike was ​"a nec­es­sary and pru­dent thing." In 2013, with Castro's back­ing, the San Anto­nio Water Sys­tem (SAWS) hiked water rates yet again.
Cas­tro and the coun­cil also had no issue propos­ing a hike to the sales tax to fund wor­thy projects, as they did in 2010 to fund pro­tec­tion of the Edwards Aquifer. He was san­guine about any pub­lic oppo­si­tion to reau­tho­riz­ing the sales tax hike, say­ing that vot­ers would do it ​"if we remind them of the ben­e­fits." Indeed, it lat­er passed for the third time in ten years.
There were excep­tions of course. When all but one of the SAWS board mem­bers sug­gest­ed dou­bling a water sup­ply impact fee on devel­op­ers in 2014, Cas­tro sup­port­ed it, despite oppo­si­tion from busi­ness lead­ers and devel­op­ers who claimed it would halt all devel­op­ment. He ulti­mate­ly sup­port­ed a com­pro­mise, phas­ing in the much high­er fee over the course of a year (though this fee ulti­mate­ly tends to be passed on to ratepay­ers anyway).
But the sum total of Castro's time in San Anto­nio saw him help grad­u­al­ly starve the city of funds, even as he lament­ed the rise of hunger in San Anto­nio and the city's lack of invest­ment in ​"human cap­i­tal," all while aus­ter­i­ty at the state and fed­er­al lev­els fur­ther hit the munic­i­pal gov­ern­ment. Mean­while, more and more of the fund­ing bur­den fell dis­pro­por­tion­ate­ly on the city's poor and work­ing-class res­i­dents, while its old­er, wealth­i­er, white res­i­dents dis­pro­por­tion­ate­ly avoid­ed paying.
The river­walk and the rot
By 2014, Cas­tro would be tapped by Oba­ma to be sec­re­tary of Hous­ing and Urban Devel­op­ment, and, with high­er ambi­tion call­ing, he would depart the city mid­way through his third term to take up the position.
Cas­tro was seen as a per­fect fit for the posi­tion giv­en his role in San Antonio's revi­tal­iza­tion, viewed by some on the eve of his depar­ture as his great­est lega­cy. Cas­tro was a board mem­ber of Cen­tro Part­ner­ship (also known as Cen­tro San Anto­nio), a pow­er­ful pub­lic-pri­vate enti­ty cre­at­ed by the city man­ag­er, staffed with city offi­cials and busi­ness lead­ers, and tasked with steer­ing this project and lur­ing devel­op­ment to the city. Cas­tro aimed to trans­form the pre­vi­ous­ly un-excit­ing down­town area into a vibrant hub that would attract both tourists and res­i­dents, and keep young San Anto­ni­ans from flee­ing the city.
He helped see through his predecessor's expan­sion of the San Anto­nio River­walk, presided over the build­ing of thou­sands of new res­i­den­tial units, and led the approval of devel­op­ment projects in the both the city's down­town and its most blight­ed areas, among oth­er things. Cas­tro pitched the city's devel­op­ment to busi­ness lead­ers, devel­op­ers, and bankers ("let's make a deal") and pushed for an incen­tive pack­age that would waive impact fees for projects in San Antonio's inner city.
But Cas­tro also left office just as dis­con­tent with his vision began bub­bling up.
The city gov­ern­ment didn't always live up to its promis­es of guar­an­tee­ing afford­abil­i­ty. A 2012 report by the HUD's Inspec­tor Gen­er­al chid­ed the city for fail­ing to admin­is­ter its fed­er­al hous­ing grant in accor­dance with the program's afford­abil­i­ty require­ments, when it doled out $1.8 mil­lion to third par­ties to ren­o­vate and resell fif­teen res­i­den­tial prop­er­ties. At nine of these fif­teen, accord­ing to the report, the city either failed to make sure home­buy­ers knew about afford­abil­i­ty pro­vi­sions or didn't make agree­ments that com­plied with them.
The report not­ed this wasn't inten­tion­al — the city ​"was appar­ent­ly unaware of the require­ments." Yet it hard­ly speaks of a gov­ern­ment that viewed the issue as a priority.
Nei­ther did a June 2014 lun­cheon host­ed by Cen­tro Part­ner­ship, which steered the devel­op­ment and on whose board Cas­tro sat. Held to dis­cuss locals' con­cerns with creep­ing gen­tri­fi­ca­tion, the lun­cheon charged nine­ty dol­lars per tick­et, which, as crit­ics point­ed out at the time, effec­tive­ly locked out those most like­ly to be con­cerned about gentrification.
The prob­lem fes­tered. By 2014, the wait­list for the Sec­tion 8 pro­gram that gives vouch­ers to res­i­dents to bring down hous­ing costs had grown to forty thou­sand fam­i­lies, a wait­ing peri­od of around four to sev­en years — ​"the largest it's been in mem­o­ry," the San Anto­nio Hous­ing Authority's spokesper­son said at the time. Just last year, the city's cur­rent coun­cil placed a six-month mora­to­ri­um on a 2012 pro­gram that aimed to incen­tivize hous­ing devel­op­ments down­town because, in the cur­rent mayor's words, ​"there have been some unhealthy con­se­quences" from it, includ­ing ​"the sub­si­diza­tion of hous­ing that the gen­er­al pub­lic can't afford."
As the Express-News' Joshua Fletch­er recent­ly report­ed, that pro­gram gave $102 mil­lion worth of incen­tives to devel­op­ers over five years, many of whom built high-end projects down­town that were out of reach for many of the city's res­i­dents, and less than a quar­ter of which were for afford­able hous­ing. Hous­ing costs have far out­paced incomes since 2010, while hous­ing advo­cates charge that the city under Cas­tro didn't pri­or­i­tize afford­able housing.
Oth­er damn­ing indi­ca­tors sug­gest the lev­el of decline that rum­bled beneath the glow­ing press releas­es. From 2012 to 2014 to today, San Anto­nio has held on to the dubi­ous hon­or of being the most eco­nom­i­cal­ly seg­re­gat­ed city in the Unit­ed States. In 2015, the year after Cas­tro left, the city's pover­ty rate stood at 19.8 per­cent, high­er than the nation­al rate of 13.5 per­cent and even Texas' statewide aver­age of 17.3 per­cent. It's an issue that's only exac­er­bat­ed by the influx of more afflu­ent res­i­dents to the city explic­it­ly encour­aged by Castro's policies.
A twen­ty-five-city sur­vey con­duct­ed by the Unit­ed States Con­fer­ence of May­ors in 2013 put things into fur­ther per­spec­tive. Of the twelve cities that esti­mat­ed what per­cent­age of demand for food assis­tance went unmet, San Anto­nio had the high­est rate, at 40 per­cent. While the city had one of the low­er rates for unmet need for shel­ter (10 per­cent), the report nev­er­the­less not­ed that there was ​"a need for more afford­able per­ma­nent hous­ing" in the city, par­tic­u­lar­ly for vet­er­ans, and that the num­ber of home­less fam­i­lies and indi­vid­u­als had jumped by 11 per­cent over the pre­vi­ous year. (Mean­while, in 2011, Cas­tro had vot­ed with the rest of the city coun­cil to tough­en San Antonio's already strict anti-pan­han­dling ordinance).
Such woe­ful sta­tis­tics are as much Castro's lega­cy as San Antonio's new down­town and fre­quent­ly tout­ed job numbers.
Regard­less, by the time Cas­tro left the San Anto­nio may­oral­ty for D.C., his tenure was con­sid­ered a suc­cess. The may­or was sent off with glow­ing trib­utes from the local press, after being re-elect­ed twice with sky-high mar­gins. Those mar­gins came via dis­mal vot­er turnout that only dropped low­er the longer Cas­tro was in pow­er — from less than 12 per­cent in 2009, to 7 per­cent two years lat­er and, final­ly, 6.9 per­cent in 2013.
Such dis­en­gage­ment per­haps speaks to the vot­ing public's dis­con­nect­ed­ness from local pol­i­tics. Or per­haps it speaks more to a pop­u­lar rejec­tion of a city hall that had long since ceased to look after the inter­ests of most of those it was meant to represent.
In the foot­steps of failure
If Cas­tro is the ​"Lati­no Oba­ma," it's because his career has fol­lowed remark­ably sim­i­lar beats as the for­mer pres­i­dent: a like­able, ambi­tious young politi­cian who plot­ted out a path to nation­al pow­er from a young age and sub­li­mat­ed his polit­i­cal goals to that over­ar­ch­ing ambition.
In the process, rather than pur­sue a fun­da­men­tal break from or trans­for­ma­tion of the exist­ing polit­i­cal con­sen­sus, Cas­tro accom­mo­dat­ed it, work­ing in the inter­ests of the wealthy and pow­er­ful. Mean­while, his tin­ker­ing, while wel­come when it came to pro­grams like Pre‑K 4 SA, was not enough to halt the accel­er­at­ing decay in qual­i­ty of life for a widen­ing swath of peo­ple — a decay exac­er­bat­ed by some of his own poli­cies. Castro's may­oral­ty was the Oba­ma admin­is­tra­tion writ small.
It may be true that Cas­tro was one man who could do only so much to resist the wider polit­i­cal atmos­phere he was in, one hos­tile to most left-wing reform. Yet any Demo­c­rat who finds them­selves in the White House in 2021 will be faced with not just a far more ruth­less and hos­tile Right than this, but an oli­garchic class unit­ed to pre­vent even mod­er­ate changes to the exist­ing con­sen­sus. Castro's quick accom­mo­da­tion to mon­eyed inter­ests as may­or — and his fail­ure to mobi­lize to his cause most of the city's work­ing peo­ple, who over­whelm­ing­ly didn't see it worth their while to even vote for him in his three elec­tion wins — sug­gests how he might respond to such a challenge.
Cas­tro could of course sur­prise the world once in office; no one would've expect­ed Franklin Roo­sevelt to end up rail­ing against ​"eco­nom­ic roy­al­ists," either. But based on his record in pow­er, don't count on it.
This sto­ry first appeared at Jacobin.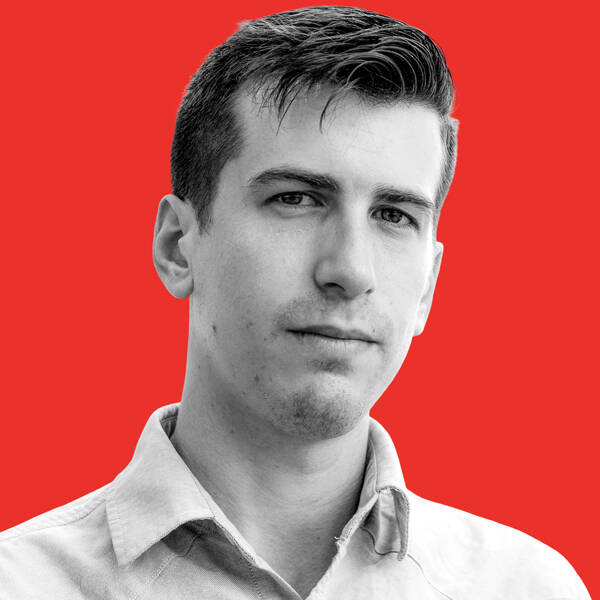 Branko Marcetic
is a staff writer at Jacobin mag­a­zine and a
2019
 – 
2020
Leonard C. Good­man Insti­tute for Inves­tiga­tive Report­ing fel­low. He is work­ing on a forth­com­ing book about Joe Biden.