Don't Coddle Liberal Politicians Like Kamala Harris—History Shows They Should Be Pressured
While some media commentators want to shield Democrats from criticism, holding politicians' feet to the fire is a longtime successful tradition on the U.S. Left.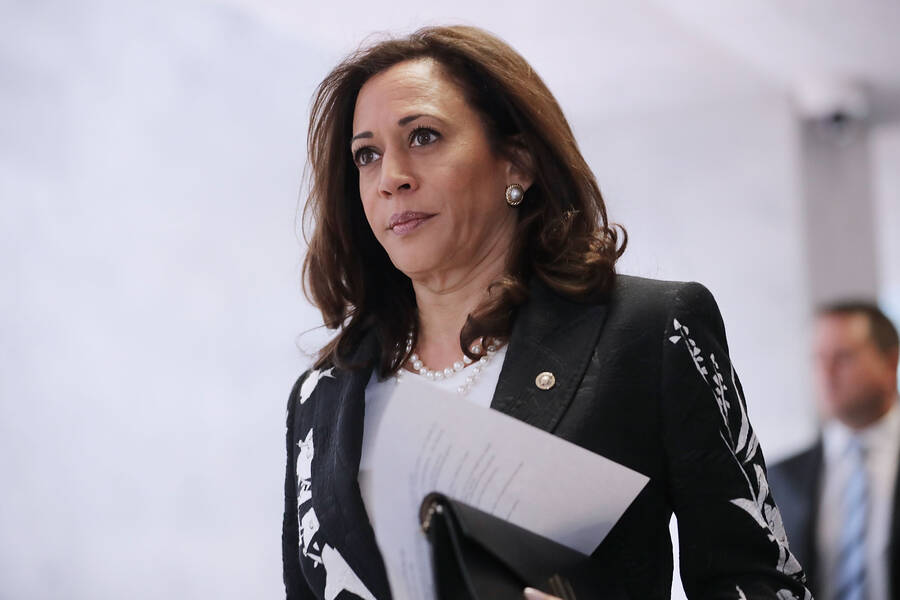 It turns out we've been get­ting the debate over safe spaces all wrong. It's not col­lege stu­dents we should be talk­ing about, it's politicians.
History shows that criticism of politicians, far from undermining them, makes them more responsive to popular demands.
That's appar­ent­ly the mes­sage from the world of some lib­er­al pun­dits as the Great Kamala Har­ris Debate con­tin­ues. The news that the for­mer Cal­i­for­nia attor­ney gen­er­al and cur­rent sen­a­tor is court­ing Hillary Clinton's donors for a pos­si­ble 2020 pres­i­den­tial run has ignit­ed an intense dis­cus­sion over her mer­its as a candidate.
Many on the Left and on the Bernie Sanders wing of the Demo­c­ra­t­ic Par­ty have crit­i­cized Harris's record as a pros­e­cu­tor, includ­ing her defense of California's severe three strikes law and civ­il asset for­fei­ture. Some have point­ed out her refusal to pros­e­cute Wall Street firms — includ­ing OneWest, Trea­sury Sec­re­tary Steven Mnuchin's for­mer com­pa­ny — for fore­clo­sure fraud. Oth­er crit­ics have chid­ed her embrace of wealthy donors.
These cri­tiques occa­sioned a furi­ous push­back from mem­bers of the cen­trist wing of the par­ty, who expressed their out­rage that any­one would dare scru­ti­nize the record of a poten­tial future can­di­date. It was a sig­nal that ​"the dis-uni­ty com­mis­sion will get to work sab­o­tag­ing her," wrote the Dai­ly Beast's Michael Tomasky. Har­vard Law Pro­fes­sor Lau­rence Tribe false­ly accused Sanders him­self of ​"going after" Har­ris ("At long last, Sen­a­tor, have you NO shame?").
This trend reached its apogee with a seg­ment on Joy Reid's MSNBC show, fea­tur­ing The Root's Jason John­son, for­mer Ver­mont gov­er­nor and cur­rent health care indus­try lob­by­ist Howard Dean, and Sir­ius XM's Zer­li­na Maxwell, a for­mer Clin­ton cam­paign staffer. Dur­ing the seg­ment, Reid and her three guests put for­ward a bold new jour­nal­is­tic strat­e­gy for cov­er­ing polit­i­cal fig­ures: Don't report any­thing neg­a­tive about them if they're Democrats.
"There has always been a sec­tion of the Left, which I call the ​'whiny par­ty,'" said Dean. ​"We need to get a life, and pull togeth­er and do what's right for the coun­try, instead of hav­ing these sil­ly fights among ourselves."
"We need to give her a chance to shine or not shine," said Maxwell. ​"We shouldn't under­cut her before she even begins."
"Rather than being crit­i­cal," said John­son, ​"let her do her job."
Let's be clear: Har­ris is not some rosy-cheeked young­ster who just needs a chance to pad out her resume. Her defend­ers take an odd­ly infan­tiliz­ing approach that treats Har­ris as less than the expe­ri­enced pub­lic pros­e­cu­tor that she is. In fact, Har­ris sports a more than decade-long record in law enforce­ment — a record that, along­side its bright spots, has some wor­ry­ing signs for progressives.
For instance, while Har­ris says all the right things about crim­i­nal jus­tice and mass incar­cer­a­tion now, she fre­quent­ly worked against reform in Cal­i­for­nia. She repeat­ed­ly opposed mean­ing­ful reform of the state's unique­ly harsh three-strikes pol­i­cy, putting her to the right of her Repub­li­can oppo­nent in 2010, and cham­pi­oned a pol­i­cy that sent par­ents to jail for tru­ant kids. She also resist­ed efforts to make her office inves­ti­gate police killings, to the frus­tra­tion of many Cal­i­for­ni­ans of col­or. Her crit­ics in the state saw her as a cau­tious, ambi­tious politi­cian who stood on the side­lines on crim­i­nal jus­tice reform.
It's also telling what Har­ris was and was­n't zeal­ous about pros­e­cut­ing. Har­ris repeat­ed­ly worked to keep an inno­cent man in jail who had already served more than a decade for a crime he did­n't com­mit. She defend­ed a pros­e­cut­ing attor­ney who slipped a fal­si­fied con­fes­sion into an inter­ro­ga­tion tran­script and lat­er went after Back­page — an online clas­si­fied web­site used by sex work­ers — dur­ing an elec­tion year, putting them back in har­m's way, look­ing for work on the streets. And while she now touts her tough­ness on bankers, her Mort­gage Strike Force pros­e­cut­ed a trou­bling­ly small num­ber of cas­es — less than some coun­ty dis­trict attor­neys in oth­er states.
Feet to the fire
There are clear­ly legit­i­mate rea­sons for con­cern about Harris's record. But put aside the ques­tion of whether or not her flaws do or don't dis­qual­i­fy her from being a wor­thy can­di­date. What Reid and her pan­el were propos­ing in the exchange on her show is that, for the sake of elec­toral vic­to­ry, the media, activists and vot­ers them­selves should avoid inspect­ing and crit­i­ciz­ing a candidate's record. Instead, they should sim­ply allow politi­cians to oper­ate free of scrutiny.
This is a bizarre point for any jour­nal­ist to make. But it's espe­cial­ly odd com­ing from indi­vid­u­als who would self-iden­ti­fy as pro­gres­sives. Through­out recent his­to­ry, major fig­ures on the U.S. Left have under­stood the impor­tance of hold­ing polit­i­cal lead­ers' feet to the fire.
Take Dr. Mar­tin Luther King. Rather than meek­ly stand by and instruct his fol­low­ers to give Demo­c­ra­t­ic lead­ers the ben­e­fit of the doubt, King risked his rep­u­ta­tion to exco­ri­ate the U.S. government's — and, by exten­sion, Pres­i­dent Lyn­don Johnson's — pros­e­cu­tion of the Viet­nam War.
In his famous ​"Beyond Viet­nam" speech in 1967, King called the U.S. gov­ern­ment ​"the great­est pur­vey­or of vio­lence in the world today." He accused U.S. sol­diers of being forced to be ​"on the side of the wealthy, and the secure, while we cre­ate a hell for the poor."
At the time, some ques­tioned his bold­ness. Oth­er civ­il rights lead­ers imme­di­ate­ly dis­tanced them­selves from King, includ­ing the NAACP, whose board of direc­tors unan­i­mous­ly vot­ed that mix­ing civ­il rights and the anti­war move­ment was a ​"seri­ous tac­ti­cal mis­take." The Pitts­burgh Couri­er, a black paper, accused him of ​"trag­i­cal­ly mis­lead­ing" African Americans.
The turn against King was most pro­nounced among the white com­mu­ni­ty, the main­stream media and the polit­i­cal estab­lish­ment. The New York Times and Wash­ing­ton Post both ran edi­to­ri­als harsh­ly crit­i­ciz­ing King, with the Times claim­ing that ​"to divert the ener­gies of the civ­il rights move­ment to the Viet­nam issue is both waste­ful and self-defeat­ing" — in oth­er words, urg­ing him to stop being crit­i­cal and let the admin­is­tra­tion do its job.
Pres­i­dent John­son, once King's ally, echoed this sen­ti­ment, appalled that King would crit­i­cize him instead of being grate­ful. ​"What is that god­damned nig­ger preach­er doing to me?" he erupt­ed upon hear­ing the speech. ​"We gave him the Civ­il Rights Act of 1964, we gave him the Vot­ing Rights Act of 1965, we gave him the War on Pover­ty. What more does he want?" It marked the end of King's rela­tion­ship with the White House.
King could have eas­i­ly stayed silent. As some of King's col­leagues in the civ­il rights move­ment sug­gest­ed, the polit­i­cal cal­cu­lus indi­cat­ed that say­ing noth­ing about the war to ensure con­tin­ued access to the White House — not to men­tion sup­port­ing a politi­cian enact­ing a slew of anti-pover­ty pro­grams — was the ratio­nal thing to do. But King was so dis­gust­ed by the war, he report­ed­ly at one point pushed away a plate of food after see­ing pho­tos of Viet­namese chil­dren burned by napalm.
It goes with­out say­ing that the same lib­er­al com­men­ta­tors now wag­ging their fin­gers at Harris's crit­ics would con­sid­er King a hero. Yet by their own log­ic, King could have been con­sid­ered part of the ​"whiny" left, engag­ing in ​"puri­ty pol­i­tics," crit­i­ciz­ing and under­min­ing a Demo­c­ra­t­ic ally over an issue not direct­ly relat­ed to civ­il rights.
A proud his­to­ry of dissent
King is far from the only pro­gres­sive leader who rec­og­nized the impor­tance of keep­ing those in pow­er, includ­ing allies, account­able. In 1941, A. Philip Ran­dolph threat­ened Pres­i­dent Franklin Roo­sevelt with a 100,000-strong March on Wash­ing­ton by African Amer­i­cans, out of frus­tra­tion at blacks' con­tin­ued exclu­sion from fed­er­al employ­ment. ​"We can't have 100,000 negroes march­ing on Wash­ing­ton," Roo­sevelt said, accord­ing to Ran­dolph, before draft­ing an exec­u­tive order ban­ning racial dis­crim­i­na­tion in employ­ment in the gov­ern­ment and defense industries.
Roo­sevelt, while com­pro­mis­ing with racist South­ern­ers on cer­tain issues, was sym­pa­thet­ic to civ­il rights strug­gles and had enact­ed poli­cies that had broad­ly ben­e­fit­ed the black com­mu­ni­ty. It would have been easy to sit tight and sim­ply let him off the hook. But Ran­dolph shift­ed his tac­tics from let­ter-writ­ing and meet­ings to a more con­fronta­tion­al approach, declar­ing that ​"noth­ing counts but pressure."
It was­n't just black lead­ers who saw the impor­tance of pres­sur­ing a politi­cian who was osten­si­bly on their side. As Peter Dreier has point­ed out, it's unlike­ly that Roosevelt's sweep­ing domes­tic poli­cies would have gone as far as they did had he not been pushed by nation­wide civ­il dis­obe­di­ence and protest from angry farm­ers, work­ers, vet­er­ans and the elderly.
Ran­dolph would con­tin­ue to put pres­sure on future Demo­c­ra­t­ic pres­i­dents sym­pa­thet­ic to his cause. He con­front­ed Har­ry Tru­man over his fail­ure to deseg­re­gate the armed forces and threat­ened mass resis­tance to induc­tion. Truman's mil­i­tary deseg­re­ga­tion, wrote his­to­ri­an William Berman, ​"was not sim­ply an exer­cise in good will, but rather the prod­uct of polit­i­cal pres­sure … at a time when a pres­i­den­tial incum­bent need­ed all the sup­port he could muster in states with the great­est votes in the elec­toral col­lege." The 1963 March on Wash­ing­ton, which Ran­dolph also helped orga­nize, took place over Pres­i­dent John F. Kennedy's objec­tions that it would turn some Con­gress­men against civ­il rights.
The impulse to close ranks around Demo­c­ra­t­ic politi­cians that we're now see­ing in the uproar over Har­ris was in full force under Pres­i­dent Oba­ma. Al Sharp­ton, then an MSNBC host, vowed not to crit­i­cize Oba­ma, for fear he would be aid­ing his ene­mies. Oba­ma him­self called his left-wing crit­ics ​"sanc­ti­mo­nious" and too focused on ​"hav­ing a purist position."
Not every­one lis­tened. After Oba­ma told atten­dees of a gala din­ner of the Con­gres­sion­al Black Cau­cus that they should ​"stop com­plain­ing, stop grum­bling, stop cry­ing," Rep. Max­ine Waters, Cor­nel West and Tavis Smi­ley all crit­i­cized the speech. In fact, numer­ous oth­er black lead­ers crit­i­cized Oba­ma for his rel­a­tive lack of progress on pover­ty and the needs of African Amer­i­cans, includ­ing famed civ­il rights activist Har­ry Bela­fonte. Yet Bela­fonte rued the lack of pop­u­lar scruti­ny of Oba­ma, which he believed allowed the pres­i­dent to get away with inaction:
"What is sad for this moment is that there is no force, no ener­gy, of pop­u­lar voice, pop­u­lar rebel­lion, pop­u­lar upheaval, no cham­pi­on for rad­i­cal thought at the table of the dis­course. And as a con­se­quence, Barack Oba­ma has noth­ing to lis­ten to, except his detrac­tors and those who help pave the way to his own per­son­al com­fort with pow­er … And it is our task to no longer have expec­ta­tions of him unless we have forced him to the table and he still resists us."
In fact, Bela­fonte wasn't entire­ly cor­rect. There was at least one ​"pop­u­lar rebel­lion" that was a suc­cess sto­ry in forc­ing Oba­ma to the prover­bial table: the fight for LGBT rights.
Frus­trat­ed with his lack of action on LGBT issues, activists relent­less­ly agi­tat­ed and pres­sured the Oba­ma admin­is­tra­tion. Joy Reid's fel­low MSNBC host, Rachel Mad­dow, at the time crit­i­cized the administration's ​"impos­si­bly tor­tured log­ic" on mar­riage equal­i­ty. The sus­tained agi­ta­tion result­ed in Obama's sud­den ​"evo­lu­tion" on mar­riage equal­i­ty, embrac­ing the rights of LGBT Americans.
Oth­er move­ments also had suc­cess in play­ing hard­ball with Oba­ma. His rush to solid­i­fy a strong lega­cy on the cli­mate in his final years led some to for­get the less envi­ron­men­tal­ly-friend­ly nature of most of Obama's two terms, which includ­ed his ini­tial sup­port for the Key­stone XL pipeline. The rea­son Oba­ma reject­ed the pipeline in late 2015 was that the envi­ron­men­tal move­ment embarked on a long-term strat­e­gy of mass civ­il dis­obe­di­ence, start­ing with more than 1,000 activists sit­ting out­side the White House for two weeks in 2011, a tac­tic they would repeat over the fol­low­ing years.
A sim­i­lar sto­ry played out on immi­gra­tion reform. Oba­ma's most mean­ing­ful actions on the issue, includ­ing DACA and DAPA, did­n't come sim­ply out of the good­ness of his heart. In fact, Oba­ma deport­ed more peo­ple than any oth­er pres­i­dent in his­to­ry. But it's near­ly uni­ver­sal­ly rec­og­nized that pres­sure from immi­grants' rights activists — from stag­ing sit-ins and ral­lies to con­sis­tent­ly inter­rupt­ing Oba­ma and oth­er Democ­rats dur­ing pub­lic speech­es — helped push Oba­ma to embrace stronger mea­sures on immi­gra­tion reform.
More recent­ly, we saw the pow­er of left-wing ​"whin­ing" dur­ing Hillary Clin­ton's cam­paign. As leaked Clin­ton cam­paign emails have revealed, pres­sure from unions and the Left was a decid­ing fac­tor in lead­ing Clin­ton to take a firm stand of oppo­si­tion against the Trans Pacif­ic Part­ner­ship trade deal. It's also unlike­ly that Clin­ton would have moved left on issues such as Social Secu­ri­ty and Medicare with­out a dis­grun­tled base that vocal­ly not­ed its dis­plea­sure with her pre­vi­ous pol­i­cy positions.
His­to­ry shows that crit­i­cism of politi­cians, far from under­min­ing them, makes them more respon­sive to pop­u­lar demands. Rather than being dis­missed by the lib­er­al com­men­tari­at, the types of crit­i­cisms fac­ing Kamala Har­ris today should be seen as part of an impor­tant tra­di­tion of Amer­i­can dis­sent in the ser­vice of pro­gres­sive change. Politi­cians are not so frag­ile that cri­tiquing their records will cause them to crum­ble into dust — if any­thing, it will make them better.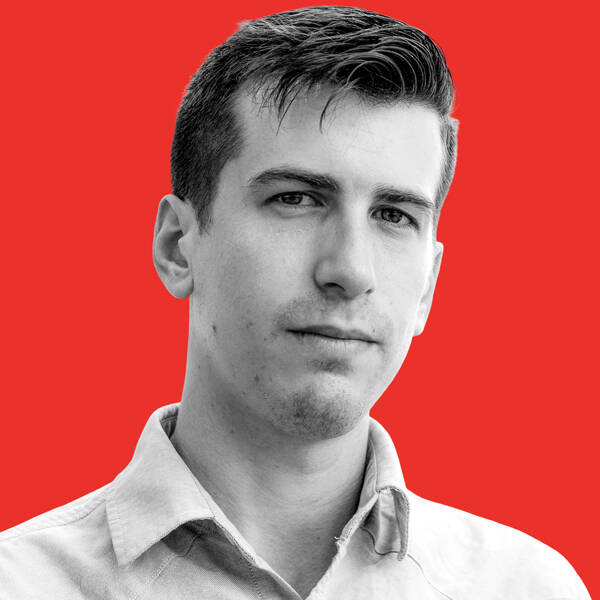 Branko Marcetic
is a staff writer at Jacobin mag­a­zine and a
2019
 – 
2020
Leonard C. Good­man Insti­tute for Inves­tiga­tive Report­ing fel­low. He is work­ing on a forth­com­ing book about Joe Biden.