The Trucking Industry Is a "Sweatshop on Wheels." Here's How Kavanaugh Could Make It Worse.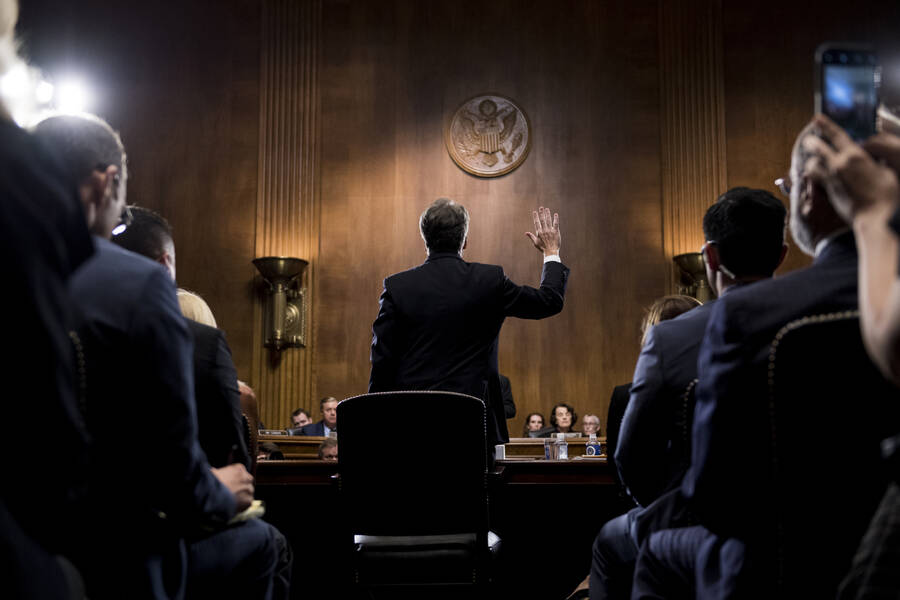 While the nation was focused on Brett Kavanaugh's contentious confirmation process, the Supreme Court began hearing arguments in New Prime Inc. v. Oliveira, a major labor case that could impact thousands of workers throughout the country. The Court will determine whether workers in the hyper-exploitive trucking industry can sue their bosses for breaking the law. Kavanaugh wasn't present for oral arguments and new Justices often recuse themselves from such cases, but there's nothing but an unwritten rule preventing him from casting a vote. If Kavanaugh's vote were to prove decisive, he could choose to participate or the justices could decide to re-hear the case.
New Prime (Prime) is a transportation outfit that runs an interstate trucking company. Dominic Oliveira claims that he participated in Prime's apprenticeship program and was told by the company that he'd make more money as an independent contractor than he would as an actual employee. Oliveira signed an Independent Contractor Operating Agreement which allowed him the flexibility to determine his own schedule and work for companies besides Prime. However, Oliveira claims that Prime had a ​"pervasive involvement" in his work which prevented him from working for other places, despite the fact the company wasn't supposed to. Oliveira filed suit against Prime in district court, alleging that the company failed to pay him minimum wage, a clear violation of the Fair Labor Standards Act.
Prime's contract with Oliveira contained an arbitration clause that hypothetically required the two parties to resolve any work disputes through an arbitration process, as opposed to a lawsuit. Prime filed a motion to compel arbitration and dodge the legal action, but Oliveira opposed the action, pointing out that the contract is exempted by the Federal Arbitration Act (FAA) which makes arbitration agreements enforceable. The FAA exempts ​"contracts of employment of seamen, railroad employees or any other class of workers engaged in foreign or interstate commerce." In 2001, the Supreme Court determined that his exemption applied to ​"contracts of employment of transportation workers."
The Supreme Court will now determine whether Oliveira should have been classified as a contractor, and therefore will be forced to settle for arbitration, or whether he will be allowed to take Prime to court. ​"If the Supreme Court rules for the bosses in this case, it will send a clear message: that big companies that break the law get to decide if and when the rules apply to them," Ceilidh Gao, a staff attorney who filed an amicus brief in the case with the National Employment Law Project, said in a statement. ​"If the Supreme Court rules against the workers, it would create further incentives for companies to misclassify their employees as independent contractors. Such a perverse outcome would be an affront to the basic fairness American workers demand."
The case shines a light on an industry that has become tremendously exploitative over the last 40 years. In the 1960s and 70s, trucking was a lucrative profession with regular hours — drivers were taking home around $100,000 a year in today's dollars. But things have changed drastically since the business was deregulated in 1980. In his 2000 book Sweatshop on Wheels: Winners and Losers in Trucking Deregulation, analyst Michael H. Belzer sounded an alarm, writing that truckers' median earnings had dropped 30 percent. Eighteen years later, things have gotten even worse: After factoring inflation, the wages for truckers have fallen since 2003.
Deregulation also had the predictable effect of weakening the industry's unions and increasing the number of ​"independent contractors" like Oliveira who end up owing their company money as a result of the associated expenses. ​"In the modern unregulated industry, the solution has been to shift the risks of truck ownership to the workers themselves," explained Steve Viscelli, economic sociologist and author of The Big Rig Trucking and the Decline of the American Dream, in a 2016 interview. ​"Companies insulate themselves from the costs of market [and fuel-price] volatility by getting the workers themselves to buy the trucks and pay the operating expenses. That's what they've achieved with these independent contractors."
Oliveria's case is just one of three arbitration cases that the Court is scheduled to hear this term, with Kavanaugh recently added to the bench. Typically, Justices don't cast a vote in cases where they weren't present for oral arguments. Most recently Justice Gorsuch recused himself from cases that had been heard before he was confirmed. However, there's nothing compelling Kavanaugh from participating and he could weigh in if he wanted to.
Kavanaugh's judicial career indicates that he'll consistently side with business over workers. In 2008, he dissented from a ruling that established undocumented workers as employees who can start a union. In 2016, he wrote for the majority in a case that overruled an NLRB decision which allowed Verizon workers to adorn their vehicles with pro-union messages. Most infamously he sided with SeaWorld after one of its trainers was killed by a whale, criticizing calls to sanction the company and impose regulations on it.
The case is also being heard amid dozens of gig economy lawsuits filed by workers fighting to be classified as employees. One recent suit showed that Uber saves $500 million a year by classifying drivers as independent contractors in California. Early analysis of New Prime Inc. v. Oliveira indicates that the Court might be more skeptical of the employer's claims than initially expected, but it remains to be seen whether a surprising outcome can be won on a Supreme Court that will now presumably remain conservative for decades to come.
Clarification: An earlier version of this piece implied Kavanaugh would definitely be voting in this case. Although that is a possibility, Justices often recuse themselves from cases in which they weren't present for oral arguments.
"
Michael Arria
is the U.S. correspondent for Mondoweiss. Follow him on Twitter: @michaelarria.