White Lawmakers Are Using Alabama's Racist State Constitution To Keep Black Wages Down
Alabama wrote its 1901 constitution to "establish white supremacy." Workers in a majority-black city say it's Jim Crow all over again.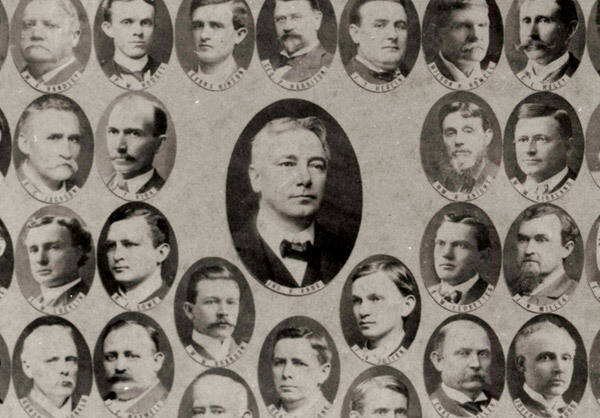 Labor Day in Birm­ing­ham, Ala., dawned hot and humid — a day for a bar­beque or a pic­nic. But the 100-strong group that gath­ered in the Five Points West shop­ping cen­ter Sep­tem­ber 4 had oth­er plans. As the sun reached its peak, dozens of peo­ple wear­ing ​"Fight for 15" shirts embla­zoned with a raised fist punch­ing through Alaba­ma spilled out of white vans onto the hot asphalt of the park­ing lot. They stood in small groups, tak­ing self­ies and smok­ing cig­a­rettes. Chil­dren held their par­ents' hands.
The state's preemption bill passed with only white votes — not a single black lawmaker voted for it.
Then Mark Myles, a bar­rel-chest­ed Fight for $15 orga­niz­er with a pen­chant for dol­ing out hugs, got on a bull­horn. ​"We are the work­ers!" he shout­ed. The crowd enthu­si­as­ti­cal­ly echoed him. ​"The mighty, mighty work­ers. We're here for $15 — $15 and a union!"
The group marched off to its first des­ti­na­tion: McDonald's. Under the close watch of a hand­ful of police offi­cers and suit­ed-up McDonald's man­agers, the crowd gath­ered in the dri­ve-through lane, joy­ous­ly shut­ting it down. ​"We came to order a raise!" a woman yelled on the bull­horn. Pass­ing cars honked in sup­port. Then the pro­test­ers moved on to march through a near­by Burg­er King and a Popeye's, shout­ing slo­gans and throw­ing their fists in the air.
The day was about demand­ing high­er pay, but pol­i­tics inter­min­gled with eco­nom­ics. ​"This is what democ­ra­cy looks like," a speak­er declared over the bull­horn. ​"Local gov­er­nance is very impor­tant to your fight." Peo­ple with clip­boards roamed the crowd look­ing to update vot­er registrations.
Just two years ago, these Fight for $15 work­ers and their allies won a min­i­mum wage increase to $10.10 in Birm­ing­ham. It was short-lived. State law­mak­ers inter­vened before the law took effect, pass­ing a pre­emp­tion bill that undid the work of the City Coun­cil and the will of its con­stituents. Since Alaba­ma doesn't even have its own min­i­mum wage, min­i­mum-wage work­ers still make the fed­er­al wage of just $7.25 an hour.
"We want $10.10, we gonna do it again," the crowd chanted.
The work­ers are using protests to pres­sure cor­po­rate employ­ers and state leg­is­la­tors to raise their pay. But they're not count­ing on it hap­pen­ing vol­un­tar­i­ly. On April 28, 2016, work­ers in Birm­ing­ham filed a law­suit accus­ing the state of racial ani­mus and vio­lat­ing the U.S. Constitution's 14th Amend­ment guar­an­tee of equal protection.
The law­suit offers a nov­el approach in a strug­gle tak­ing place across the coun­try as blue cities bat­tle red states for self-deter­mi­na­tion. Repub­li­cans often extoll the virtue of local gov­ern­men­tal con­trol, but not, it seems, when it comes to pro­gres­sive change.
Putting Birm­ing­ham ​
"

in its place"

The state of Alaba­ma was built on slave labor. Enslaved peo­ple were essen­tial to the cot­ton-based econ­o­my, and a slave tax was a core source of pub­lic rev­enue for much of the ear­ly 1800s. The Civ­il War and eman­ci­pa­tion dec­i­mat­ed that econ­o­my, and, as in much of the South, the white own­er class react­ed to Recon­struc­tion with ter­ror­ism and vio­lent mili­tias (known as ​"White Leagues"). By 1874, white Democ­rats had retak­en con­trol of the Alaba­ma gov­ern­ment. They quick­ly rewrote the state con­sti­tu­tion to roll back most of the polit­i­cal gains made by union­ists and freed­peo­ple dur­ing Recon­struc­tion. In 1901, they went even fur­ther, cre­at­ing a new con­sti­tu­tion intend­ed to, in the words of the pres­i­dent of the con­sti­tu­tion­al con­ven­tion, John B. Knox, ​"estab­lish white suprema­cy in this state."

That con­sti­tu­tion remains in effect today. At 388,882 words, it's the longest still-oper­a­tive con­sti­tu­tion in the world. When they nul­li­fied Birmingham's wage increase — a mea­sure passed by a major­i­ty-black City Coun­cil in a major­i­ty-black city — Alaba­ma law­mak­ers relied on a clause in this very con­sti­tu­tion. The Birm­ing­ham work­ers' law­suit argues that the constitution's accru­al of state pow­er was ​"for the express pur­pose of deny­ing pre­dom­i­nant­ly African-Amer­i­can com­mu­ni­ties local con­trol … upon racial grounds."

The state's pre­emp­tion bill passed with only white votes — not a sin­gle black law­mak­er vot­ed for it. In fact, the entire Alaba­ma Leg­isla­tive Black Cau­cus has joined the law­suit against the state.

"To me, it just looked like race was play­ing a role," says Richard Rouco, a local attor­ney who is rep­re­sent­ing the plain­tiffs in the law­suit — two work­ers, the Alaba­ma NAACP and Greater Birm­ing­ham Min­istries. ​"Every­one under­stood it was designed to put Birm­ing­ham in its place."

The law­suit is still work­ing its way through the court sys­tem. If the suit suc­ceeds, it won't just affect peo­ple in Birm­ing­ham, or even oth­er cities in Alaba­ma. The poten­tial impli­ca­tions are far larger.

"If we suc­ceed in this case, we'll show … a way for oth­er cities in the South who face sim­i­lar leg­is­la­tures, sim­i­lar hos­til­i­ty to the inter­ests of the black com­mu­ni­ty, that they might have a way of push­ing back," Rouco says.

The legal options for cities that want to reverse pre­emp­tion laws are often lim­it­ed. Thir­ty-nine states fol­low a doc­trine known as ​"Dillon's Rule," cod­i­fied a cen­tu­ry ago. Dillon's Rule holds that cities are grant­ed pow­ers only by their states, and that states can revoke those pow­ers. Some cities have suc­cess­ful­ly fought back against these laws, but on nar­row tech­ni­cal grounds. The city of St. Louis, for exam­ple, suc­cess­ful­ly defend­ed its right to raise its min­i­mum wage by argu­ing that Missouri's 1998 pre­emp­tion law was filed incor­rect­ly. In response, the state leg­is­la­ture sim­ply amend­ed the state con­sti­tu­tion — cor­rect­ly, this time — to deny cities authority.

But a racial dis­crim­i­na­tion argu­ment could over­ride Dillon's Rule. And it may not be that hard to make, even out­side the South. Accord­ing to a recent analy­sis by the Part­ner­ship for Work­ing Fam­i­lies, sev­en pre­dom­i­nant­ly white leg­is­la­tures have recent­ly passed leg­is­la­tion that blocks a city with a large African-Amer­i­can pop­u­la­tion from rais­ing its own wage. While South­ern states such as Alaba­ma and Geor­gia make the list, so do Ohio and Missouri.

Advo­cates see it as a con­tin­u­a­tion of Jim Crow poli­cies that imposed white rule on black com­mu­ni­ties, thus dimin­ish­ing black people's chances of eco­nom­ic advance­ment. ​"It's real­ly pre­serv­ing a lega­cy where com­mu­ni­ties of col­or are not able to pass local pol­i­cy," says Nik­ki For­tu­na­to Bas, exec­u­tive direc­tor of the Part­ner­ship for Work­ing Families.

"It's a pret­ty dis­turb­ing trend," Bas adds. ​"State inter­fer­ence is more than about just pol­i­tics; in many cas­es, it's also about racial justice."
The fight for $
15

and self-rule

Orga­ni­za­tions such as Greater Birm­ing­ham Min­istries have worked since the late 1990s to raise wages in the city. But it wasn't until Birmingham's chap­ter of Fight for $15, called Raise Up for $15, got going in 2015 that they start­ed to see action. ​"The glue that held that togeth­er was the weight of the authen­tic­i­ty of the Fight for $15 work­ers," says Scott Dou­glas, exec­u­tive direc­tor of Greater Birm­ing­ham Ministries.

Raise Up for $15, SEIU and Greater Birm­ing­ham Min­istries staged a num­ber of ral­lies and demon­stra­tions in sup­port of a wage increase. In April 2015 the Birm­ing­ham City Coun­cil passed a res­o­lu­tion call­ing on the Alaba­ma leg­is­la­ture to pass a statewide min­i­mum wage of at least $10 an hour. The state nev­er responded.

"As far as we can tell, they basi­cal­ly put that in the waste­bas­ket," says Rouco.

So activists tar­get­ed the city gov­ern­ment, demand­ing it raise work­ers' min­i­mum wage to $10.10. It's a tac­tic that's increas­ing­ly tak­en root across the coun­try, par­tic­u­lar­ly as Con­gress has failed to raise the fed­er­al floor for eight years. Before 2012, only five local­i­ties had passed their own min­i­mum wage laws. Today, 39 cities and coun­ties have passed them, with 20 going as high as $15 an hour.

At first, Birm­ing­ham law­mak­ers protest­ed, argu­ing that they didn't have the legal author­i­ty to pass their own min­i­mum wage. But noth­ing in the state con­sti­tu­tion said they couldn't. Then the coun­cilors vot­ed to raise wages — for them­selves, lift­ing their base pay from $15,000 to $50,000. ​"That less­ened the resis­tance," says Dou­glas with a laugh.

In August 2015, the coun­cil passed an ordi­nance to increase the wage floor to $10.10 with­in two years, mak­ing it the first city in the South to raise its min­i­mum wage.

Sher­rette Spicer, a Raise Up for $15 orga­niz­er who works at a local Crack­er Bar­rel, was out­side the City Coun­cil when it hap­pened. ​"There were some moments of ela­tion," she says. ​"We were excited."

Der­rick Miller was one of the low-wage work­ers who stood to get a raise. At the time that the City Coun­cil passed the increase, he was work­ing at Hardee's, mak­ing $7.65 an hour. Miller, 36, has a smile that lights up his face and push­es up the apples of his cheeks toward his soft brown eyes.

But his smile cov­ers hard­ships. He has four chil­dren, ages 4 to 16. And he's always worked in jobs where he earned close to the min­i­mum wage, mak­ing it a chal­lenge to get by and pro­vide for his kids.

So when he found out that the City Coun­cil had passed the raise, he recalls, grin­ning, ​"I tell every­body every­thing gonna be alright. I'm telling my children's mom every­thing gonna be alright now."

He was look­ing for­ward to being able to afford a car on $10.10 an hour — some­thing he des­per­ate­ly needs, liv­ing far from mass tran­sit. But the excite­ment in Birm­ing­ham didn't last.

"We start­ed almost imme­di­ate­ly to get rumors from the leg­is­la­ture that they gonna pass a bill to annul it," Dou­glas says.

On the first day of the next leg­isla­tive ses­sion, Feb. 9, 2016, a bill was intro­duced by Rep. David Faulkn­er ®, a white law­mak­er who rep­re­sents the wealth­i­est com­mu­ni­ty in the state, which is over 96 per­cent white. Faulkner's bill didn't just pre­vent future min­i­mum wage increas­es by cities and coun­ties. Nor did it halt at rolling back the vic­to­ry in Birm­ing­ham. It said that only the state can reg­u­late pri­vate employ­ers' wages and ben­e­fits, tak­ing that pow­er com­plete­ly out of city and coun­ty gov­ern­ments' hands.

Faulkn­er, an attor­ney who rep­re­sents Home Depot and has served on sev­er­al local Cham­bers of Com­merce, explained the bill as a response to ​"an attack by labor unions com­ing in [and] get­ting cities to raise min­i­mum wages."

The bill made it from intro­duc­tion to pas­sage in 16 days. ​"Frankly unprece­dent­ed," is how Rouco describes it. The only sim­i­lar leg­is­la­tion the state had ever con­sid­ered was a bill in 2013 pro­hibit­ing munic­i­pal­i­ties from reg­u­lat­ing guns. This was far broader.

The $10.10 min­i­mum nev­er saw the light of day. Miller found out what had hap­pened to his pend­ing raise while watch­ing the news. ​"It was a shock, just like a slap in the face," he says.

He has yet to make $10.10 an hour. Instead, after trav­el­ing to join a mass Fight for $15 demon­stra­tion in front of McDonald's head­quar­ters in Illi­nois, he was fired from Hardee's, where he had worked for five years. (Hardee's did not return a request for comment.)

After that, ​"every­thing changed," he says.

When he talks about the next phase of his life, all traces of a smile fade from his face and he stares down at his lap. He and the moth­er of his chil­dren lost their house and had to move in with her moth­er. Between the stress of that tran­si­tion and his strug­gle to find a new job, his part­ner end­ed the rela­tion­ship after eight years and three kids together.

"She thought I was try­ing to, you know, sit around and not try to find a job," he says. ​"That ain't what it was."

It was an incred­i­bly dif­fi­cult time. ​"My grand­moth­er like, ​'You ain't the same per­son,'" he recalls. It took him some time before he could ​"laugh and joke and be [him­self]."

Today, he still lives with his grand­moth­er in a home crowd­ed with his grade-school tro­phies and class pho­tos. After a year of unem­ploy­ment, he got a new job work­ing at McDonald's for $8 an hour. The pride he takes in his work is clear. He's quick to boast of how well he han­dled the break­fast rush at Hardee's. When he wasn't get­ting enough hours at McDonald's, he says, he ​"start­ed work­ing hard­er, faster," learn­ing how to do extra tasks.

But he still strug­gles to get by on $8 an hour, even full time. ​"I want to work, but I don't make no mon­ey," he says. ​"You might be alright mak­ing $7.50 for your­self, but if you got chil­dren, oh lord."

His dreams of going back to school to get a bet­ter-pay­ing job still hinge on being able to afford a car. His grand­moth­er, who is 81, has to dri­ve him to and from work, and he's ner­vous about mak­ing her dri­ve far­ther at night. He sees his kids on his days off, but it's dif­fi­cult with­out a car, and it's nev­er enough time. ​"I don't want to be away from my fam­i­ly," he says.

Miller is one of an esti­mat­ed 40,000 work­ers who stood to ben­e­fit from Birmingham's $10.10 min­i­mum wage. That's a big num­ber in a city of about 210,000.
A page from ALEC
State leg­is­la­tors didn't come up with the idea of pre­emp­tion all by them­selves. After Col­orado and Louisiana passed min­i­mum wage pre­emp­tion laws in the late 1990s, the Amer­i­can Leg­isla­tive Exchange Coun­cil — a cor­po­rate-backed con­ser­v­a­tive coali­tion fund­ed by the likes of Exxon, Koch Indus­tries and AT&T that spreads mod­el leg­is­la­tion on its pet issues — took up the charge. In 2001, ALEC came up with what it calls the Liv­ing Wage Man­date Pre­emp­tion Act. It was a tem­plate for states to block cities and coun­ties from rais­ing pay in their own com­mu­ni­ties. It didn't set a floor below which cities couldn't go; it set a ceil­ing based on state law.
States took ALEC up on its idea, often in response to cam­paigns to raise wages in places such as Atlanta and San Anto­nio. Four states passed min­i­mum wage pre­emp­tion laws between 2002 and 2005. But activ­i­ty most­ly petered out after that.
Then, in 2011, SEIU launched the Fight for $15, a nation­wide cam­paign for $15 and a union. It made head­lines with the first-ever fast food strike in 2012, a one-day action that has since been repeat­ed in hun­dreds of cities across the coun­try. Work­ers have con­vinced a num­ber of city gov­ern­ments to take action on the min­i­mum wage.
But the move­ment to increase local wages coin­cid­ed with con­ser­v­a­tive law­mak­ers seiz­ing con­trol of state­hous­es. In the 2010 midterm elec­tions, Repub­li­cans won more than 680 seats, the most since 1938, tak­ing com­plete con­trol of gov­ern­ment in 21 states.
ALEC decid­ed to make anoth­er push on pre­emp­tion in 2013 and found a warm recep­tion among Repub­li­can law­mak­ers in state leg­is­la­tures and gov­er­nor­ships. ​"All of a sud­den, we saw a slew of states decid­ing to pass pre­emp­tion laws [that] looked very sim­i­lar to its mod­el bill," says Marni von Wilpert, asso­ciate labor coun­sel at the Eco­nom­ic Pol­i­cy Insti­tute. Between 2011 and 2013, 105 pre­emp­tion bills under­min­ing wages were intro­duced in state­hous­es, about two-thirds of which were spon­sored or co-spon­sored by leg­is­la­tors who were affil­i­at­ed with ALEC.
At least 25 states have now insti­tut­ed laws that usurp city and coun­ty pow­er to take action on their own min­i­mum wages. More than half have passed since 2013. Five states joined the list in 2016 alone, with three more this year so far.
And pre­emp­tion laws are becom­ing both more expan­sive and more puni­tive. ​"What we've seen is pre­emp­tion on over­drive," says Lisa Graves, exec­u­tive direc­tor of the Cen­ter for Media and Democ­ra­cy. It's not just about the min­i­mum wage any­more; states have blocked cities from tak­ing action on issues such as paid sick leave, anti-dis­crim­i­na­tion rules, frack­ing, and even the reg­u­la­tion of plas­tic bags and e‑cigarettes.
States have also start­ed enact­ing what antipreemp­tion advo­cates dub ​"super pre­emp­tion": leg­is­la­tion that allows state law­mak­ers to pun­ish local gov­ern­ments for bills that con­flict with state law. In some, such as Flori­da and Indi­ana, local offi­cials can be held per­son­al­ly liable if they vote for laws and refuse to rescind them, includ­ing being sued, fined or removed from office. In oth­ers, such as Ari­zona, the state has threat­ened to strip cities of funding.
There's anoth­er inno­va­tion in the cur­rent wave of pre­emp­tion laws: Some have been imple­ment­ed after a city already raised its wage. In St. Louis, work­ers just had their pay increas­es tak­en away.
Wan­da Rogers works at a McDonald's in St. Louis. The 43-year-old lives in a two-bed­room apart­ment in low-income hous­ing with her daugh­ter and two grand­chil­dren. She wor­ries that her hous­ing sit­u­a­tion is hurt­ing the chil­dren. ​"We have to con­stant­ly watch for mice, because we have mice every­where, start­ing to climb into the bed," she says. She won't let her grand­chil­dren play out­side because she's afraid of vio­lence and crime. Yet she can't afford to move any­where else; she can bare­ly afford to keep this place.
These wor­ries began to melt away after her City Coun­cil imple­ment­ed a min­i­mum wage increase in 2015, which brought her pay from $7.70 to $10 an hour in May of this year. ​"It was a great, great big help," she says. ​"It gave me 200 more dol­lars on my check, which made me not have to … decide how I'm going to pay my bills or if I'm going to pay my rent, my gas and light [or] food."
But she's lost that raise, along with about 35,000 oth­er St. Louis res­i­dents. The Mis­souri leg­is­la­ture passed a law ear­li­er this year that blocks cities from increas­ing their min­i­mum wages. It went into effect in August, low­er­ing the wage floor in St. Louis back to $7.70 and revers­ing rais­es that employ­ees had already gotten.
Orga­niz­ers came up with a new tac­tic to try to pre­serve the city's high­er pay: a cam­paign called Save the Raise that pres­sures local employ­ers to con­tin­ue pay­ing $10 an hour despite what the law says. So far 140 have signed on, includ­ing Casey Miller, who owns two restau­rants and a record store with her hus­band. ​"When you're a small busi­ness you can't go hide up in an office," she says. ​"I couldn't take that mon­ey away from my employ­ees and just keep com­ing around."
She's watched her 40 or so work­ers turn around and spend their wages in the neigh­bor­hood, bol­ster­ing sales for every­one. ​"I feel like it's good for busi­ness, it's good for com­mu­ni­ty, it's good for my employ­ees," she says.
But big cor­po­rate employ­ers such as McDonald's, where Rogers works, haven't got­ten on board. ​"We'll go back to strug­gling again," Rogers says. ​"If I could keep my raise, that could help me get out of here.
"I wish peo­ple at the top mak­ing all this big mon­ey … could come see my apart­ment, spend one night in my apart­ment," she adds.
McDonald's did not respond to a request for comment.
Cities may have few tools in their tool­box to undo passed state laws — putting a heavy empha­sis on pre­vent­ing them in the first place. A new ini­tia­tive launched in Jan­u­ary aims to coor­di­nate efforts across the coun­try: the Cam­paign to Defend Local Solu­tions, the brain­child of Tal­la­has­see May­or Andrew Gillum, who was per­son­al­ly sued by the gun lob­by for refus­ing to repeal a ban on shoot­ing guns in pub­lic parks.
"We felt like there was … a need for local elect­ed offi­cials and local gov­ern­ments around the coun­try to push back against the trend of pre­emp­tion," says Mike Alfano, the cam­paign man­ag­er. ​"The folks push­ing these pre­emp­tion laws are so coor­di­nat­ed and coa­lesced that there's no oth­er way to suc­cess­ful­ly slow it down or ulti­mate­ly defeat it." The orga­ni­za­tion is focused on edu­cat­ing the pub­lic on this lit­tle-noticed trend, as well as sup­port­ing legal efforts against preemption.
But it will take sig­nif­i­cant work to raise its pro­file enough to make an impact. ​"The ques­tion is which moves these state elect­eds more: the mon­ey [from ALEC's cor­po­rate inter­ests] or the orga­niz­ing and the sham­ing from work­ers and peo­ple in their com­mu­ni­ties?" says Tsed­eye Gebre­se­lassie, a senior staff attor­ney at the Nation­al Employ­ment Law Project.
An answer is urgent­ly need­ed. Reminders of the civ­il rights move­ment, which based many of its actions and strat­e­gy ses­sions in Birm­ing­ham, are scat­tered through­out the city. The A.G. Gas­ton motel, where Mar­tin Luther King Jr. and oth­er lead­ers held their strat­e­gy ses­sions, is just a few blocks from the 16th St. Bap­tist Church, where a bomb plant­ed by the KKK killed four young girls in 1963. They're also a reminder of the impor­tance of leg­isla­tive change for improv­ing the well-being of peo­ple of color.
"In an era when the fed­er­al gov­ern­ment is going through a phase of being non­re­spon­sive and non­re­spon­si­ble, then there are going to be increas­ing efforts to win and defend vic­to­ries at the local lev­el," Dou­glas says.
Every­one is still wait­ing to see whether local democ­ra­cy can prevail.
Bryce Covert
, a con­tribut­ing op-ed writer at the
New York Times
, has writ­ten for
The New Repub­lic, The Nation,
the
Wash­ing­ton Post
, the
New York Dai­ly News
,
New York Mag­a­zine
and
Slate
, and has appeared on ABC, CBS, MSNBC and NPR. She won a
2016
Excep­tion­al Mer­it in Media Award from the Nation­al Women's Polit­i­cal Caucus.