In Crosshairs of Right-to-Work, Kentucky Bourbon Makers Go On Strike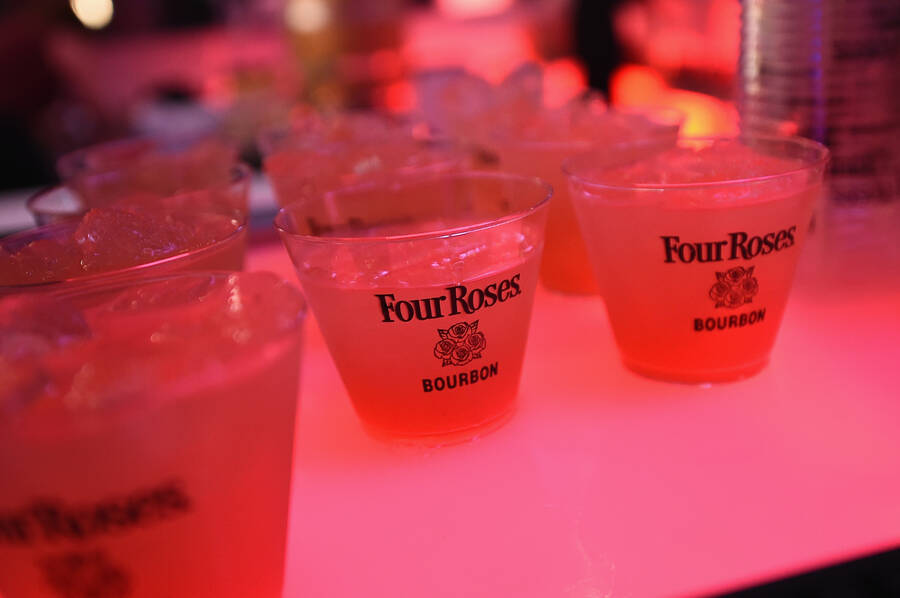 More than 50 work­ers in Ken­tucky are on strike due to a con­tract dis­pute with Four Ros­es, a bour­bon mak­er with a dis­tillery in Lawrence­burg and a bot­tling plant in Cox's Creek. Work­ers say Four Ros­es is attempt­ing to adopt a two-tier sys­tem that would reduce the ben­e­fits for new employ­ees of the com­pa­ny. Mem­bers of three dif­fer­ent unions walked off their jobs at these sites on Sep­tem­ber 7.
The move to estab­lish a two-tier sys­tem is espe­cial­ly con­cern­ing to union lead­ers because Ken­tucky became a ​"right to work" state in 2017, which means that work­ers are no longer required to pay union dues. A reduc­tion in ben­e­fits would pre­sum­ably give new Four Ros­es employ­ees less incen­tive to sup­port the unions finan­cial­ly, poten­tial­ly deal­ing an irrepara­ble blow to the company's orga­nized labor. Since the law passed, 16,000 work­ers in Ken­tucky have opt­ed out of pay­ing their union dues.
The unions on strike are Unit­ed Food and Com­mer­cial Work­ers 10D, Unit­ed Food and Com­mer­cial Work­ers 23D and Ser­vice Employ­ees Inter­na­tion­al Union/​National Con­fer­ence of Fire­men and Oilers.
Jef­frey Roy­al­ty is the pres­i­dent of the UFCW Local 10D. He told In These Times that the Four Ros­es' two-tier pro­pos­al is designed to ​"short change the next gen­er­a­tion." Accord­ing to Roy­al­ty, ​"For these cor­po­ra­tions, ​'right to work' real­ly means ​'right to take.' He added that this sys­tem will destroy any organization."
Royalty's posi­tion was echoed by Tim Mor­ris, the polit­i­cal direc­tor of Greater Louisville Cen­tral Labor Coun­cil. Mor­ris told In These Times that the ​"whole premise" of two-tier sys­tem was to ​"cre­ate a divide in the work­force … cause ani­mos­i­ty, dri­ve a wedge and make work­ers not want to stand up and fight when oth­ers are attacked." Mor­ris empha­sized, ​"The peo­ple on strike know that to help future employ­ees, they need to stand up for work­ers now."
The strike is occur­ring at a time when tourists are flock­ing to the area for this week's Ken­tucky Bour­bon Fes­ti­val, an annu­al gath­er­ing that fea­tures an event at Four Ros­es' dis­tillery. Roy­al­ty says sup­port from the com­mu­ni­ty has been ​"out­stand­ing" and that many peo­ple have dropped off food and pon­chos to the pick­et­ing workers.
Four Ros­es, which has exist­ed since 1888 and was pur­chased by Japan's Kirin Com­pa­ny in 2002, said in a state­ment regard­ing the strike, ​"A claim that we are propos­ing a ​'two-tier' sick leave pol­i­cy that dis­crim­i­nates against new hires is not true. We agree that the new hires would not receive the same sick leave ben­e­fits as cur­rent employ­ees, but we believe the new hires' pro­gram is bet­ter, not worse."
Kentucky's Supreme Court is cur­rent­ly con­sid­er­ing a law­suit launched by unions over the state's ​"right to work" law. The unions are argu­ing that the law was passed in vio­la­tion of the Ken­tucky Con­sti­tu­tion. The ​"right to work" law was swift­ly passed by the state's GOP-con­trolled leg­is­la­ture and not put up for a pop­u­lar vote.
"It's real­ly not ​'right to work,' it's a right for employ­ees to not pay their fair share for the costs of union rep­re­sen­ta­tion," Irwin Cut­ler, the attor­ney argu­ing the law­suit, has argued. ​"What we see here is an effort to destroy unions, to weak­en unions."
Four Ros­es and the strik­ing work­ers are slat­ed to resume nego­ti­a­tions on Sep­tem­ber 21.
"
Michael Arria
is the U.S. cor­re­spon­dent for Mon­doweiss. Fol­low him on Twit­ter: @michaelarria.