Kentucky Miners Are Blocking a Coal Train for Back Pay. We Talked to One About a Just Transition.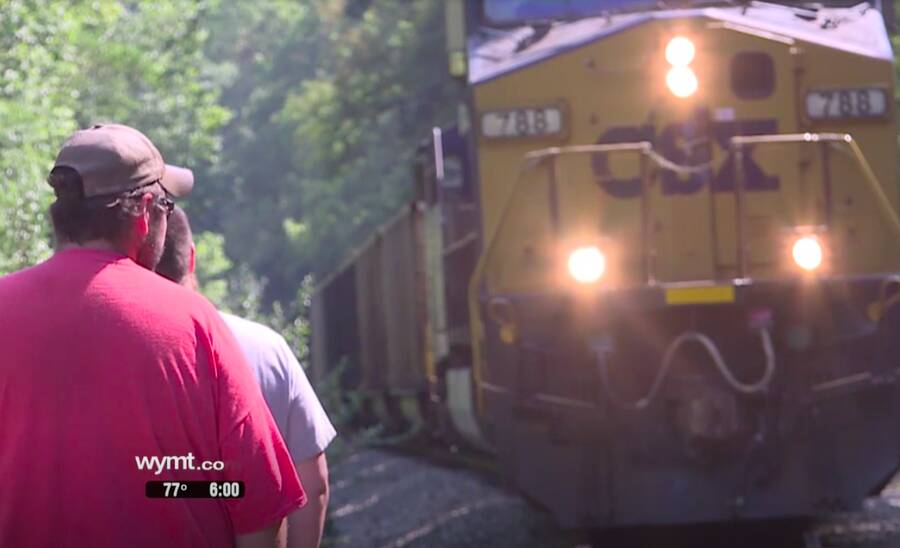 On July 29, coal min­ers in Cum­ber­land, Ken­tucky began block­ing a train car­ry­ing more than $1 mil­lion worth of coal to protest their for­mer employ­er, Black­jew­el LLC, which declared bank­rupt­cy on July 1. Accord­ing to CNN, the com­pa­ny wrote bad checks to 350 min­ers in Har­lan Coun­ty alone, prompt­ing the work­ers to stage the protest to demand their pay­checks. Hold­ing signs that say, ​"No pay, we stay," the coal min­ers have been buoyed by com­mu­ni­ty sup­port, with church­es and restau­rants donat­ing food and sup­plies. They say they will stay on the tracks until they get the wages they're owed for the work they've already done. While Har­lan Coun­ty stands as the site of mil­i­tant coal-min­er labor strug­gles in the 1930s and 1970s, these work­ers are non-union.
This dra­mat­ic action under­scores the need for a ​"just tran­si­tion" — a key demand of today's cli­mate move­ment. Devel­oped 20 to 30 years ago by envi­ron­men­tal jus­tice, labor and Indige­nous move­ments, the pro­pos­al rests on the prin­ci­ple that, as we shift away from a fos­sil fuel econ­o­my, we must ensure work­ers in those indus­tries are tak­en care of. That includes retrain­ing work­ers and pro­vid­ing new, well-pay­ing union jobs while pro­tect­ing their pen­sions and and ensur­ing they play a role in shap­ing the eco­nom­ic trans­for­ma­tion as we shift to a zero-emis­sions econ­o­my. This prin­ci­ple has made its way onto the nation­al stage and into the pro­posed Green New Deal res­o­lu­tion. As Rep. Alexan­dria Oca­sio-Cortez (D‑N.Y.) said in Decem­ber 2018, ​"We can use the tran­si­tion to 100 per­cent renew­able ener­gy as the vehi­cle to tru­ly deliv­er and estab­lish eco­nom­ic, social and racial jus­tice in the Unit­ed States of America."
As the coal indus­try declines, it's becom­ing increas­ing­ly clear that a just tran­si­tion is not a far-off goal post: Peo­ple are los­ing their jobs now. If cli­mate cam­paign­ers are seri­ous about build­ing trust with work­ers, and ensur­ing they lead a just tran­si­tion away from the fos­sil fuel econ­o­my, now is the time to engage with coal min­ers' strug­gles to sur­vive a tran­si­tion they did not choose. Josh Hol­brook is a 36-year-old coal min­er and for­mer employ­ee of Black­jew­el, where he worked as a third-shift fore­man. He is now help­ing his fel­low work­ers block the coal train in Cum­ber­land. Cur­rent­ly liv­ing in the small town of Flem­ing-Neon, Ken­tucky, Hol­brook has been work­ing in coal mines for 18 years.
In an inter­view with In These Times, Hol­brook says that the coal min­ers are in dire need of sol­i­dar­i­ty, and he's open to the idea of tran­si­tion­ing into a new job. But he needs proof that a just tran­si­tion is a seri­ous pro­pos­al. ​"Bring jobs in," he says. ​"Mon­ey talks."
Sarah Lazare: Can you tell me what's hap­pen­ing right now with the protest against Blackjewel?
Josh Hol­brook: The train is still blocked. We still have min­ers on the track. They're not mov­ing until we get paid. We are owed the last two pay­checks. The last time we got a valid pay­check was June 14. The last day I worked was July 1. I've been work­ing a dif­fer­ent job, but I've been help­ing block the tracks. I actu­al­ly preached there yes­ter­day. We had a church service.
Sarah: What do you think of the idea of a ​"just tran­si­tion" put for­ward by cli­mate and labor activists?
Josh: I haven't heard of a just transition.
Sarah: It's this idea that, in order to curb cli­mate change, we need to stop extract­ing fos­sil fuels, includ­ing coal. But if we're going to do that, we need to make sure the work­ers in those indus­tries are tak­en care of. This can mean job retrain­ing so that coal min­ers can become renew­able ener­gy work­ers. It also means pro­tect­ing the health­care and pen­sions of coal min­ers who lose their jobs.
Josh: It makes sense to me. We care about the envi­ron­ment. I think it needs to be a glob­al standard.
I've been in coal mines for 18 years. Where I come from, that's all we have. I'm pro-coal. I'd also like to see some kind of infra­struc­ture come in here, like fac­to­ries. We don't have high-pay­ing jobs. We have no fac­to­ries where I grew up.
Sol­i­dar­i­ty would be great. It would be great if a set of jobs came in. It'd be great if the nation band­ed togeth­er and helped us out right now. I'm not in as bad a shape as some peo­ple. There are a lot of hon­est, hard­work­ing men whose kids can't buy clothes for school. It'd be great to see solidarity.
Peo­ple think we have a grudge against the envi­ron­ment because we're coal min­ers. We love the envi­ron­ment. I'm not sure about the impact coal has on the envi­ron­ment. Can you say a bit more about that?
Sarah: Unfor­tu­nate­ly, coal is a pret­ty big prob­lem. It's one of the most pol­lut­ing fos­sil fuels out there and the biggest con­trib­u­tor to cli­mate change. One study found that, to pre­vent the worst-case cli­mate change sce­nario, 82 per­cent of coal reserves must stay in the earth. There's not real­ly a way around the fact that, to pre­vent a cli­mate emer­gency, coal min­ing jobs would have to go away. But the idea of a just tran­si­tion is that those jobs can be replaced with new jobs, and that work­ers can be retrained. Some are call­ing for a jobs guar­an­tee, and a uni­ver­sal basic income, to make sure not a sin­gle per­son falls through the cracks.
Josh: We would love to see jobs come into our area — decent-pay­ing jobs — because this is pre­dom­i­nant­ly a coal town. That's what it's depend­ed on. That's real­ly the only job you can have except Wal­mart or a fast food restau­rant. There are no well-pay­ing jobs. The min­ing indus­try is up and down, it's like a roller coast­er. It's not sta­ble. I moved to Alaba­ma for four years in 2012, just chas­ing the dol­lar, try­ing to keep a job in a coal mine.
I was talk­ing to some­one the oth­er day, he's prob­a­bly my age and has been work­ing in the coal mines a sim­i­lar length of time. I said we're prob­a­bly not going to be able to retire in the mines. You have the issue of cli­mate change, and most com­pa­nies don't care about us in the end, all they care about is the dol­lar. It's a real­ly bad situation.
Sarah: It's true that the coal indus­try is already declin­ing. There are a lot of cli­mate activists out there talk­ing about sup­port­ing coal and oth­er fos­sil fuel work­ers through the tran­si­tion, whether jobs are being lost as a result of reces­sion, or meet­ing the needs of cli­mate change, or both. What could cli­mate activists do right now to show that they're seri­ous about help­ing coal min­ers out?
Josh: It'd have to be sup­port. Help us out. Stand­ing on the tracks is one thing, but stand­ing some­where else where they're hurt­ing even more is good too. For a month, no one said noth­ing about the issue, then we made a media fren­zy by block­ing the train and got atten­tion. Before that, we were in the dark.
Job train­ing would be great, but you could have all the train­ing in the world and if there's not jobs here, we have to move away. With­out fac­to­ries or plants or some­thing of that nature, train­ing wouldn't be very effective.
Cli­mate activists can get togeth­er and under­stand our strug­gles on the mat­ter. This is the only thing we got. It's a liveli­hood. It's how we put food in our kids' mouths. We're not doing it in a cor­ner try­ing to destroy the world. We're try­ing to pro­vide for our fam­i­lies. We are hon­est, hard­work­ing peo­ple try­ing to put roofs over our heads.
Peo­ple can donate to help. We're not ask­ing for a hand­out or noth­ing like that. But there's chil­dren with­out food. We have a GoFundMe. Any­thing any­one could do to help. Right now, we need school sup­plies, shoes.
Sarah: What is your impres­sion of cli­mate activists?
Josh: I'm not real­ly famil­iar with what cli­mate activists believe. All I've seen is the, ​"No coal, shut coal mines down." I'm not real­ly famil­iar with what they actu­al­ly believe and what they want done.
Sarah: You men­tioned ear­li­er that a lot of coal com­pa­nies don't care about work­ers. There's also rea­son to think they don't care about the envi­ron­ment. Is it pos­si­ble that coal min­ers and cli­mate activists have a com­mon enemy?
Josh: There's some oper­a­tors I've worked for that actu­al­ly care for their men. You've got good ones out there. They're few and far between. I wouldn't call it an ene­my. I'm a min­is­ter of the gospel. I like to have no enemies.
Sarah: What if we used dif­fer­ent word­ing? What if we talked about the harm the com­pa­nies are doing?
Josh: The Black­jew­el CEO, Jeff Hoops, is doing a lot of harm to a lot of fam­i­lies. You got some good ones and some bad ones. I don't think it's their direct intent to harm the envi­ron­ment. I think they want to get rich and that's the way they can do it.
If they want to see how coal min­ers oper­ate, they can look at the facts, how dif­fer­ent ven­dors come out and give free food to the min­ers on the tracks. Peo­ple are show­ing up and help­ing every day. At the end of the day, it's not about whether you are pro-coal or anti-coal, it's about whether you're pro-man. We do this because it's what we got­ta do. It's how we make money.
I hate the stereo­type that we don't like the envi­ron­ment. We love the out­doors. Where we live is some of the most beau­ti­ful ter­ri­to­ry in the Unit­ed States. I'm sure cli­mate activists think some­one is against them, they think we're doing an injus­tice. We don't put peo­ple down over what they do for their livelihood.
Sarah: Have you heard of Alexan­dria Oca­sio-Cortez or the Green New Deal?
Josh: No.
If these politi­cians who talk about cli­mate change are against coal, they need to come to these coal places and tell peo­ple and bring jobs in. If we had jobs to go to, espe­cial­ly work­ing in a fac­to­ry or some­thing. Coal is one of the most dan­ger­ous jobs there are, and def­i­nite­ly one of the most bru­tal. I've seen peo­ple lose their lives and lose limbs, and all they're try­ing to do is pro­vide for their family.
Come to where we live, come to a small town and tell peo­ple how it's affect­ing the envi­ron­ment and how we can change it. If stop­ping coal min­ing is how we can change it, then bring jobs in. Mon­ey talks. There's so much unused prop­er­ty here, unused real estate, prime for putting in fac­to­ries, auto plants, any­thing. It'd be great if some­one want­ed to do some­thing like that, put their mon­ey where their mouth is. Bring jobs in. We have noth­ing here. With­out coal, there's noth­ing here.
It's got­ta start some­where. Got­ta start some­time. We can talk about it, but if we don't put action with it, it's just a thought — it's just words.
Sarah: Are you get­ting sup­port from your community?
Josh: Com­mu­ni­ty is help­ing, rolling through. Church­es are get­ting togeth­er, try­ing to buy school clothes for peo­ple. Most min­ers haven't had a valid pay­check. The com­mu­ni­ty is real­ly help­ing and sup­port­ing the coal min­ers, it's com­ing togeth­er. I found anoth­er min­ing job in Pike Coun­ty, an hour and 10 min­utes away.
Sarah: Have you ever been a labor activist before?
Josh: I just con­sid­er myself some­one who likes to tell the truth. We start­ed block­ing the train last Mon­day. There were some peo­ple sup­port­ing from day one. Once we start­ed block­ing the train, that's when the big sup­port came in. That's when peo­ple took notice. There were peo­ple here who were try­ing to help us. There are about 150 peo­ple in my town employed by the company.
We mined the coal, and com­pa­ny says they don't have mon­ey to oper­ate. But they're sell­ing the coal. And they can't pay us?
I see us block­ing the trains until we get paid. I'm sure when we get paid, we'll let it go. But like the signs say, ​"No pay, we stay."
What do you think about labor unions?
We're non-union. I haven't worked in a union mine, and I don't know a lot about it. I couldn't comment.
Sarah: What would you think if there were a just tran­si­tion that meant you would get new train­ing and be able to switch jobs into a dif­fer­ent field, for the pur­pos­es of address­ing the cli­mate cri­sis? Assum­ing there was fol­low-through, and a sim­i­lar­ly-pay­ing job was wait­ing for you, how would you feel?
Josh: I would be sad to leave. When you mine coal, it's a lifestyle. I know it's a cliché, but it gets in your blood. You've got such com­radery and sol­i­dar­i­ty with the men you work with. You're togeth­er 10, 12 hours a day. You're miles under a moun­tain. It's dark. Every move you make, you do it to help your broth­er out. It's a good envi­ron­ment. It's a good work­place. It's mud­dy, it's dark, some­times it's mis­er­able. But it's an hon­est way to make your money.
I'd be sad. But if I could find a job mak­ing good mon­ey, at the end of the day, it's about mak­ing enough mon­ey to sur­vive, and mak­ing enough mon­ey for your children.
I grew up poor. We didn't have a lot. My dad was a coal min­er, but he got hurt when I was young. After that, my mom worked at Wal­mart. We didn't have much. I went to school and saw kids wear­ing nice things. Their dad­dies were coal min­ers. So that's what I want­ed to be — a coal miner.
You can hear more from Josh Hol­brook on the pod­cast Work­ing Peo­ple, host­ed by Max­imil­lian Alvarez.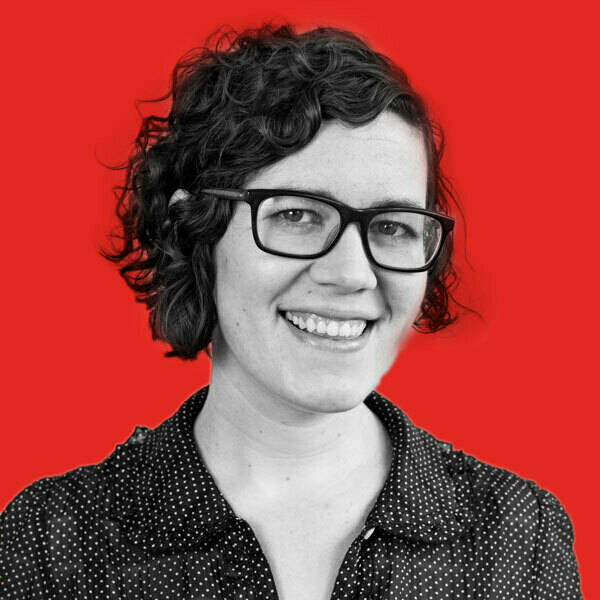 Sarah Lazare is web edi­tor at In These Times. She comes from a back­ground in inde­pen­dent jour­nal­ism for pub­li­ca­tions includ­ing The Inter­cept, The Nation, and Tom Dis­patch. She tweets at @sarahlazare.