Documents Show Notorious Union-Buster Backing Kentucky's County Right-to-Work Laws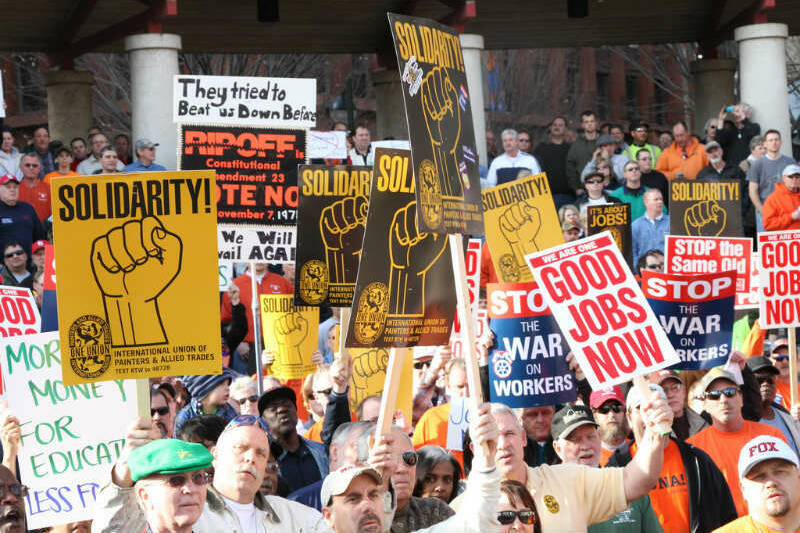 The con­ser­v­a­tive push for local right-to-work ordi­nances has been mov­ing quick­ly recent­ly. Where­as a few months ago, there was a gen­er­al under­stand­ing that the 1947 Taft-Hart­ley Act only per­mit­ted states and ter­ri­to­ries to pass these laws — which threat­en unions' sol­ven­cy by allow­ing work­ers to receive the ben­e­fits of union rep­re­sen­ta­tion with­out pay­ing union dues — now five Ken­tucky coun­ties are on track to pass local laws. And the coali­tion of con­ser­v­a­tive orga­ni­za­tions pro­mot­ing these ques­tion­able new mea­sures has also mor­phed, as a new orga­ni­za­tion with hid­den fund­ing sources has formed to finance any pos­si­ble litigation.
On Labor Day week­end last year, the con­ser­v­a­tive Her­itage Foun­da­tion con­vened a pan­el to dis­cuss a new­ly released paper by two of its schol­ars to push the idea that cities and coun­ties could pass their own right-to-work laws. Jon Rus­sell, direc­tor of the con­ser­v­a­tive pol­i­cy orga­ni­za­tion ALEC's new Amer­i­can City Coun­ty Exchange, sug­gest­ed that mod­el right-to-work laws for local­i­ties could be cre­at­ed, and implied that ALEC could take the lead on that front.
Rus­sell explained that many local lead­ers don't feel that they can pass such rad­i­cal laws ​"because it requires some heavy lift­ing when it comes to pub­lic pol­i­cy; because polit­i­cal allies, legal and leg­isla­tive resources are in short sup­ply." How­ev­er, he explained, ​"this is where the orga­ni­za­tions that are rep­re­sent­ed here today can help step up and help advance right to work on the local lev­el." These orga­ni­za­tions were ALEC, Her­itage, Amer­i­cans for Tax Reform and the Nation­al Right to Work Legal Defense Foundation.
When the ques­tion arose of who would help pay for the costs of defend­ing the local right-to-work laws in court, all the pan­elists looked (both fig­u­ra­tive­ly and lit­er­al­ly) to William Mes­sen­ger, the rep­re­sen­ta­tive from Nation­al Right to Work Legal Defense Foun­da­tion, which bankrolls much of the high-pro­file anti-union lit­i­ga­tion, such as the recent Har­ris v. Quinn case involv­ing home health­care workers.
Then, at its win­ter meet­ing on Decem­ber 3 – 4, 2014, ALEC fur­ther out­lined its plan to go after cities and coun­ties, say­ing that it would focus on a few swing states includ­ing Wash­ing­ton, Ken­tucky, Mon­tana, Wis­con­sin, Ohio and Penn­syl­va­nia, with Ken­tucky set to receive the most atten­tion. Less than two weeks lat­er, War­ren Coun­ty, Ken­tucky, home of the Corvette assem­bly plant whose work­ers are rep­re­sent­ed by the Unit­ed Auto Work­ers (UAW), passed a right-to-work law on a first read­ing. (Ken­tucky coun­ties pass ordi­nances using a two-step process entail­ing a ​"first read­ing" and a ​"sec­ond read­ing," each fol­lowed by a vote.)
The fol­low­ing week, Simp­son and Ful­ton Coun­ty fol­lowed suit and passed their own right-to-work laws on first read­ings. Since then, two more Ken­tucky coun­ties — Todd and Hardin — have pass right-to-work laws on first readings.
Then, on the eve of the sec­ond read­ing in War­ren Coun­ty on Decem­ber 19, Kentucky's Demo­c­ra­t­ic Attor­ney Gen­er­al Jack Con­way released an advi­so­ry opin­ion on the ques­tion of whether cities and coun­ties are per­mit­ted to pass their own right-to-work laws. Var­i­ous Repub­li­can politi­cians had sent let­ters to Con­way ask­ing for such an opin­ion for months, and his advi­so­ry opin­ion was per­fect­ly timed to affect the final vote on the first-ever coun­ty-lev­el right-to-work law.
Quot­ing from the Nation­al Labor Rela­tions Act, as well as the few state and fed­er­al courts that have spo­ken on the mat­ter, Con­way held that ​"a local gov­ern­ment may not enact a right-to-work ordinance."
Con­way reaf­firmed that a 1965 Ken­tucky Court of Appeals deci­sion that held that cities may not pass their own right-to-work ordi­nances was still good law. He fur­ther held that even though that deci­sion ​"dealt only with cities," its rea­son­ing was clear that the law ​"pre­empts all polit­i­cal sub­di­vi­sions of the state from enact­ing right-to-work laws, includ­ing coun­ties as well as cities." (An advi­so­ry opin­ion is a state's chief lawyer's legal opin­ion on a mat­ter intend­ed to advise gov­ern­men­tal bod­ies on inter­pret­ing leg­is­la­tion. While judges take them seri­ous­ly, the opin­ions have no val­ue as legal precedent.)
Despite this strong advi­so­ry opin­ion by the Commonwealth's Attor­ney Gen­er­al (who is also the pre­sump­tive Demo­c­ra­t­ic nom­i­nee for gov­er­nor in 2015), War­ren Coun­ty passed a local right-to-work ordi­nance. Oth­er coun­ties in Ken­tucky and oth­er states are sure to fol­low suit.
The Nation­al Right to Work Com­mit­tee Revers­es Course
Though these local right-to-work ordi­nances are like­ly to dam­age and dis­tract unions, some ini­tial cracks in the con­ser­v­a­tive coali­tion that first pushed the idea can be seen. On Decem­ber 23, the Nation­al Right to Work Com­mit­tee took the high­ly unusu­al step of pub­licly declar­ing that they believe cities and coun­ties may not pass their own right-to-work laws.
In an arti­cle pub­lished on the committee's web­site, Stan Greer, a senior research asso­ciate at the Nation­al Insti­tute for Labor Rela­tions Research, a close affil­i­ate of the NRWC, stat­ed that ​"there is zero rea­son to believe that any local Right to Work ordi­nances adopt­ed in Ken­tucky or any oth­er state will be upheld in court." The arti­cle cit­ed a 1990 Dis­trict Court deci­sion — which William Mes­sen­ger, the Nation­al Right to Work Legal Defense Foun­da­tion staffer, had said was no longer good law when he was a par­tic­i­pant in the Her­itage panel.
While throw­ing insults at unions in typ­i­cal NWRC fash­ion, Greer con­clud­ed that the rea­son­ing in Conway's advi­so­ry opin­ion was sound. ​"As a Big Labor-backed politi­cian, Con­way is cer­tain­ly biased, but his posi­tion is in fact con­sis­tent with legal precedents."
What brought about this dra­mat­ic rever­sal by a group that has pro­mot­ed right-to-work in all of its man­i­fes­ta­tions for decades? It's hard to say. But the group's rever­sal is not like­ly the result of legal prece­dent and the advi­so­ry opin­ion of a Demo­c­ra­t­ic politi­cian such as Con­way. Nation­al Right to Work has pushed cas­es to the Supreme Court that had far worse odds than this, and noth­ing cit­ed in Conway's advi­so­ry opin­ion was unknown to the Nation­al Right to Work attor­ney who pro­mot­ed this idea sev­er­al months ago.
Per­haps this approach to right-to-work is a devi­a­tion too far for a group that has remained rel­a­tive­ly con­sis­tent in its pur­suit of right-to-work laws. Though they gen­er­al­ly sup­port any posi­tion that weak­ens unions, the group may not feel com­fort­able exper­i­ment­ing with new strate­gies after decades of stick­ing to what has proven to be a tried-and-true mod­el. Or it may sim­ply be the result of inter­nal bick­er­ing among groups that, though they may share a goal of block­ing work­er orga­niz­ing, each have their own agendas.
A New Fun­der Steps In
The plan to pro­mote local right-to-work ordi­nances rests in large part on the pos­si­bil­i­ty of a third par­ty pick­ing up the legal fees for coun­ties. The Her­itage pan­el that dis­cussed this approach explained that such laws will serve an eco­nom­ic devel­op­ment func­tion for cash-strapped coun­ties. How­ev­er, every­one knows that these laws will end up in court. And if coun­ties risk being on the hook for hun­dreds of thou­sands or mil­lions in legal fees that the pas­sage of such laws will bring, then pur­su­ing them would be too great a risk for the tar­get coun­ties. (In addi­tion to their own legal fees, coun­ties may also be liable for the legal fees of work­ers and unions who will inevitably chal­lenge these laws, as cas­es are like­ly to be brought using a fee shift­ing statute, where the los­er pays the winner's legal fees.)
Into the void left by Nation­al Right to Work's deci­sion not to pur­sue local laws, the noto­ri­ous union-buster Brent Yessin has stepped in, with his new­ly formed Flori­da-based group Pro­tect My Check, Inc.
Accord­ing to a let­ter from Yessin to War­ren Coun­ty Judge-Exec­u­tive Mike Buchanon obtained by In These Times, Yessin con­firms that his group will rep­re­sent War­ren Coun­ty in any legal chal­lenges to their right-to-work laws for a nom­i­nal fee of $10.
Ken­tucky labor attor­ney David O'Brien Suetholz has been fol­low­ing this mat­ter close­ly and finds the arrange­ment between Yessin and these Ken­tucky coun­ties to be sus­pect. Because Yessin is donat­ing valu­able ser­vices to the coun­ty, ​"you've basi­cal­ly got an out­side group — an out-of-state group — offer­ing mon­ey to the gov­ern­ment in exchange for pass­ing a law they want. That looks a lot like a quid pro quo, and it poten­tial­ly has a cor­rupt­ing influence."
Fur­ther­more, Pro­tect My Check is a 501(c)(4) ​"social wel­fare" orga­ni­za­tion, mean­ing that the group does not need to dis­close any of its donors, so a list of which indi­vid­u­als or groups, in-state or out, are pay­ing the government's bills will be hid­den from pub­lic view.
Craig Hol­man of Pub­lic Cit­i­zen, a pub­lic inter­est think tank in D.C., says that it is nei­ther uncom­mon nor uneth­i­cal for third par­ties to pro­vide pro bono legal ser­vices. ​"Pro­vid­ing pro bono legal ser­vices is a far cry from actu­al­ly pay­ing cash for legal ser­vices," he says, point­ing out that when the McCain-Fein­gold cam­paign reform act was being draft­ed, a large legal team offered pro-bono legal ser­vices in draft­ing the bill and in defend­ing it in court.
Whether this arrange­ment is legal or not, and who is behind the fund­ing of the right-to-work's legal defense, will be one of many aspects of the local right-to-work fights that are sure to play out in the courts in the next few years.
Spencer Wood­man con­tributed report­ing to this article.
UAW is a web­site spon­sor of In These Times. Spon­sors have no role in edi­to­r­i­al content.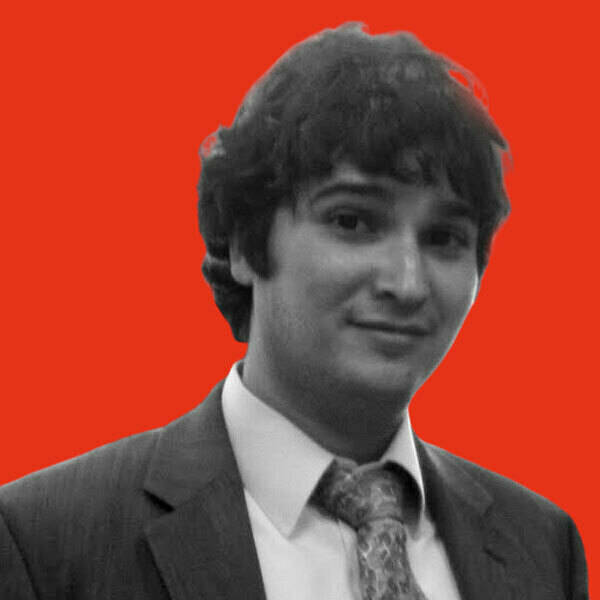 Moshe Z. Mar­vit is an attor­ney and fel­low with The Cen­tu­ry Foun­da­tion and the co-author (with Richard Kahlen­berg) of the book Why Labor Orga­niz­ing Should be a Civ­il Right.