Kentucky's Keystone XL
Nuns, landowners and environmentalists take on the union-backed Bluegrass Pipeline.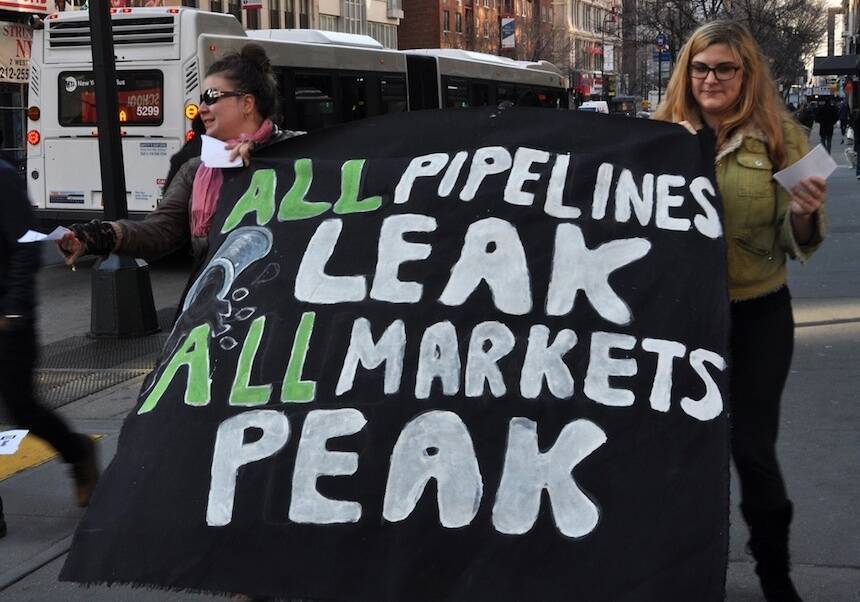 Buff Bradley, a 50-year-old cham­pi­on thor­ough­bred train­er, makes for an unlike­ly envi­ron­men­tal­ist. The son of Fred Bradley, who's a for­mer Ken­tucky state sen­a­tor, coun­ty judge, attor­ney, song­writer, pilot and horse-breed­ing icon' Buff has spent much of his life bring­ing up race­hors­es on his family's 300-acre farm in west­ern Franklin Coun­ty. If you like to brush shoul­ders with the own­ers of high-speed, mil­lion-dol­lar win­ning Ken­tucky thor­ough­breds, there's a good chance you've heard the fam­i­ly name.
Driven by a mix of concerns over safety and property rights and bolstered by a dose of environmentalism, the opposition blurs ideological boundaries.
Buff didn't choose to take on the fos­sil fuel indus­try; the fight came to him. Last April, rep­re­sen­ta­tives from the Tul­sa-based Williams Ener­gy and Hous­ton-based Board­walk Pipeline Part­ners vis­it­ed his fam­i­ly farm and asked to sur­vey the land for a nat­ur­al gas liq­uids pipeline. Bradley respect­ful­ly declined to coop­er­ate and got in touch with neigh­bor­ing landown­ers with whom sur­vey­ors had also paid visit.
But it didn't take long for Kentucky's Blue­grass Region to become the lat­est, if improb­a­ble, flash­point in North America's pipeline wars.
Williams and Board­walk quick­ly moved from sur­vey­ing land to mak­ing offers for ease­ments in order to con­struct the Blue­grass Pipeline, a joint­ly owned ven­ture that would ship nat­ur­al gas liq­uids over the 1,000 miles from the Mar­cel­lus and Uti­ca oil-bear­ing shale deposits to Gulf Coast refiner­ies. The com­pa­nies want to lay much of the new pipeline in Ken­tucky — about 150 miles' worth—while recon­vert­ing old gas pipelines to com­plete the rest of the route from Ken­tucky to Louisiana. Mean­while, envi­ron­men­tal groups like Ken­tuck­ians for the Com­mon­wealth and the state's Sier­ra Club chap­ter jumped into the fray, tak­ing the side of the prop­er­ty-own­ers like Bradley who are unwill­ing to sell easements.
Dri­ven by a mix of con­cerns over safe­ty and prop­er­ty rights and bol­stered by a dose of envi­ron­men­tal­ism, the oppo­si­tion blurs ide­o­log­i­cal boundaries.
​"I think lots of folks around here are kin­da rubbed the wrong way by the thought that some out-of-state multi­bil­lion-dol­lar cor­po­ra­tion could just come in, throw their weight around and take what­ev­er land they want from folks to build this pipeline," says Sel­l­us Wilder, a for­mer city com­mis­sion­er in Frank­fort, the state cap­i­tal, who's film­ing a doc­u­men­tary about the pipeline.
​"In Ken­tucky, in par­tic­u­lar, we seem to be a lit­tle," Wilder paus­es, ​"I wouldn't say ter­ri­to­r­i­al, but I think we maybe val­ue our own­er­ship of our own land a lit­tle more deeply here."
A lot to lose, lit­tle to gain
The Blue­grass Pipeline isn't a run-of-the-mill gas pipeline.
The haz­ardous mate­ri­als that it would car­ry, nat­ur­al gas liq­uids, are a byprod­uct of gas drilling. Sep­a­rat­ed ear­ly on from the more com­mon­ly used nat­ur­al gas prod­uct that goes toward elec­tric­i­ty gen­er­a­tion, most gas liq­uids, which include ethane, propane and butane, are used as feed­stock for plas­tics and oth­er petro­chem­i­cal prod­ucts. As the shale rev­o­lu­tion bar­rels ahead in Penn­syl­va­nia, Ohio and West Vir­ginia, ener­gy com­pa­nies are aim­ing to cap­i­tal­ize on the high prof­it mar­gins these liq­uids fetch on the market.
There's just one major bar­ri­er. The chief pro­cess­ing and refin­ing facil­i­ties, at least for now, are on the Gulf Coast, about 1,000 miles away from the Northeast's frack­ing heart­land. But if com­pa­nies can man­age to get their prod­uct to export facil­i­ties in Louisiana and Texas, lucra­tive inter­na­tion­al mar­kets await: the Amer­i­can Chem­istry Coun­cil pre­dicts chem­i­cal exports to rise by 45 per­cent over the next five years. Offer­ing up to 400,000 bar­rels of dai­ly capac­i­ty, the Blue­grass Pipeline would help fuel this boom.
The clear stakes of the fight — the pipeline offers large rewards to a small niche of the gas and petro­chem­i­cal indus­tries while offer­ing lit­tle to the Ken­tucky cor­ri­dor it would cross — helps explain the pas­sion­ate tenor of oppo­si­tion, says Deb Nar­done, Direc­tor of the Sier­ra Club's Beyond Nat­ur­al Gas nation­al cam­paign, which, with its lim­it­ed resources, has steered clear of the local fight so far.
"[Nat­ur­al gas liq­uids] are not at all about domes­tic ener­gy secu­ri­ty," Nar­done says. ​"It's about what's going to make the indus­try mon­ey. And that's what's start­ed to bring non-tra­di­tion­al allies togeth­er, as they real­ize it's not in their per­son­al ben­e­fit in the long run."
Indeed, the more that res­i­dents edu­cat­ed them­selves about the project, the more the opposition's ranks swelled. Landown­ers didn't need to be experts in the polit­i­cal econ­o­my of nat­ur­al gas liq­uids — or for that mat­ter, even care about cli­mate change — to con­clude the pipeline pre­sent­ed lit­tle ben­e­fits for their home state.
​"This is pri­vate com­pa­nies doing this," says Buff Bradley. ​"It's not like it's gonna be some­thing for us. I don't even want it close to me. I sure don't want to leave this earth and leave my kids to deal with it either."
Tom Fitzger­ald, direc­tor of the Ken­tucky Resources Coun­cil, an envi­ron­men­tal advo­ca­cy group that offers legal assis­tance, helped cir­cu­late infor­ma­tion to con­cerned landown­ers about the state's lack of reg­u­la­tion over gas pipelines and the safe­ty risks — two issues that have helped dri­ve pub­lic out­cry. Haz­ardous pipeline acci­dents are rare, but because of the dan­ger­ous sub­stances being trans­port­ed, any leaks and explo­sions that do occur can be cat­a­stroph­ic.
The non-tra­di­tion­al bat­tle lines are rem­i­nis­cent of those sur­round­ing the Key­stone XL, says Jane Kleeb, direc­tor of Bold Nebras­ka, which helped orga­nize local ranch­ers and farm­ers against the pipeline before it became the envi­ron­men­tal cause celèbre that it is today.
​"For us, there was com­mon ground in the prop­er­ty rights issues and emi­nent domain," Kleeb says. ​"That opens the door for us to engage in con­ver­sa­tions with landown­ers about cli­mate change and about fos­sil fuels and about Nebras­ka [get­ting] 80 per­cent [of its ener­gy from] coal and how we need to be pro­duc­ing more renew­able energy."
Unlike the Key­stone XL, how­ev­er, those lat­ter types of con­ver­sa­tions aren't dri­ving the move­ment in the Blue­grass State. But not for lack of try­ing — green groups are increas­ing­ly in touch with landown­ers in an effort to broad­en the pol­i­tics of oppo­si­tion. Activists from Ken­tuck­ians for the Com­mon­wealth, for exam­ple, have point­ed to the dirty pipeline pro­pos­al as evi­dence for the need to pro­duce alter­na­tive, more sus­tain­able sources of energy.
Those envi­ron­men­tal­ists also helped bring the move­ment to the streets: on Wednes­day, hun­dreds ral­lied in Frank­fort for the ninth annu­al ​"I Love Moun­tains Day." The ral­ly, which is orga­nized by Ken­tuck­ians for the Com­mon­wealth, usu­al­ly focus­es on moun­tain­top removal. But this year, some of the speak­ers, like Sis­ter Claire McGowan, a Domini­can Sis­ter of Peace, blast­ed the Blue­grass Pipeline. (Nuns from the Sis­ters of Loret­to brought atten­tion to the project last fall, when they refused to allow pipeline sur­vey­ors on their land).
In spite of these efforts, how­ev­er, much of the oppo­si­tion remains ground­ed in an old-fash­ioned, lib­er­tar­i­an com­mit­ment to respect­ing pri­vate prop­er­ty rights, says Fitzger­ald of the Ken­tucky Resources Council.
Of course, not every­one is opposed to the pipeline. Much like the pro­posed Key­stone XL, heav­i­ly backed by the AFL-CIO's Build­ing and Con­struc­tion Trades Depart­ment, a slice of orga­nized labor is sid­ing with the ener­gy industry.
​"We sup­port it because it's work for Ken­tucky work­ers," says Ed Willough­by, direc­tor of the Ken­tucky Labor­ers Train­ing Fund, which counts 3,000 mem­bers. ​"It pro­vides jobs for Ken­tucky work­ers, and that's some­thing we need."
There's no guar­an­tee any of the esti­mat­ed 6,000 con­struc­tion jobs would actu­al­ly go to mem­bers of any union. But Willough­by says the poten­tial is good enough — swayed, one imag­ines, by Kentucky's 8 per­cent unem­ploy­ment rate, which is eighth-high­est in the nation. He's also uncon­vinced by the time­less green argu­ment that unions shouldn't be gob­bling up short-term gains at the long-term detri­ment of the planet.
​"The peo­ple that work con­struc­tion, all of our jobs are tem­po­rary," Willough­by says. ​"Every project has a begin­ning, every project has an end. When those projects begin they help those work­ing fam­i­lies, they help their kids go to school, they help the econ­o­my around because they're spend­ing more mon­ey and are able to pay their house pay­ments and their car payments."
The end game
In the next few months, the pipeline's oppo­nents are hop­ing that a pend­ing law­suit and upcom­ing state leg­is­la­tion can stick the final dag­ger into the heart of the project.
They've cal­cu­lat­ed that Williams and Board­walk, strug­gling to secure the nec­es­sary ease­ments, will even­tu­al­ly be forced to seize prop­er­ty using emi­nent domain. Ken­tucky state law is ambigu­ous on the mat­ter: While the use of emi­nent domain is restrict­ed to projects that have a ​"pub­lic use," the law doesn't explic­it­ly pro­hib­it pri­vate nat­ur­al gas liq­uids pipelines from qual­i­fy­ing. The com­pa­nies, for their part, have refused to promise they won't resort to emi­nent domain.
The state's Attor­ney Gen­er­al has already said he doesn't believe the pipeline would qual­i­fy. But to play it safe, Ken­tuck­ians Unit­ed to Restrain Emi­nent Domain, rep­re­sent­ed by Fitzger­ald, is ask­ing the Franklin Coun­ty cir­cuit court to clar­i­fy whether the oper­a­tors have grounds to invoke emi­nent domain.
Mean­while, in response to pres­sure from landown­ers and envi­ron­men­tal­ists, the Ken­tucky Leg­is­la­ture is slat­ed to move on a series of bills that would pro­hib­it the pipeline oper­a­tors from seiz­ing pri­vate land. In the upper cham­ber, Jim­my Hig­don, a Repub­li­can from Mar­i­on Coun­ty, is spon­sor­ing a bill that would lim­it the use of emi­nent domain to state-reg­u­lat­ed utilities.
​"Our opin­ion is they can't get across Ken­tucky with­out using emi­nent domain," Hig­don tells In These Times. ​"We just want to make sure if a landown­er says no, that no means no."
Hig­don says he would rather not com­ment on any of the envi­ron­men­tal issues. He is, quite emphat­i­cal­ly, not attract­ed to this issue out of con­cern for cli­mate change.
​"I can't say that I'm on board," Hig­don says. ​"I'm not con­vinced that [man-made cli­mate change is] 100 per­cent a sure thing. I think there's some con­flict­ing infor­ma­tion on cli­mate change and I'm not total­ly con­vinced yet."
When it comes to imped­ing devel­op­ment of the nat­ur­al gas indus­try, though, activists in Ken­tucky will take what­ev­er allies they can get. And envi­ron­men­tal­ists bet­ter get used to these sorts of fights, say Kleeb of Bold Nebras­ka and Nar­done of the Sier­ra Club. As the gas indus­try seeks to move its prod­ucts to for­eign mar­kets — whether it's LNG or NGL — that means more pipelines. And that, in turn, means more strug­gles like these.
​"It is much more than just an envi­ron­men­tal­ist fight," says the Sier­ra Club's Nar­done. ​"It's about an indus­try that's rogue and very lit­tle reg­u­lat­ed try­ing to mus­cle its way into impact­ing people's lives."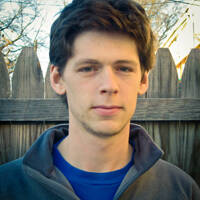 Cole Stan­gler
writes about labor and the envi­ron­ment. His report­ing has also appeared in The Nation, VICE, The New Repub­lic and Inter­na­tion­al Busi­ness Times. He lives in Paris, France. He can be reached at cole[at]inthesetimes.com. Fol­low him
@colestangler
.