Killings By Police Haven't Stopped Mexico's Movement Against Neoliberal Education Reform
Despite police repression, Mexico's militant teachers union continues to strike and protest.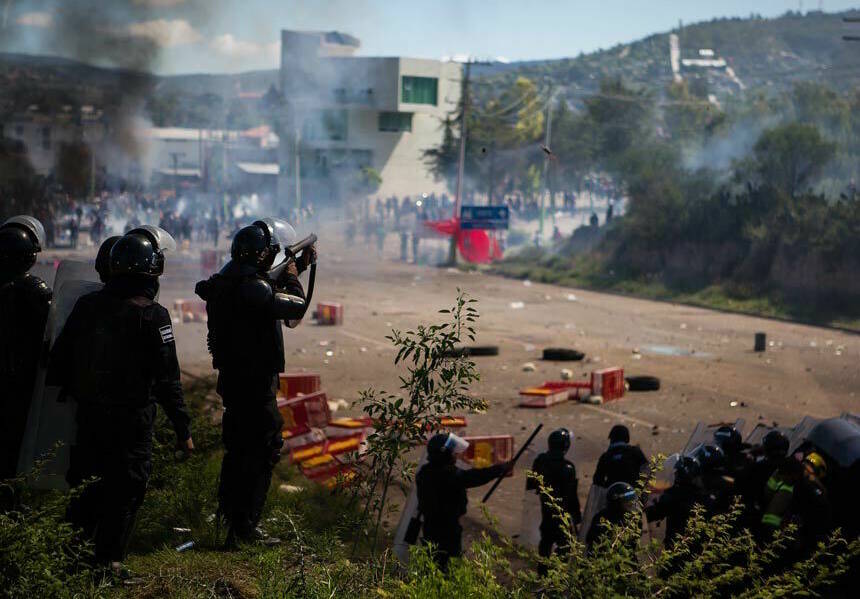 On July 5, teachers at hundreds of schools in Mexico City went on strike to demand the repeal of sweeping U.S.-style ​"education reforms" that they say undermine labor rights and compromise children's educations. Thousands of students and parents also took to the streets, where protesters erected blockades.
"Parents are now getting involved because they realize this isn't just about the teachers, it's about the future of their children."
Support for the teachers' cause has ballooned in the wake of a violent police crackdown on teachers blockading a highway in Nochixtlán, Oaxaca, on June 19. Gunfire — at least some of it from the Mexican police — killed at least eight people and injured dozens more.
"Parents are now getting involved because they realize this isn't just about the teachers, it's about the future of their children," said Cristian Alfonso Tovar, an elementary school principal in Mexico City who is active in the National Coordinator of Education Workers (CNTE), Mexico's activist teachers' union, which is driving the protests.
Introduced by Mexican President Enrique Peña Nieto in 2013, the education reforms include controversial new evaluation standards requiring teachers to pass an exam proving their qualifications. After three failures, they are removed from the classroom. Teachers contend an exam cannot properly assess teaching skill and that the test's real purpose is to erode job security. The legislation also suggests that parents' organizations make ​"voluntary" contributions of money, goods and services to their children's schools, which some believe is a path to privatization. Teachers say these measures ignore the primary factors hindering education: inadequate public funding, which starves classrooms of resources, and the widespread poverty that prevents many children from even attending school, as their families need them to work. They accuse the government of trying to shift blame for its failures to teachers and parents.
The reforms, supported by the Organization for Economic Co-operation and Development, an association of wealthy nations that includes the United States, and by private think tanks like Mexicanos Primero (Mexicans First), are reminiscent of those that have been imposed in the past decade in the United States over the objections of U.S. teachers' unions.
But ideology isn't the only thing that's been imported across the border. Since 2008, Congress has appropriated $2.3 billion for Mexican police forces to combat organized crime. Human rights organizations, including Human Rights Watch, say the Merida Initiative, which has funded helicopters, police dogs and training programs for thousands of Mexican police officers, has enabled intensifying repression of civil society by the state.
The deadly confrontation between police and protesters in June is the latest example. A week after teachers had set up the highway blockade, 800 members of the gendarmerie, a military force used for internal policing, along with regular state and federal police, arrived in Nochixtlán to evict them. They were equipped with riot gear, including rubber bullets, tear gas canisters and assault weapons, according to a report issued by Oaxaca-based human rights organizations Fundar Centro de Análisis e Investigación (Fundar Center for Analysis and Investigation) and Consorcio para el Diálogo Parlamentario y la Equidad Oaxaca (Oaxaca Consortium for Parliamentary Dialogue and Equality).
Mexico's National Security Commission (CSN) said that police had ordered the teachers to disperse, and that the teachers had refused. Teachers say they never heard such an order.
The CSN also initially claimed that the gunshots came from some unknown third party outside the blockade, and that the police were not even armed. Photos published by major news outlets, which showed police aiming guns, soon belied these claims. Mexican officials then said that an armed police unit had been deployed only after other armed actors, possibly guerillas, opened fire. No photos of these armed outside actors or other proof of their presence have emerged.
Twenty-four hours after the killings, teachers re-erected the blockade, vowing that they would not be intimidated by the government.
One elementary school teacher tells In These Times that the group just wanted to speak with the government in order to explain what kind of reform is actually needed. ​"We want to be better prepared and provide a better education for our students," she says. ​"For that to happen, we need better preparation, we want courses, trainings and grad programs that are provided for by the government." (The teacher asked to remain anonymous out of fear for her safety).
The Nochixtlán operation comes in the context of increased police repression of protests across the nation. Many of these protests can be traced to the president's policies. In 2014, two years after Peña Nieto began his term, TIME Magazine put him on its cover. ​"Saving Mexico," the headline read. ​"How Enrique Peña Nieto's sweeping reforms have changed the narrative in his narco-stained nation." But Peña Nieto's reforms — including the education measures, controversial telecommunications legislation and the privatization of the national oil company — have generated backlash in his own country.
The 2013 education reforms were met with immediate opposition. CNTE members traveled to Mexico City to occupy the Zocalo, the main plaza, in protest. They were eventually evicted on Sept. 13, 2013, during an enormous police operation involving pepper spray, water cannons and tear gas, as well as the sort of helicopter acquired using Merida Initiative funding.
Teachers have launched protest after protest since the reforms were passed, with another wave starting last November when the assessment exams began. Among the most active regions have been the southern states of Guerrero, Oaxaca and Chiapas, whose inhabitants, compared to the rest of the country, are disproportionately poor and indigenous. Through it all, the police have remained heavy-handed.
Prior to the recent mobilizations, the government had said that overturning the reform was completely out of the question, but on July 13 the government agreed to revise the teacher assessment exam. The government is currently in dialogue with the CNTE, but as of press time they have yet to come to an agreement, and the protests continue. Families in Oaxaca continue to mourn their dead loved ones and the barricades still stand. One farmer in Nochixtlán said he had never attended a protest prior to the murder of his 23-year-old son, a supporter of the teachers' union, on June 19. He now believes all must participate in the movement.
"We must struggle for a Mexico where there is peace, equality, and we all have access to the same opportunity," said the father, who also preferred anonymity out of fear for his safety. ​"Too much blood has already been shed."
Be one of the first
Help kick off the new era of In These Times! Without a media that brings people together and creates a written record of the struggles of workers, their voices will be fragmented and forgotten.
The mission of In These Times is to be that written record, and to guide and grow those movements.
We have a lot of work ahead of us, and that work starts today. Early support is the most valuable support, and that's why we're asking you to pitch in now. If you are excited for this new era of In These Times, please make a donation today.
Andalusia Knoll Soloff
is a freelance multimedia journalist based in Mexico City. She is a frequent contributor to AJ+, Democracy Now! and VICE News.