Bernie Sanders, Hillary Clinton and the Kind of Discourse We Need
In the midst of a heated presidential campaign, it's crucial that the Left transcend sectarian squabbles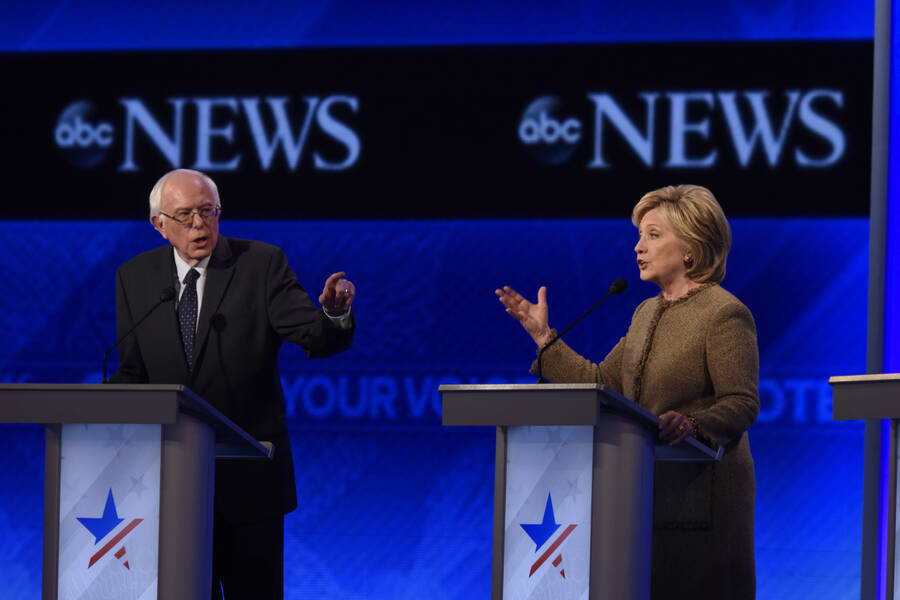 When Glo­ria Steinem is say­ing some­thing that sounds, well, sex­ist, and Bill Clin­ton is oblique­ly call­ing out In These Times for sex­ism, you know we are liv­ing in unusu­al times.
The Left has been so marginalized for the past decades that it's not used to having public debates on a national stage.
Last week, we vio­lat­ed one of our found­ing pre­cepts in post­ing an arti­cle by Matt Bru­enig, titled ​"Joan Walsh to Young Bernie Sanders Reporters: Get Off My Lawn." This arti­cle was a reprint from jour­nal­ist Matt Bruenig's blog, in which he took aim at Walsh for a Nation arti­cle in which she gave an impas­sioned endorse­ment of Hillary Clinton's can­di­da­cy and denounced the sex­ism that has emerged from the wood­work dur­ing her campaign.
In her essay, Walsh vent­ed about ​"a young white man — enti­tled, pleased with him­self, bare­ly shav­ing yet" — who ​"broke the news to Clin­ton that his gen­er­a­tion is with Bernie Sanders." Bru­enig found Walsh's char­ac­ter­i­za­tion of this youth offen­sive and ​"anti-egal­i­tar­i­an," and used her com­ment as proof pos­i­tive that the pref­er­ence of young vot­ers for Sanders over Clin­ton and Sanders is a sore spot for ​"old pun­dits who like Clin­ton." One of the ​"old­er" pun­dits he referred to, Aman­da Mar­cotte, is 38.
Bru­enig was mak­ing a polit­i­cal argu­ment, but he was also employ­ing ageist remarks to build his case. This is par­tic­u­lar­ly trou­ble­some in ref­er­ence to women, for whom ageism is often inter­twined with sex­ism. As every­one who is famil­iar with the polit­i­cal bat­tles of the 1990s knows, Clin­ton, then in her 40s, was the object of con­stant abuse and ridicule — much of it sex­ist and devoid of any polit­i­cal con­tent. Today, at 68, her age is thrown into the mix.
In These Times does not believe it is use­ful to label any­one ​"old" in a pejo­ra­tive sense, nor to play on stereo­types of old peo­ple as iras­ci­ble and intol­er­ant — stereo­types that have been employed against both Clin­ton and Sanders. Nor do sex­ist remarks have any place in civ­i­lized polit­i­cal discourse.
The issue of civil­i­ty in polit­i­cal dis­course with­in the Left has become cen­tral in recent weeks as the con­test for the Demo­c­ra­t­ic nom­i­na­tion has heat­ed up. Sharp dis­agree­ments are the stuff of pol­i­tics, of course, but the fight between sup­port­ers of Clin­ton and of Sanders has at times become vicious. Accord­ing to numer­ous reports by women on Twit­ter, self-iden­ti­fied Sanders sup­port­ers have gone over the line of even impo­lite dis­agree­ment into out­right harass­ment and trolling, includ­ing ​"sealion­ing," ​"dog­pil­ing," sex­ist slurs and threats. In These Times staff writer Sady Doyle reports receiv­ing, among many oth­er things, pho­tos of pig testicles.
No one — save for per­haps a future Pres­i­dent Trump — is served by alien­at­ing those who should be allies. Fig­ur­ing out how to debate the future of pro­gres­sive pol­i­tics with­out balka­niz­ing the move­ment isn't only a ques­tion of good man­ners — it's key to build­ing the polit­i­cal coali­tion we need in order to win.
A long his­to­ry of a frac­tured Left
The bat­tles in the 1960s and 1970s between the Old Left and New Left come to mind. Long­time demo­c­ra­t­ic social­ists Irv­ing Howe and Michael Har­ring­ton came of age polit­i­cal­ly long before the cam­pus rad­i­cals of SDS, SNCC and oth­er left­ist groups of the 1960s. The polit­i­cal dif­fer­ences between the two groups — the New Left's embrace of the coun­ter­cul­ture to the Old Left's fear that the new social move­ments were insuf­fi­cient­ly anti­com­mu­nist — were sig­nif­i­cant. But nei­ther side could fig­ure out how to engage the oth­er in a com­rade­ly way; instead, they opt­ed for denounce­ments and con­de­scend­ing hec­tor­ing. Howe famous­ly yelled at a young New Left­ist in 1969, ​"You know what you're going to end up as? You're going to end up as a den­tist!" Per­haps Howe was right, but some good that did him: The New Left, to its detri­ment, marched on with­out him, con­vinced Howe's and his gen­er­a­tion's polit­i­cal coun­sel was worthless.
Bernie Sanders under­stands the dan­gers of alien­at­ing the peo­ple we should be mak­ing com­mon cause with. On Sun­day, when asked by CNN about the alleged­ly sex­ist and abu­sive behav­ior of online ​"Berniebros" by CNN, he was blunt: ​"We don't want that crap. … Any­body who is sup­port­ing me that is doing the sex­ist things — we don't want them."
Regard­less of how much stock one places in the ​"Berniebro" phe­nom­e­non, Sanders has tak­en the cor­rect moral and strate­gic line: Trust women's claims of sex­ism, acknowl­edge them as such, and denounce the abu­sive actions. It's simple.
By doing so Sanders pres­sures any­one engaged in such behav­ior to knock it off and demon­strates that he is a can­di­date for the Demo­c­ra­t­ic nom­i­na­tion who holds no truck with oppres­sion. It also frees him to move on to the issues at the heart of his cam­paign. Such an approach helps hold these dif­fer­ent seg­ments of the Left togeth­er rather than alien­ate them from each other.
In These Times does not endorse can­di­dates, but we have made no secret that we like Bernie Sanders' posi­tions on many issues. We also appre­ci­ate the polit­i­cal invest­ment of many peo­ple, includ­ing many of our read­ers, in Hillary Clin­ton. Since the 1990s, Clin­ton has been the object of a right-wing witch­hunt. Indeed, the nation's polit­i­cal land­scape has been so awash in neg­a­tive imagery of Clin­ton that even the most hon­est self-scruti­ny makes it dif­fi­cult to parse how that unre­lent­ing crit­i­cism has col­ored what we think of her.
That hyper-vis­i­bil­i­ty cuts both ways. For many women, she's become a sym­bol of some­one who won't let her­self be booed off the pub­lic stage. Women iden­ti­fy with the crap she's tak­en, from her appear­ance being picked apart to crit­i­cism of the tenor of her voice. She has been caught in the dou­ble bind of women in pow­er: Be fem­i­nine but not too fem­i­nine, com­mand­ing but not too commanding.
We can acknowl­edge all that with­out end­ing the polit­i­cal con­ver­sa­tion there. This dis­cus­sion of age and gen­der allows us to ques­tion our oth­er assump­tions, includ­ing about class and race. How do all of these inter­sect — par­tic­u­lar­ly when polit­i­cal pow­er is fac­tored in? The Left has been so mar­gin­al­ized for the past decades that it's not used to hav­ing pub­lic debates on a nation­al stage. Now that our debates are being heard, we're forced to think hard­er about what we say and what we mean when we say it.
2017 and beyond
That's a good thing. But we also need to remem­ber that the fault lines here reflect the nature of the polit­i­cal moment. (If Eliz­a­beth War­ren had run against Clin­ton, we'd be hav­ing a very dif­fer­ent con­ver­sa­tion.) In 2008, race and gen­der were pit­ted against each oth­er. Women of col­or were erased by this bina­ry, and issues of class inequal­i­ty were tough to track down. In 2016, it's fem­i­nism and social­ism in the ring. In this new false bina­ry, it's social­ist fem­i­nists who are treat­ed like an imag­i­nary species and issues of racial jus­tice that get side­lined. To the extent that race has been vis­i­ble, we can cred­it the insis­tence of the Black Lives Mat­ter movement.
As James Thind­wa has not­ed in the pages of In These Times, the Left is not good at cel­e­brat­ing its wins. This elec­tion offers two poten­tial vic­to­ries: our first female pres­i­dent, and our first demo­c­ra­t­ic social­ist pres­i­dent. We can rev­el in the progress both would rep­re­sent. Then we can talk, seri­ous­ly, about what each of these can­di­dates would be like as president.
One can debate whether eight years of the Oba­ma admin­is­tra­tion has been a dis­ap­point­ment now — we've cer­tain­ly retroac­tive­ly adjust­ed our expec­ta­tions to fac­tor in what he was up against — but what­ev­er we thought ​"hope and change" meant, few would argue that it's been entire­ly real­ized. It's this his­to­ry that we bring to the Clin­ton-Sanders race and to our under­stand­ing of where the rub­ber of sym­bol­ism meets the road of governance.
In this era of con­gres­sion­al grid­lock and cor­po­rate cap­i­tal­ism — two inex­orable forces that lim­it exec­u­tive action — the pres­i­den­cy has in recent years become a some­what sym­bol­ic office. That is not to dis­miss sym­bol­ism; a sym­bol­ic vic­to­ry can have real-world effects. We can debate the weight of such effects, and along the way talk about polit­i­cal com­pro­mise, Supreme Court jus­tices, what a Repub­li­can pres­i­dent (some­one like, say, Ted Cruz) might do, late cap­i­tal­ism and rev­o­lu­tions of var­i­ous kinds, and how to think about polit­i­cal change in terms of decades as well as elec­tion cycles.
We need to think about what we want 2017 to look like, beyond the pres­i­den­cy. Ide­al­ly there will be new con­verts to fem­i­nism and demo­c­ra­t­ic social­ism (and fem­i­nist demo­c­ra­t­ic-social­ism). Repub­li­can dog-whistling around race, reli­gion and eth­nic­i­ty will lose its abil­i­ty to thrall. A woman on the nation­al polit­i­cal stage will seem unre­mark­able. The nation will take strong steps towards revers­ing the oli­garchic dis­tri­b­u­tion of wealth and polit­i­cal pow­er that have accu­mu­lat­ed in the hands of a small elite over the last few decades.
We don't want 2017 to be a year when the Left was irre­me­di­a­bly and inter­minably schismed, or when the Clin­ton-Sanders pri­ma­ry bat­tle is only remem­bered for leav­ing a bit­ter taste in activists' mouths.
Beth Maschinot, the wid­ow of In These Times Found­ing Edi­tor & Pub­lish­er James Wein­stein, who worked with Walsh at the mag­a­zine in the 1980s, put it this way:
I wrote on Joan's Face­book page right after her Nation arti­cle came out that I knew Jim would have loved her arti­cle, how real and impas­sioned it was, and how much he respect­ed her, and he would have felt like she was part of the wor­thy oppo­si­tion to his sup­port of Sanders.
When this mag­a­zine was estab­lished in 1976, our mis­sion then was to tran­scend the sec­tar­i­an divides that had for decades riv­en the Amer­i­can Left and made it all but irrel­e­vant in the nation­al dis­course. As we approach a his­toric pres­i­den­tial elec­tion, all of us on the Left should recom­mit our­selves to that task — no mat­ter who we back for the nomination.