Kosher Gets Ethical
A new standard is about to remake American Jews' dietary code.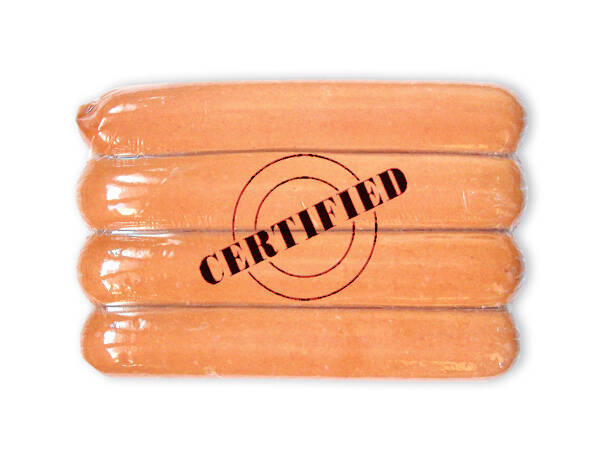 Kosher is about to get an Amer­i­can makeover. Some­time between Passover and Chanukah 2011, a new social respon­si­bil­i­ty cer­ti­fi­ca­tion – the Magen Tzedek (Star of Jus­tice) – is expect­ed to begin appear­ing on the labels of select­ed kosher food prod­ucts through­out the Unit­ed States.
Kosher prod­ucts are those that meet the stan­dards of kashrus, Jew­ish dietary law pre­scrib­ing what foods or com­bi­na­tion of foods are per­mis­si­ble or pro­hib­it­ed to eat. Pork and shell­fish are for­bid­den. Meat and dairy prod­ucts can­not be mixed. Ingre­di­ents and process­es must be inspect­ed to make cer­tain that noth­ing pro­hib­it­ed is intro­duced. Even oth­er­wise per­mis­si­ble meat is kosher only if slaugh­tered, processed and inspect­ed accord­ing to spe­cif­ic pro­ce­dures under the super­vi­sion of a spe­cial­ly trained rab­bi. Some ortho­dox Jews insist on an addi­tion­al set of inspec­tions involv­ing exam­i­na­tion of the lungs and inter­nal organs to make cer­tain that they are smooth–glatt–and free of punc­tures or disease.
Kosher food is a $250 bil­lion busi­ness, account­ing for approx­i­mate­ly 40 per­cent of all pack­aged foods sold in the Unit­ed States. That makes kosher cer­ti­fi­ca­tion – by agen­cies spe­cial­iz­ing in rab­binic super­vi­sion of kashrus com­pli­ance – a big enter­prise as well. By far the largest cer­ti­fi­er of domes­tic kosher prod­ucts is the non­prof­it Ortho­dox Union, whose U inside an O sym­bol appears on more than 400,000 prod­ucts, includ­ing Land O' Lakes but­ter, Gold­en West beef, Jolt ener­gy drinks, Oreo cook­ies, Glen­morang­ie Sin­gle Malt Scotch and Blue Bun­ny ice cream.
Those who remem­ber the 1970s tele­vi­sion ad for Hebrew Nation­al hot dogs ("We answer to a high­er author­i­ty!") can be for­giv­en for assum­ing that cur­rent kosher cer­ti­fi­ca­tion explic­it­ly man­dates labor stan­dards, hygien­ic con­di­tions and envi­ron­men­tal ethics sur­pass­ing fed­er­al or state require­ments. It does not.
Magen Tzedek cer­ti­fi­ca­tion, say its devel­op­ers, is intend­ed to assure pur­chasers that a kashrus-com­pli­ant prod­uct also con­forms to Bib­li­cal and Tal­mu­dic eth­i­cal val­ues and stan­dards regard­ing the treat­ment of work­ers, ani­mal wel­fare, envi­ron­men­tal impact and fair busi­ness deal­ings. Cri­te­ria for prod­uct cer­ti­fi­ca­tion include: liv­ing-wage com­pen­sa­tion and decent ben­e­fits, neu­tral­i­ty in labor orga­niz­ing dri­ves, doc­u­ment­ed com­pli­ance with EPA and OSHA reg­u­la­tions, adher­ence to humane ani­mal treat­ment and farm stan­dards, respon­si­ble ener­gy and water con­sump­tion, use of sus­tain­able mate­ri­als and alter­na­tive fuels, and fair treat­ment of immi­grant workers.
The new cer­ti­fi­ca­tion is now in beta test­ing, with an expect­ed mar­ket roll­out some­time dur­ing the com­ing year, says Rab­bi Mor­ris Allen, who is work­ing with Cor­nell Uni­ver­si­ty meat sci­ence pro­fes­sor Joe Regen­stein and Social Account­abil­i­ty Inter­na­tion­al to ready the stan­dard for mar­ket. The spir­i­tu­al leader of the Beth Jacob Con­gre­ga­tion in Men­do­ta Heights, Minn., Allen has a his­to­ry of involve­ment as a pul­pit rab­bi in issues such as prison reform and immi­grants rights, and has been lead­ing the push for Magen Tzedek dur­ing the last five years.
It has been a polar­iz­ing effort. Some Jew­ish lead­ers believe the new stan­dard is redun­dant and unnec­es­sary. Rab­bi Avi Shafran, spokesper­son for Agu­dath Israel of Amer­i­ca – a lead­ing fun­da­men­tal­ist Ortho­dox reli­gious, edu­ca­tion­al and advo­ca­cy orga­ni­za­tion – isn't con­vinced that kashrus needs yet anoth­er cer­ti­fi­ca­tion. ​"I think that many con­sumers have no rea­son to dis­trust the gov­ern­ment agen­cies and law enforce­ment agen­cies as ade­quate safe­guards for all those areas," he says. ​"I know of no halachic [per­tain­ing to Jew­ish law] opin­ion requir­ing a kosher con­sumer to try to ensure that com­pa­nies go beyond what gov­ern­men­tal rules require of them."
Rab­bi Men­achem Genack, one of the fore­most experts of kashrus cer­ti­fi­ca­tion in the world and the Rab­binic Admin­is­tra­tor and CEO of the Ortho­dox Union's kashrus pro­gram, is ​"keep­ing an open mind." Under his lead­er­ship, the Ortho­dox Union will allow the Magen Tzedek to be placed on labels next to the famil­iar OU logo.
Allen is deter­mined to bring the new kosher stan­dard to gro­cery store shelves around the coun­try. ​"We have one chance to do this right," he insists. ​"We as a peo­ple should not be more con­cerned about the smooth­ness of a cow's lung than the safe­ty of a worker's hand."