Pennsylvania Workers Are Waging the Biggest U.S. Manufacturing Strike in the Trump Era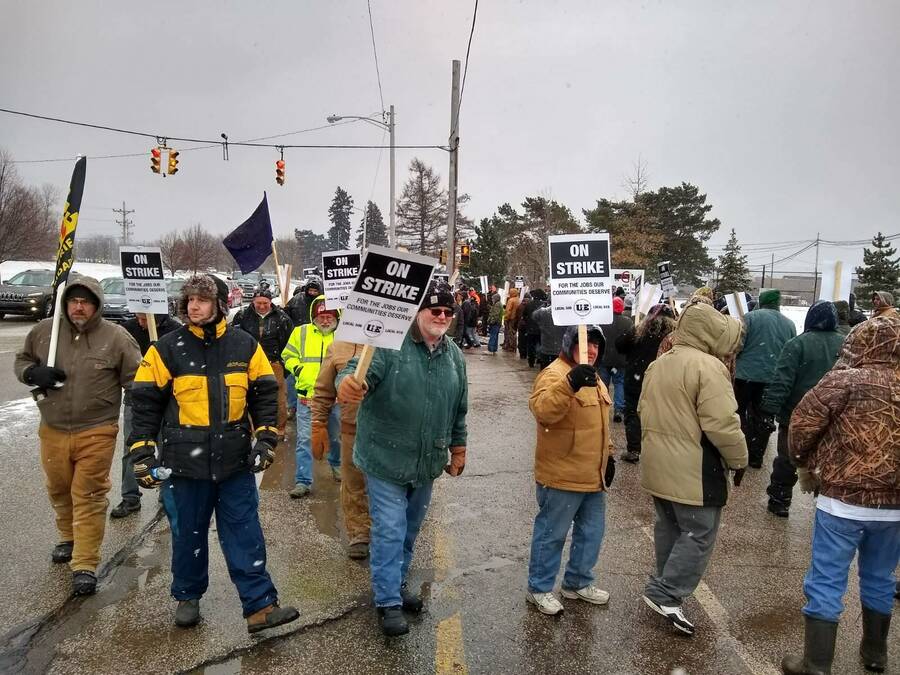 On Feb­ru­ary 26, near­ly 2,000 mem­bers of the Unit­ed Elec­tri­cal, Radio and Machine Work­ers of Amer­i­ca (UE) walked off their jobs at a long­stand­ing loco­mo­tive man­u­fac­tur­ing plant in Erie, Penn­syl­va­nia, in the largest U.S. strike in the man­u­fac­tur­ing sec­tor since 2016. The move came just one day after the plant began oper­at­ing under its new own­er, the Wabtec Cor­po­ra­tion of Wilmerd­ing, Pennsylvania.
In 2018, Wabtec merged with GE Trans­porta­tion, a divi­sion of Gen­er­al Elec­tric that has oper­at­ed a loco­mo­tive plant in Erie for more than 100 years. UE mem­bers have had a con­tract with GE since 1938, accord­ing to union spokesper­son, Jonathan Kissam, and that con­tract has pro­vid­ed gen­er­a­tions of Erie res­i­dents with what Kissam says are ​"good, Rust Belt jobs."
Those jobs have afford­ed the plant's employ­ees a more sta­ble lifestyle, with wages that aver­age $35 per hour, and a Mon­day through Fri­day work sched­ule that Kissam says has allowed UE mem­bers to be active par­tic­i­pants in life out­side of the plant. ​"Our mem­bers are very involved in the Erie com­mu­ni­ty as Lit­tle League coach­es, at church­es and with vet­er­ans' caus­es," Kissam assert­ed in an inter­view with In These Times.
It is this qual­i­ty of life, and this con­nec­tion to the broad­er Erie com­mu­ni­ty, that UE mem­bers are try­ing to pro­tect for them­selves and future gen­er­a­tions by going on strike, Kissam says.
That's because the plant's new own­ers, Wabtec, has declined thus far to hon­or UE's con­tract with GE — even on a tem­po­rary, 30-day basis, as pro­posed by the union. The com­pa­ny has, instead, tried to impose imme­di­ate changes to employ­ees' work­ing con­di­tions. Those changes include a pro­pos­al for wage cuts of up to 38 per­cent for new hires and recalled work­ers, cre­at­ing what union rep­re­sen­ta­tives such as Scott Slaw­son, pres­i­dent of UE Local 506, have called a ​"per­ma­nent sec­ond tier of low­er wages."
Kissam recalls observ­ing a recent UE mem­ber meet­ing. When par­tic­i­pants were asked how many had par­ents or chil­dren who also worked at the loco­mo­tive plant, many hands shot up. These strong fam­i­ly ties make UE mem­bers espe­cial­ly averse to any two-tier wage pro­pos­al, in Kissam's view, because ​"they see two tiers as sell­ing out their own chil­dren and the Erie community."
A Huff­in­g­ton Post arti­cle not­ed that this fear is jus­ti­fied. ​"Unions are leery of two-tier sys­tems for good rea­son," Dave Jamieson reports. As well-paid, old­er work­ers retire, they are then replaced with less estab­lished employ­ees who ​"know they'll nev­er make the same mon­ey as their vet­er­an coun­ter­parts." This has the poten­tial to cre­ate dis­cord with­in the union, an issue Jamieson says has reared its head in oth­er recent, large scale union negotiations.
Brad McCur­dy is a licensed jour­ney­man elec­tri­cian who has worked at the Erie man­u­fac­tur­ing plant for the past 14 years. As a UE mem­ber, he tells In These Times he is feel­ing both pride and kin­ship while on strike, as well as fear for the outcome.
Regard­ing Wabtec's reluc­tance to agree to a 30-day exten­sion of UE's cur­rent labor con­tract, while also demand­ing what he sees as ​"major con­ces­sions" around wages and ben­e­fits, McCur­dy does not mince words: ​"This is cor­po­rate greed and union-bust­ing 101." He points to Wabtec's sig­nif­i­cant prof­it mar­gins and insists that the union's will­ing­ness to strike is ​"direct­ly tied to pre­serv­ing jobs for our com­mu­ni­ty, and pre­serv­ing fam­i­ly-sus­tain­ing wages."
In a Feb­ru­ary 26 opin­ion piece pub­lished in the Erie Times News, Greg Sbroc­co, the man­ag­er of Wabtec's man­u­fac­tur­ing plants, sought to jus­ti­fy low­er wages by claim­ing they are a ​"stan­dard prac­tice by U.S. man­u­fac­tur­ing com­pa­nies to aggres­sive­ly com­pete with com­peti­tors in low-cost coun­tries like Chi­na or Mex­i­co." Yet, Wabtec is a high­ly prof­itable cor­po­ra­tion whose sales are expect­ed to shoot north of $9 bil­lion in 2019, accord­ing to recent news reports.
Wabtech CEO Ray­mond Betler also net­ted a com­pen­sa­tion pack­age worth $3.5 mil­lion last year, accord­ing to a state­ment put out by Ver­mont sen­a­tor and 2020 pres­i­den­tial can­di­date, Bernie Sanders. Sanders has offered sup­port for the strik­ing UE mem­bers by insist­ing that ​"cor­po­rate exec­u­tives must not use the merg­er between GE and Wabtec to hurt work­ers." Oth­er news sites have made note of the fact that this merg­er was an $11 bil­lion deal.
Kissam argues that the Erie plant is a prime exam­ple of what hap­pens when cor­po­ra­tions seek out low­er wages in an attempt to com­pete with what Sbroc­co calls ​"low-cost coun­tries." In 2011, while GE Trans­porta­tion still owned the Erie plant, the com­pa­ny moved hun­dreds of jobs to a new loco­mo­tive man­u­fac­tur­ing site in Fort Worth, Texas, a right-to-work state where unions have lit­tle power.
In 2017, GE Trans­porta­tion then announced plans to close the Erie plant alto­geth­er and move all loco­mo­tive man­u­fac­tur­ing jobs to the non-union Fort Worth site. These plans were then scut­tled as GE Trans­porta­tion sought to sell off its trans­porta­tion divi­sion instead. Union lead­ers, how­ev­er, allege that the attempt to move all man­u­fac­tur­ing jobs to Texas back­fired as com­pa­ny man­agers real­ized that build­ing a large loco­mo­tive is not sim­ple and, in fact, requires the kind of high­ly skilled, per­ma­nent work­force the Erie plant provides.
As a 2018 Erie Times-News arti­cle states, GE Trans­porta­tion has been a suc­cess­ful oper­a­tion, with cus­tomer orders and com­pa­ny prof­its pil­ing up. This point was echoed in a Feb­ru­ary 20 press release from UE, which stat­ed that, ​"GE Trans­porta­tion has con­sis­tent­ly earned prof­its of over 16 per­cent for the last five years, dri­ven by the skilled work done by UE mem­bers at the flag­ship plant in Erie."
Kissam main­tains that UE mem­bers were opti­mistic when Wabtec bought out GE Trans­porta­tion in 2018. Rela­tion­ships with GE lead­er­ship had become rocky, he says, and work­ers were hope­ful about being under Wabtec's umbrel­la, since the com­pa­ny seemed like­ly to be more sta­ble and less in the busi­ness of shak­ing up oper­a­tions than GE had been. Right from the start, how­ev­er, UE lead­ers accused Wabtec of refus­ing to nego­ti­ate in good faith.

​"Wabtech told us their terms and con­di­tions in Decem­ber," Kissam says, but ​"seri­ous nego­ti­a­tions" did not start until ear­li­er in Feb­ru­ary. Mem­bers quick­ly object­ed to Wabtec's insis­tence on such things as ​"manda­to­ry over­time and arbi­trary sched­ules," says Kissam. When Wabtec took over plant oper­a­tions on Feb­ru­ary 25, the plant's work­ers decid­ed to walk off the job rather than bend to the new owner's conditions.
Wabtec has main­tained that its pro­pos­als are rea­son­able, for­ward-look­ing and com­pet­i­tive for the region.
"Peo­ple would rather work than be on strike, but they're not will­ing to hand every aspect of their life over to the boss, and they're not will­ing to cre­ate a per­ma­nent under­class of low wage work­ers," Kissam insist­ed. He also notes that the strike comes at a time of renewed pub­lic sup­port for labor rights. ​"I think UE mem­bers also have a sense that there is a greater will­ing­ness to fight among work­ers more broad­ly," thanks in part to what Kissam calls ​"the suc­cess of the recent teach­ers strikes."
So far, there are no new con­tract talks sched­uled for Wabtec and UE, mean­ing there is no clear end in sight to the strike. For McCur­dy, the fight is clear. Wabtec is mak­ing mil­lions, he says, ​"while ask­ing us to make con­ces­sions. This is dirty pool."
Sarah Lahm is a Min­neapo­lis-based writer and for­mer Eng­lish Instruc­tor. She writes the Mid­west Dis­patch col­umn for the Pro­gres­sive mag­a­zine, and her work has appeared in oth­er local and nation­al outlets.