Laverne Cox: Transforming Hollywood
The trailblazing Orange is the New Black star has become a powerful voice for trans people, including CeCe McDonald.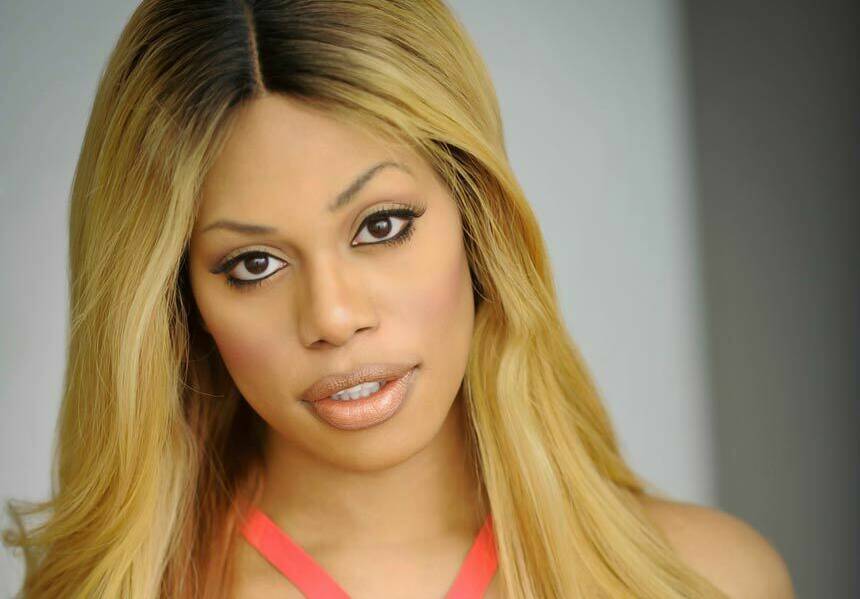 As Sophia Burset, the only trans char­ac­ter in Orange is the New Black—the hit Net­flix show about a women's prison — Lav­erne Cox is break­ing new ground as a trans­gen­der actor in a field where trans women are still rare. But Cox is also gain­ing fame for her pow­er­ful off-screen pol­i­tics as she advo­cates for trans­gen­der rights.
'I think the media is really comfortable reading about trans women of color as victims after they die, but if we have the audacity to survive, we are immediately criminalized.'
Most recent­ly, Cox has lent both her star pow­er and her orga­niz­ing pow­er to the case of CeCe McDon­ald, an African-Amer­i­can trans woman sen­tenced to 41 months in prison for a killing she says occurred in self-defense. In 2011, a group of white peo­ple taunt­ed McDon­ald and her friends with racist and trans­pho­bic epi­thets out­side a bar in Min­neapo­lis. In the ensu­ing alter­ca­tion, McDon­ald defend­ed her­self with scis­sors from her purse. She was wound­ed and a white man, Dean Schmitz, was killed. McDon­ald was con­vict­ed of sec­ond-degree murder.
McDonald's case became a flash point for trans activists because of sev­er­al per­ceived injus­tices in her tri­al and sen­tenc­ing. First, the judge barred expert tes­ti­mo­ny about the every­day vio­lence faced by trans peo­ple, which would have been used to sup­port the case for self-defense. Then McDon­ald was sent to a men's prison — where trans women face not only a high risk of vio­lence, but also the trau­ma of being stripped of their gender.
When McDon­ald was released ear­ly on parole this Jan­u­ary, Cox was among those wait­ing to greet her. Cox is work­ing with direc­tor Jacque­line Gares on Free CeCe, a film doc­u­ment­ing McDonald's first year out of prison.
Cox spoke with In These Times about why McDonald's case moved her, the future of trans act­ing and activism, and what's next for Orange is the New Black.
What inspired you to make a doc­u­men­tary about CeCe McDonald?
I became aware of CeCe's case a few weeks after it hap­pened. Her case spoke so much to me because I could very eas­i­ly have been her. CeCe was just walk­ing down the street with a group of her friends when she was attacked. Often, I've been just walk­ing down the street and heard anti-trans and racist slurs, and I was even kicked on the street once. So many trans women don't sur­vive these kinds of attacks. In 2012, 53 per­cent of homi­cides in the LGBTQ com­mu­ni­ty were trans women, and 73 per­cent [of all homi­cides] are peo­ple of col­or. So the film is also about the cul­ture of vio­lence against trans women as an epidemic.
Advo­cat­ing for her case wasn't hard for me because this woman is a sur­vivor. She did not want to die that day. I asked CeCe, dur­ing my inter­view with her, ​"Do you think if you had not pulled those scis­sors out, that he would have killed you?" And she said, ​"Yes." He was charg­ing and lung­ing at her with hate in his eyes and — not to retry the case — but this is a white suprema­cist with a swasti­ka tat­tooed on his chest, and she feared for her life.
Yet the ini­tial media cov­er­age was sym­pa­thet­ic to Schmitz and not McDon­ald. Why do you think that is?
The cov­er­age was trans­pho­bic and trans­misog­y­nis­tic and racist. What Bil­ly Navar­ro, one of her major advo­cates, said to me when I inter­viewed him was, ​"The media was so upset with CeCe because she had the audac­i­ty to survive."
I think the media is real­ly com­fort­able read­ing about trans women of col­or as vic­tims after they die, but if we have the audac­i­ty to sur­vive, we are imme­di­ate­ly crim­i­nal­ized; that is what the sys­tem does. The inter­sect­ing trans­pho­bia, trans­misog­y­ny, racism and clas­sism in the crim­i­nal jus­tice sys­tem — all of that con­verged in her sto­ry. CeCe was arrest­ed on the spot that night; no one else was arrest­ed. It took them [near­ly] a year to arrest the per­son who smashed a glass into CeCe's face. Because I'm on a show that looks at the injus­tice of the crim­i­nal jus­tice sys­tem, it's a no-brain­er for me to be involved in this project.
You've talked about these issues on Katie Couric's show. How do you go about mak­ing these com­pli­cat­ed analy­ses to gen­er­al audi­ences who are more used to, as you point out, feel­ing sor­ry for trans peo­ple who die than advo­cat­ing for survivors?
I've been so inspired by folks at the Sylvia Rivera Law Project, the Audre Lorde Project, Queers for Eco­nom­ic Jus­tice (which does­n't exist any­more) and so many rad­i­cal folks who have spo­ken about inter­sec­tion­al­i­ty. My Black iden­ti­ty doesn't go away because I'm trans, and the forces of racism don't go away because I'm trans; they actu­al­ly are com­pound­ed by trans­pho­bia and trans­misog­y­ny. I'd be doing myself and my com­mu­ni­ty a dis­ser­vice if I didn't speak in an inter­sec­tion­al way.
I hope to chal­lenge the LGBTQ com­mu­ni­ty as a whole to look at its trans­pho­bia, to look at its racism. Speak­ing from the truth of my own expe­ri­ence, I think that the LGBTQ com­mu­ni­ty needs to be a social jus­tice move­ment in gen­er­al, and I don't think it has been, in its main­stream incarnation.
You are one of the few trans actors, peri­od. You've talked about the need for nuanced trans char­ac­ters, instead of the usu­al stereo­typ­i­cal and prob­lem­at­ic ones. But does nuanced always have to mean a good per­son? Can you play, for instance, a murderer?
Look­ing at the evo­lu­tion of Black rep­re­sen­ta­tion in the media, or of gay and les­bian rep­re­sen­ta­tion, it's dif­fi­cult and it takes time. I've always believed it's about hav­ing mul­ti­ple sto­ries out there about dif­fer­ent kinds of peo­ple. I'm against the idea of pos­i­tive ver­sus neg­a­tive rep­re­sen­ta­tion. I would love to play a real­ly inter­est­ing, com­pli­cat­ed mur­der­er. Those are the roles I live for.
We've seen actors who are cis­gen­der (not trans) play­ing trans char­ac­ters in film and tele­vi­sion. Are we near­ing a time when a trans actor might, for instance, play a cis­gen­der woman?
I absolute­ly believe it's pos­si­ble. It starts with direc­tors, writ­ers and pro­duc­ers say­ing, ​"Lav­erne is a won­der­ful actress and she's right for this part, so let's cast her" [laughs]. I've played a cou­ple of roles onstage, and a char­ac­ter in a film called The Exhi­bi­tion­ists, that weren't writ­ten for trans actors.
You met CeCe McDon­ald face-to-face for the first time just after she was released. What was it like to meet the woman for whom you'd been advocating?
CeCe is a young, vibrant, remark­able woman. She'd heard Beyoncé's album in prison, but she hadn't seen the video, so two hours after she got out of prison we were watch­ing it and talk­ing about Bey­on­cé and jam­ming in this din­er. She said that in [the men's] prison, they were try­ing to strip her of her wom­an­hood and her trans life, so she just wants to cel­e­brate those things when she gets out, and she's doing that.
Would you describe your­self as a prison abolitionist?
That's some­thing I've sort of gone back and forth with. From talk­ing to CeCe and her sup­port­ers, it does seem like abol­ish­ing pris­ons is the way to go. But then, for the folks who are already serv­ing time: What can we do to make their time more humane and more safe? The peo­ple inside need help now; they need sup­port, poli­cies and advocacy.
What do you think needs to fun­da­men­tal­ly shift in the LGBTQ main­stream move­ment, so that it takes trans issues, and espe­cial­ly prison issues, into consideration?
Most of it is actu­al­ly hav­ing trans peo­ple, par­tic­u­lar­ly trans peo­ple of col­or, in lead­er­ship posi­tions in LGBTQ orga­ni­za­tions, [beyond] tok­eniz­ing. It's also impor­tant for each and every one of us, no mat­ter who we are, to inter­ro­gate our own inter­nal­ized trans­pho­bia, homo­pho­bia, racism and clas­sism. And also to get resources to the folks who are doing the work on the ground — like Katie Burgess and oth­er grass­roots activists in Min­neapo­lis, who brought CeCe's sto­ry to inter­na­tion­al audi­ences and advo­cat­ed fierce­ly for her. They did that with basi­cal­ly no resources; what could they do if they actu­al­ly had mon­ey to advocate?
On that note, how can peo­ple sup­port your film?
We're prob­a­bly look­ing at anoth­er year of pro­duc­tion, and we need fund­ing. Peo­ple can donate via Indiegogo or at FreeCe​ce​Doc​u​men​tary​.net.
Can you tell us any­thing about the next sea­son of Orange is the New Black?
Oh my, it's real­ly, real­ly juicy. It's real­ly fan­tas­tic. All that I can say with­out giv­ing too much away is that [actor] Lor­raine Tou­s­saint has joined our cast, and Lor­raine is major [laughs]. Her char­ac­ter real­ly stirs the pot. Expect the unex­pect­ed with this season.