Lawrence Lessig, always a foun­tain of reformist ideas and polit­i­cal ener­gy, wants to fix the rot at the core of our democ­ra­cy: the mas­sive amounts of mon­ey from spe­cial inter­ests that influ­ences our elect­ed rep­re­sen­ta­tives. The tech-savvy activist who helped to found Cre­ative Com­mons is now the direc­tor of the Edmond J. Safra Foun­da­tion Cen­ter for Ethics at Har­vard Uni­ver­si­ty (where he teach­es law). He used to engage audi­ences with quirky pre­sen­ta­tions argu­ing for reduced copy­right and trade­mark restric­tions; now he speaks about polit­i­cal cor­rup­tion and reform­ing our cam­paign finance sys­tem. Lessig's sixth book, Repub­lic, Lost: How Mon­ey Cor­rupts Con­gress — and a Plan to Stop it, pub­lished in 2011, offers a blue­print for get­ting mon­ey out of politics.
Lessig, whose orga­ni­za­tion Root­strik­ers has part­nered with MSNBC host Dylan Ratigan's Get Mon­ey Out cam­paign, believes small-dol­lar donors and greater polit­i­cal par­tic­i­pa­tion from the Amer­i­can pub­lic can shift con­gres­sion­al pri­or­i­ties away from pow­er­ful inter­ests. I spoke to him in late Decem­ber while he was in Chica­go to give a talk about his new book.
—Aaron Krager, Feb­ru­ary 6, 2012
Pol­i­tics
Clear­ly, mon­ey is a big part of the cur­rent pres­i­den­tial elec­tion cam­paign. What can we do to make a dif­fer­ence this year?
The biggest thing to do is to start reward­ing can­di­dates who take this issue seri­ous­ly, and pun­ish can­di­dates who ignore it. Raise the issue with can­di­dates who promise to take up the issue and don't end up doing any­thing about it. The pres­i­dent made [mon­ey in pol­i­tics] a cen­tral issue in his 2008 cam­paign, and then prompt­ly for­got about it once he was elect­ed. There are a lot of can­di­dates out there, both House and Sen­ate, for whom this issue ought to be a cen­tral ques­tion for them to address.
Any exam­ples of how to reward or pun­ish a candidate?
With­hold your vote from any­body who doesn't com­mit to tak­ing a pledge to remove the cor­rupt­ing influ­ence of mon­ey from pol­i­tics. On our Root­strik­ers web­site, we have the begin­nings of a pledge. and with Unit­ed Repub­lic we are work­ing on a plat­form to make it easy for peo­ple to see which can­di­dates actu­al­ly imple­ment­ed the pledge. That's a first step. If can­di­dates don't take the pledge, they shouldn't get your mon­ey or your vote.
What is the best way to get the influ­ence of mon­ey out of politics?
I don't think we ought to be get­ting the influ­ence of mon­ey out of pol­i­tics; we'll nev­er do that. We have to get the right kind of influ­ence of mon­ey into pol­i­tics. The prob­lem right now is a tiny slice of Amer­i­cans fund cam­paigns, .26 per­cent of Amer­i­cans give more than $200 in a con­gres­sion­al cam­paign, .05 per­cent of Amer­i­cans max out in con­gres­sion­al cam­paigns. That means it is an extreme­ly tiny slice of Amer­i­ca that is actu­al­ly doing any­thing to sup­port the elec­tions in Con­gress. That means Con­gress is respon­sive to a very tiny slice of Amer­i­ca. Now, a small-dol­lar fund­ing sys­tem, as I pro­pose in Repub­lic, Lost, would make sure the mon­ey is com­ing from a broad swath of Amer­i­ca. … That would reduce the cor­rupt­ing influ­ence of the mon­ey in pol­i­tics, not by remov­ing it but by remov­ing the cor­rupt­ing mon­ey from politics.
Cul­ture
Politi­cians gen­er­al­ly respond to those that most force­ful­ly pres­sure them. Today, that tends to be hordes of lob­by­ists. How much of the country's cur­rent cor­rup­tion predica­ment has to do with cit­i­zen apa­thy — the absence of grass­roots pres­sure push­ing politi­cians to act for the pub­lic good?
I think a sig­nif­i­cant part comes from vot­er apa­thy. Maybe the apa­thy is ratio­nal in that the cur­rent sys­tem doesn't make much sense for peo­ple to spend their time wor­ry­ing about pol­i­tics, because many peo­ple believe mon­ey buys results in pol­i­tics. We need to have a sys­tem in which spend­ing time is worth­while. We need peo­ple to rec­og­nize the val­ue they have.
How would you rate Amer­i­cans' inter­est in clean­ing up corruption?
The polling actu­al­ly shows that near­ly every­one believes the sys­tem is cor­rupt­ed and is skep­ti­cal there is much you can do to change it. If you give peo­ple an option on what you could do to change it and give them the tools, then they can get moti­vat­ed and engage in the process of chang­ing it. …
The Cit­i­zens Unit­ed rul­ing must have knocked the wind out of you. Democ­rats recent­ly intro­duced a con­sti­tu­tion­al amend­ment in the House and Sen­ate to effec­tive­ly over­turn the Supreme Court deci­sion. How essen­tial is such an amend­ment to solv­ing the country's gov­er­nance problems?
The amend­ment is half the solu­tion. The amend­ment does a good job in cov­er­ing inde­pen­dent expen­di­tures and lim­it­ing con­tri­bu­tions. I don't think any solu­tion that relies on lim­its alone is going to be solu­tions. What it needs is a pro­pos­al that also pro­vides a ver­sion of pub­lic fund­ing. If we had an amend­ment that called for both pub­lic fund­ing and for lim­its on inde­pen­dent expen­di­tures or con­tri­bu­tions, that would be the mix nec­es­sary to make real reform.
Tell us about a coun­try that cleaned up its elec­tion rules and gov­er­nance struc­ture rel­a­tive­ly recent­ly to keep monied influ­ences mar­gin­al. What should Amer­i­cans learn from that country's story?
I am not con­vinced we could learn a lot from oth­er coun­tries direct­ly. There are dif­fer­ences. We have a first amend­ment that has been inter­pret­ed in a very nar­row way to restrict the pow­er of Con­gress to use all sorts of solu­tions oth­er coun­tries use. Oth­er coun­tries lim­it the time of elec­tions, they give free air time and have much more pow­er to lim­it con­tri­bu­tions. They are much more gen­er­ous with pub­lic funding.
All those dif­fer­ent dimen­sions would have to be adjust­ed to see what oth­er coun­tries can sug­gest from a com­par­i­son. There is a com­plex­i­ty that leads to a prob­lem. And it's that Con­gress is depen­dent upon its fun­ders, but the fun­ders are such a tiny slice of Amer­i­ca that we should find a way to make the fun­ders a broad­er slice of the coun­try to see if that actu­al­ly solves the problem.
Per­son­al
Are any cur­rent­ly elect­ed offi­cials immune to the cor­rupt­ing influ­ence of money?
Para­dox­i­cal­ly, the one's who fund their cam­paigns sole­ly from their own wealth. But even they might not be immune — they have to raise mon­ey for their par­ty and their par­ties increas­ing­ly put pres­sure on them to raise mon­ey because of the need else­where. If it is any­one, it's the peo­ple who self-fund.
With so much pow­er already in the hands of the one per­cent, how do we guar­an­tee a Con­sti­tu­tion­al Con­ven­tion does not result in their desires being fulfilled?
What we need at a con­ven­tion is to make sure it is pop­u­lat­ed by ran­dom selec­tion of cit­i­zens. Now, that's an odd thing to push for and peo­ple would be very skep­ti­cal of it. The essen­tial point is to rec­og­nize that if we had some­thing like a civ­il jury for the con­ven­tion then it would be pro­duc­ing leg­is­la­tion that would not be dri­ven by spe­cial interests. …
Pol­i­tics
How do you pro­pose to unite both major polit­i­cal par­ties around the idea of cor­rup­tion being an ene­my to both?
That is an impor­tant chal­lenge. I think it is done slow­ly, by get­ting them rec­og­nize the fact that you don't have to have a com­mon goal to have a com­mon ene­my. The sys­tem is made to block the left and right from get­ting what they want. High­light­ing the way in which the cur­rent sys­tem blocks both sides from their goals is a crit­i­cal first step. I've been try­ing to do that wher­ev­er I can. The book spends a long time try­ing to con­vince peo­ple that you don't have to be from the left to believe this is a crit­i­cal issue. It is going to take a lot of effort to do that because most peo­ple have a kind of polit­i­cal valiance and this doesn't quite sit on the right's valiance as it typ­i­cal­ly does on the left.
What would stop a court chal­lenge and the Supreme Court ulti­mate­ly over­turn­ing your ver­sion of pub­lic financing?
My ver­sion doesn't actu­al­ly trig­ger any of the issues the Supreme Court has con­cerned about. My ver­sion has a more vol­un­tary sys­tem to make it easy for peo­ple to opt in or opt out. If they opt in, they are express­ing their own first amend­ment val­ues of being asso­ci­at­ed with a cer­tain sys­tem of fund­ing instead of the oth­er kind, in which peo­ple asso­ciate with cor­rup­tion. I think that all of those dif­fer­ences that make it not vul­ner­a­ble to a con­sti­tu­tion­al challenge.
What's Root­strik­ers' goal lead­ing up November's elections?
Root­strik­ers wants to be as broad as it can to get peo­ple to under­stand the cor­rupt­ing influ­ence of mon­ey in pol­i­tics. We are going to talk about the issue at the state lev­el and local lev­els, as well as the fed­er­al lev­el. Peo­ple can begin to have an auto­mat­ic reac­tion when they hear of an issue and link it back to its root and address that. We are look­ing to get a much more active and much more pas­sion­ate group of sup­port­ers to push Amer­i­ca to focus on this issue and get them to do some­thing about it.
[Hen­ry David] Thore­au said it right. ​"There are a thou­sand hack­ing at the branch­es of evil to one who is strik­ing at the root." That means there should be 300,000 root strik­ers and we want to orga­nize around them.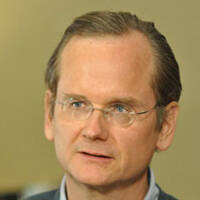 Lawrence Lessig
, an aca­d­e­m­ic and activist, is a pro­fes­sor of law at Har­vard Uni­ver­si­ty. A found­ing board mem­ber of Cre­ative Com­mons, he is the author of many books, includ­ing
Repub­lic, Lost: How Mon­ey Cor­rupts Con­gress – and a Plan to Stop It
.