Lean Socialist
Why liberalism needs socialism--and vice versa.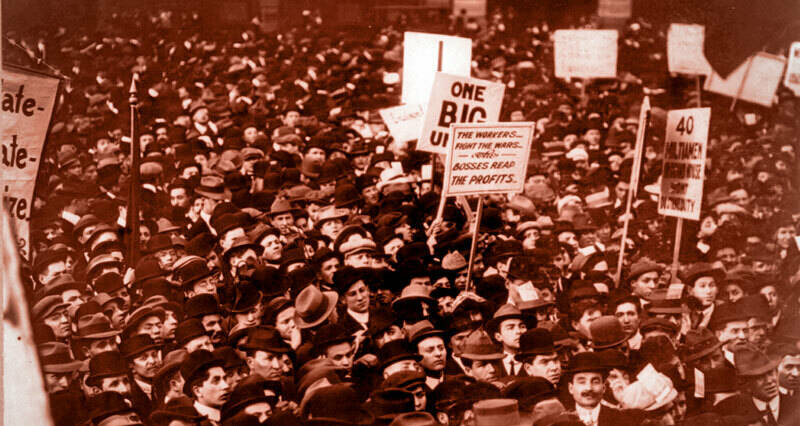 He wasn't a house­hold name, but for the last half of the 20th cen­tu­ry Michael Har­ring­ton was the most promi­nent social­ist in the Unit­ed States. Inter­na­tion­al lead­ers like Swedish Prime Min­is­ter Olof Palme said that if Har­ring­ton were Euro­pean, he'd be a head of state — rather than sim­ply a reg­u­lar on late-night C‑Span. William F. Buck­ley was more dis­mis­sive, not­ing, ​"Being called America's fore­most social­ist is like being the tallest build­ing in Tope­ka, Kansas."
The only way back to political relevance for socialists lies through realistic engagement with politics as it exists today.
Since Harrington's death in 1989, the decline of an already small Amer­i­can social­ist move­ment has been even more pro­nounced. With even the most tepid forms of ​"lib­er­al­ism" on the retreat in the Unit­ed States, and some­thing as eco­nom­i­cal­ly ratio­nal as sin­gle-pay­er health­care off the agen­da entire­ly, more rad­i­cal poli­cies seem like the stuff of fan­ta­sy. Sure, social­ism has its hold­outs, but the tru­ly com­mit­ted domes­tic social­ists now num­ber in the thou­sands, not the mil­lions. Much as Star Trek nerds make their pil­grim­age to Trekkie con­ven­tions, this cadre flocks to Left Forum in New York City every year for heat­ed argu­ments over this or that piece of sec­tar­i­an esoterica.
The Amer­i­can demo­c­ra­t­ic social­ist move­ment today is marked by both a cor­ro­sive inter­nal cul­ture and absolute orga­ni­za­tion­al dis­ar­ray. When social­ists do have impact it's behind the veil of lib­er­al-left groups, such as Pro­gres­sive Democ­rats of Amer­i­ca. For the most part, the ​"S‑word" is seen as a lia­bil­i­ty and is kept hid­den from sight. Aside from as a right-wing scare tac­tic, it goes with­out say­ing that social­ism has no place with­in the main­stream Amer­i­can polit­i­cal landscape.
But despite this gloomy pic­ture, there are signs that the cause may not be lost. A Pew poll last year found that more young Amer­i­cans were favor­ably dis­posed to social­ism than to cap­i­tal­ism. Even some of the more maligned aspects of Occu­py activism point­ed toward an under­ly­ing rad­i­cal­ism. The yearn­ing for a more just econ­o­my seen in Zuc­cot­ti Park's soup kitchen, or the thirst for deep­er democ­ra­cy embod­ied by Occu­py Wall Street​'s Gen­er­al Assem­blies, rep­re­sent­ed pro­found aspi­ra­tions, if only fleet­ing­ly real­ized. Mem­bers of a gen­er­a­tion that came of age polit­i­cal­ly after the Cold War may not claim the label of ​"social­ist," but they don't asso­ciate it with gulags and mil­i­tary parades, either.
Per­haps we should thank our con­ser­v­a­tive friends. The more Grover Norquist calls Pres­i­dent Barack Obama's cen­trist eco­nom­ic poli­cies ​"social­ist," the less threat­en­ing that dread­ed slur has start­ed to sound.
Back to the future
Of course, social­ism used to be more than a pejo­ra­tive; it used to be a real polit­i­cal force espous­ing rad­i­cal democ­ra­cy and egal­i­tar­i­an redis­tri­b­u­tion. In 1912, the Social­ist Par­ty of Amer­i­ca had 118,000 mem­bers and boast­ed 1,200 elect­ed state offi­cials, includ­ing 79 may­ors. Work­ers in this coun­try framed their demands in the lan­guage of home­stead cap­i­tal­ism and repub­li­can­ism more than their Euro­pean coun­ter­parts, but they waged the same class strug­gle, fight­ing their employ­ers for bet­ter wages and work­ing conditions.
These rad­i­cal cur­rents ebbed and flowed, but in every major pro­gres­sive advance, from the New Deal through the upsurges of the 1960s, Amer­i­can social­ists played a key role. Since the 1970s, how­ev­er, these vic­to­ries have become rare. It's no coin­ci­dence that decades of increas­ing eco­nom­ic inequity have coin­cid­ed with the decline of the Left. Lib­er­als in the Unit­ed States nev­er had much patience for social­ists — but gen­teel estab­lish­ment types would have had a hard time pass­ing the New Deal with­out reds march­ing at their left, threat­en­ing more rad­i­cal change. It was only after U.S. social­ism retreat­ed in dis­ar­ray that the tides of neolib­er­al­ism moved in and sig­nif­i­cant­ly erod­ed the accom­plish­ments of social democracy.
But those achieve­ments can be won back. The essay I co-wrote with Peter Frase for In These Times last Novem­ber, ​"The Wel­fare State of Amer­i­ca," argued that shift­ing social-spend­ing bur­dens from states and local­i­ties to the fed­er­al gov­ern­ment could make the wel­fare state more effi­cient, more sus­tain­able and, cru­cial­ly, more pop­u­lar. We iden­ti­fied social actors whose inter­ests would align with such a pro­gram — polit­i­cal con­stituen­cies such as labor that, once mobi­lized, could help ush­er in a new era of Amer­i­can social democracy.
Our pro­pos­al was not inspired by post­war nos­tal­gia — a yearn­ing for the kinder and gen­tler cap­i­tal­ism of yes­ter­year. Nor did we aban­don the orig­i­nal social­ist vision of a post-cap­i­tal­ist soci­ety. Instead, we pro­posed that cer­tain reforms, once estab­lished, would both improve the con­di­tions of work­ing peo­ple in the imme­di­ate present while also set­ting the stage for more fun­da­men­tal struc­tur­al changes in the future. Unlike left­ists who believe that things must get worse before they get bet­ter, we argue that the rank and file of the Next Left will need the psy­cho­log­i­cal con­fi­dence that comes with win­ning inter­me­di­ate vic­to­ries, as well as the mate­r­i­al secu­ri­ty that comes with a robust safe­ty net, before mak­ing any cred­i­ble moves for more fun­da­men­tal social change.
Refuseniks to the left, tech­nocrats to the right
Such a process is incon­ceiv­able with­out a Left will­ing to engage with lib­er­al­ism, but the trends in this respect are not promis­ing. A pecu­liar brand of anar­chism, preva­lent dur­ing the Occu­py move­ment, has attract­ed many young activists to its ranks. Their mas­ter plan for world change: Refuse to take pow­er. Avoid pol­i­tics. Occu­py squats and ​"lib­er­ate space." Cel­e­brate liberalism's col­lapse and hope some­thing bet­ter will arise out of the rubble.
Giv­en the polit­i­cal cli­mate today, it's under­stand­able that so many rad­i­cals opt for her­met­ic puri­ty and lifestyle pos­tur­ing. Over the past three decades, the Demo­c­ra­t­ic Par­ty has turned in even more pro-cor­po­rate direc­tions. It was Clin­ton, not Rea­gan, who was able to push through wel­fare reform; Oba­ma, not Bush, who has put the future of Medicare at risk. Yet most tra­di­tion­al lib­er­als have stood opposed to such poli­cies. This dis­tinc­tion — between tech­no­crat­ic elites in the cen­ter-left coali­tion intent on man­ag­ing the decline of the wel­fare state and lib­er­al activists who want to see accom­plish­ments of the New Deal and the Great Soci­ety defend­ed and expand­ed — is key. After all, lib­er­als cling­ing to faith in the wel­fare state would be a crit­i­cal part of any broad Left anti-aus­ter­i­ty coalition.
The Amer­i­can wel­fare state was the prod­uct of a spe­cif­ic his­tor­i­cal moment; its ide­o­log­i­cal archi­tec­ture was but­tressed by the New Deal and by the expe­ri­ence of a high­ly coor­di­nat­ed wartime econ­o­my of the 1940s. More impor­tant­ly, it emerged dur­ing the plen­ty of a post­war eco­nom­ic boom, with the help of a mass labor move­ment that in 2013 shows no sign of res­ur­rect­ing itself to its for­mer glory.
The dif­fer­ent ways in which lib­er­als assess this his­to­ry reveal inter­est­ing frac­tures in the lib­er­al camp. In one cor­ner, labor-ori­ent­ed lib­er­als right­ly pine for that bygone era's eco­nom­ic secu­ri­ty and still dream that some­day the promise of mid-cen­tu­ry lib­er­al­ism will be real­ized in the form of a more robust indus­tri­al democ­ra­cy. In the oth­er cor­ner are those aligned with the pro­fes­sion­al lib­er­al pol­i­cy class, like the Wash­ing­ton Post​'s Ezra Klein, who in a Jan­u­ary 18 blog post titled ​"After ​'the end of big gov­ern­ment lib­er­al­ism' " wrote, ​"The pro­gres­sive project of build­ing a decent wel­fare state is giv­ing way to the more tech­no­crat­ic work of financ­ing and man­ag­ing it." Hence the exist­ing safe­ty net must be pruned and inno­vat­ed upon until it can mesh with the demands of a glob­al­ized economy.
These lib­er­al tech­nocrats aren't idiots. Their under­stand­ing of the struc­tur­al basis of the 1970s eco­nom­ic cri­sis that undid much of Amer­i­can social democ­ra­cy and inau­gu­rat­ed neolib­er­al­ism is more sophis­ti­cat­ed than that of their labor-Left peers. But the dis­con­nect between the aspi­ra­tions of lib­er­al pol­i­cy types and the vot­ing blocs they rely on polit­i­cal­ly is strik­ing. This is a divide social­ists can exploit. The blood­less wonkery of Belt­way lib­er­als — the corps of writ­ers who are her­ald­ed as the ​"ideas peo­ple" of Amer­i­can lib­er­al­ism — presents the Left with an oppor­tu­ni­ty to rebuild a rap­port with the broad­er pro­gres­sive move­ment, an audi­ence starved for alter­na­tives to austerity.
Out of Kansas
A new New Deal alliance would bode well for the lib­er­al-Left, but play­ing a role in reju­ve­nat­ing Amer­i­can lib­er­al­ism will only be a means to an end. That's where Michael Har­ring­ton and his co-con­spir­a­tors, many of whom were lead­ers of the labor move­ment, erred. Their fol­ly wasn't a hos­til­i­ty to engage­ment with lib­er­als, like that of today's anar­chist youth, but that their polit­i­cal strat­e­gy by design played sec­ond fid­dle to, and even­tu­al­ly became indis­tin­guish­able from, that of their lib­er­al coun­ter­parts. Giv­en the chance dur­ing the high-water mark of Amer­i­can lib­er­al­ism, they were unable to build their own insti­tu­tions and strug­gle for dom­i­nance with­in the broad­er pro­gres­sive coalition.
Through out­reach and agit­prop, today's demo­c­ra­t­ic social­ists will need to push pop­u­lar analy­sis and dis­play orga­ni­za­tion­al tal­ents more dynam­ic than lib­er­al­ism can offer. This will mean work­ing open­ly under the social­ist ban­ner, iden­ti­fy­ing cap­i­tal­ism as a social sys­tem that ben­e­fits a tiny minor­i­ty at the expense of every­one else, and orga­niz­ing with­in our com­mu­ni­ties, schools and work­places to chal­lenge the struc­tures and rela­tion­ships that dom­i­nate our lives. It'll mean cre­at­ing par­ties and orga­ni­za­tions dis­tinct from those on the Amer­i­can polit­i­cal scene today, but not remote from ordi­nary people's lived realities.
The only way back to polit­i­cal rel­e­vance for social­ists lies through real­is­tic engage­ment with pol­i­tics as it exists today. And that involves messi­ness and com­pro­mise — reach­ing out to lib­er­als as friends and allies — while not los­ing sight of the need to deci­sive­ly trans­form a polit­i­cal frame­work built on a self-destruc­tive and moral­ly intol­er­a­ble mode of production.
Bhaskar Sunkara
is the found­ing edi­tor of Jacobin mag­a­zine. Fol­low him on Twit­ter: @sunraysunray.