Leaning In While Black
Can Facebook COO Sheryl Sandberg's manifesto speak to women of color?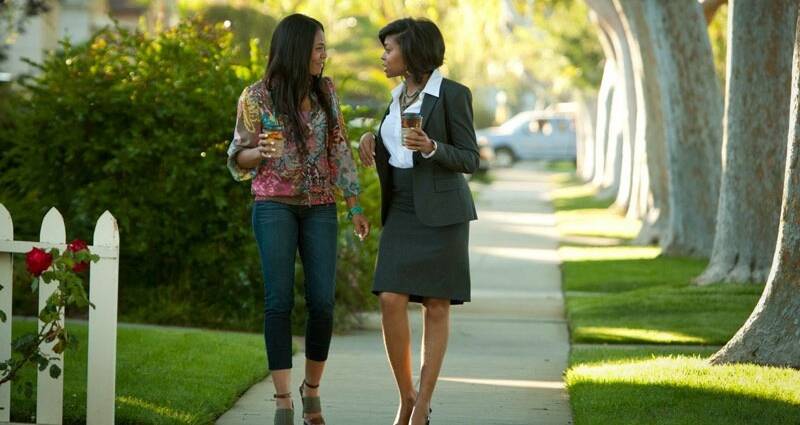 James Brown may have left this mor­tal coil, but one of his most famous pro­nounce­ments is as true today as in 1966: ​"This is a man's world." Only 17 of the world's 193 coun­tries are led by women; in the Unit­ed States, women hold just 14 per­cent of exec­u­tive offi­cer posi­tions and 18 per­cent of con­gres­sion­al seats.
Thanks to concerns about low marriage rates among African Americans, professional black women are bombarded with warnings about careerism and success.
Numer­ous researchers have looked into why this glass ceil­ing per­sists. In a 2003 study on gen­der, suc­cess and like­abil­i­ty, pro­fes­sors from Colum­bia Busi­ness School and New York Uni­ver­si­ty found that a suc­cess­ful ​"Howard" is viewed as more appeal­ing than a ​"Hei­di" with iden­ti­cal accom­plish­ments and per­son­al­i­ty traits. Women's careers are also ham­pered by a cul­ture that insists that men should be pri­ma­ry providers and women pri­ma­ry nur­tur­ers and house­keep­ers, forc­ing women to make hard deci­sions between work and fam­i­ly. And that is just a frac­tion of the sto­ry of inequity. It is no won­der many women back away from their ambition.
Accord­ing to Sheryl Sand­berg, Face­book COO and author of the self-described fem­i­nist man­i­festo Lean In: Women, Work, and the Will to Lead, this dis­par­i­ty in pow­er and achieve­ment can be attrib­uted to sys­temic gen­der inequal­i­ty and cul­tur­al bias­es, but also to some­thing else: the way women are accul­tur­at­ed to respond, often sub­con­scious­ly, to these fac­tors. Sand­berg calls on women to ​"lean in": to act with bold­ness and con­fi­dence; to ​"sit at the table" where deci­sions are made; to choose life part­ners who sup­port their careers; and to not put those careers on hold for mar­riage and babies before those things are a reality.
Whether Sand­berg, from her perch at the pin­na­cle of a tech behe­moth, is the right per­son to lead a rev­o­lu­tion for less-priv­i­leged women has been the top­ic of much debate. But bits of the author's wis­dom may ​"click" for par­tic­u­lar read­ers in unex­pect­ed ways. Sandberg's mes­sage about choos­ing sup­port­ive part­ners made me blink, because it stands in stark con­trast to advice direct­ed toward a par­tic­u­lar seg­ment of pro­fes­sion­al women. Thanks to con­cerns about low mar­riage rates among African Amer­i­cans, pro­fes­sion­al black women are bom­bard­ed with warn­ings about careerism and suc­cess. A bur­geon­ing genre of advice books instructs straight black women to, in effect, ​"lean back" in order to attract men.
In Act Like a Lady, Think Like a Man, (the basis for the film Think Like a Man), author Steve Har­vey admon­ish­es: ​"If you've got your own mon­ey, your own car, your own house, a Brinks alarm sys­tem, a pis­tol and a guard dog, and you're prac­ti­cal­ly shout­ing from the rooftops that you don't need a man to pro­vide for you or pro­tect you, then we will see no need to keep com­ing around." Else­where, Har­vey warns women that if they trav­el for busi­ness, their left-behind hus­bands might under­stand­ably stray.
Black women, espe­cial­ly high­ly suc­cess­ful ones, are expect­ed to sac­ri­fice achieve­ment for the alleged greater good of tra­di­tion­al mar­riage. And they are encour­aged to think more about being cho­sen than choos­ing — mak­ing them­selves attrac­tive to men by con­form­ing to an out­dat­ed tem­plate of fem­i­nin­i­ty rather than, as Sand­berg sug­gests, select­ing a sup­port­ive mate inter­est­ed in a 50/50 partnership.
Sand­berg coun­sels that choos­ing a mate is one of the most impor­tant deci­sions a work­ing woman will make. If that is true, lack of sup­port, in addi­tion to sys­temic sex­ism and racism, may explain why black women fare worse than their white coun­ter­parts in the halls of pow­er. All women of col­or make up just 4 per­cent of top cor­po­rate jobs, 3 per­cent of board seats and 5 per­cent of con­gres­sion­al seats. Snag­ging unsup­port­ive life part­ners isn't like­ly to improve these sta­tis­tics (or the per­son­al lives of women).
In Lean In, Sand­berg admits the priv­i­lege her class, edu­ca­tion and exec­u­tive posi­tion afford her, but she does not artic­u­late her racial priv­i­lege as clear­ly. It would have been help­ful for Sand­berg to acknowl­edge that a Lati­na or African- Amer­i­can woman in her posi­tion would be bur­dened by gen­der and race. If, as Sand­berg notes, female exec­u­tives are often deemed hyper-aggres­sive, what does that mean for women who, thanks to long-held stereo­types, are often viewed as aggres­sive sim­ply by dint of their race? As Angel­i­ca Perez-Litwin notes in a Huff­in­g­ton Post review of Lean In, ​"An assertive Lati­na at work risks being seen as ​'dif­fi­cult' or ​'opin­ion­at­ed.' A con­fi­dent voice lev­el makes her ​'con­fronta­tion­al' or ​'loud.'"
By acknowl­edg­ing race, as she did class and edu­ca­tion, Sand­berg could have made Lean In more acces­si­ble to a more diverse group of women. Yet what she has to say is not use­ful only to white, Ivy League-edu­cat­ed, mil­lion­aire exec­u­tives at For­tune 500 companies.
A blend of mem­oir, research and advice, Lean In is thought­ful, engag­ing and inspir­ing. At a time when the belief in ​"post-fem­i­nism" is relent­less — despite all evi­dence that we sim­ply aren't there yet — and many high-pro­file women shrink from the label ​"fem­i­nist," Sand­berg is tak­ing the dis­cus­sion about gen­der-biased expec­ta­tions of women and men to the main­stream and pub­licly giv­ing women sup­port to buck the rules of gen­der essen­tial­ism. This would seem to ben­e­fit all women.
But not every crit­ic agrees that Lean In has val­ue. The uproar sur­round­ing Lean In seems uncom­mon­ly hos­tile and per­son­al. The New York Times' Mau­reen Dowd accus­es Sand­berg of ​"a grandiose plan to become the Pow­er-Point Pied Piper in Pra­da ankle boots." Melis­sa Gira Grant in the Wash­ing­ton Post reck­ons Sand­berg is too elite to have any­thing of val­ue to say to reg­u­lar women and accus­es her of launch­ing a cam­paign to bol­ster her ​"brand." In Forbes, Dean­na Zandt admits to not hav­ing read Lean In, but that doesn't stop her from admon­ish­ing Sand­berg for blam­ing the vic­tim, try­ing to ​"fix women" and focus­ing too nar­row­ly on child care.
Crit­ics' chief argu­ment seems to be less about what Sand­berg has writ­ten (sev­er­al indict­ments were penned before Lean In was released), than about who she is — a wealthy, priv­i­leged woman. It's an odd stance to take, though, that a woman's suc­cess ren­ders her advice on women's suc­cess use­less, or that the last peo­ple we want talk­ing about fem­i­nism in pub­lic are pow­er­ful women with the ears of the media.
Sheryl Sand­berg isn't every woman, and Lean In may not be a man­i­festo for all women. But we should appre­ci­ate that Sand­berg has start­ed a main­stream dia­logue. Lean In is a help­ful blue­print for pro­fes­sion­al women hop­ing to advance in their careers. For pro­fes­sion­al black women, the advice about choos­ing part­ners may serve as a cru­cial, if acci­den­tal, inter­ven­tion. And that shows how Lean In is a poten­tial frame­work upon which inter­sect­ed con­ver­sa­tions — includ­ing a diver­si­ty of voic­es — about work, fam­i­ly, cul­ture and, impor­tant­ly, pol­i­cy can be built.
Tama­ra Win­frey Har­ris

explores race and gen­der, and their inter­sec­tion with pop cul­ture and pol­i­tics. her work has appeared in

Ms., Bitch

and the

Chica­go Sun-Times

, and online at

The Guardian, Huff­in­g­ton Post

, Change​.org,

Newsweek and Psy­chol­o­gy Today. Tama­ra is a senior edi­tor at Racia­li­cious. And she is work­ing on her first book – a fem­i­nist explo­ration of black women and mar­riage, and the sex­ist and racist under­pin­nings of the ​

"

black mar­riage cri­sis" narrative.